The Universe Smiles Upon Khruangbin At The Lodge Room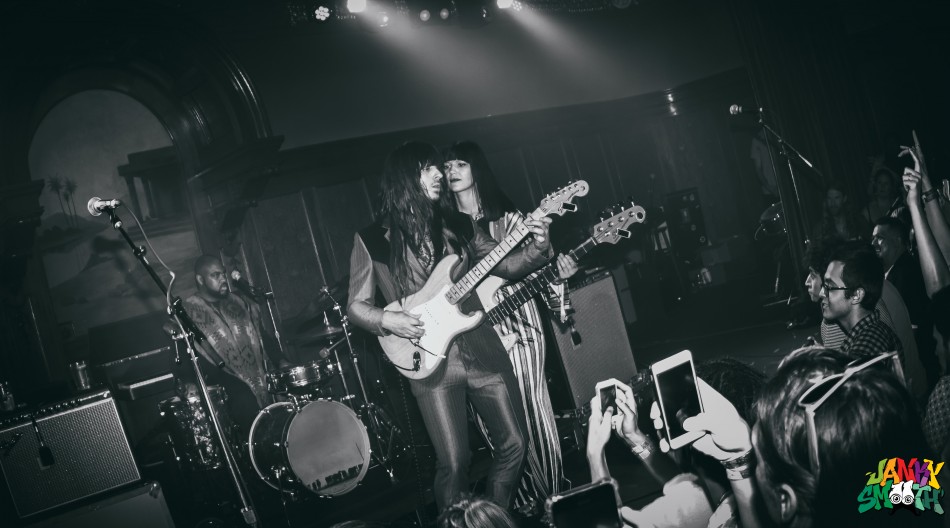 Furthering my exploration and discovery of psych rock, Khruangbin, a band that completely breaks the boundaries of that genre was the next to expand my consciousness. Fusing together Thai funk, Persian psych rock, and surf rock in an alchemical equation, they are left with a solution that sounds transcendental, yet groovy; euphoric, yet cool; as if passing through the inner-inter-galactic gates of Nirvana with your shades on. It makes immediate sense that they claim Tarantino as an influence.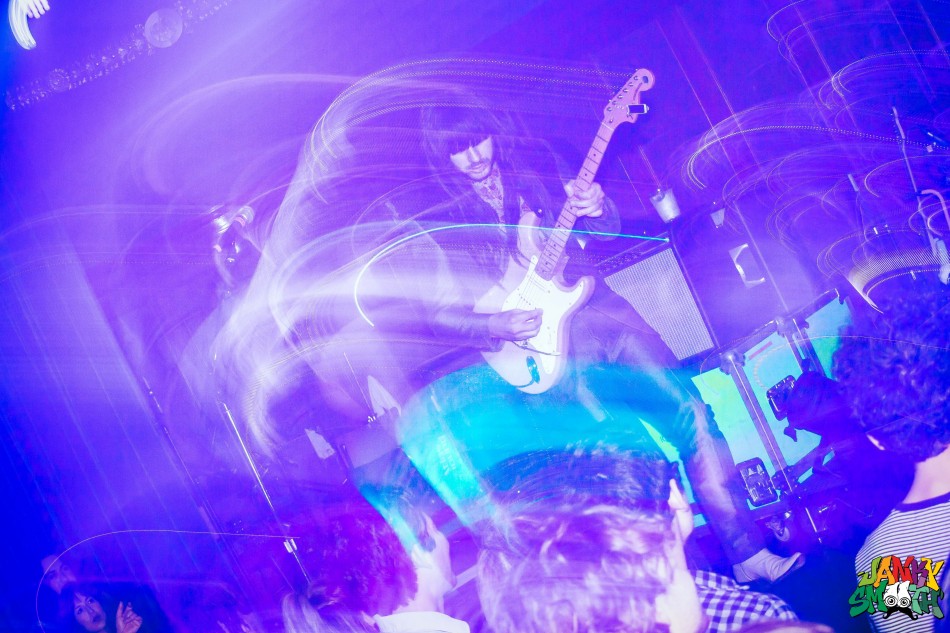 The name Khruangbin is Thai for "Engine Fly", but the band originates from Houston, Texas and is made up of Laura Lee on bass/vocals, Mark Speer on guitar, and Donald Johnson on drums. With their debut, The Universe Smiles Upon You, the band was breaking all sorts of waves in the psych rock scene in 2015. Now, their latest release, Con Todo El Mundo (which translates to "With Everybody"), has elevated the band enough to sell out three consecutive nights at the Lodge Room in a single day. This review is based on the second night, the Friday show at the regal and sacred Lodge Room.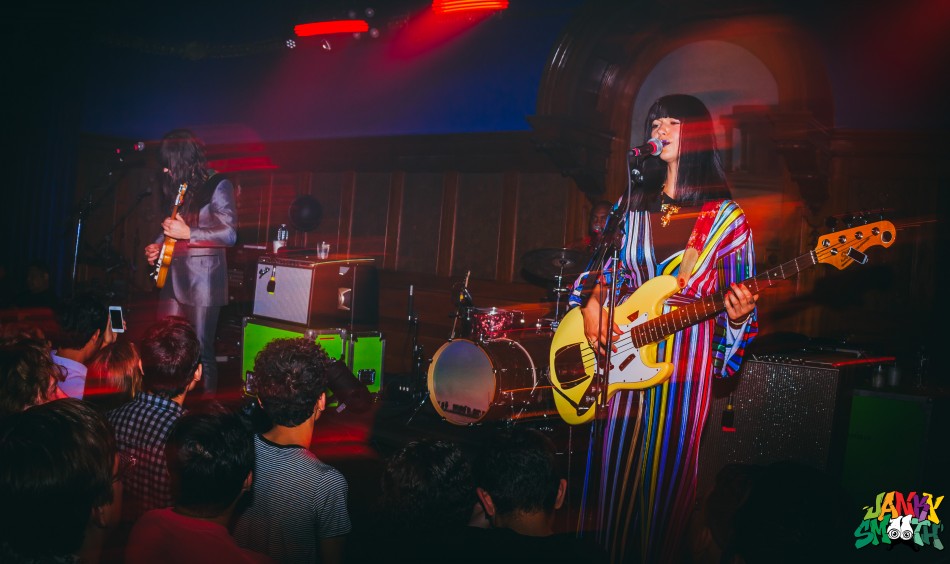 Around 9pm, a little dynamic duo of musicians took the stage in support of the headliners and this was the Mattson 2 and they were absolutely incredible. It was like seeing the best, most progressive jazz quartet, only it was just the pair of identical twins, Jonathan and Jared Mattson. Jonathan, who dazzles with his ability on a drum kit, was growing phantom limbs to play like he had four arms. Then, his brother, Jared was playing guitar and bass from a double necker and sometimes synth for a few song intros. Their set featured original songs and covers of Japanese jazz classics then new music that they made with Toro Y Moi's Chaz Bundick. Their set was one of those musical experiences that gives you a true sense of awe and genuinely impressing you.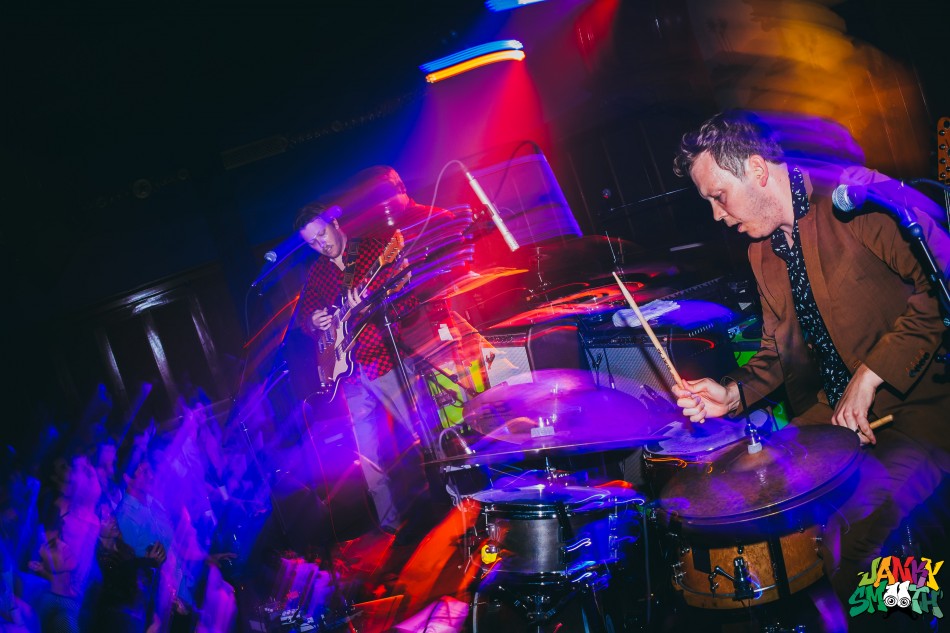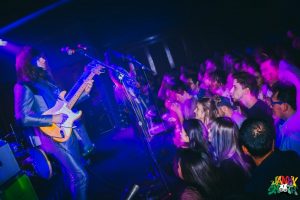 Coming onto stage dressed in luxurious and exotic clothes, Khruangbin was greeted with a deafening and Lodge-Room-shaking roar and applause. It was the kind of response you'd expect for someone like Peter Frampton, someone who would make a sound that roar backs, only as soon as Khruangbin started, their music purred instead. The sound was laid back and relaxed and so was their playing, with subtle ease, as if Nirvana itself ran through their hands as they strummed their strings. Beneath their black bangs, Laura and Mark stood in front with harmonizing guitars while behind Donald was drumming cooly and restrained. Laura's singing was etherial and minimalist, rarely with lyrics. It felt like shoegaze without sounding anything like shoegaze.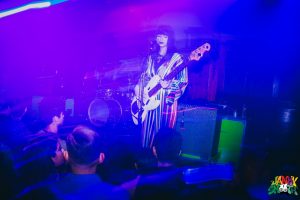 They played songs off both their albums and also an incredible 90's rap medley featuring Ice Cube, Snoop Dogg, and Dr. Dre songs. The whole Lodge Room partied and sang at this moment, filling in the lyrics, with the booze flowing liberally in everyone's hands and heads.
The band finished their set and were everlastingly gracious for the outstanding reception from the audience. I've never seen a show at the Lodge Room where the audience was this vocal about their appreciation for the band. The vibrations in the venue were so positive and shining that it truly felt like the Universe was indeed smiling upon us. Los Angeles' next chance to see Khruangbin will be at the Greek Theater where they will be opening for Leon Bridges on a nationwide tour.
Thus far, my experience with psych rock has taught me that these musicians, unlike those in other genres, seem to really play on their connection to the cosmos, as if that link between them was itself a string.
Words by: Rob Shepyer
Photos by: Dillon Vaughn