Whoop Whoop! ICP's Slam Fest At The Regent: A Family Affair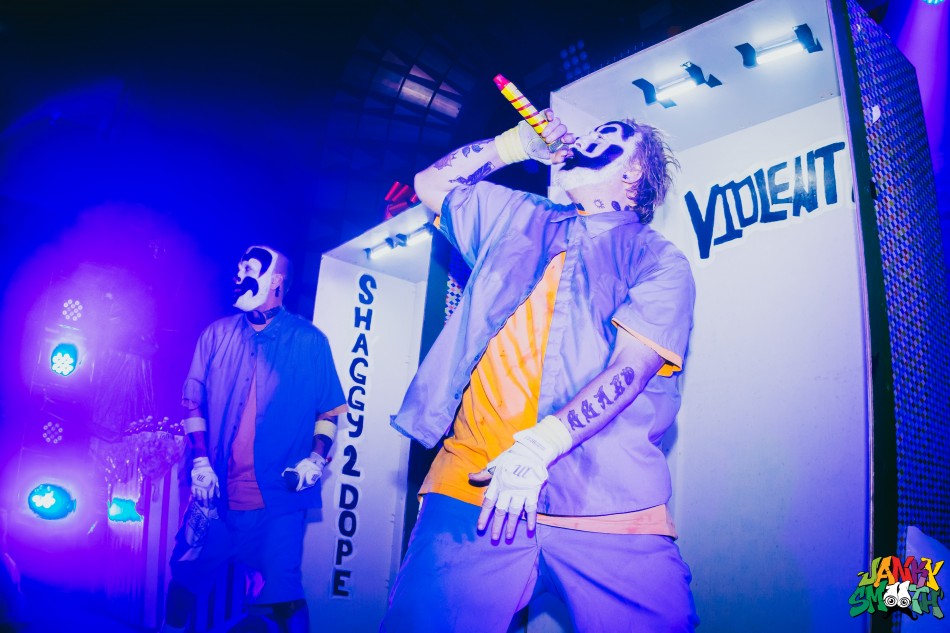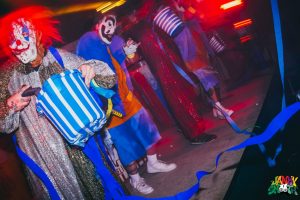 It feels like I had been waiting to see ICP forever. Having passed up opportunities to see both members perform solo, this stacked bill at the Regent Theater that they deemed Slam Fest, was going to be my induction to the family and just as the posse said, everyone that attended was a Juggalo.
Insane Clown Posse is an essential attraction to anyone that wants to claim they've seen it all. They put on a show that's unlike any other and somehow in the last couple of years, they went from mainstream mockery to one of the most relevant groups in the country. When the United States government classified Juggalos as a gang, from coast to coast, this nation's true first family, got together to protest in their very own million Juggalo march on Washington. I don't think any other band in the world has as many die hard fans, driven by a true cause, that they could orchestrate a similar historical moment. Not Metallica, not Radiohead, not nobody.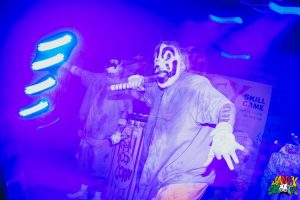 This true rebellion was met with fascination from every mainstream media outlet until ICP saw a level of cultural iconography that they hadn't ever before. Documentary after documentary, article after article, came from outsider looking in, wanting to be a part of the family or the annual Gathering of the Juggalos. And I was no exception. As a fan of obscene hip hop like the Geto Boys, I was immediately drawn to ICP.
Slam Fest began with West Palm Beach, Florida's Lil Toenail opening up. Dressed as a foot with a ski-mask on, he dished out some dope-ass, stone cold trap hip hop as his hard but baby-faced underage posse hung around beside him. From here on, I knew I was in store for an evening jam packed with humor and absurdity. Lil Toenail's songs fit right into the night's themes: vulgar humor and white trash angst. And I don't mean white trash in a bad way, I mean it in an endearing sense. In 2018 with the collective consciousness getting woke to the ills of whiteness, it is the white trash that will show us the way to world peace under righteous trashdom.
Next up was Cage, a rapper with fuck-tons of talent from Middletown, Orange County, New York. Chris Palko has been at the rap game awhile, starting in 1991 under the stage name "Alex" taken from A Clockwork Orange, Cage's closing song featured the theme to the movie for him to rap over. His set was stone cold sounding, at one point he pantomimed shooting dope and the song degraded into a fuzzed out heroin trip feel.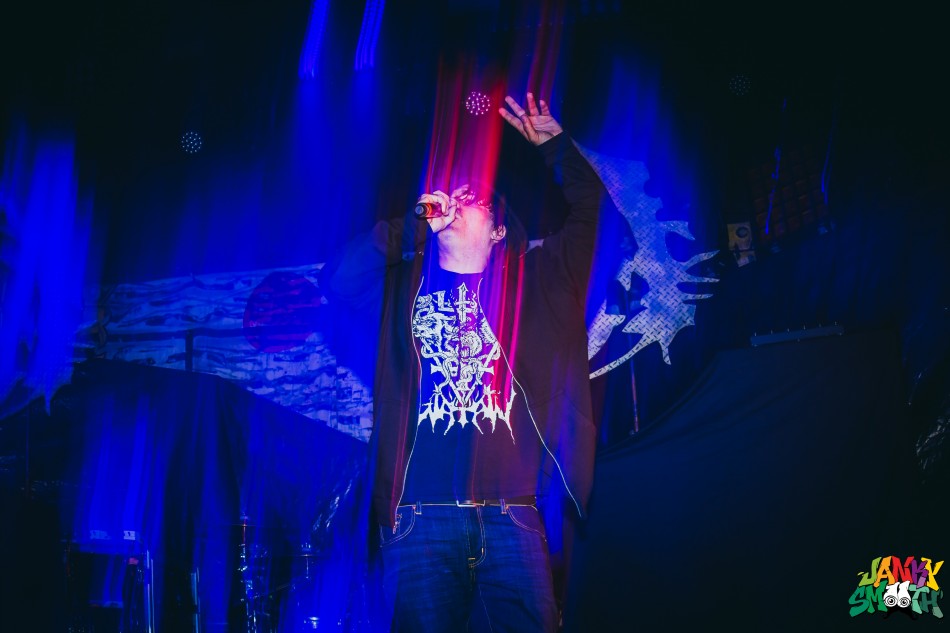 "Raise your hands if you're fucked up? I mean generally, you're a fucked up person." Cage said this and touched upon another theme that runs thick in the veins of the Juggalo tribe: Not belonging and being proud of it. Whether it's because of a medical condition or because you're a fuck up, Juggalo's have found brotherhood and sisterhood in shitting on the mold, fuck trying to fit into it.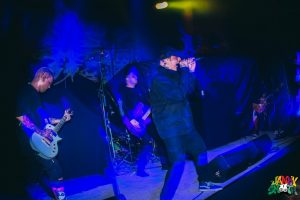 Queens, NY's Sylar was next, bringing the first metalcore sound to the table. As a fan of true hardcore and true metal, I've never liked metalcore. From the big names of the genre to the up and comers, I don't show them much love. Honestly, I think all those bands should be rounded up and shipped off to an island off the coast of shut-the-fuck-up. I certainly don't think those bands should play festivals that are supposed to be metal or hardcore based. But whatever, at some point the emo kids learned they liked breakdowns and mislabeled emo-metal as metalcore and the true heads just have to tolerate it. Even still though, I can recognize this band had chops and talent within the confines of that genre. With good cop, bad cop vocals that featured melodic singing on one end by the guitarist then hip hop cadenced growls from the singer.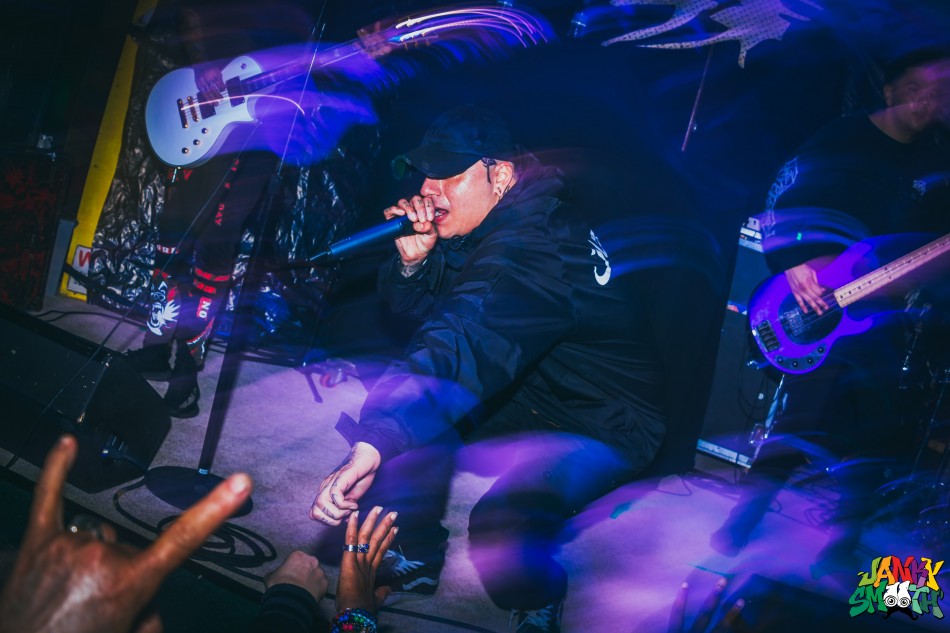 Attila, perhaps the most shat on metal band of the modern age, was next. Of all places, my introduction to this band was not from the festival circuit which they frequent, but rather from MTV. The band's singer, Fronz was featured on an episode of the reality show "Made" where he was made into a male model. It's one of those rare coincidences where a band enters the pop culture world early in their careers and voices their dream of making it and then, years later, they actually do. So, combining metalcore with hip hop, the band created this unholy trailer park union sound. But then, I was surprised that what I got during their set was much closer to pure metalcore. With songs like "Mosh Pit" and "Hate Me" I got the vibe that this band's existence is one big troll. Look, Attila is aware of how much shit nerds like me talk about them, they made note to call out their haters and tell us that they've been around a long time and are still standing, so has AIDS though. I can't even bring myself to say that these guys were able to play well for their style of the music, I just can't do it.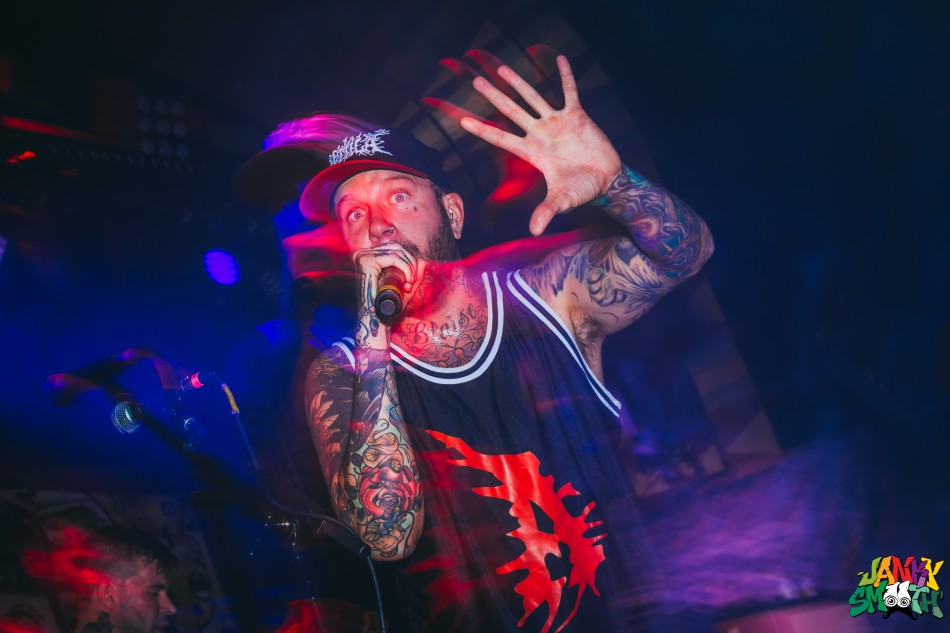 Los Angeles is not Insane Clown Posse's best market, they have much bigger turnouts in the Mid-West and East Coast, I'm sure but even in California, L.A. doesn't draw the most family from out the woodwork. But still, many die hard homies rolled through and even though it didn't feel sold out, we fucked the Regent up so hard that it felt like it got sold out, mowed down, flipped over, and f'd in the a, twice on a Thursday.
The stage was decorated for a funhouse massacre with a pop corn box that read "poop corn" with shit covered kernels coming out of it; an ICEE cup that read "ICP", a giant backdrop parody of the board game "Operation" only this one read "Autopsy" with gory illustration to match; then another backdrop satirizing the game of "LIFE" only this one read "DEATH".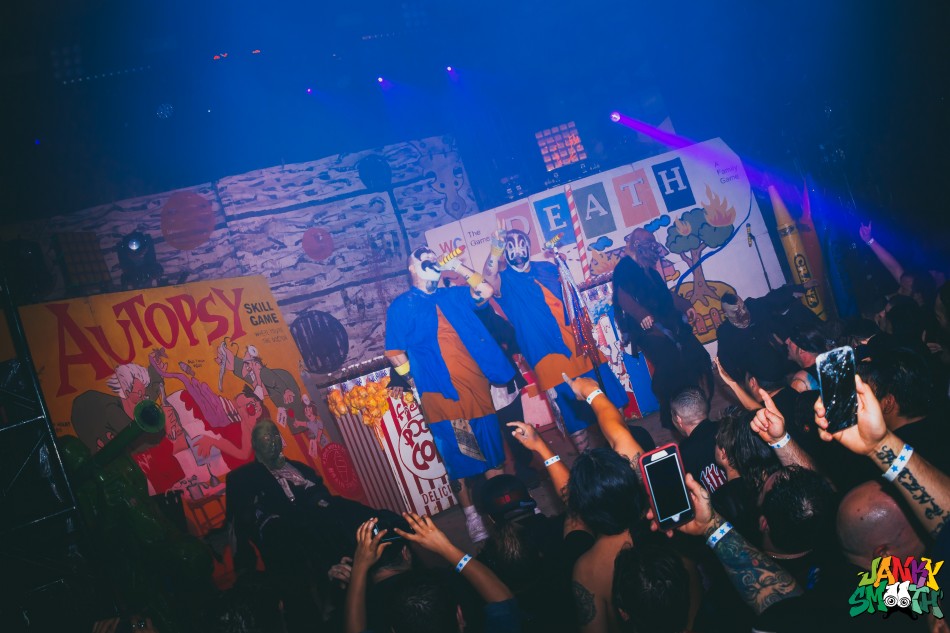 Then dollied out on stage by a couple of delivery guys were two giant boxes covered in wrapping paper that was then unwrapped to reveal none other than Violent J and Shaggy 2 Dope inside toy boxes, fixed in poses. Then as soon as the music began, the duo were animated to life and stepped out of their boxes to perform the song "Toy Box". With all sorts of funny whistles and buzzes, the band danced in unison with Violent J hyping up the crowd, shouting "Whoop Whoop!" before going into the flow.
The set featured favorites, bangers, slow jam epics, and a few Faygo breaks in between, where everyone came out on stage to blast us with diet soda from 2 Liter bottles or just straight from buckets. The duo have mastered the use of these bottles as weapons, it's beautiful talent to witness.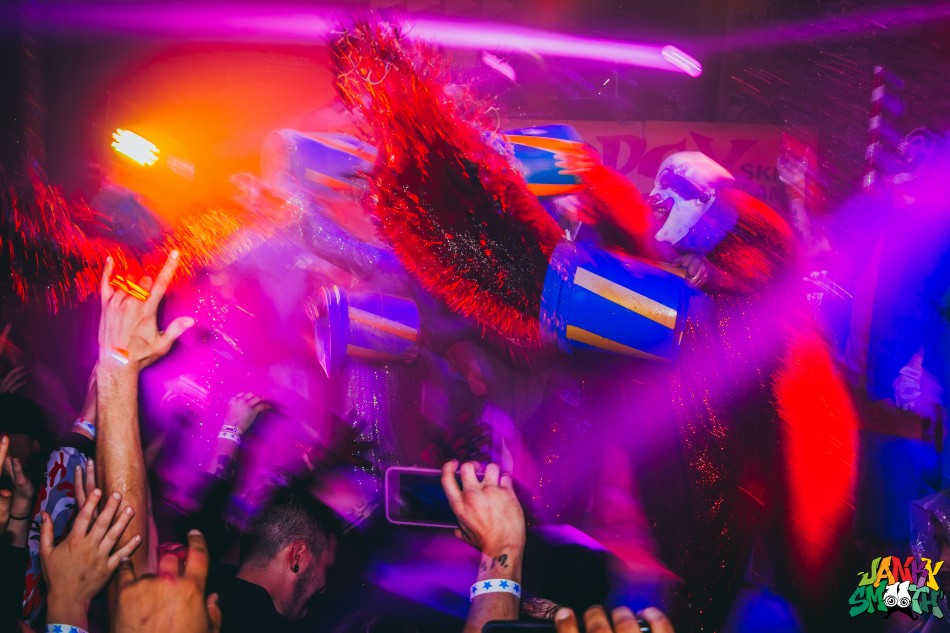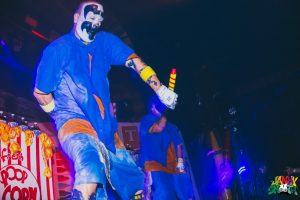 At first, I came to this show with a shred of inhibition and care for how I looked. Like I didn't want my hair or clothes to get fucked up, like anyone would on a normal night out but I soon realized that ICP shows are where fucks go to die because by the end, I had none left to give. Being stripped of that inhibition by getting soaked in soda and then being handed a 2-liter to spray all over other people is such a bonding and fun experience. I could see how someone could get obsessed with this band.
Songs like "Juggalo Homies" and "Chicken Huntin" were fun as hell to hear live then songs like "Truly Alone" and "We Belong" showed a side to the duo one might not expect, with more depth, tragedy, and sorrow in their sound. By the end of the show, the Faygo bottles left full still needed to be used so, every member of the Juggalo crew took the stage to completely spray down the Regent until it had been destroyed to a level I can't imagine them recovering from. I think about it now and I'm sure the floor, walls, and ceiling are still sticky. I don't think I'll ever forget this show and if they come around to L.A. again, not only will I go but I'll bring a date.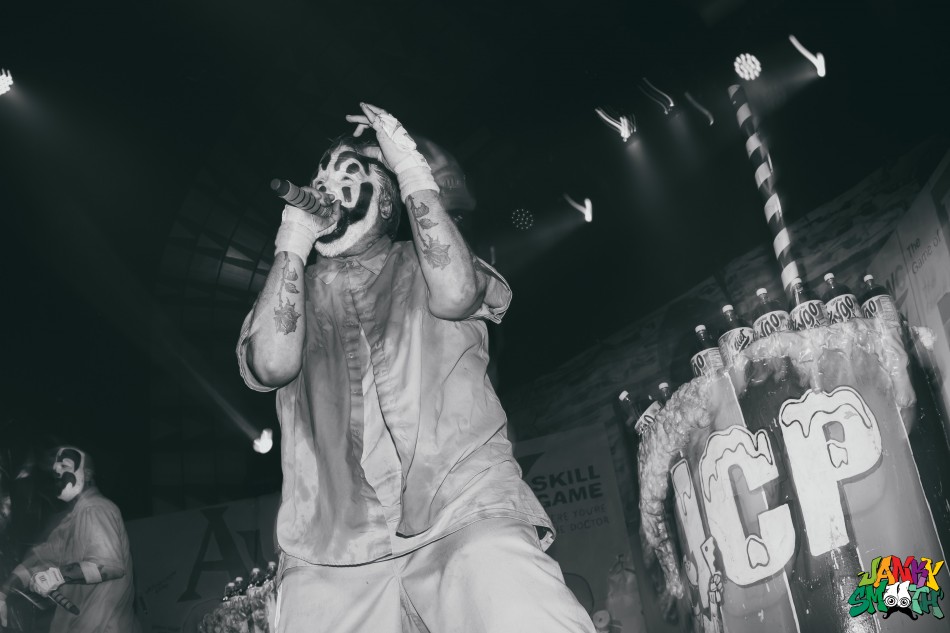 Words by: Rob Shepyer
Photos by: Dillon Vaughn