The Flesh Eaters: A balanced diet of legends at The Echoplex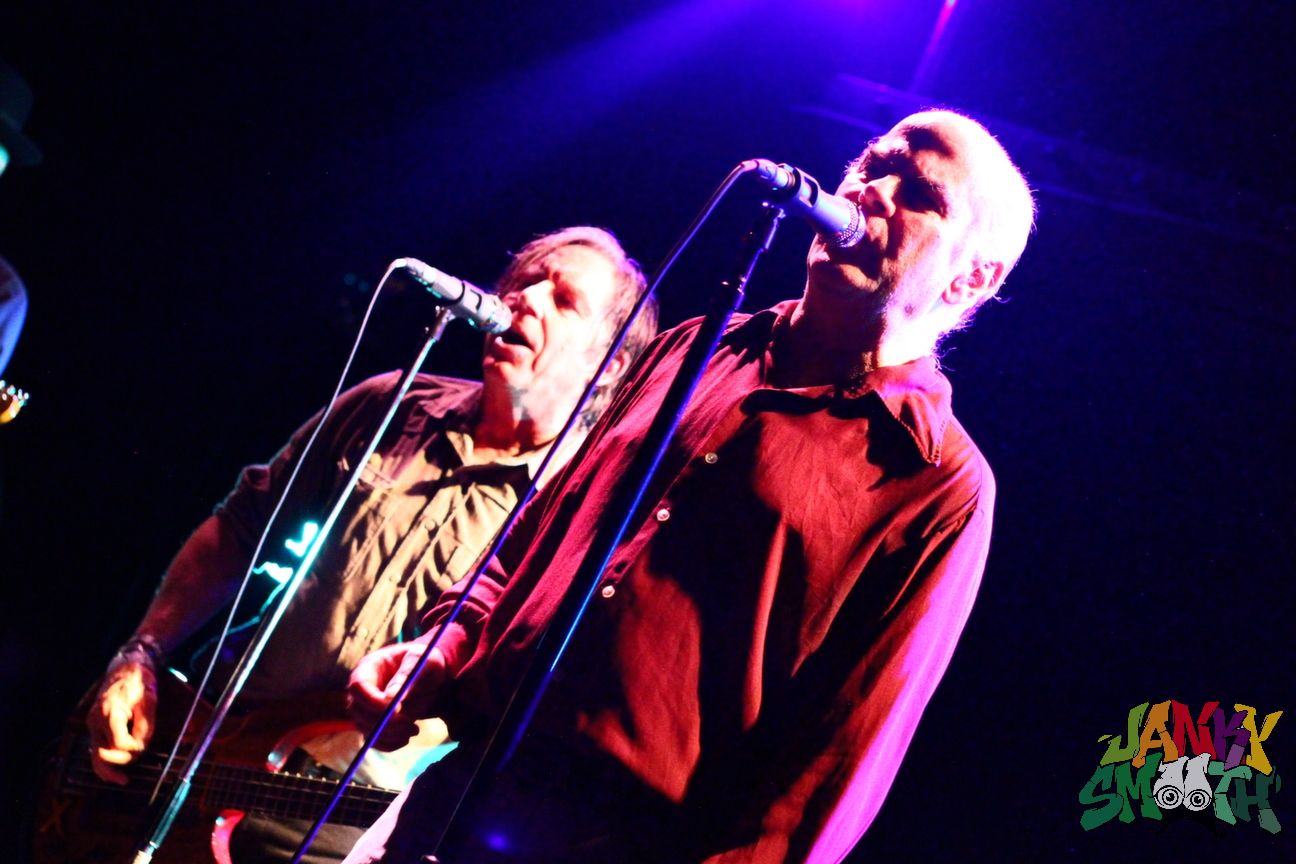 There is nothing more annoying than that guy that decides what is punk and what is not but I never really understood why people call The Flesh Eaters a punk band. Drawing the parallel is easy considering the pedigree of some of it's rotating members but their sound is sophisticated and polished and some of their time signatures confuse my brain. If we are discussing punk in the context of a frame of mind rather than a sound or an aesthetic then yes, they are as punk as it gets.
Even with members such as John Doe and Dave Alvin, it should be abundantly clear that the creative force behind The Flesh Eaters is poet and vocalist, Chris Desjardins. His stamp on the L.A. music scene in the late 70's and early 80's can not be overstated but for someone who contributed so much to that scene, he remains an obscure and somewhat fringe delicacy, like shark fin soup.
On Sunday, January 11th, The Flesh Eaters played a show at The Echoplex with their most notorious lineup of musicians from bands such as X, The Blasters, The Plugz and Los Lobos.
The Flesh Eaters all probably eat a more balanced diet now but they still produce mass carnage on stage. They opened with "Pray till you sweat" off the seminal release, "A minute to pray, a second to die". With lyrics like "You gotta stop riding the brakes/You gotta stop robbing the cradle/Cock the gun, pull the trigger/What you got is one dead singer", it's easy to see why the word "morbid" is often attached to any description of Chris D's lyrical style. The band hammered through a majority of The Flesh Eaters catalog. DJ Bonebrake, drummer for X plays the punkest marimba in the history of marimba and The Blasters drummer, Bill Bateman is one of the best punk drummers in the history of the art form. When you throw Steve Berlin in the mix on saxophone, you have an all star band of punks, not playing punk music. Chris D made mention and paid homage to The Gun Club guitarist and frontman, Jeffrey Lee Pierce on several occasions. It was my first time seeing The Flesh Eaters live. Who knows if I'll ever see them again. It is a feather in my music snob cap that I can cherish and brag about forever.
Along with being a part of musical history last night, attendees who arrived early enough were able to have a look into the future with opening acts, Small Wigs and Skating Polly.
Skating Polly is Kelli Mayo and Peyton Bighorse. The girls were 9 and 14 when they formed the band in 2009 and are being mentored by Exene Cervenka and Flaming Lips drummer, Kliph Scurlock who mixed most of the songs off their second album, Lost Wonderfuls. They have an undeniable, Riot Grrrl sound but a huge helping of pop sensibility. I was corrected on Twitter that they aren't Riot Grrrls but rather "Ugly Pop". A rose by any other name and all that…The girls switch between lead vocals and often layer their vocals on top of each other. The most magical combination is when Kelli is up front with her two string, bassitar being feed through a series of stomp boxes as she switches between a sweet, innocent vocal style to a head banging, gut wrenching screaming sound that seems like she gets in touch with an emotional anguish that is well beyond her years. While Kelli is thrashing, Peyton is holding it down on the drums with her head cocked to the side so she can sing into the mic that is just off to the left of her cheek. I was completely blown away by these girls. I knew they were young as I was watching them on stage but when I got a chance to meet Kelli after the show, it was only then that I realized that this girl didn't even have her drivers permit yet. Amazing how a live performance can make you seem bigger, smaller, uglier, prettier and show the quality of your soul as that spotlight shines on you and reveals the things about your personality that might be hidden when meeting someone for the first time. These beautiful young ladies have a bright future ahead of them and I can't wait to start obsessing on their music.
The first band of the night was Small Wigs, a new project from FIDLAR's Elvis and Max Kuehn with Mikki Itzigsohn and Matthew Zuk from Isaac Rother and the Phantoms. I have dubbed them, FIDLAR and the Phantoms. They are a really fun band that tap into that surf/punk style that is so prevalent at the moment. They are not as hardcore and much less dark and debaucher-ous than FIDLAR, even though it appears that Elvis does a lions share of the song writing. I'm not sure if this is a side project or if Elvis and Max might be growing out of the beer soaked, nose coked frenzy of FIDLAR. FIDLAR has been on what seems like a long break- a bit too long for my liking. Max informed me that he also has another project launching at the moment called The Squirmers which is a collaboration with Cry Tough artist, Zoe Zag. I sampled it today and that, too, is extremely promising. Small Wigs already have an extremely polished live set and Mikki is extremely charming between songs in a very muted and sarcastic way. Look out for Small Wigs.
Words: Danny Baraz
Photos: Oscar Montes