My Meat Puppets Misconception at The Echo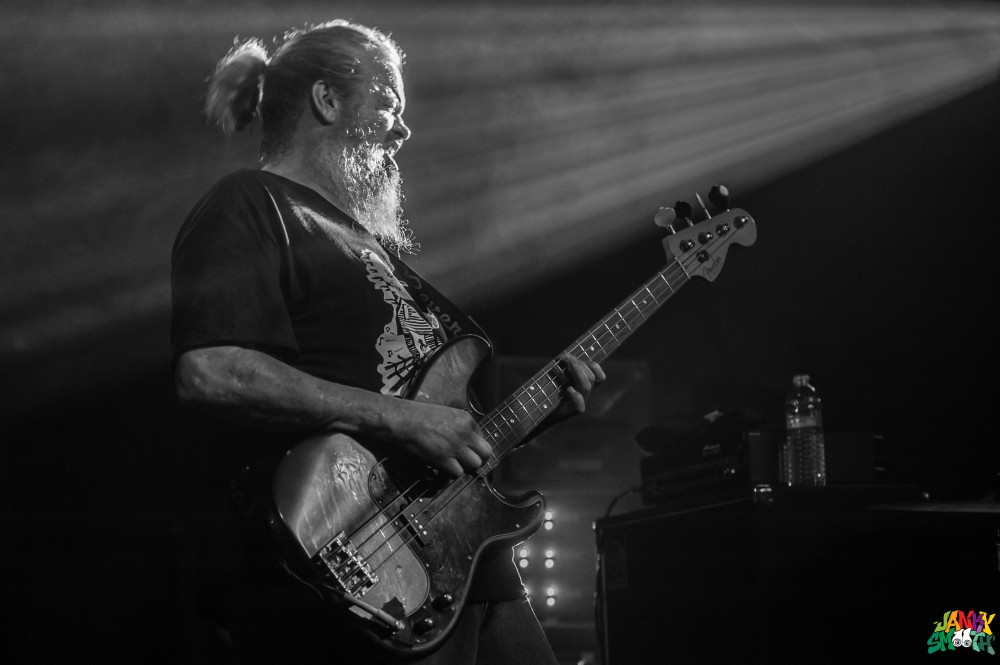 I Thought Whiskey Would Be Garnish for A Meat Puppets Show
"Hey…you wanna buy some acid?"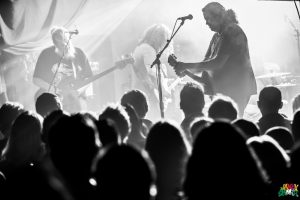 The voice came from the direction of a gangly teenager, standing with his cohorts, a few doors down from The Echo. This took me by surprise because…well, just because. In my mind I had the Meat Puppets pegged as some hard-living punk-rock band, not as a bunch of hippies. That's one of the reasons why I jumped at the chance to join photographer, Jessica Moncrief in an outing to review their live show. Of course, I knew the Meat Puppets, but I'd never seen them live and only a few of their tunes were well known to me.
Words: John Montgomery
Photos: Jessica Moncrief
I always kept the Meat Puppets in high regard, but I really didn't know what the hell they did to occupy such a space in my mind. Shit, maybe I was a poser after all?
Time to make things right! The sold out show was the hot ticket on this March weeknight and it was starting to feel like the night would even be better than eating tacos.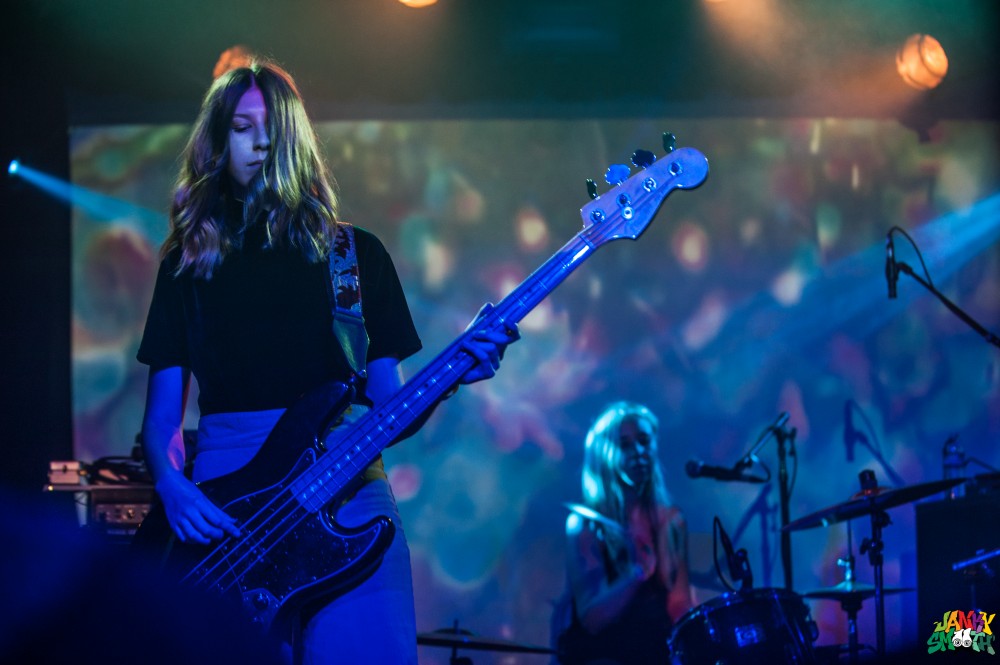 Good Looks Merely a Bonus, Not The Focus For The Stone Foxes of Stonefield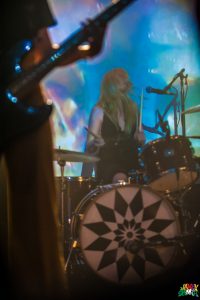 Openers, Stonefield were already on stage when we arrived. I try not to be taken in by hot, waif-ish gals, slinging guitars…but something happened. You see, you get that a lot in Silverlake/Echo Park…and sometimes it makes you want to kill yourself. These ladies were good- really good and they played some heavy ass grooves. And dammit, THE DRUMMER WAS SINGING LEAD! Correction- not just singing…she was belting!
The band is composed of four Australian sisters…wait, say what?! Amy Findlay (the eldest, Drums/Lead Vocals), Hanna Findlay (Gtr), Sarah Findlay (Keys) and Holly Findlay (Bass). With lots of riffs flying off the stage, one might be inclined to call them stoner rock. But there's something more happening here than that. Amy's voice is soulful and powerful and some of the grooves were in fact, stoney. Big beats and a wash of guitars and keys, topped by wanton vocal melodies that soothe your body as you hear them play. I felt like I was watching a band that is just about to come into their own. I'm betting that a few more heartbreaks, a few cases of brown liquor, and some of life's typical harshness will help transform this band into some kind of international sensation- it's them who will be breaking those hearts. But when that edge gets nice and jagged, Soundfield is gonna mutate into something deadly. Being Australians, you know they were born knowing 17 ways to kill you using patio furniture. so there's that allure of danger that good rock requires.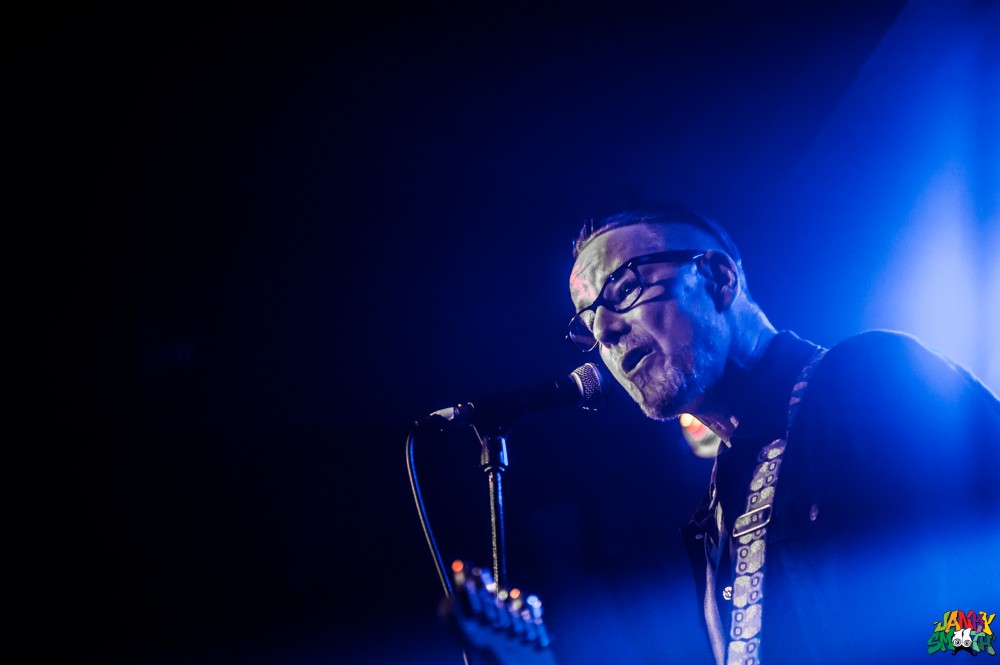 Ford Madox Ford Hit Band Member Pay Dirt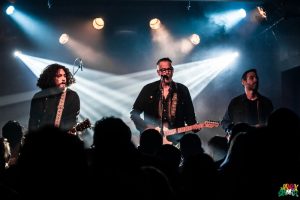 Next up were Ford Madox Ford. I'm sure by now, you've been hearing about the band. They've been playing all around town, and have even done some international dates. Led by the legendary Chip Kinman (The Dils, Rank and File, Blackbird) on Vocals and Guitar, the band brings a heavy, bluesy sound, with licks and a fiery delivery that is a little bit country…and a whole lot Rock n' Roll! When I say "bluesy," I mean the realness of a great 50's blues band. You gotta have some bite and rhythm chops to pull it off right. All the players, Dewey Peek (Gtr), Matt Little (Bass) and S Scott Aguero (Drums) are seasoned pro's, players who have mastered their domains.
The result is a band sound that says to you "don't worry, we got you"- kind of like the first time you do acid and need a friend to shepherd you through the night. Maybe that kid selling acid outside knew what he was doing? It is a joy and comfort to hear a band give you great songs in such a unique and confident way. Dewey's guitar playing is quite exceptional. The rhythm section hits tight and hard, and slides sounds into you with ease. Sure, there's a lot of high energy comfort and dynamic squeezes, but you're gonna get slapped a little too. And you'll like it!
Chip sings with the conviction of a man who has seen a lot, but still has the guts to bare a little soul nightly. His voice is a warm and soothing tenor, with enough grit and power to let you know he's lived through some intense times. I liked S Scott's ability to take the beats to the edge of freak-out- but keep control of the vibe. Matt's bass playing straddled the line, pushing along with the punch of the drums, and upholding the lofty sounds of the guitars and vocals. Good bass is like glue to a band!
Meat Puppets Initiation After Almost 40 Years of Admiring from Afar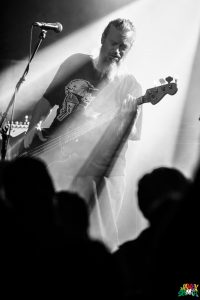 Finally, the Meat Puppets were set to take the stage and it seemed that some of the crowd must've taken that kid up on that acid offer. I still wondered about that connection to the band's music. Once they hit the stage, I wondered no more. The Meat Puppets are indeed a band with deep punk roots, but surprisingly to me, they have quite a bit of country and psychedelia injected in their sound. Songs like "The Monkey and the Snake' challenged me to re-think what I knew about the band with it's whimsical whistling and considerable twang. I was also encouraged to keep some old notions intact upon hearing tracks like "Attacked by Monsters" with it's metallic chug. The Brothers Kirkwood (Curt on Guitar, Cris on Bass) showed me that I had underestimated the band's abilities. Along with Cris's son Elmo Kirkwood(Guitar) and the powerful Shandon Sahm (Drums), I began realizing why so many great bands had been influenced by the Meat Puppets.
It's well known that Kurt Cobain was a fan of the band, having invited Curt and Cris to perform "Plateau" and "Lake of Fire" on MTV's Unplugged, back in 1993 but upon hearing the versatility in their sound, it's easy for me to see that the Meat Puppets simply felt no desire to be a "one-trick-pony." These guys seemed to have never been afraid of exploring what sounds they could make. Their songs are well written and at times, catchy- as exhibited by their alterna-hit song, "Blackwter." I was waiting to see how the crowd would react to the song and what I saw impressed me. I expected the crowd to go a bit nuts, and many started to do so. But the song is actually a really good song and jumping around is not required to enjoy it. The initial bouncing bodies all seemed to settle into a warm, head nodding state. This was an acknowledgement that the conventions of today's rock world, didn't fully apply to what the Meat Puppets do.

Nirvana – Lake of Fire ( Live Unplugged ) from Radau on Vimeo.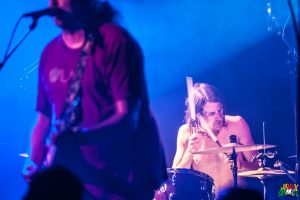 Meat Puppets come off as quite fearless and not afraid to challenge their fans. All the years of playing together has actually helped the band to sound better than their earlier recorded efforts. Case in point: "Lake of Fire" (from 1984 Meat Puppets II) has a slightly unwieldy lead vocal, kind of typical of the times. When you hear the song live, Curt's vocals are far more solid in 2017. The same goes for when they played "Plateau." It just sounded better than the record, plain and simple.
Meat Puppets are similar to a bottle of scotch, only getting better as they age- effortlessly tight. They sounded so good together as a group, that they went beyond being tight, and straight to "other-worldly." This was a sound forged by decades of road work, brushes with the law…and a decent helping of late nights with social lubricants.
It began to dawn on me that I was watching one of the world's best bands. I even think it's a safe bet to say that they have quietly done what most bands aspire to do: Have a career that spans decades, tour the world, make great records and do it all living/playing by their own rules. Yes, I now understood why that kid was selling acid outside.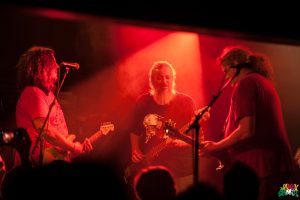 The Meat Puppets have created their own universe, where the laws of convention have no power.
Luckily, we beings of this time can sometimes take a left turn, veering into the fabulously untamed realm of whimsy and Meat Puppets. Of course I don't think that you need acid to experience it, but for some, it might just help them to comprehend what the hell is actually going on in a Meat Puppet's Universe.
In the end, my understanding of what the band is, has changed. yeah, I use to think that even their name was a reference to the male appendage. But after seeing them perform, I realize I will now see them as cosmic beings, meat covered skeletons, flying through this dimension, controlled by sounds from other, parallel existences. It's always great to find out you were wrong in such a grand fashion- as long as you are smiling from ear to ear as you walk back to your car after witnessing such greatness! If you were like me and uninitiated, do yourself a favor and go see the Meat Puppets and get your head adjusted properly. You won't even know you needed it until it happens.
*Acid sold separately