Punx Not Dead in Petaluma – Home Sick 2 at the Pheonix Theater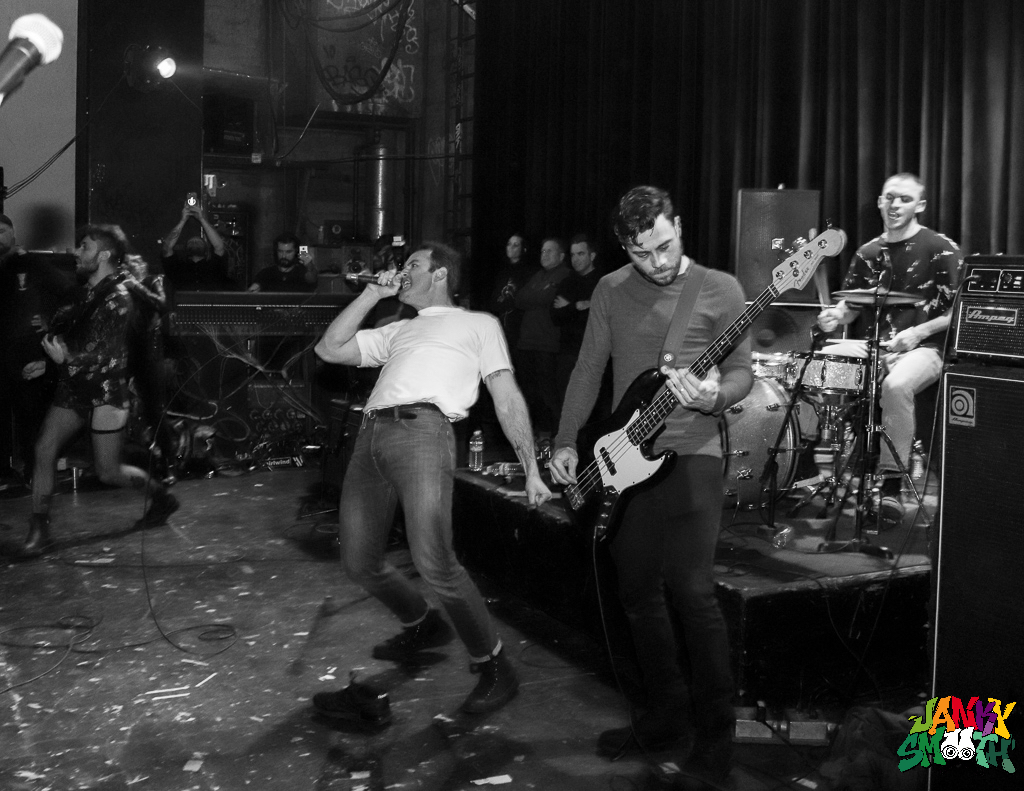 "Is punk dead?"
I've typically found this refrain loathsome and lazy. Despite my ongoing aversion to the utterance, it was front and center in my own (traitor) brain during the week leading up to Home Sick 2.
You see, after almost forty years, the punk institution known as Maximum Rocknroll announced that the zine would cease printing in 2019. The notion hit me hard. I recalled being fourteen and seeing MRR for the first time as a young teenager and traced from there to the first time I saw the rows and rows of green-taped records myself. It felt like a death.
I went to three other shows in the days between the announcement and attending Home Sick 2 but HS2 was the one that really shook me out of my cynicism. Of course punk is not dead. Of course the community is still growing and reaching folks of all ages. Even better: those of us already in too deep seem to be better than ever at welcoming other sounds into our spaces.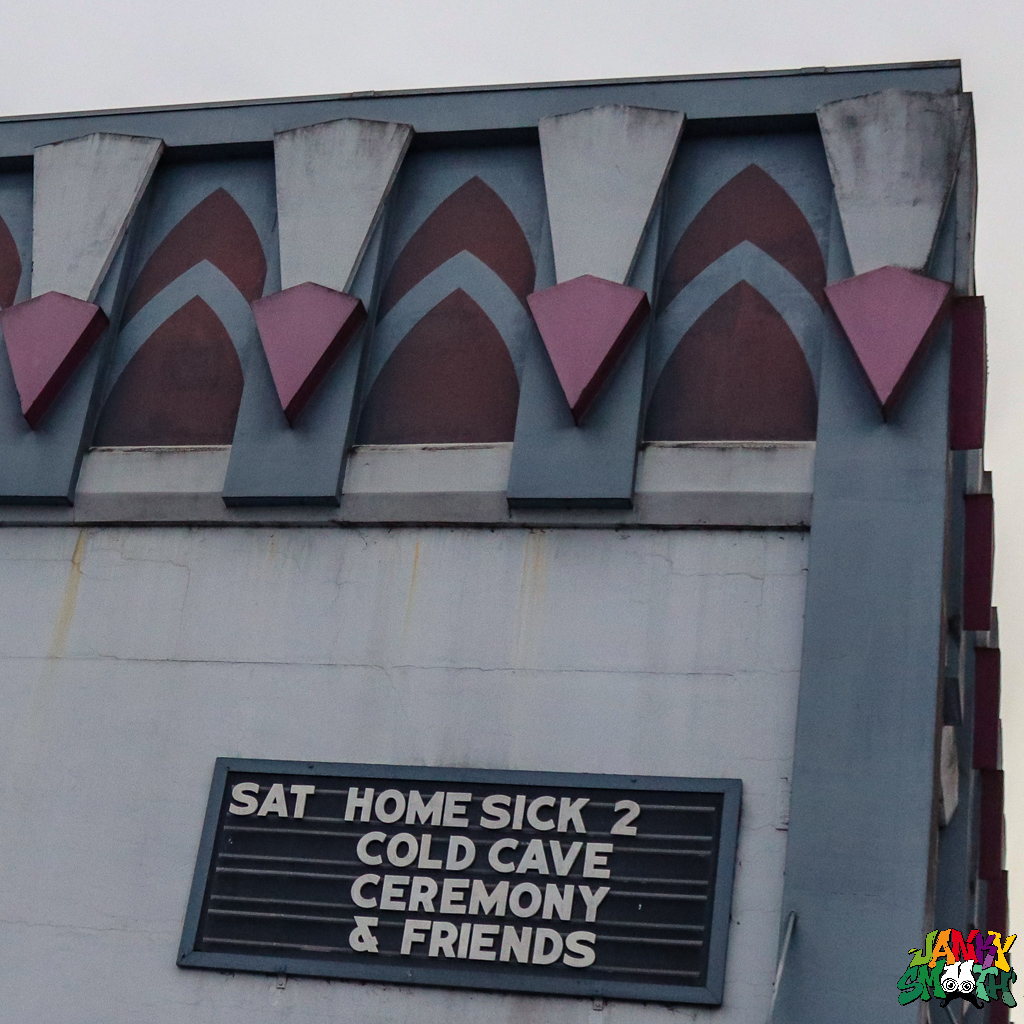 The curators behind Home Sick (none other than headliners Ceremony) managed to again create a space both familiar and refreshingly representative of this constant evolution happening within punk but fed from places that seem so far away. This year's lineup had the same general feeling as last year's—some punk and hardcore I've been listening to over and over, some punk and hardcore I wasn't too familiar with—but there were some compelling twists.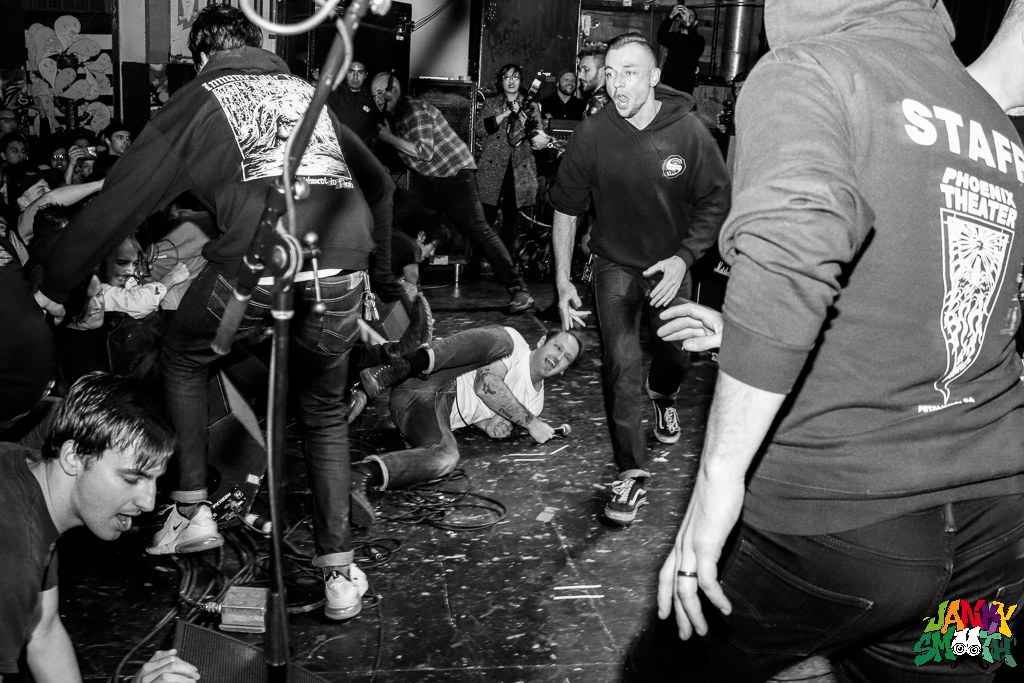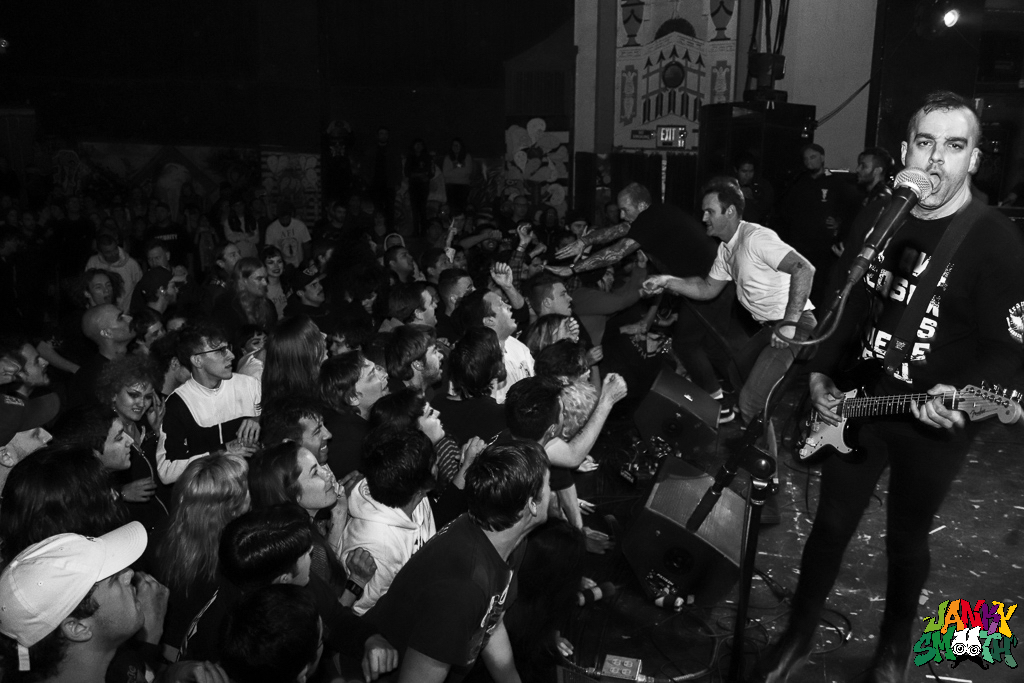 I found myself impressed by the smart cadence of the festival; the energy shifts attendees might experience throughout the day seemed to be taken into consideration. While there were no extended intermissions, the bands were arranged such that we got something a bit more down tempo after a few sets of rowdier bands. On a related note, the timing was just as flawless as last year. A true feat on a bill comprised of twelve bands.
First up were Fearing, a post-punk band from nearby Oakland and their Sisters of Mercy vibes were a great choice for an opener. There was just enough energy behind the bass-heavy music to warm up the crowd but not so much to get everyone going too early. (And it was early.)
Next up were hardcore band Tørsö, a favorite of mine. The band has seemingly perfected their live shows such that you can always count on it being great but never rote or stale. Vocalist Mae utilizes just about every inch of available stage and seems to put in her all, of which she appears to have an endless supply. Meanwhile, bassist Jasmine has her own unlimited supply of energy and bass talent. I don't think I'll ever get sick of "Grab a Shovel" but the entire recently released Build and Break EP is worth multiple listens. I found it interesting that the incredibly physical and high energy band were on as early as 3:30, it was reminiscent of last year's scheduling wherein the incredibly physical and high energy Acrylics were on second. Considering the thought that seems to go into HS, I imagine this is intentional.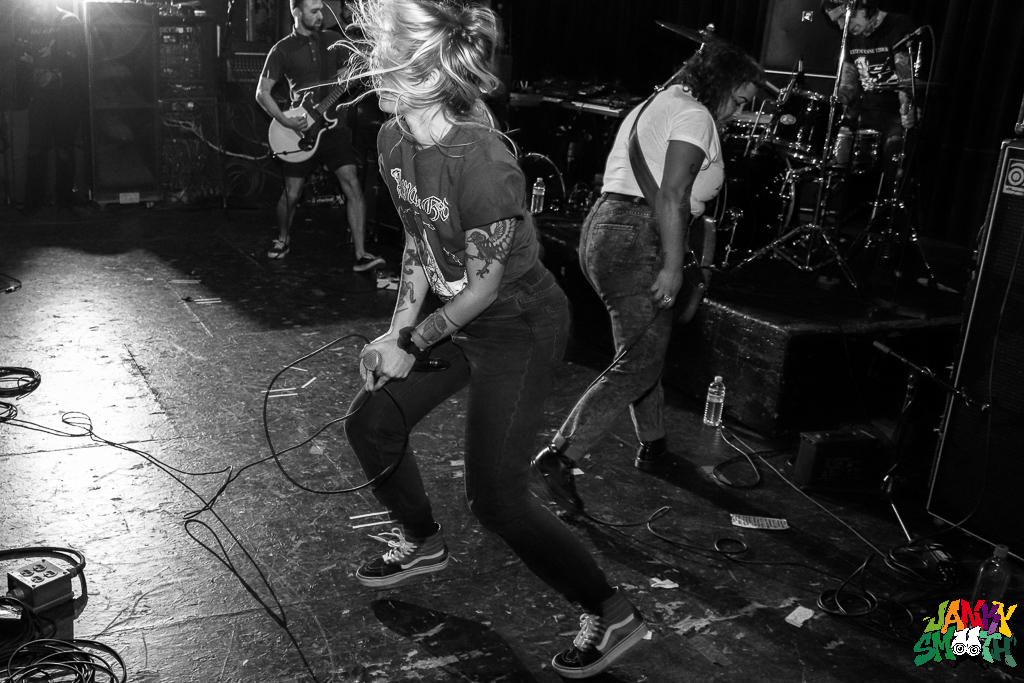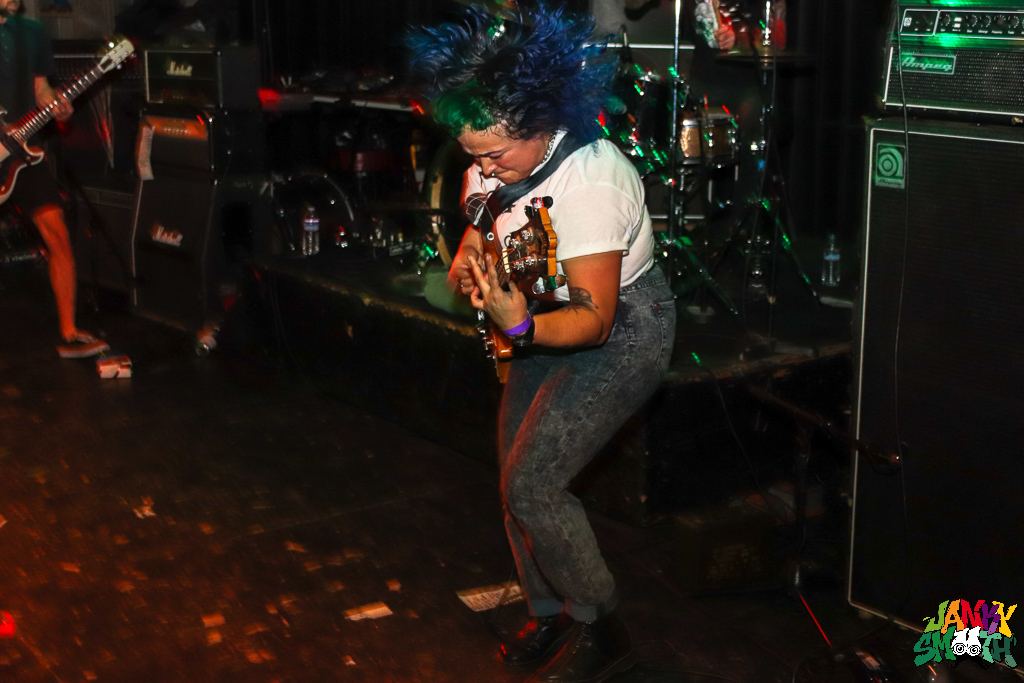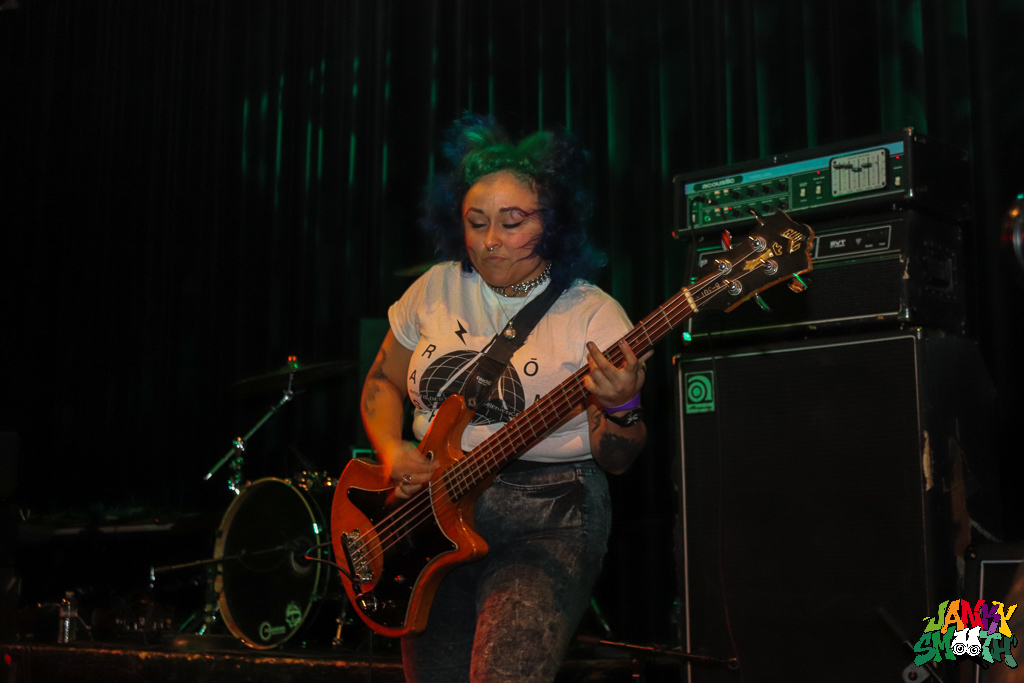 Another favorite, Gouge Away, took the stage shortly thereafter and served as a perfect follow-up to Tørsö. Gouge Away keep the hardcore flowing but have a take that is both noisier and more melodic. They're also similarly high energy but by this point we were getting some crowd participation to match them. A person with highlighter yellow hair did their very best to lead and coax others to some success. I can't say I blame folks for reserving energy, we still had nine bands left to go and the sun had yet to set.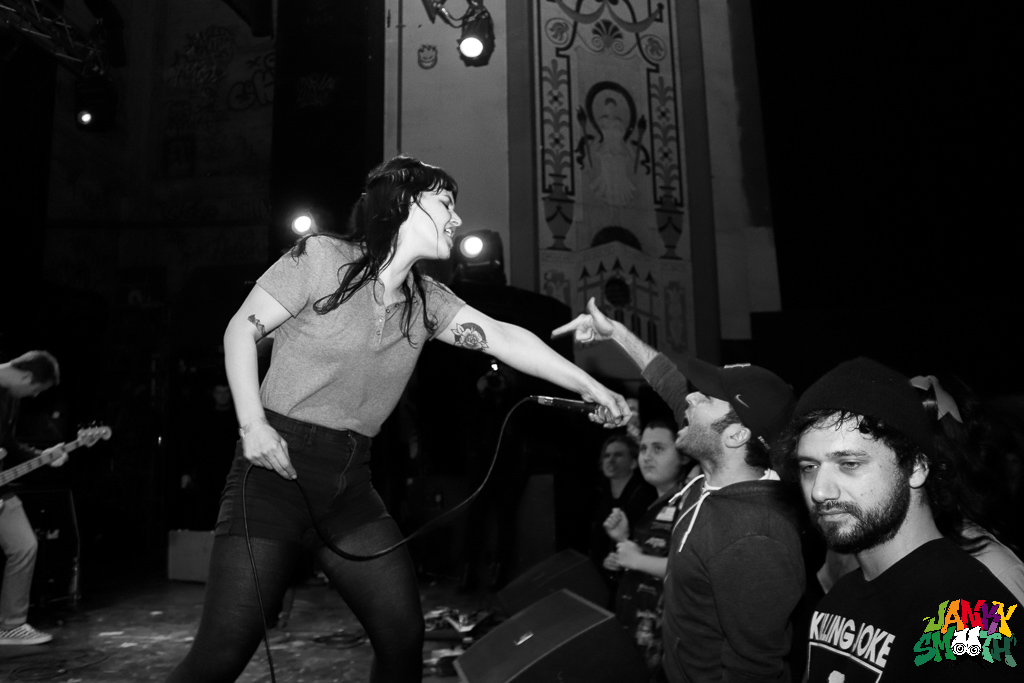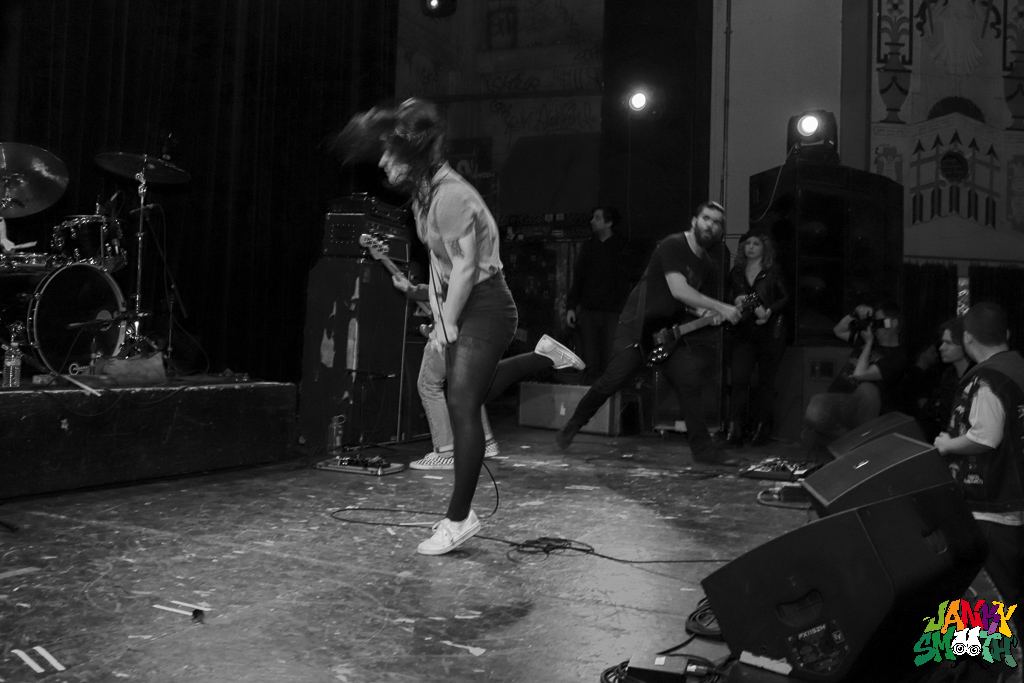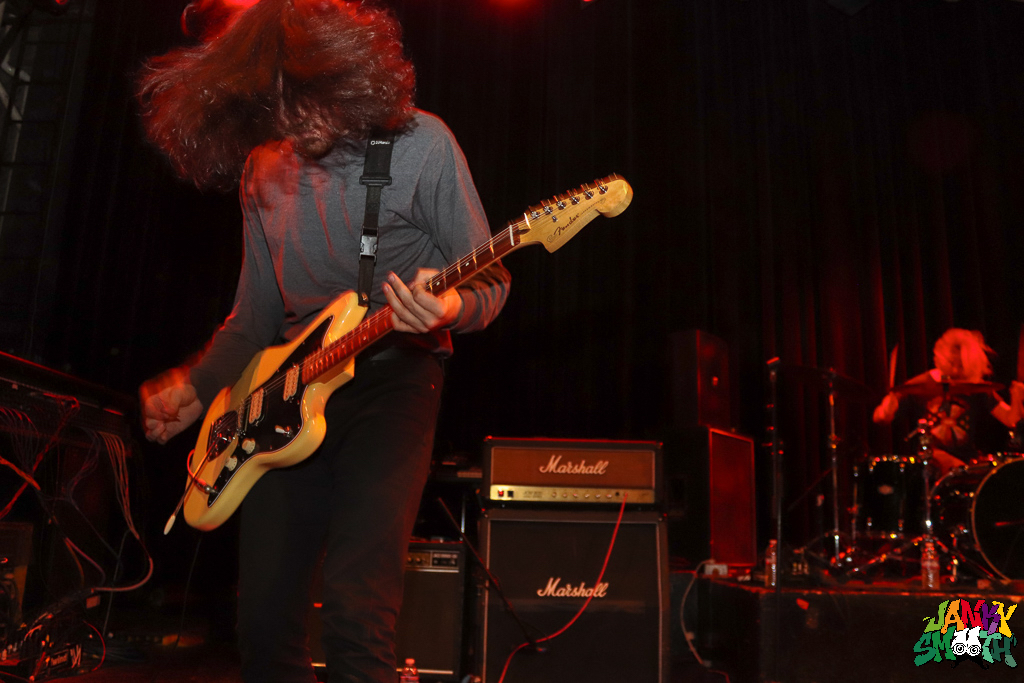 Things really got moving with S.H.I.T. — the Toronto band has a strong discography but they're not so easy to keep up with as they lack much of an internet presence and have a name that defies algorithms. So, when they pop up, it's worth going. Vocalist Ryan exudes intensity as he clings to the microphone stand with hands clad in leather gloves, yelling about just about everything worth yelling about — from aforementioned algorithms to the capitalist system that makes them profitable. S.H.I.T. is a distorted, manic, good time and were perfectly placed in the lineup to wake up anyone feeling a bit sluggish as evening crept in.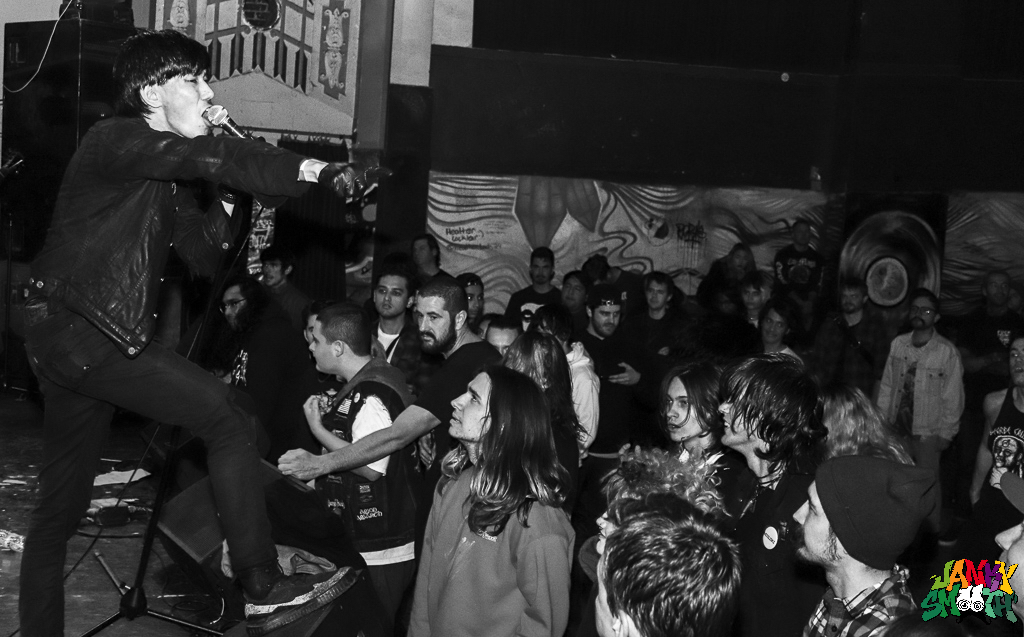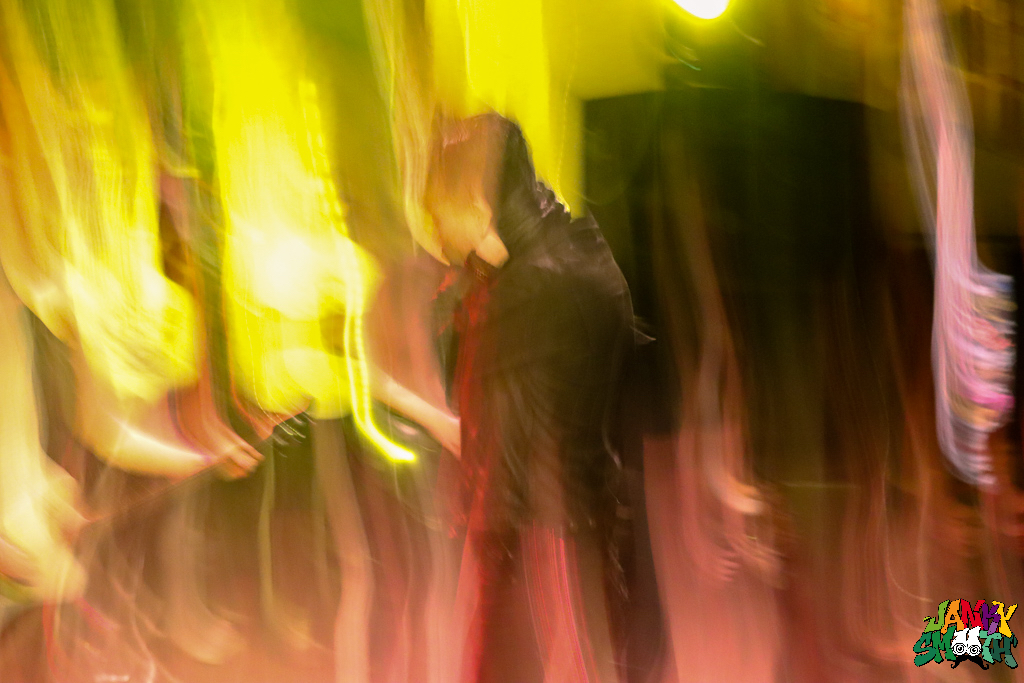 Uniform were not quite consistent with what came before. Frenetic and distorted? Absolutely. But here is where we got our first real taste of the diversity of this lineup. Uniform brought in a dose of industrial that felt like an natural enhancement rather than a jarring shift. I watched as the pit opened up, leaving one person standing transfixed and unperturbed in the eye of the storm. It seemed like the perfect place to be.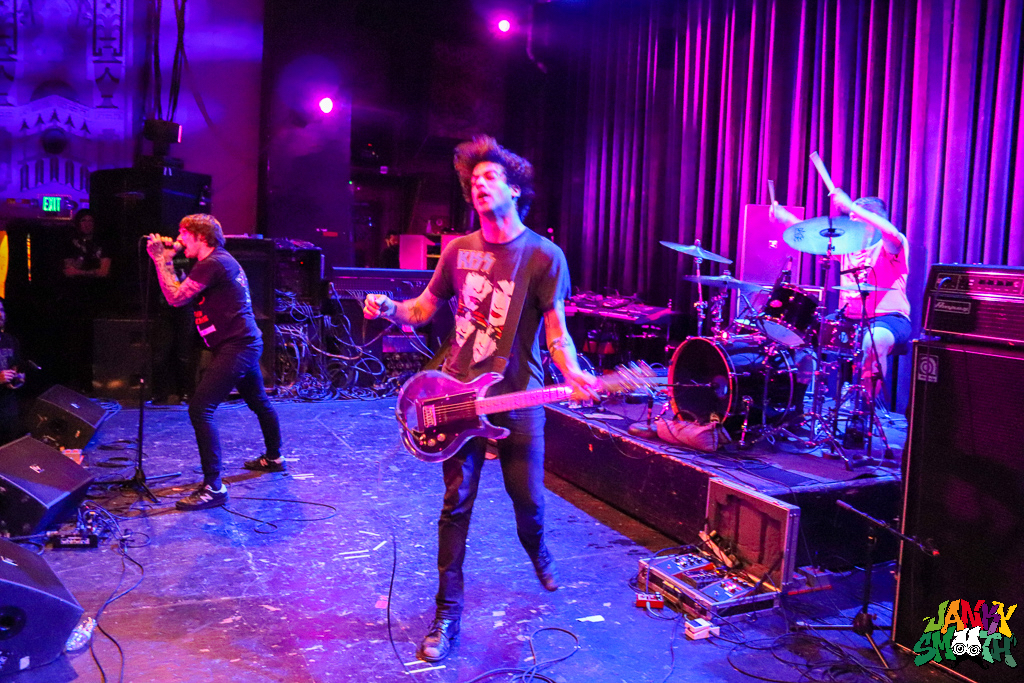 Mary Lattimore gave me pause when I saw her on the lineup but I was eager to see how the crowd responded. Answer? Enthusiastically. Lattimore's playing was nothing short of amazing. I sat on the side and watched from one of the unused skateboard ramps. At one point she strummed a piece that I would accept as a standalone but then she played the strums backwards and played over them; the effect was gorgeous. The room remained full and every conclusion received thunderous applause. This set was the perfect middle point, both calming and rejuvenating. A moment of pause but not an energy killer.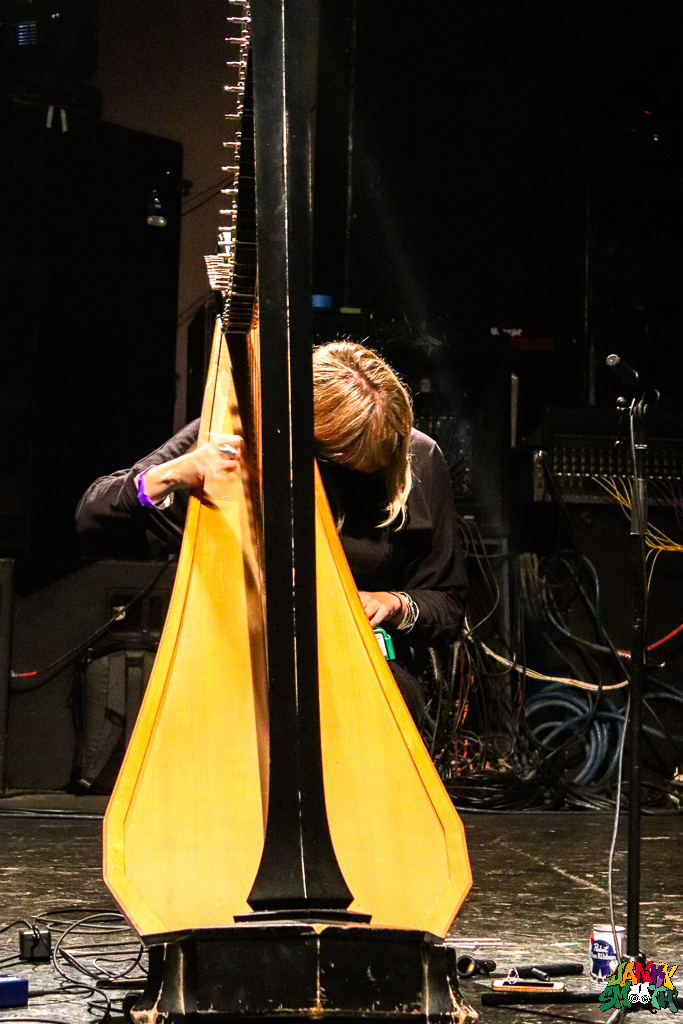 Choir Boy were perfect to bring us back up, much like openers Fearing. A dash of synthy post-punk to slowly bring us out of the respite of Lattimore's set rather than abruptly switching right into the louder sets.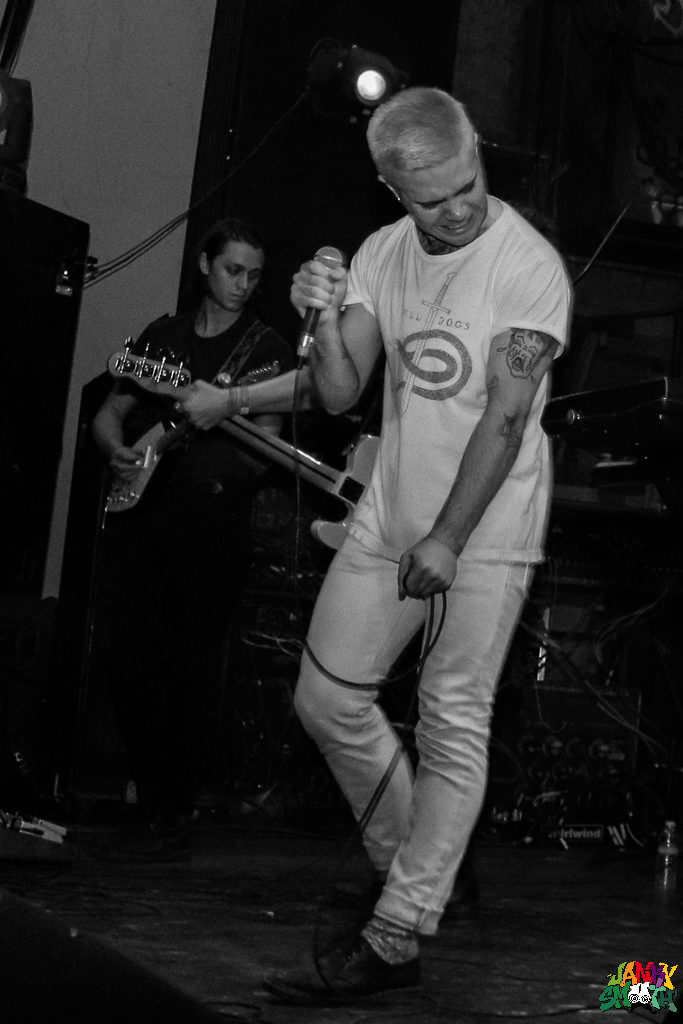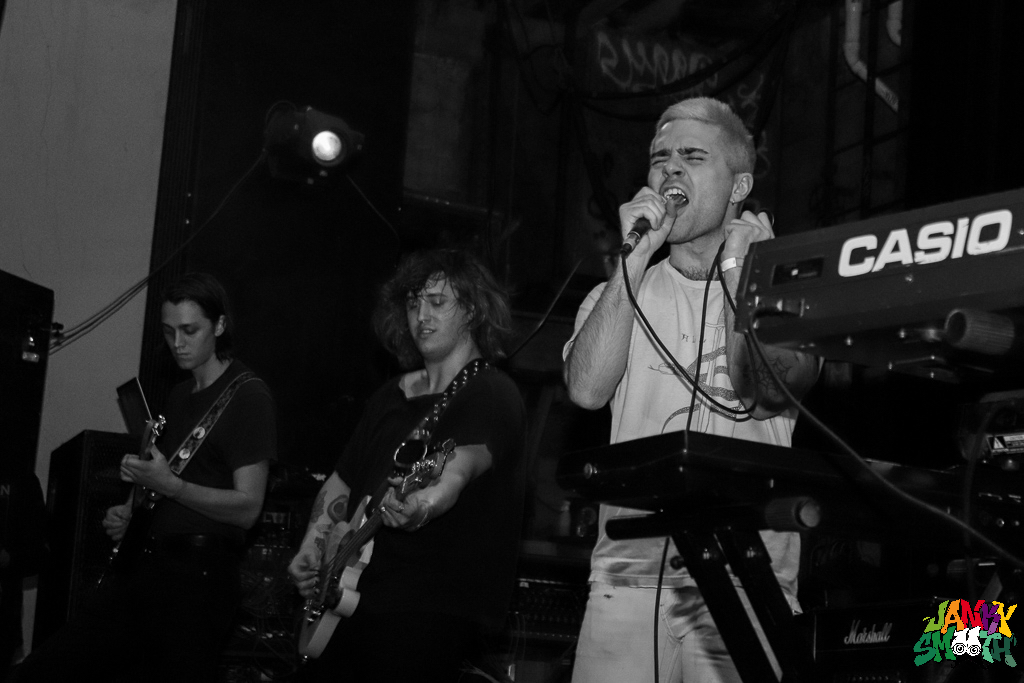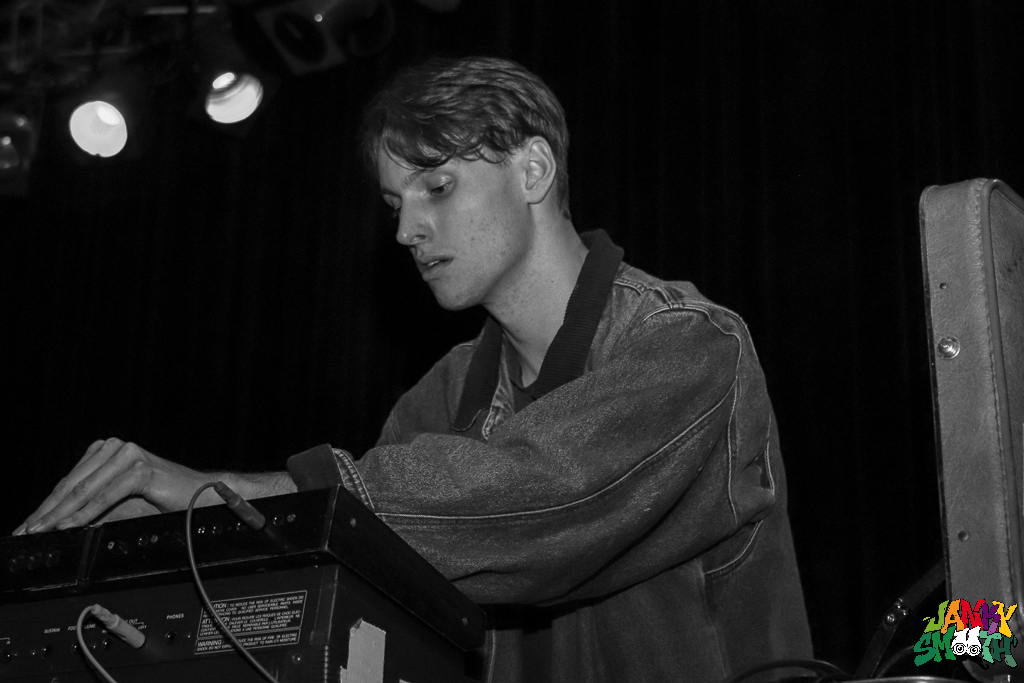 Krimewatch turned the energy levels way back up, which is what I always expect of them give vocalist Rhylli Ogiura's powerful presence. Krimewatch is one of my favorite bands to see live. The bass is never neglected and the underlying hip-hop influence is present in a way that brings a pleasant, yet almost imperceptible, tension to their music. As I write this I'm almost sad I'm not seeing them again soon, tomorrow, tonight, right now.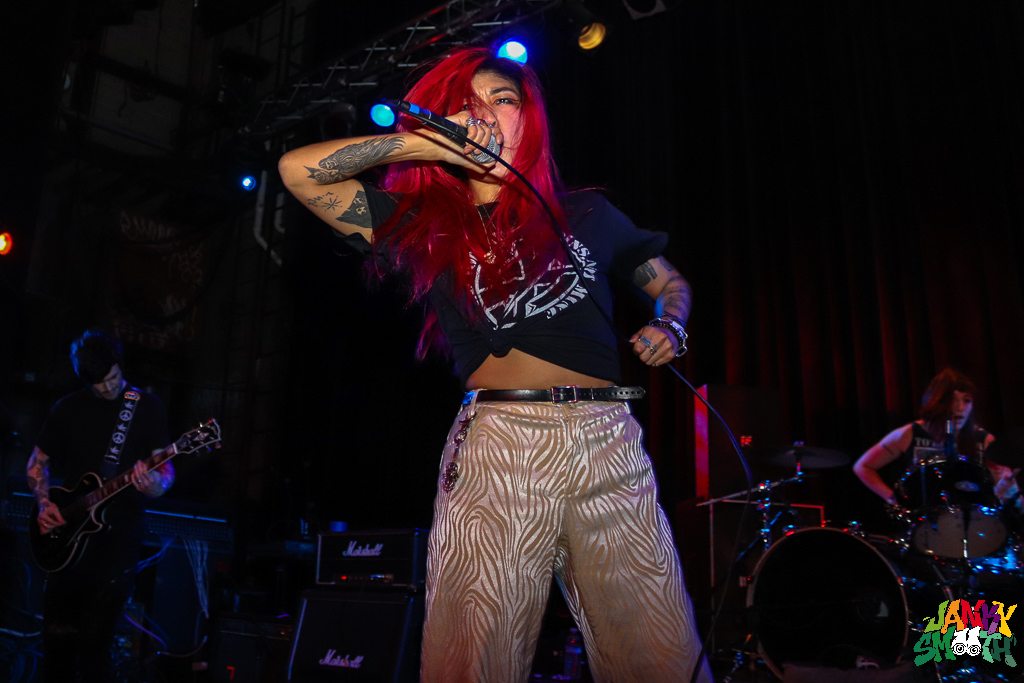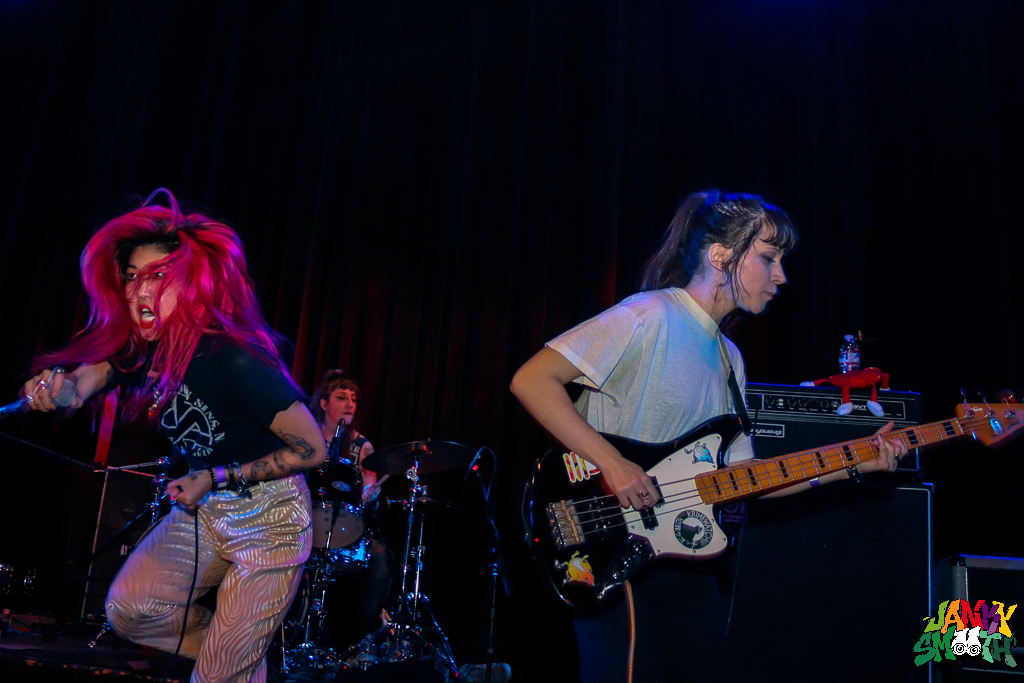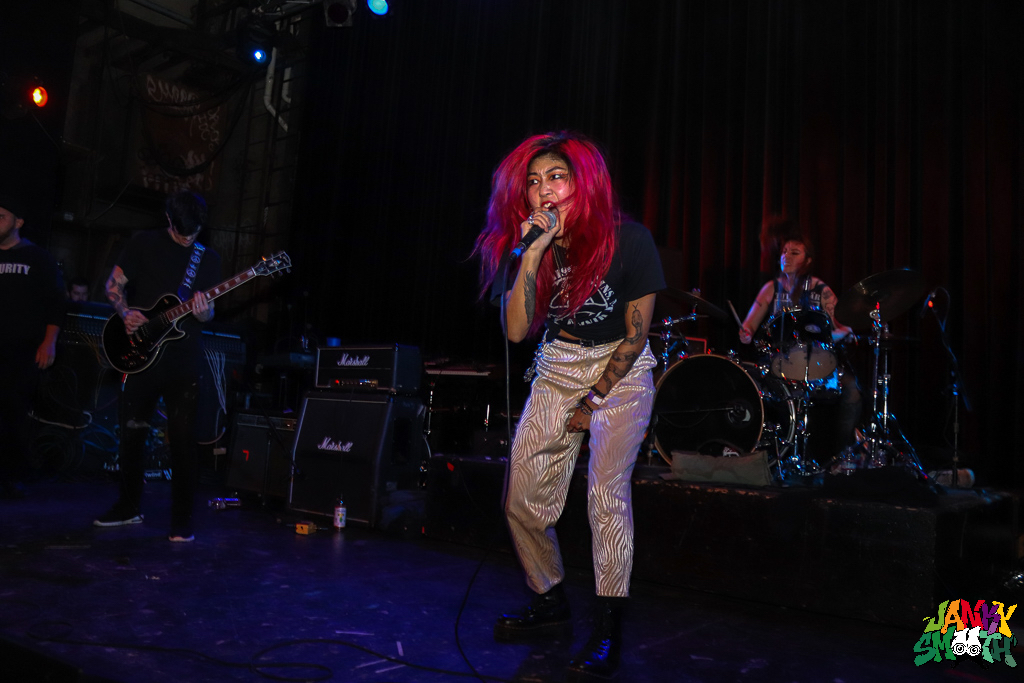 Iron Lung played a different set than normal as the two piece grew to three. Vocalist (and, usually, drummer) Jensen recently underwent surgery that made drumming out of reach. It was interesting to see him this way, with hands submerged in blue medical gloves and a freed from the drummer's seat. Jensen is a natural at standalone vocals and guest drummer B (of No Statik, among others) filled in so well that Jensen seemed able to be entirely present in the role shift.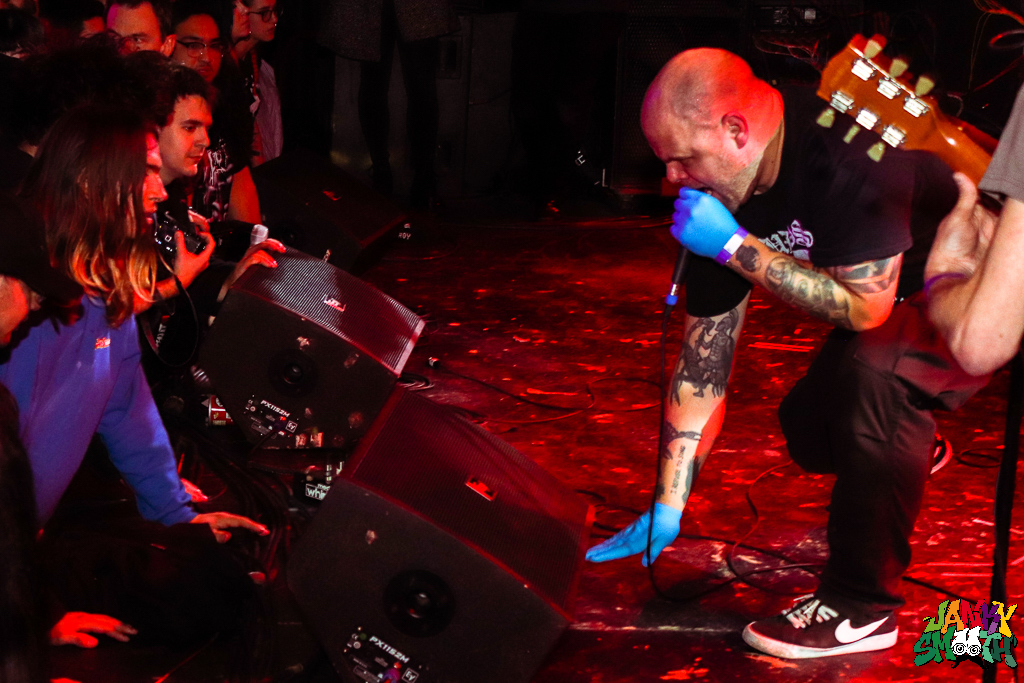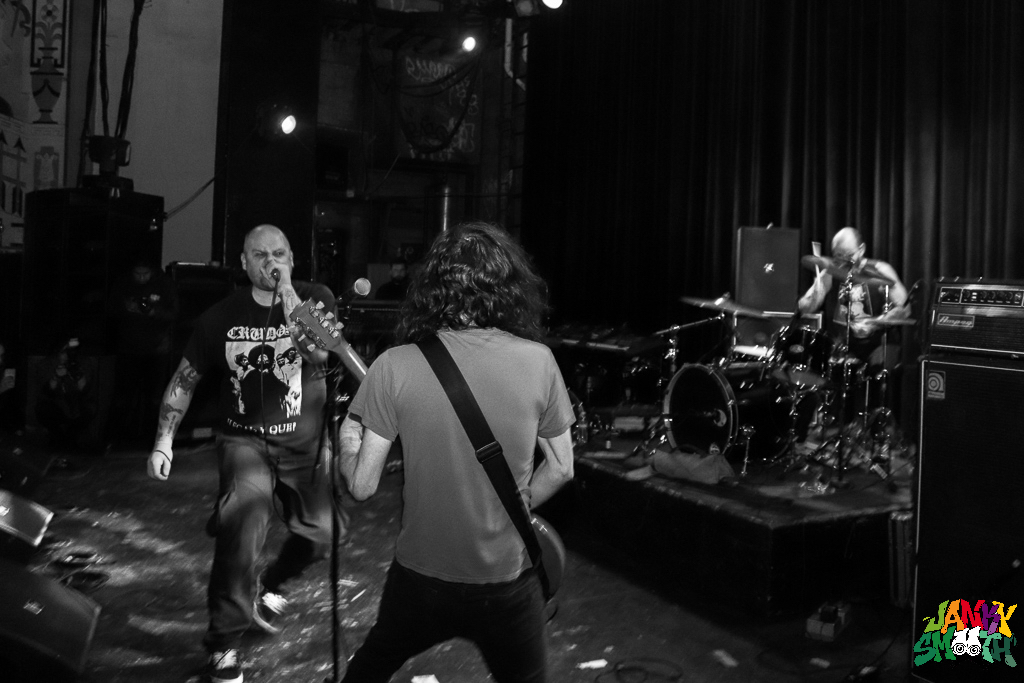 I had never heard Tamaryn prior to Home Sick but I had been reassured that I was in for a treat. The ethereal dream pop made perfect sense as a precursor to Cold Cave in the lineup but, as a follow-up to Iron Lung, it was a sharper shift than we'd seen up until this point. Nonetheless, Tamaryn was a treat indeed.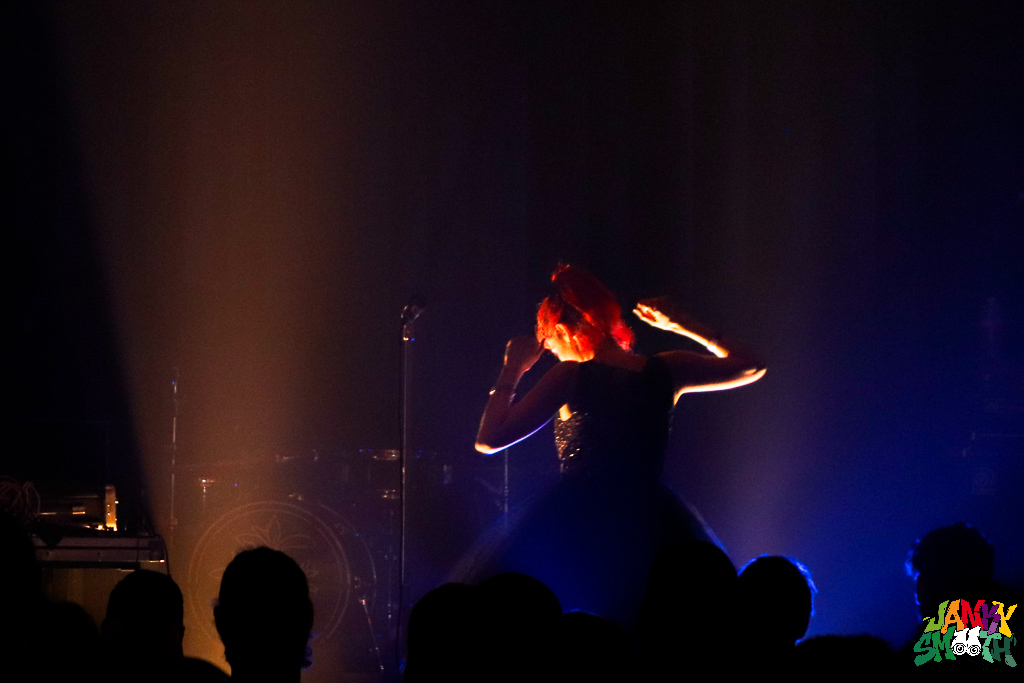 For me, Cold Cave were a bit of a meditative moment because I knew what was to come. The static visuals reminded me of an old television set and the accompanying melodies were just as haunting as any poltergeist that may emerge from one. I watched from the seated area above the main floor and watched a crowd that was partially transfixed but often dancing along.
And, finally, Ceremony. They are, of course, the glue that holds this thing together. Both as the curators and as the final act that represents a whole comprised of parts we'd seen all day. From the sparse opener, "Hibernation," to the rowdy crowd pleaser "Sick," (which gets more true over time, rather than less) there was no sonic landscape left untraversed. Will I ever grow tired of watching half of the crowd throwing themselves on and offstage as everyone yells lines like "Pack your fist full of hate, take a swing at the world?" I really don't think so.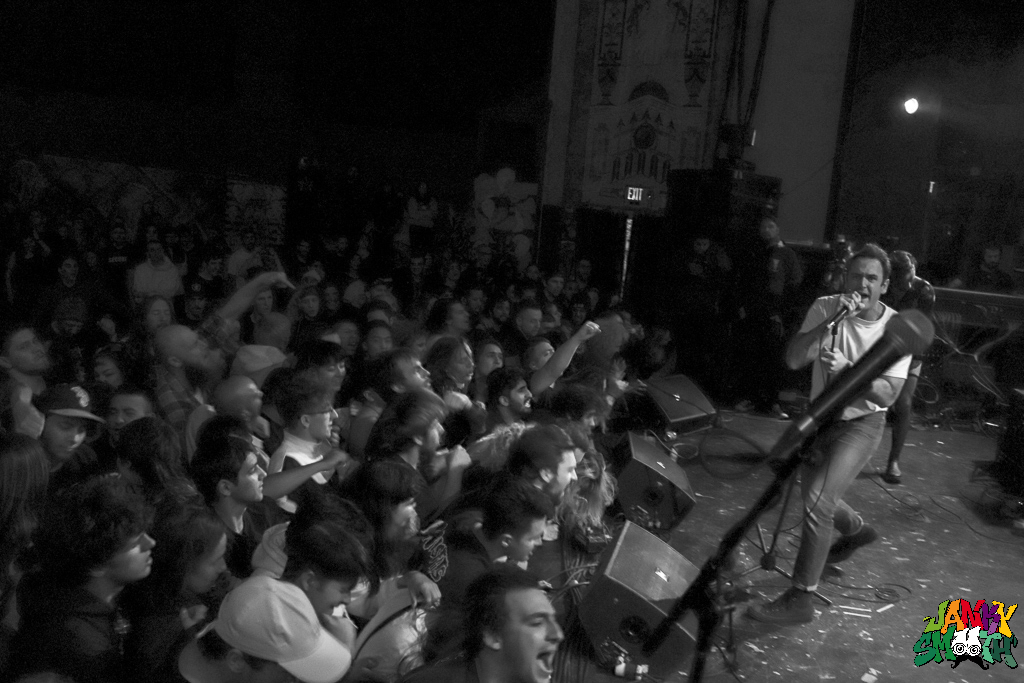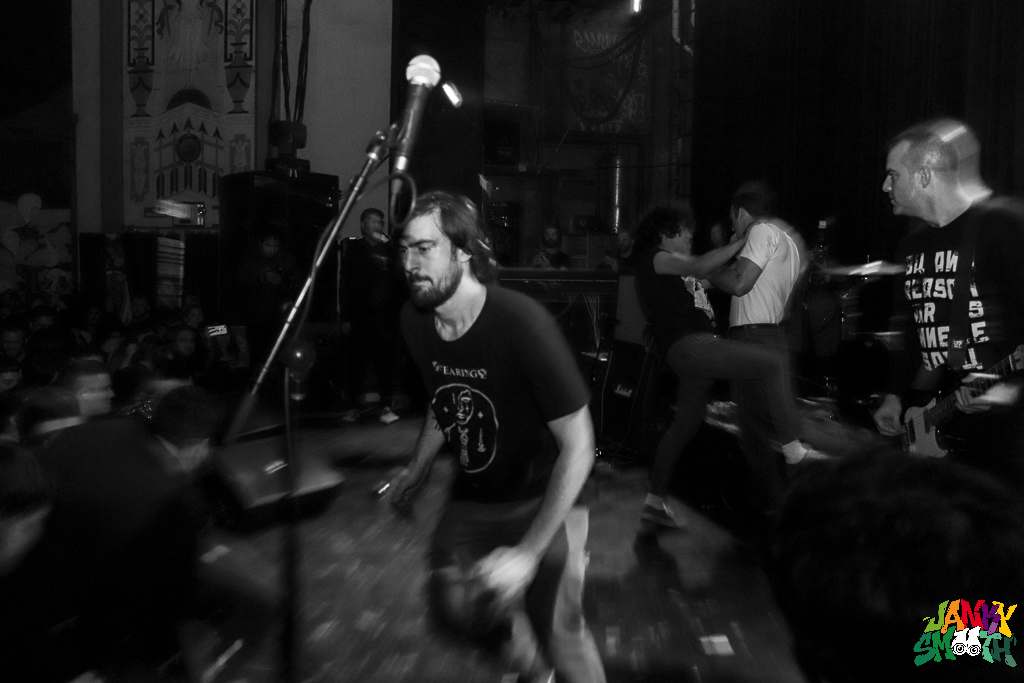 Seeing Ceremony live is a treat, they don't play as often as other local bands. We save our energy and it comes out full force in people ranging from ages 13 to 45. Bassist Anthony rolls out bass lines with unbridled competence, confidence, and.. legs. Because he's not wearing pants and sometimes one forgets that because there is so much happening. The drums are noticeably ferocious. The guitar shines in a way that doesn't eschew complexity but doesn't beg for attention the way guitar sometimes does. As for the vocalist, Ross, he is often one with the crowd and not missing a beat except for when he intentionally hands it off. Every part in the room contributes to the whole, flawlessly. And then it's over. Always too soon.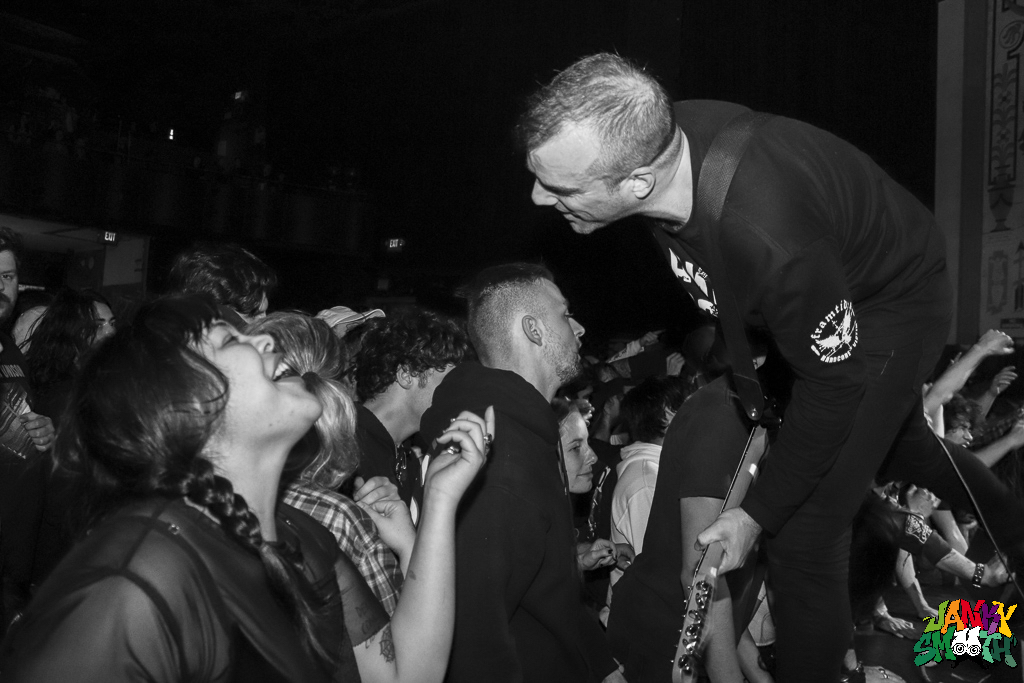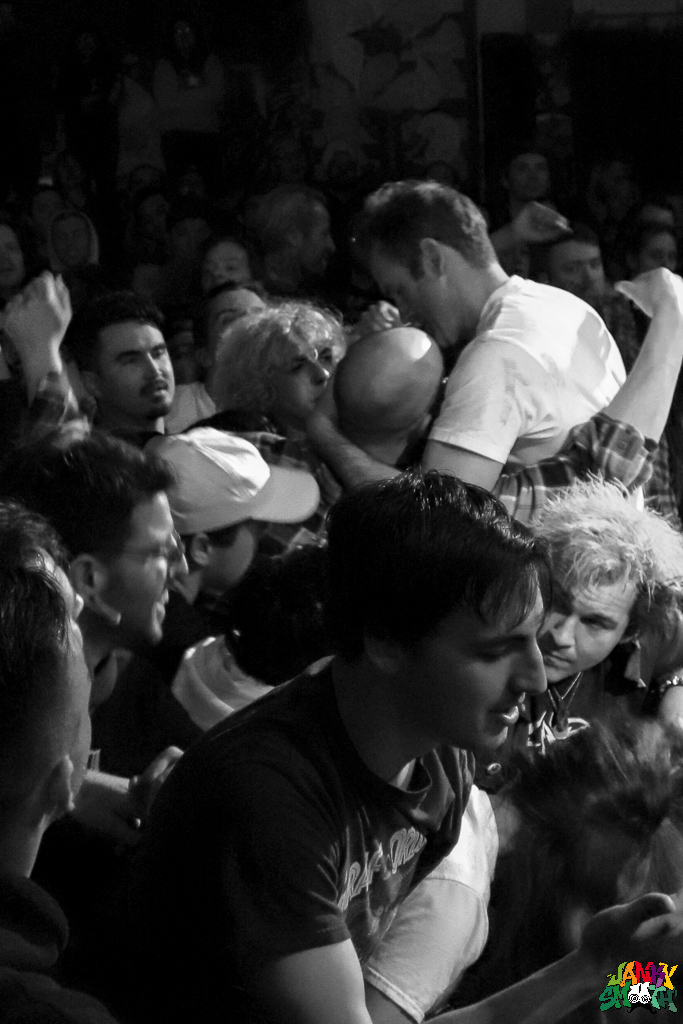 The room clears slowly, cautiously. We never want to go home. Someone does a few laps of skateboarding and then it's done. We all continue to nightcaps elsewhere or just home.
I've found myself wondering what might be the genesis of the festival's name. I like to think it harkens back to teen years spent faking illness and sitting at home listening to music. Of course, it might be referring to absence from and longing for home.
I know this much: Home Sick 2018 made the Phoenix, a place I have no long standing attachment to, instantly feel like a home. I may have missed it in the year that flew by but for many hours I didn't miss anything at all after I stepped back through those doors at 3pm this year. Maybe time to consider renaming this festival Homecoming.
Words by: Nicole Verto
Photos by: Kelsey Drivinski