Millennial Matchmaking: Gary Numan & Ugly God At The Observatory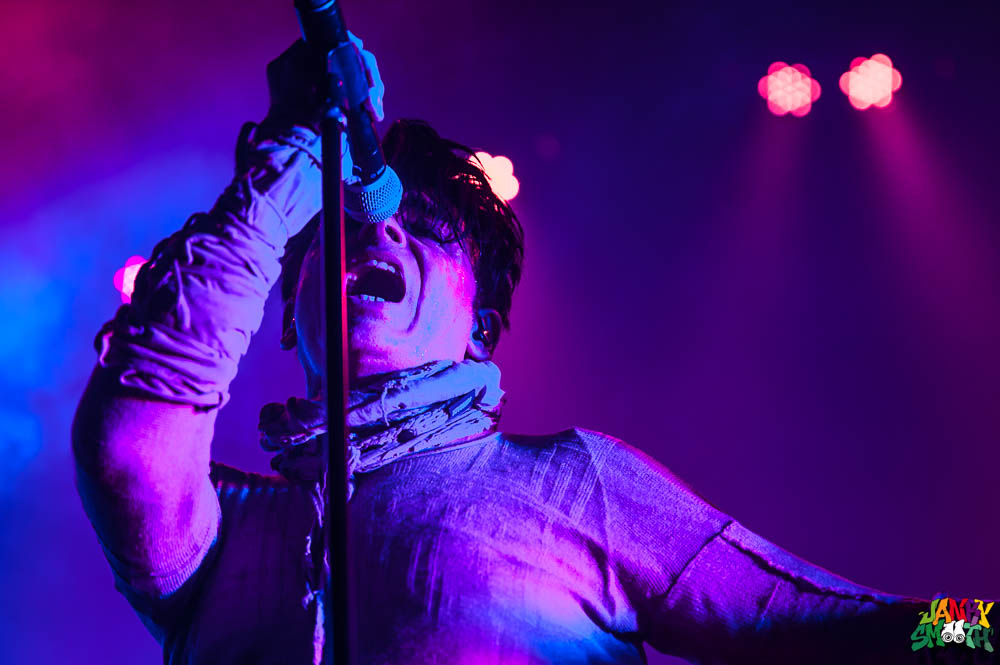 Two artists from very different times and scenes played two different shows on the same Observatory stage. Gary Numan and Ugly God- rarely do you get that much musical diversity out of a night and I was interested to see how my brain would react to absorbing the contrast. Anyone that knows me would think I was more interested in seeing Numan and though I'm a fan, I came to see what all this trap hype was about. For you see, music has become for me a divining rod which one can use to understand where society is going and if Trap's popularity is any indication, I think we'll all be celebrating ourselves stupid in times to come.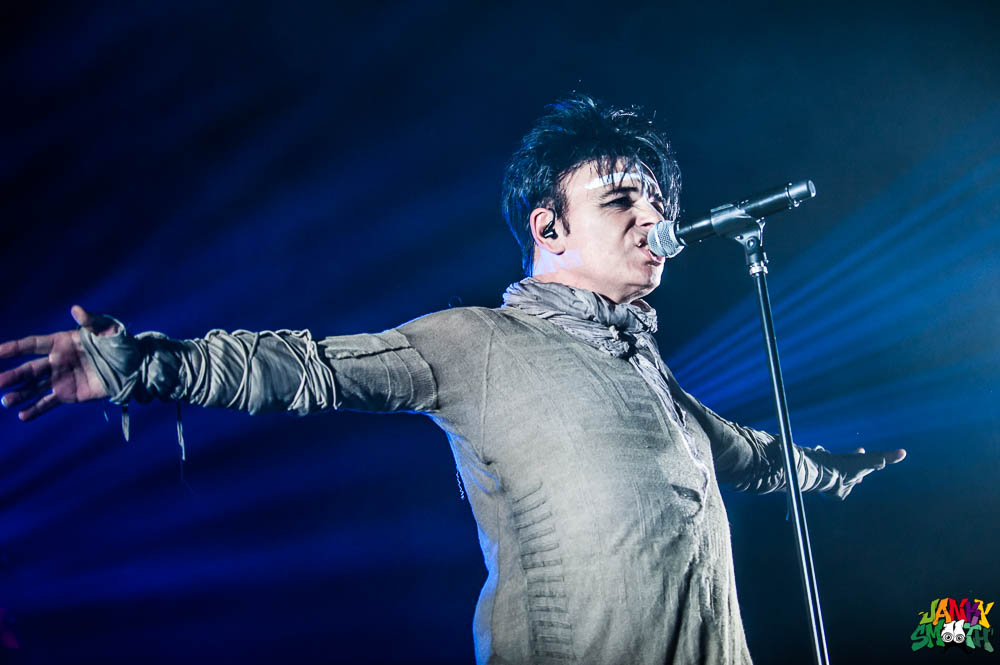 The Gary Numan show was first with Me Not You as his only support on the bill. They're a band from New York City that played an amazing and cathartic set with electronic post-punk vibes that kept building and building, pulling the tears out of your eyes while cramming the noise down your ears. They reminded me a bit of Health but with female vocals and a pinch of mellow, alternative vibes comparable to older bands like The Breeders or The Cranberries or something like that. The band closed with the first song off their new album Reckoning called "Bulletproof".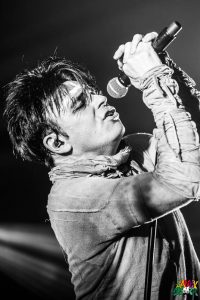 Gary Numan might be considered an older artist but his new album Savages (Songs From A Broken World) makes him relevant as any of the young heavy electronic bands you can find. It's one of those rare new album releases that surpasses an artist's classic material and reinvents his sound and image, and in 2017, when albums don't matter, that's a very special thing. Savages is a post-apocalyptic, industrial concept album about people surviving in the desert in a time that may not be as far away as it seems. When Numan and his band performs they don on beige linens and paint their faces with white symbols like the sand people from Star Wars but even on record you can imagine that very appearance."Ghost Nation", the first song on Savages, is also the first song of his setlist and with it, the expectation that I was going to hear 80's music was completely demolished. It builds and builds into an industrial metal power house track and without you even realizing it, Gary Numan has grabbed you in the palm of his hand and for the rest of the night refuses to let you go. Accompanied by a hypnotic and chilling light show, rays of blues, whites, and reds, streak overhead and bathe the band in their own post apocalyptic iconography.
For his age, 59, Numan shows no signs of slowing. His stage presence is packed with unmistakable charisma and for every note his band plays, he is able to meet it with the perfectly timed and chosen movement. He knows how to move and dance for industrial music, movements that communicate grace, drama, poetry, warning, and darkness.
His set wasn't just devoted to the new album though, "Cars" was met with messianic amounts of adoration then during his encore "M.E." glammed and glossed us back into the 80's. My favorite moment of the night was actually when he played "Bed of Thorns" which took the evening into a more sensual direction.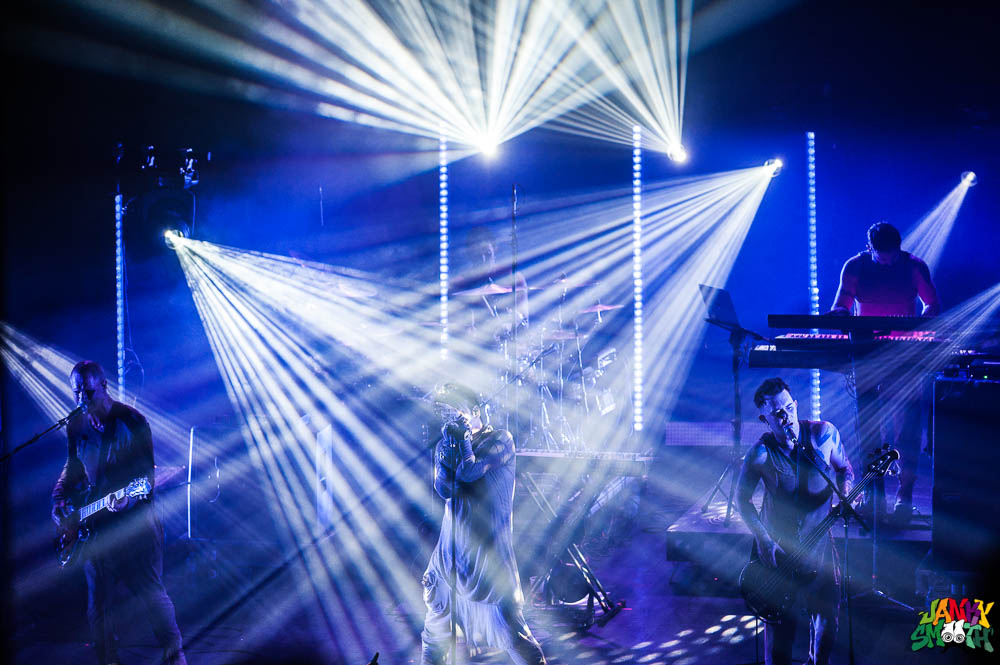 From the Glam of Gary to the Ugliness of a God
Gary Numan's show might have ended but the night was far from over, with Ugly God playing a late show. My interest in trap has been growing the more I watch various hiphop media outlets like VladTV or the Breakfast Club or Daily Struggle and get acquainted with all these new artists. For those living under a rock, only listening to rock, Trap is a form of hip-hop that relies much more heavily on production and feel than lyrics. I've heard so many different old school hip hop heads, from Joe Budden to RA The Rugged Man, call this evolution of rap trash but still, I can't help but enjoy certain songs. Post Malone, XXXtentacion, and Ugly God can all get me stirred up. That said, I still find Lil' Yachty, Lil' Pump, and even Lil Uzi Vert intolerable. The way RA The Rugged Man described Trap was a form of hip hop that doesn't require skill, like a terrible boxer that wins every match because he's only allowed to fight other bums.
As much as people holding too hard onto the past want to dismiss trap, this genre of music has organically made it's own scene with a unique etiquette, fashion, and vernacular, all of which has infiltrated mainstream culture. "Lit" comes from trap and now even punks say lit. Hell, the way I even discovered trap was going to Trash Talk shows where trap artists were on the bill. The blending of those two music forms may not make sense on paper but in person, it's explosively fun, Nature World Night Out being the best example.
The crowd had all crammed into the pit and before the main supporting acts came on stage, a cavalcade of young, local, off-bill artists came on stage to perform. Then in between them, the DJs shined, spinning all the hits and making themselves equally as integral to the night's experience as the actual rappers. Trap isn't just inspired by EDM and hip hop though, they take cues from emo, grunge, punk, and even metal by making the occasional mosh pit while everyone jumps up and down. It's much like pogo'ing from punk's heyday, but now, as they jump, everyone has their phone out, recording Instagram stories for their friends to see. Trap might be the only musical genre where the artist doesn't resent using your phone to record video.
Mumble-rapper Lil Wop was first and with him a whole posse of eccentrics like one friend dressed like a dandy and smoking blunt after blunt. Then another homie was a small asian with face tattoos and a man bun hyping up the crowd. All these people contribute to the concept that we are truly in a party, that these artists gather around every type of boss.
Next was Larry June, a hilarious rapper from Atlanta that in between raps has a routine of catchphrases he goes through, like "ey-ey-ey-ey-ey-ey" or "Good job, Larry" or this strange Michael Jackson-esque yelp. Between that and passing around orange juice and oranges to the crowd, the rapping was good but it felt a hype man took center stage.
Finally, Houston's Ugly God came on stage while the entire audience went ape-shit chanting "Fuck Ugly God!", the title of what might be his most famous track. Covered in clothes by Supreme, Ugly came out and everyone turnt up to 11. He played most of the songs off his breakout album The Booty Tape as well as his original hit single "Water". What makes Ugly special is his use of satire in lyrics, while plenty of the trap artists rhyme about depression and suicide, this dude makes a diss track against himself and another about how rancid women that smoke Black and Milds are. He's hilarious and a dynamic producer, with his beats are appreciated from new artists in rock and rap.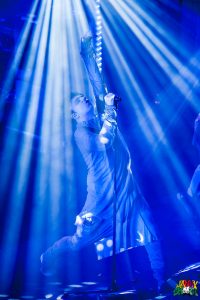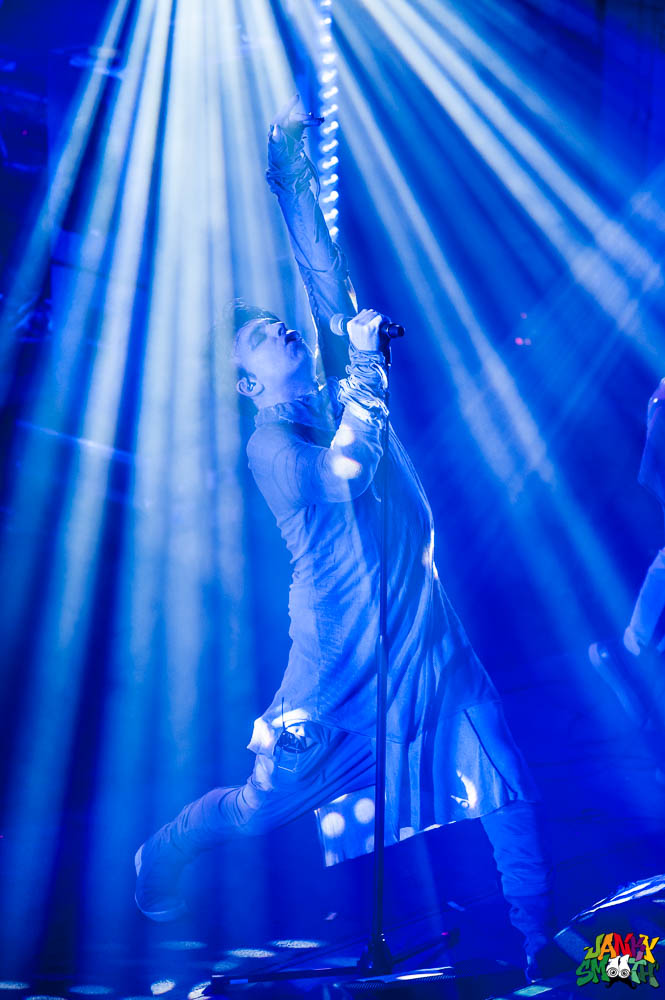 One night I saw Dave Parley from Prayers outside of Monty Bar and asked him what he was listening to, his answer was The Booty Tape. The show was awesome with everyone jumping and moving the entire time and more blunt smoke in the air than at a Sleep concert. It was an eye-opening experience that helped me understand the next generation of kids.
Seeing an old artist reinvent himself with new music then a new artist do his thing for fans ten years younger than me was a beautiful and hope-inspiring contrast. Once again, as always: Music over mind, music over time. Again and again, forever and ever.
Words by: Rob Shepyer
Photos by: Jessica Moncrief