Off Without a Hitch: Elvis Costello and the Imposters at House of Blues Anaheim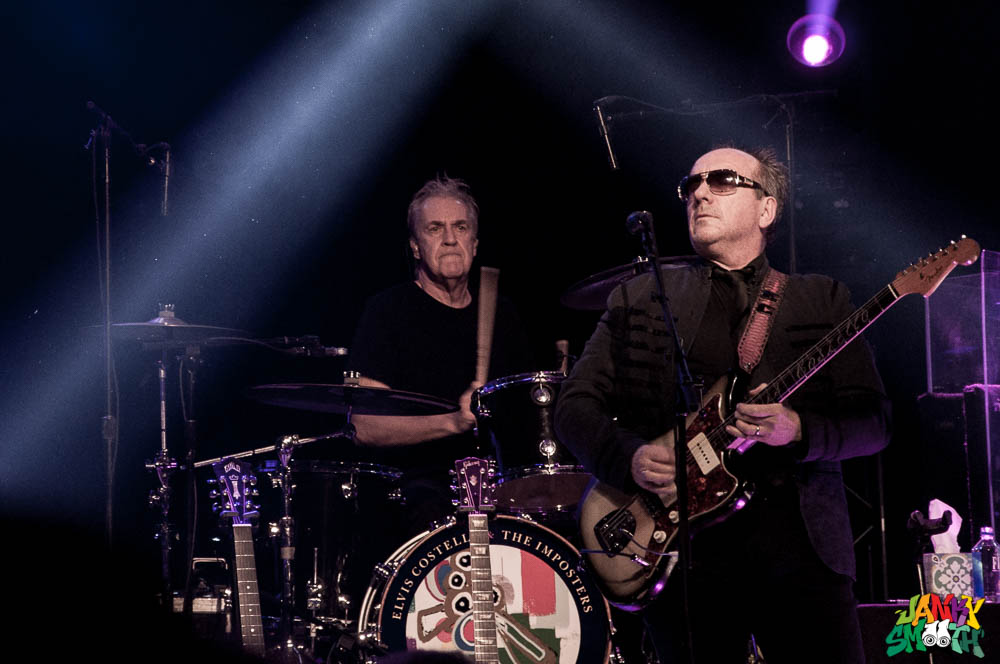 Words and Photos by: Maggie St. Thomas
I was escorted into the Anaheim House of Blues by Professor Steve Nieve himself, who came out to greet his daughter, my date for the night. We walked into the venue and backstage through production to the Green Room, adorned with english teas and candies, and just under a 1/2 dozen Elvis Costello mugs and Grether's Pastilles on the table. A man walked by who I introduced myself to. He looked familiar, but I couldn't place it. My eyes lit up when I saw him enjoying a small cup of espresso in the greenroom. I asked if I too could get a cup, and within seconds a tiny mug of espresso was in my hand. I am almost too embarrassed to admit I thought this was a roadie due to his friendly and accommodating demeanor, I figured it out long after my espresso had kicked in, when the man I mistook for a roadie walked onstage to the sold out venue to take the microphone, and the band kicked into "This Year's Girl."
The Anaheim House of Blues didn't keep fans waiting, Elvis Costello and the Imposters began their set at 9 PM and showcased a perfect set diverse selection of just under 30 songs that spanned their career. Pete Thomas on drums and Steve Nieve on keys brought a mix of new tracks and their old hits as original members of The Attractions. Elvis Costello's voice is still as good as ever, with music that completes a fresh and utterly original sound. They went into "Honey, Are You Straight?" Although the audio was plagued with technical problems right from the beginning, Elvis Costello and The Imposters delivered a performance that far surpassed the cost of admission, including songs from their new album Look Now. It seemed that everybody had a great time while enjoying the marvelous live music and visuals. Richer and more striking than ever before, the organ notes and keys of Grand Piano Professor Steve Nieve were unquestionably the highlight of the night. "Pump it Up" was on full throttle and marked by an irresistible sense of attack that had everybody going, including backup dancers slaying it in unison. The energy was incredible.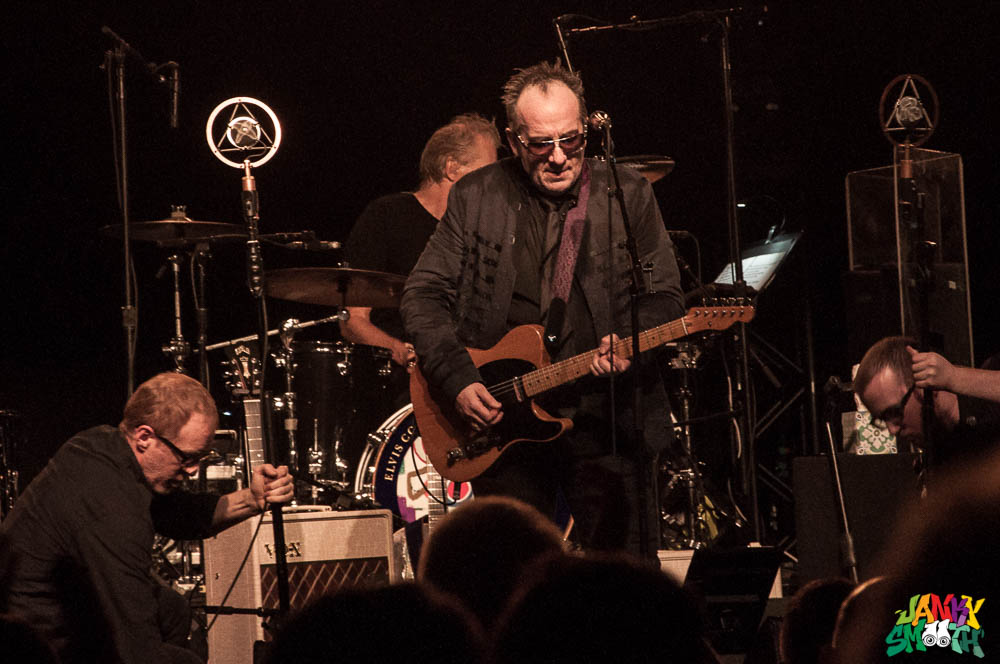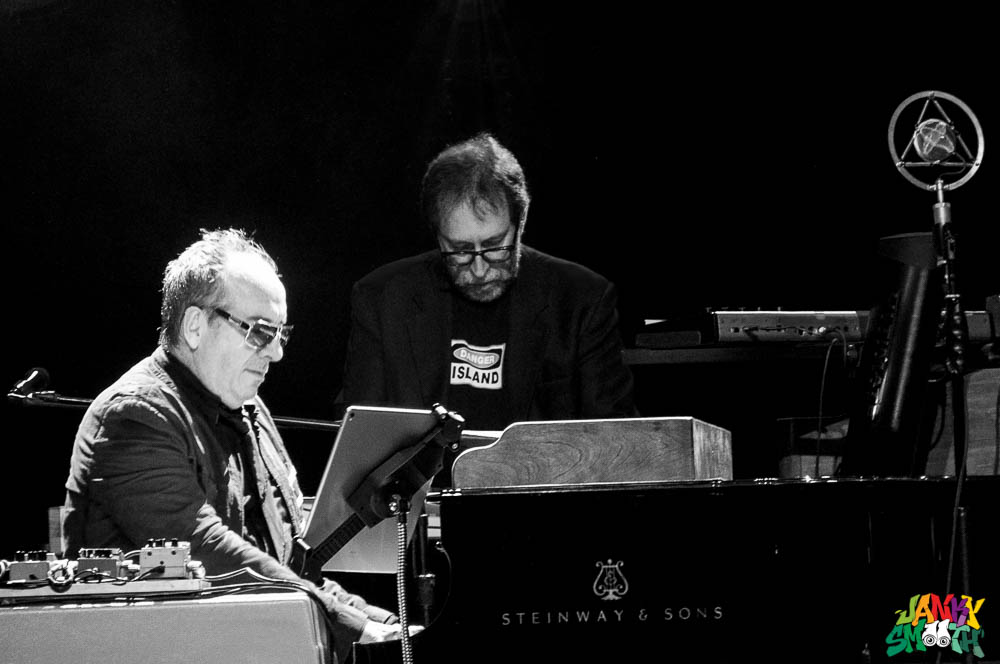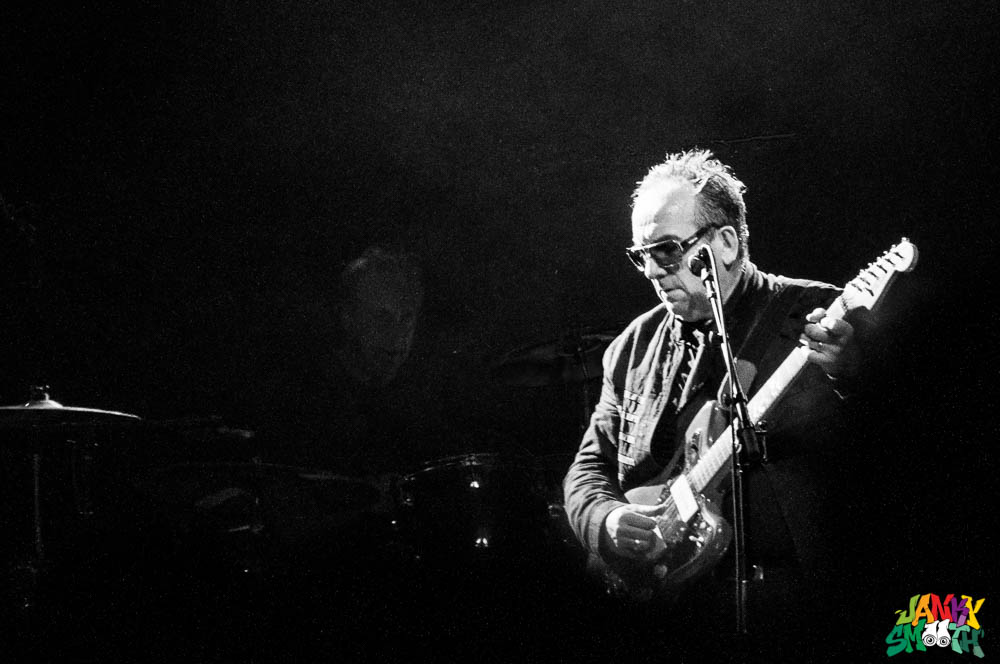 Their encore included three more hits including "Face in the Crowd," "American Gangster Time," and ended the night with "Peace Love & Understanding."
In between catching up with his daughter Mercedes Hart, I managed to get a few words from the Grand Piano Professor Steve Nieve himself after the show. I asked him what the highlight of the night was for him, to which he replied, "well the show tonight went into some directions we weren't expecting to go in because there were a few technical problems, but as usual Elvis was really on top of the situation even thou a lot of his equipment wasn't working. He managed to build a completely different show, but equally inspiring and amazing.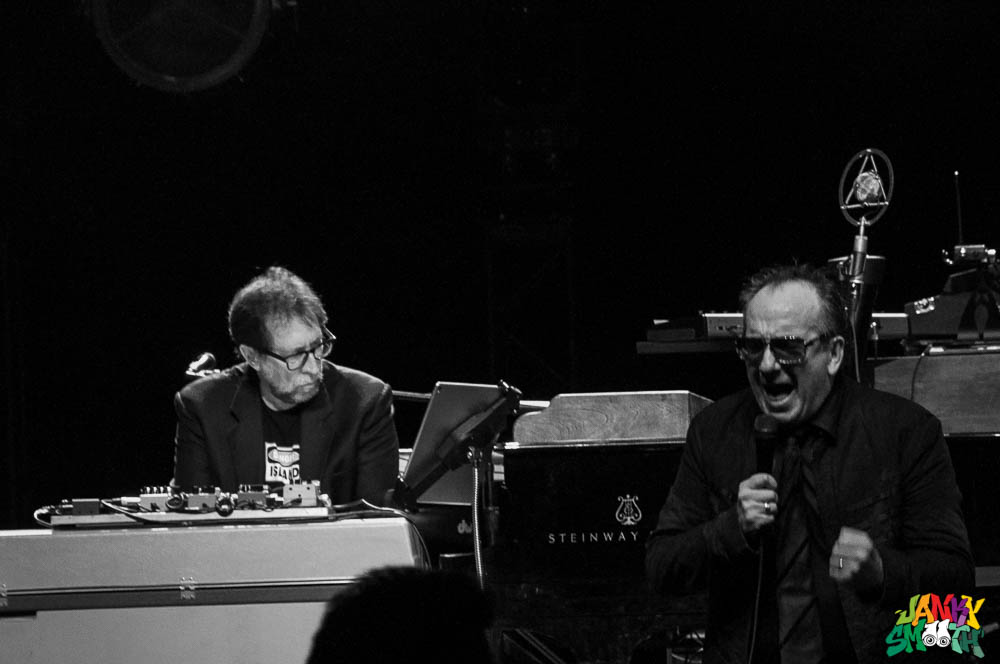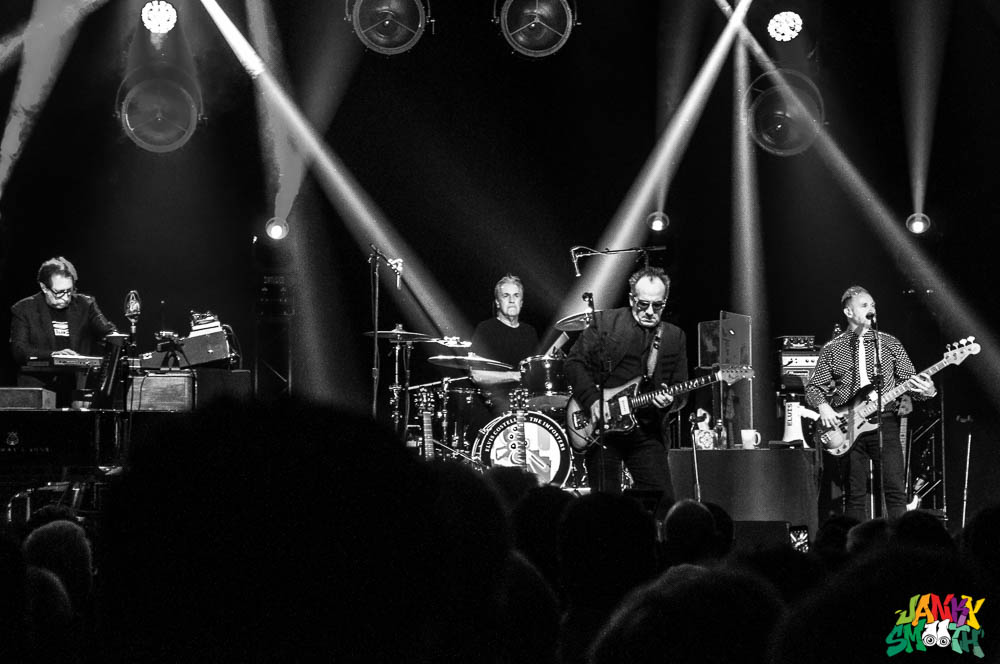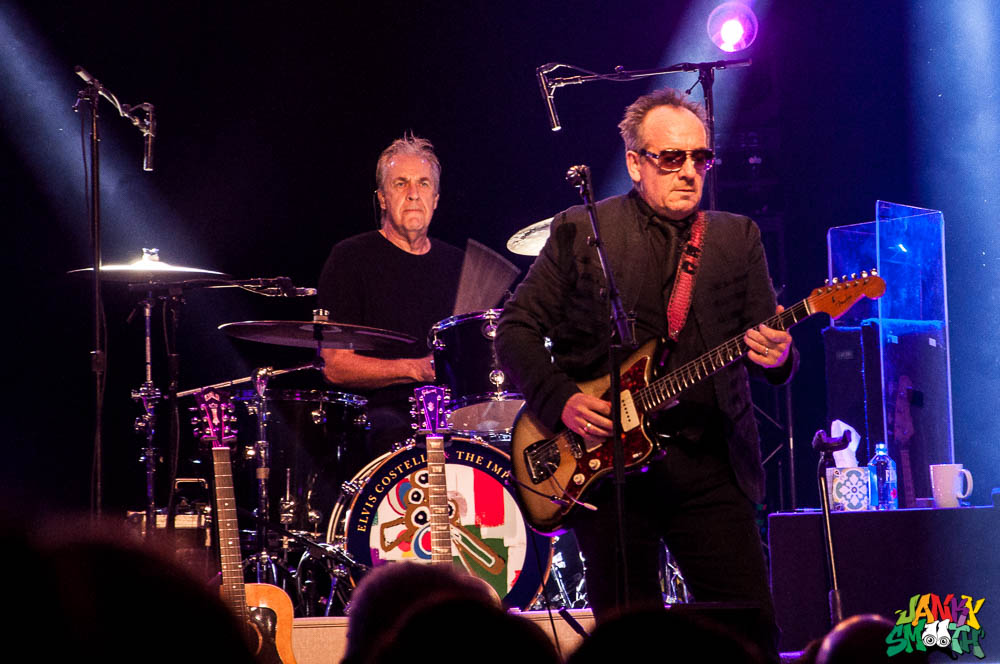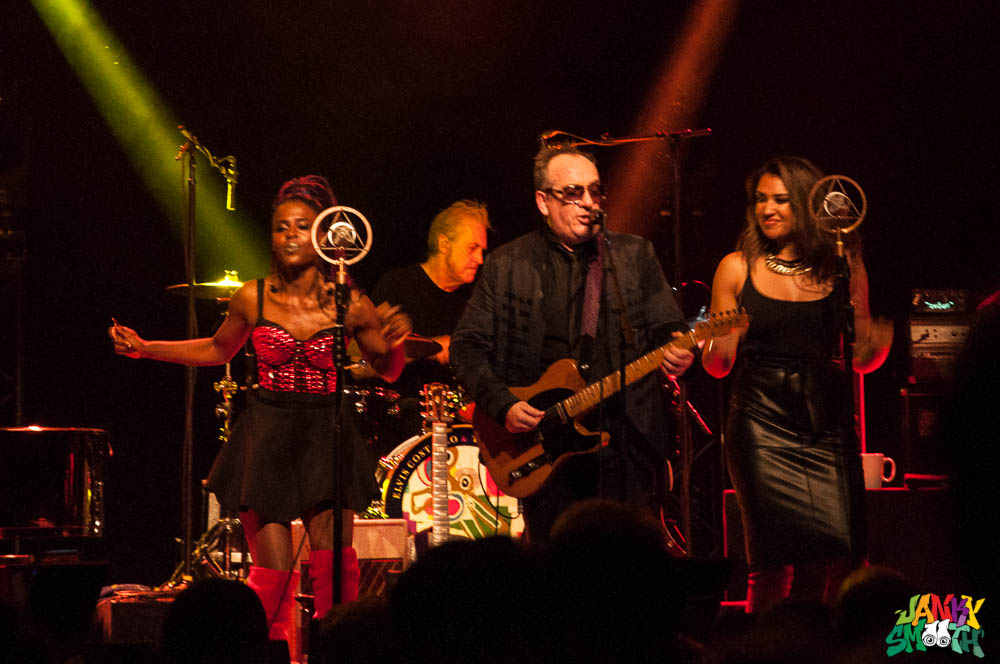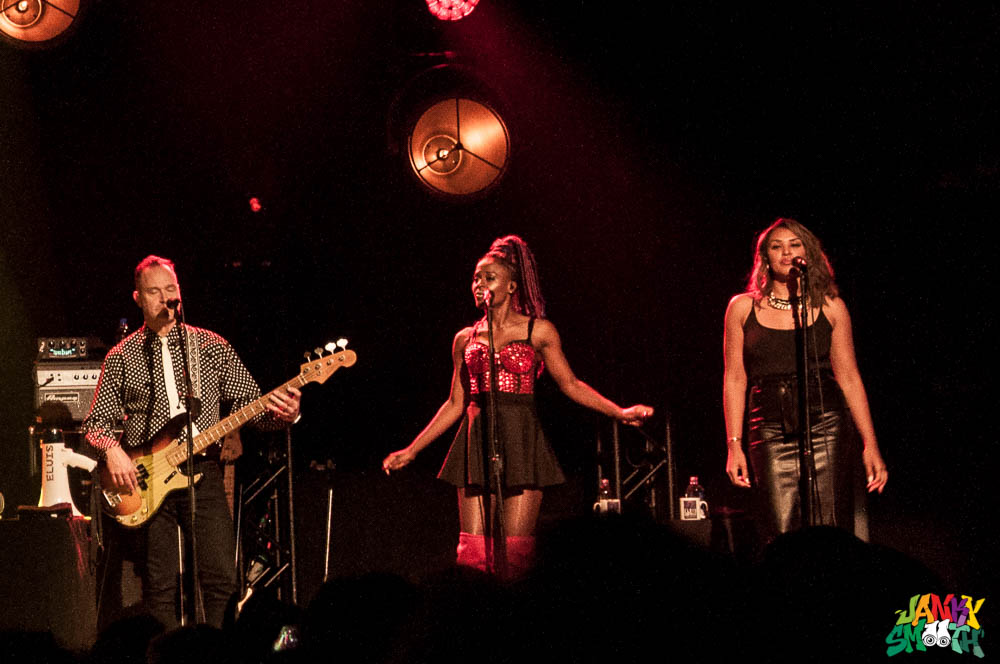 My favorite song to play tonight was "He's Given Me Things." There was a moment a young man in the front row was obviously in a physical crisis, in fact Elvis had to call the medics so the whole song was going in weird directions because of what was actually happening in the room, it was a very emotional version of it. So all those things added to it, they were all totally unexpected things you can't plan for, but when you're working with someone like Elvis he is able to grab hold of them and turn them into something great."
Elvis Costello and The Imposters are incredible to see live. They deliver the goods and keep you wanting more, even with technical difficulties and sound issues.