A written eulogy for Subhumans frontman, Brian "Wimpy" Goble by Joe "Shithead" Keithley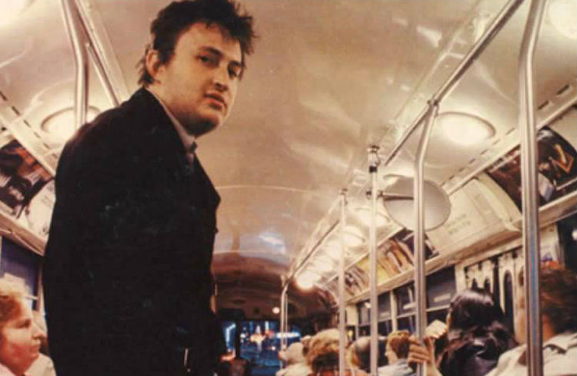 Brian Goble aka Wimpy aka Sunny Boy aka Sunny Boy Roy has left us and this world is much poorer because of that. Brian, just 28 days short of his 58th birthday died of a heart attack on Sunday December 7th, 2014. I am writing this because of the loss and heartache I feel out of losing a lifelong friend, but also to remember what a vital and amazing person Wimpy was. The toughest part is the thinking about the children he has left behind, his son Dylan, his daughter Sarah and his step son Cole, who Brian helped raise. My most heartfelt condolences to them and to Brian's older brother Roger.
I first met Brian in 1963 walking home from Lochdale Elementary School in Burnaby, BC. Around the same time I also met Gerry Hannah (Gerry Useless) who lived very near Brian, they were six years old and I was seven and we all lived on Burnaby Mountain. About four years later the three of us befriended Ken Montgomery (Dimwit), whose family had moved to the Lochdale area. From elementary to high school our friendship grew, through our collective love of music and social/political consciousness till we became the best of friends and inseparable. It occurred to me later on in life that we truly were "The Four Amigoes".
The four of us started our first high school band called Misty Grey and we were terrible, but we were learning. In 1975 when we were around 18 and 19 years old we left Vancouver in an attempt to "get back to the land". We were kind of junior hippies in a sense in the small BC towns of Lumby and Cherryville, that was a lot of fun but ultimately that fizzled out. We moved back in Vancouver and started a cover rock band called Stone Crazy, Brian on bass, Gerry on vocals, Dimwit on drums and Brad Kent and I on guitar. We got our first booking in Merritt BC and promptly got fired and our collective asses kicked out of town before "the locals cut you guys in two with their chainsaws".
Well that unfortunate booking led us to abandon that predictable approach to rock n' roll and to take on the new ground breaking style of punk rock, which we did with an unparalleled zeal. We started Vancouver's second punk band in the summer of 1977, we called it The Skulls. Brian was becoming a stalwart on bass, Dimwit was well on his way to becoming one of Canada's greatest drummers ever and Simon Werner was an ace on guitar. That left just me, by default I became Joey Shithead, "That maniac on vocals".
We were soon dubbed "Vancouver's most hated band by Tom Harrison of the Georgia Straight. We played around Vancouver for awhile, then in October 1977 we all moved to Toronto to join the "scene" there. Gerry Hannah, looking for adventure, moved to Toronto with us and this is how the legend of "Wimpy" was born. Gerry was writing songs but had no band, so we had Gerry play bass, Wimpy sang, Simon played guitar and I drummed, we called this obnoxious outfit Wimpy and the Bloated Cows. Thus Brian finally had a great punk rock nickname and also the tradition of "fuck bands" was born, where people traded instruments and made up instant bands.
At the start of 1978 Wimpy and Simon moved to the U.K. with a plan to have The Skulls invade London! Good plan but Dimwit and I screwed up the plan by moving back to Vancouver, Wimpy was broke and freezing in London, so he soon followed. When he got back, Wimpy started the early Subhumans along with Dimwit and Brad Kent. (this was about the same time I started D.O.A.). That line up soon merged with The Stiffs, solidifying the Subhumans classic line up of Wimpy on vocals, Gerry Useless on bass, Mike Graham on guitar and Dimwit on drums. Notably left out of the arrangement were good pals Zippy Pinhead, Sid Sick and Brad Kunt. But one of Canada's greatest bands were on their way.
Featuring the great songwriting of Wimpy, Gerry and Mike, the powerhouse drumming of Dimwit, the Subhumans were led by Brian Wimpy Roy Goble, the most original front man as you could find this side of Iggy Pop. It's not totally clear but I do believe that Wimpy invented "crowd surfing" when Mike would start playing lead Wimpy would jump into the crowd, then one night the crowd caught him and held him up, I had never seen anything like it. Brian was a powerhouse vocalist, our old soundman Hutch believed he had a special power to fire out vocals louder than any human ever had! The Subhumans put out two sterling albums as well as a number of singles and a four song EP, before they broke up in 1982. They later reunited (with Jon card replacing Dimwit) and released two albums.
So in March 1982 Brian joined D.O.A. along with Dimwit (RIP). They replaced Chuck Biscuits (Dimwit's little brother) and Randy Rampage as our rhythm section. Exceptional they were and the two of them, along with Dave Gregg (RIP), myself and producer Thom Wilson recorded in Los Angeles for five days and cut D.O.A.'s 3rd album "War on 45" (some call it an 8 song EP) in any case I would rate that album in D.O.A.'s top four. On that record you hear just how innovative that Brian was on the bass.
Brian was a huge part of D.O.A. from 1982 -1996, we went through personnel changes that included great musicians like Jon Card, Chris Prohom, Ken Jensen (RIP), Ford Pier, Brien O'Brien, John Wright amongst others. I recorded seven albums with Brian: War on 45, Let's Wreck The Party, True North Strong and Free, Murder, 13 Flavors of Doom, Loggerheads and The Black Spot and a number of other releases. After well over a thousand shows around the world, Brian quit D.O.A. after 14 years, making him the second longest serving member of D.O.A.
There are some things I'll never forget, when were both about 11 or 12 Brian introduced me to hockey, we played on the street in our rubber boots with golf balls, boy did that hurt when he would take a slapshot at my net and I got it right on the ankle. Brian and I also played minor hockey together in Burnaby and he later became a devastating hard hitter playing right wing for the D.O.A. Murder Squad. There was the time in Germany when Italian army deserters tried to steal his passport and he ran out of the bar with only one shoe, yelling "Hans Peter help me! Hans Peter help me!". Or on an early tour in Europe when him and I had never seen a mini bar in a hotel bar before, so on my advice we drank the bar dry and in the morning we had to make a run for it from the hotel staff when they wanted the dough! Or the time he was two fisting bottles of wine at a gig in Slovenia and the ride back to the hotel ended up with a Technicolor yawn on the side of the van! There was also the sense of self preservation when Brian, Dave, Dimwit and I barely escaped L.A.P.D billyclubs at a couple of different police vs. punks riots in Los Angeles. This is indelible stuff that I shared with Brian, that is now part of my very soul and being.
Brian was a humanist, a great father, an incredible singer and bass player, he believed in free speech, was always against war and he would speak up against bullshit. He was also one of my best friends and I'll miss him forever.
Long live the spirit of Wimpy!!! Rest in Peace.