Com Truise & Clark At Forefront of Breaking Stigma of Electronic Music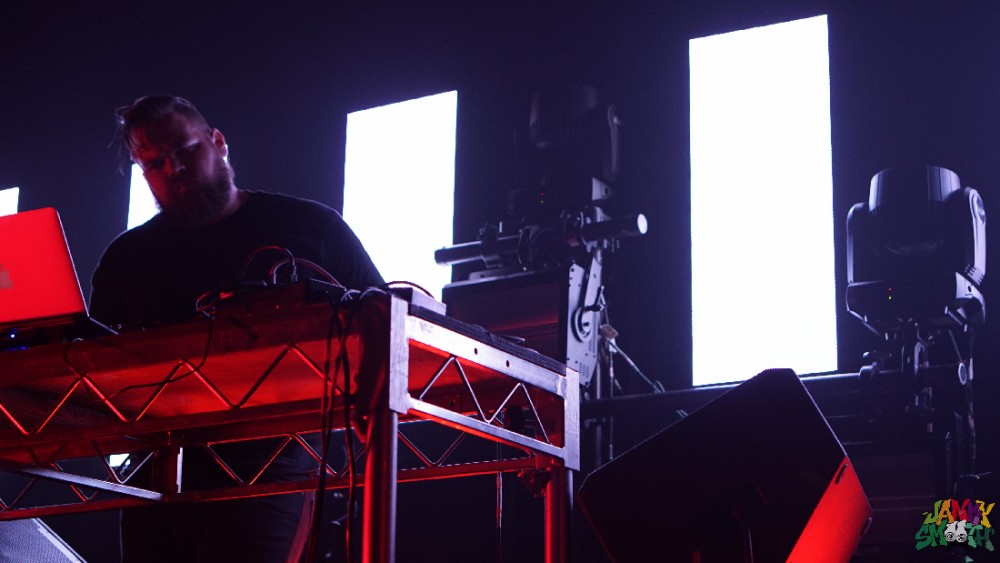 Electronic music often carries a heavy stigma for being repetitive or unoriginal. Unfortunately, many artists get lumped into the broad category of 'EDM' thus rendering their art unpalatable or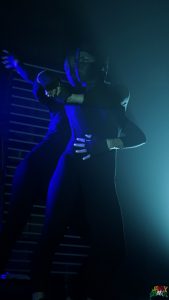 unapproachable for a significant portion of music enthusiasts. What people fail to recognize is that, just as electric guitar is central to many genres of music, so is the overarching use of 'electronic' sound manipulation equipment in music. The Regent in the heart of Downtown L.A. hosted Clark and Com Truise on a Thursday night and the turnout was an impressive mix of people, a relatively diverse sample of audience members. As was expected, there was a significant number of visibly and obviously people under the influence of party drugs. Wide-eyed, they passed through the space respectfully and amicably.
English electronic musician Chris Clark performs under the abridged moniker Clark. Although he was an opener for Com Truise's headlining show, Clark absolutely blew it out of the water. He's been in the scene since 2001, when his first album Clarence Park debuted on Warp Records. His set was about as dynamic as electronic music can be, ranging from deep house to an almost noise-rock sound. The experience is heightened by the visual stimulation that accompanied the sound. Two dancers took the stage, utilizing the space in front of the DJ equipment. The dancers have their faces obscured throughout the entire performance. At first they have long black wigs followed by their whole bodies intertwined beneath a shimmering drapery and finally in all black with full face coverage. Clark's set incorporates samples of environmental sounds and darker elements of electronic music. His sound is infectious, all-encompassing and easy to lose yourself inside. Heavy strobe and an impressive spectrum of colored lights enhance the already surreal experience. All-in-all the set was about an hour long which was pleasantly surprising to the audience and left the venue filled with a tangible level of intensity.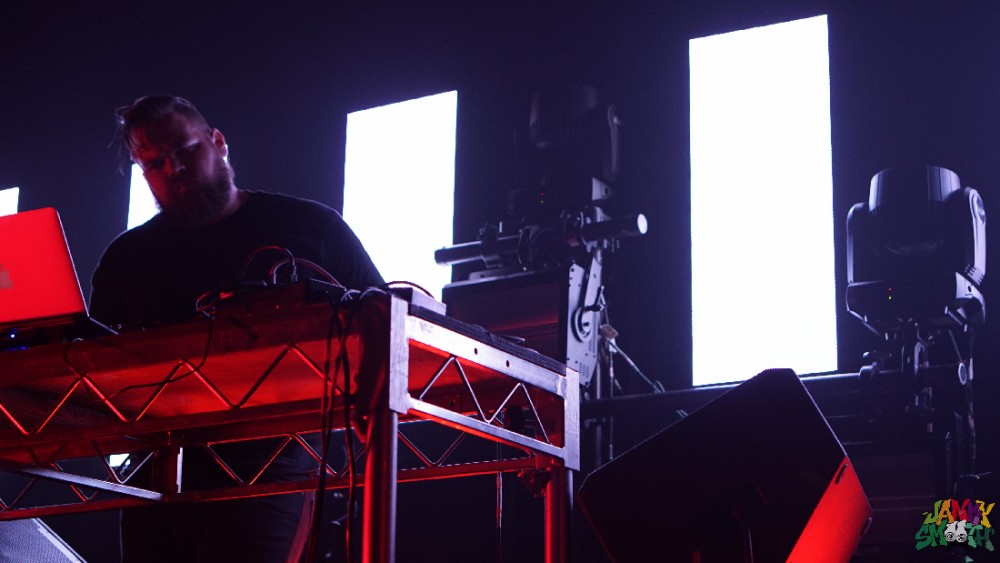 Com Truise has become a staple in synthwave music, especially in Los Angeles. He's originally from Oneida, NY but he's local now which works out nicely for fans of 80's movie soundtrack-influenced and post-disco music. Although his style is more consistent and true to the genre than Clark, Com Truise's set did not disappoint. The inflection of his music is thoroughly entertaining and full of boundless energy as reflected in his most recent, full length April release, Memory– his first in 6 years.
The vibe was absolutely mood-elevating and cityscapes drift by on LED screens paneled behind and to the sides of the DJ setup. The sound is almost that of the inciting scenes of an action thriller movie, especially accompanied by the lavender digital renditions of skylines illuminated at dusk as portrayed by the visuals. He seems so at-ease when he plays, like performing for a packed house is no more of an effort than turning the pages of a newspaper as he pours sweet viscous synth sounds over the eager attendees. Com Truise organically turned The Regent into a giant dance party from wall to wall, all the way up to the balcony.
It's acts like these that serve as a reminder that electronic music has endured the test of time without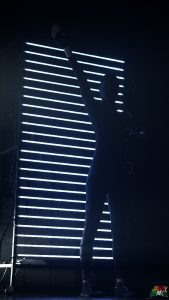 being completely diluted to the pop-hit heavy rave scene. Although there are shared elements between 'EDM' – electronic dance music – and 'electronic music', it's important to recognize the differences between genres and types of performers. You won't hear a lot of earth-shattering bass drops or be surrounded by hula-hooping teenagers but you'll get a curated and sophisticated electronic music experience. When stripped of the overstimulation and debauchery that often accompanies the electronic music scene, you can delve into the origins of the genre. Industrial, techno and synthpop birthed the electronic genres of today and sets like these help us remember a less complicated and uniquely enjoyable experience.
Words: Aria Silva-Espinosa
Photos: Spencer Owens