Burger Records and the Observatory: 5 Years of Fun in Orange County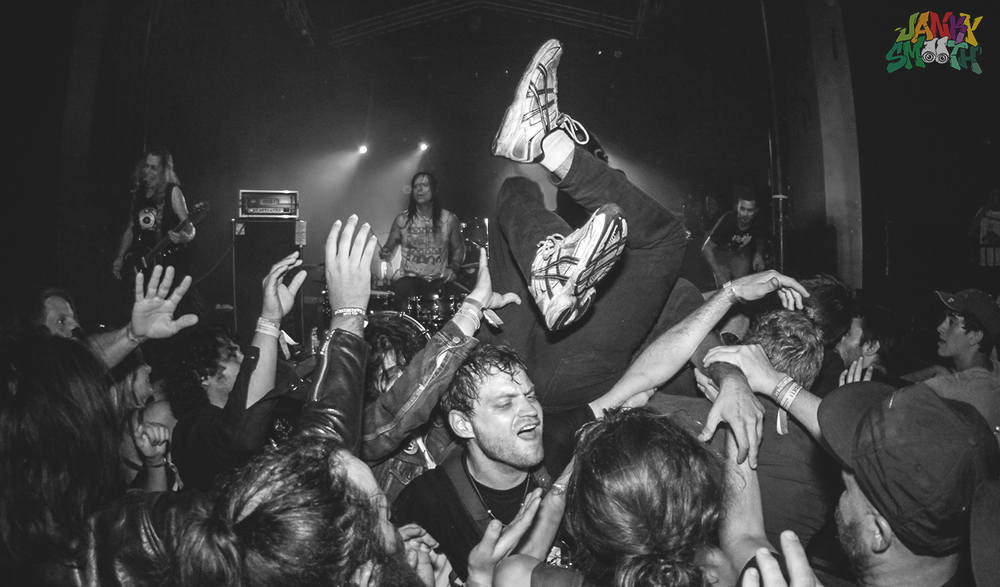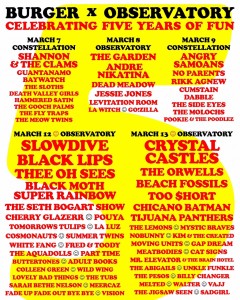 With Burger Records postponing their annual Burgerama festival, Sean and Lee have opted to honor their partnership with the Observatory in Orange County.  For 5 years, Burger and The Observatory have conspired to bring the audiophiles of Orange County some of the best lineups in all of Southern California.  To commemorate the milestone, Burger Records and their headquarters to showcase the bands on their label, The Observatory, have put together a show for every day this week that features some of the best talent in indie music today.  This post will serve as a running update and review of shows that Janky Smooth attends.
The headliners and supporting acts on the lineup aren't just Burger bands but feature acts like Slowdive and Crystal Castles for one of their first live performances without iconic vocalist, Alice Glass.  Angry Samoans headline the Wednesday, March 9th show and includes Orange County punk icon, Rikk Agnew along with Golden (shower) Boys of emerging pop punk, No Parents.
The anniversary week kicks off tonight with a few bands that we've spent a lot of time covering over the past year; Shannon and the Clams, Death Valley Girls and The Gooch Palms and features Guantanamo Baywatch and The Sloths!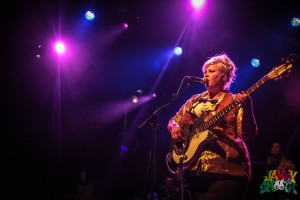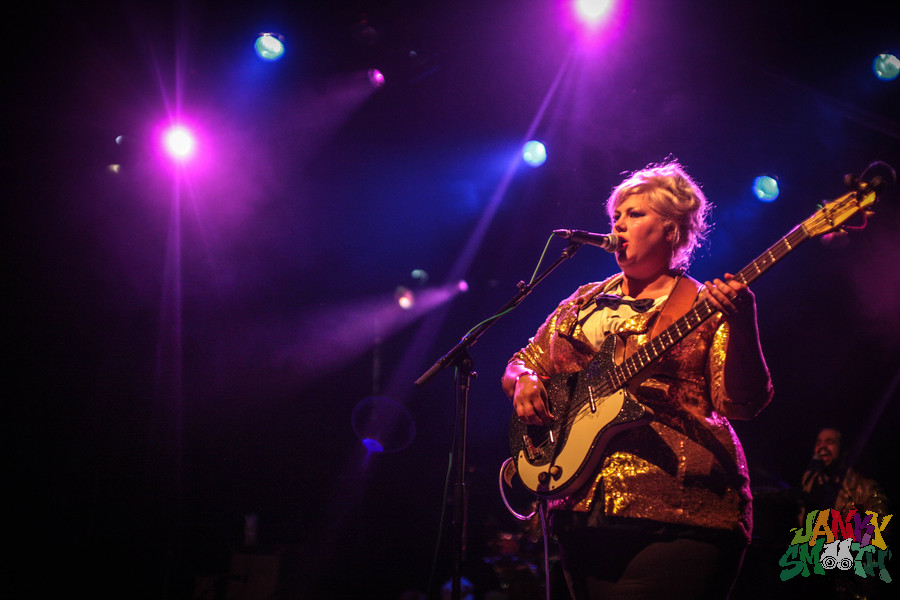 Shannon and The Clams Debut "Gone by the Dawn" at El Rey
Buzz Bait: An Interview with Bonnie of Death Valley Girls
Buzz Bait: An Interview with Gooch Palms
Tomorrow, Tuesday March 8th mixes it up with The Garden, Andre Nikatina, Dead Meadow, Jessie Jones, LA Witch and Levitation Room.
The Garden Record Release Party at The Teragram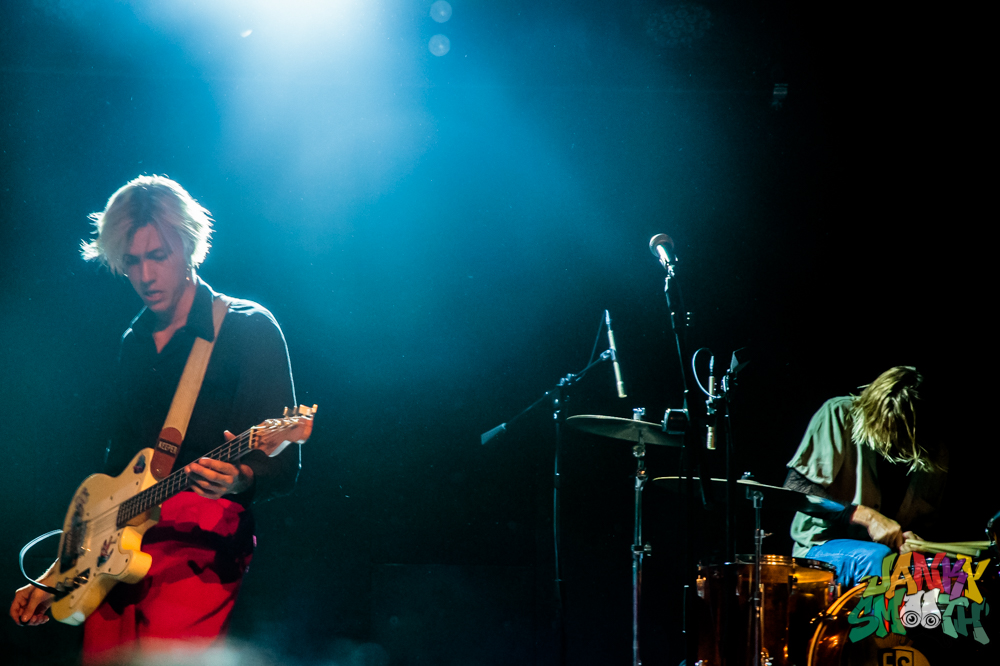 The week rounds out with Black Lips, Thee Oh Sees, Cherry Glazerr, Lovely Bad Things, Cosmonauts, Wild Wing, White Fang, Colleen Green and Tomorrow's Tulips supporting Slowdive on Thursday night and The Orwells, Too Short, Meatbodies, Chicano Batman, Tijuana Panthers, No Bunny, Kim and the Created, Mr Elevator, Cat Signs, Gap Dream, Mystic Braves and Melted supporting Ethan Kath and the live premiere of Crystal Castles with their new vocalist.  Fuckin A.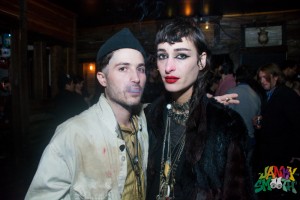 Meatbodies Lay Waste to the Echo with Spectacular Theatrics
Fuzz and Thee Oh Sees Bring Holiday Help
Ariel Pink and Black Lips Bend Minds at Teragram
You can purchase a 5 day pass here or look for single night tickets.
Janky Smooth will be covering most nights before the team fly's out to Austin for SXSW next week.
Stay tuned for more coverage on the Burger/Observatory 5 year anniversary and we'll see you at the show!
Update 03-08-2016
I attended night 1 of this Burger extravaganza at The Observatory.  I made the decision to go on Sunday, the night before.  When the time came for me to drive down to Santa Ana from L.A., I had a serious case of the Monday's and wish I hadn't committed to going to the show.  But by the time I got inside the Constellation Room, The Gooch Palms changed my mind again.
Gooch Palms' filthy beauty gives their simple but sound songwriting prowess a healthy portion of style and raunch that makes them a standout act in the ocean of indie bands that are flooding Southern California.  It's extremely difficult to have a big sound as a two piece but Leroy McQueen's guitar tone is incredible and Kat Friend's backbone on percussion shows that she's much more than a hot girl in a band.
Hammered Satin was up next and this band has a peculiar effect on me.  Growing up in LA, I had a healthy dislike of 80's Glam Rock when that whole thing was happening.  Being a proud punk/thrasher, we were extremely judgmental of our teased hair friends.  Now that I'm older, that pure, good time rock and roll always makes me smile and Hammered Satin are all very solid musicians and they really know how to engage an audience at their live show.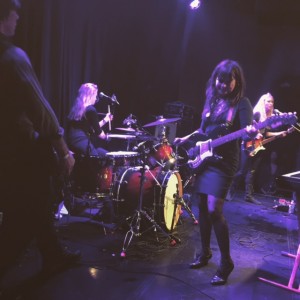 Death Valley Girls were my main motivation for driving down to Orange County on a Monday night.  I had always liked them but in the last couple weeks since Brent Smith's interview with Bonnie Bloomgarden, I think I have a better understanding of where they are coming from and I like it.  A lot.  It's rock and roll.  It's cabaret.  It's the theme music for up and coming religious cult organizations.  The vocals of the three ladies are layered perfectly while Larry is an anchor with 6 strings.  There is so much soul in Bonnie's voice and danger in her eyes.
It almost escaped and got past me that The Sloths were even on this bill.  Thank god for music snobs and hipsters for resurrecting this gem of American rock music.  In 1964, as all the British rock bands were emerging with a sound that was completely inspired by American musicians in the South and Chicago, The Sloths were a short lived representation of the American version of pasty white rockers ripping off blues musicians.  The Sloths really got the crowd going last night and put on a youthful show.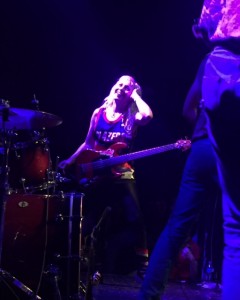 Guantanamo Baywatch were magnificent last night.  I had only seen them one other time before but I was distracted by something or someone so was unable to absorb their magnificence.  Their surf,  blues, honkey tonk, punk rock sound fits like a glass slipper on the foot of California independent music.  There is something very special of this band.  It's not their sound that distinguishes them from the rest of the scene, it's their musicianship which is anchored by incredible drumming from Chris Scott.
Speaking of musicianship, is there anyone in the world of independent music that is more skilled than the members of Shannon and the Clams.  As the headliners of the night, they were preceded by a supporting roster of bands that have the potential to make any headliner look bad.  Luckily they happened to be the headliner and no one would over shadow them.  The size of the sound that they get from just 4 people is impossible. You step in a time machine every time their music plays. Shannon and Cody deliver the best vocal 1-2 punch in indie music.  Shannon and the Clams are yet another band that have an extraordinary amount of musicality when you look at the landscape of current garage bands and how they handle their instruments.
I had the best Monday night celebrating with Burger and the Observatory.  We are definitely going down for the Wednesday and Friday shows.  Stay tuned for the next update.
Updated: March 13 2016 recap and photos of Wednesday, March 9th show by Taylor Wong
Headliners: Angry Samoans.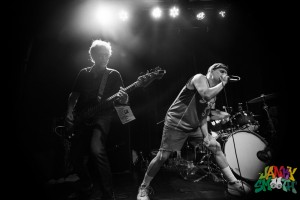 What's worse than driving down to the OC on a Wednesday evening in traffic? Driving down to the OC in traffic with a wicked hang over. The night before had taken its toll on me but I had a mission. My mission was to finally see the Angry Samoans. I have been a huge fan of theirs since I was a young punk, listening to "Back From Samoa" on repeat (yes, I know the album is not even 20 minutes long).
Traffic sucked, and I got there about 40 minutes into the show. I managed to only miss the first two bands. By the way the early sets I did see went, I really regret not making it in time for the first two.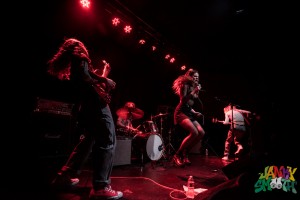 I walked in right as The Side Eyes were mid set. They were a great, female fronted, punk band. Not much stood out to me about these guys as I was trying to get settled in to the venue and the show. The female lead looked like she could pass for a cheer leader with the proper wardrobe, as well as parents who loved her a little more. The band's guitarist dove right at me shortly after covering the song "don't talk to me" which I still can't tell if they were covering GG Allin or not.
The two bands to follow were amazing garage punk bands. Pookie and the Poodles followed by Cumstain. Both bands consisted of almost the exact same members. Cumstain removed Pookies drummer and put their singer on drums. I liked Pookies front man because he had an unusually squeaky voice. On Top of his voice, he used an old rotary phone as his mic, which I have only seen done by Japanther and a couple of DJ's.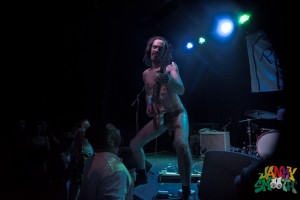 Cumstain took over the stage shortly after. It didn't take much of a transition since the band consisted of the same line up (as stated before). There was a slight wardrobe change. By wardrobe change I mean they stripped off most of their clothes to reveal leopard leotards. It was fantastic. There was one fan, who you would have never guessed was a fan by his attire, who was just way too into Cumstain. This fan was so into the music that he didn't even realize that Sean' s (Guitarist/Singer) balls were hovering right over his head. Or did he?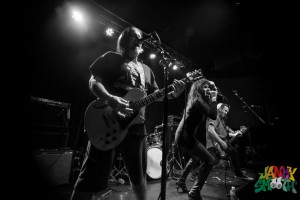 After Cumstain had left their mark on the Constellation Room, Rikk Agnew took the stage. If the name Rikk Agnew doesn't ring a bell, throw away your denim vests and get a real job. Agnew has played in Adolescents, D.I., Social Distortion, and was an influential member in Christian Death. He opened up his set with the very appropriate anthem "O.C. Life" that he had written himself and has been played by both D.I. and Adolescents. He played an eclectic mix of Adolescent songs, Christian Death songs, and new material. For Christian Death he brought out his fiancé Gitane Demone, who was also in Christian Death but at a later period than Rikk. It was definitely my favorite set aside from Angry Samoans that night.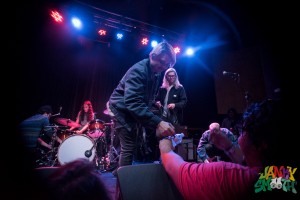 No Parents were our palette cleanser for the evening. I'm not going to say much since we cover them all the time and I have nothing bad to say about the dudes. What I will say is, Killian's hair looks "fabulous" grey. And the new addition to the band that goes by the name of "Davis" is not too shabby either. No Parents have never disappointed me.
Now for the headliners, ANGRY MOTHER FUCKIN SAMOANS. I have been wanting to see these guys since I was in middle school. These guys are what punk music is all about. 40 second songs about "homosexuals" and "hitler's cock"; that's fucking punk. They were able to play pretty much their entire discography in about a 40 minute set. These guys were so rad they even brought 3 "street youths" which were actually the nerdiest kids at the show, and gave them free shirts. One of the kids even had a hand drawn t-shirt tucked into his cargo shorts. If turning to your fellow show goer and patting them on the back, isn't being punk, then I don't want to know what is.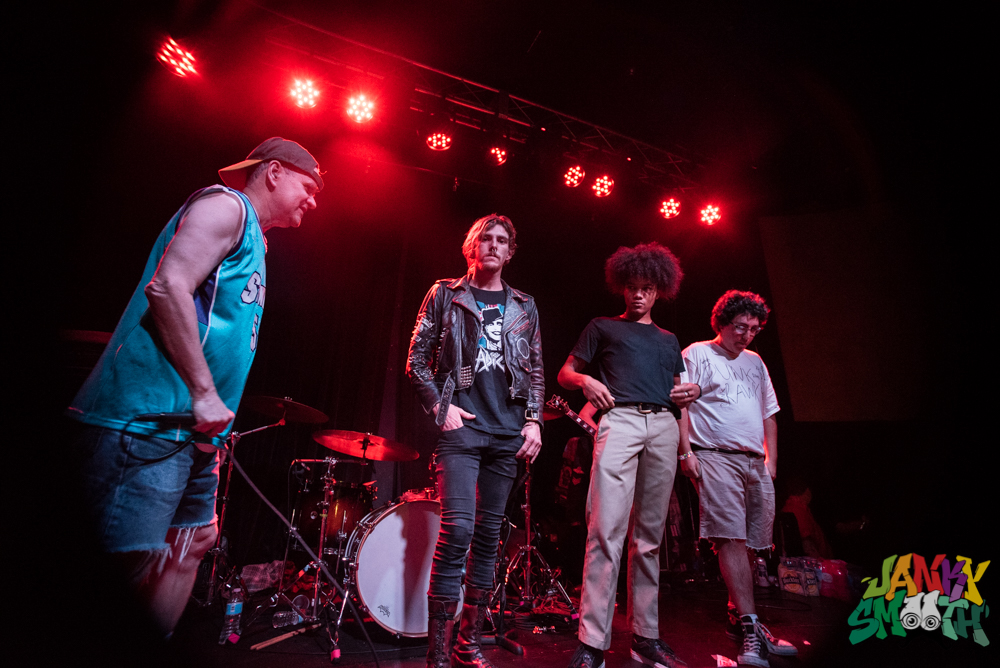 Updated: Wed. March 16th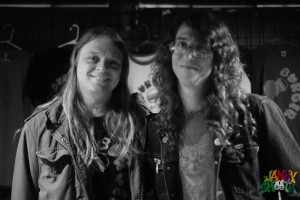 After missing a classic, Saturday night at The Observatory with the likes of Thee Oh Sees and Black Lips, Janky Smooth returned Sunday for the final night of The Burger Records celebration.  The lineup was super diverse but all the pieces fit together nicely.
I was most stoked to see Meatbodies and my anticipation was well justified.  The band absolutely decimated their late afternoon spot.  The Meatbodies are rock incarnate. When they broke out into "Mountain" off their debut, self titled release, even people who had never heard of The Meatbodies prior to that day started losing their shit. Amidst my freakout I started worrying about the Top 20 list of artists to watch in 2016 we put together and whether we had put Chad and the Meatbodies on that list. They should be number one on that list.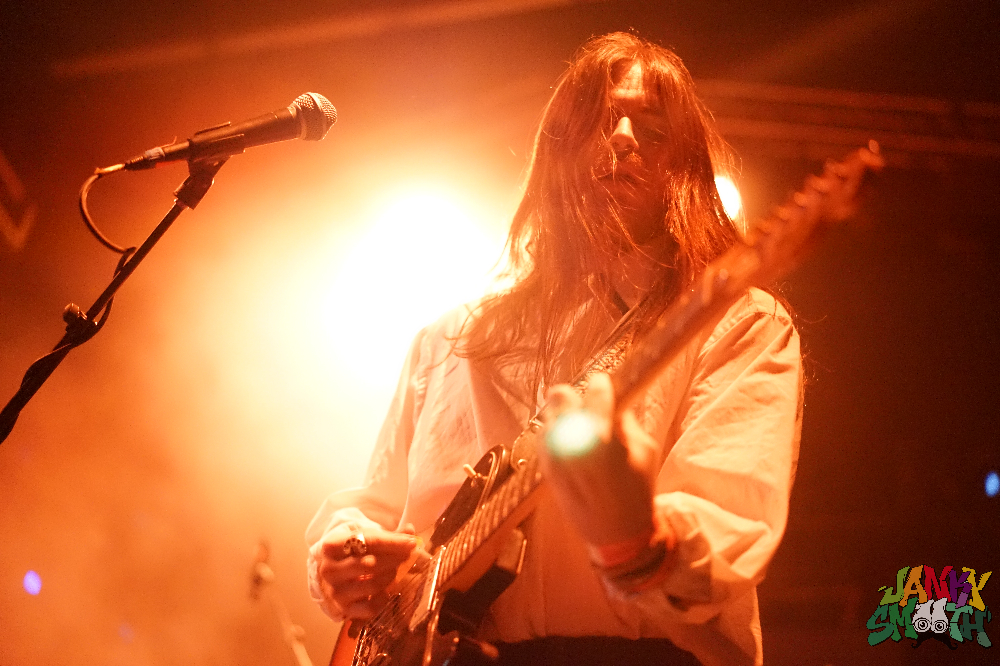 I attended the bookends of this week long Burger extravaganza at The Observatory. Even though the FOMO was strong for me on Wednesday and Saturday, Monday and Sunday were a diverse music lovers dream.  I got to see Meatbodies, Chicano Batman,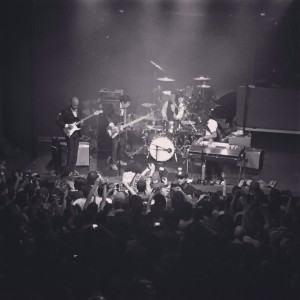 The Orwells and Crystal Castles on the same day on Sunday and on Sunday night, Chicano Batman established themselves as the musical romantics of their generation.  They summoned the substantial amounts of musicality and prodigiousness bestowed upon each member of the band to seduce the Burger Boys and Girls with genuine baby makin music.
Mario Cuomo unleashed upon adoring fans of The Orwells a yeoman's performance of drunken, sloppy but precise and sexual rock and roll frontmannery.  The Orwells were fantastic.  I hadn't seen them since just prior to the release of Disgraceland when they co headlined a tour with FIDLAR that launched in this very same location a few years ago.  Since then, the band has managed to crossover into the mainstream consciousness while retaining their edge.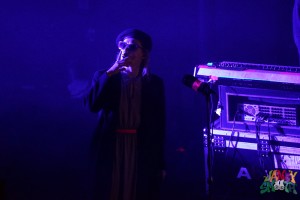 The big neutron bomb of anticipation for the day was Crystal Castles performing without Alice Glass and the American debut of Edith Frances.  Is Crystal Castles even Crystal Castles without the hurricane of self destructive beauty that is Alice Glass? The answer in the moment that Baptism began blaring over the Observatory PA was a resounding yes.  I think.  It felt and sounded great.  It was still odd to see someone other than Alice singing the vocals on Crimewave.  Frances is a MUCH better singer than Alice.  At least as much as you can tell something like that through all the effects and filters that any CC singer would send their sound through.  There were a couple moments that I suspected Ethan and Alice were fucking with us because Glass and Frances have very similar facial features but could not carry themselves any more differently.  As Frances plays more shows and gains more experience her stage presence will evolve I'm sure but she made a very lasting impression at The Observatory.  She took the stage wearing a beret and sunglasses while smoking a cigarette.  She was wearking a long, pea coat esque jacket that was removed eventually to reveal a flowy, powder blue dress.  One hand held onto the mic like it was a rock on a side of a cliff that Frances was holding onto to prevent herself from plummeting into a deep, black hole.  The band went through classics and some new songs I hadn't heard before that were really fucking good.  As has become the tradition at a CC show, they shifted between playings songs live in a set to standing behind decks as Ethan DJ'd tracks between song performances.  It. Was. A. Really. Good. Show.
Other newer bands stood out throughout the day like Sad Girl and Melted while Nobunny, Tijuana Panthers, Mystic Braves and The Abigails were tremendous as usual.  My 5pm arrival caused me to miss Mr Elevator and Kim and the Created but I know it won't be long before I get the opportunity to see them again.
It was a week to remember that is now being extended as we speak.  Janky Smooth is now out now out here in Austin for SXSW and we'll be heading to a number of Burger events out here.  Burger just never stops.  Neither do we.
Danny B
Photos:
Wednesday- Taylor Wong
Sunday- Todd Anderson
Monday- shitty cell phone shots by Danny B