Punk Rock Bowling 2016 Club Shows Announced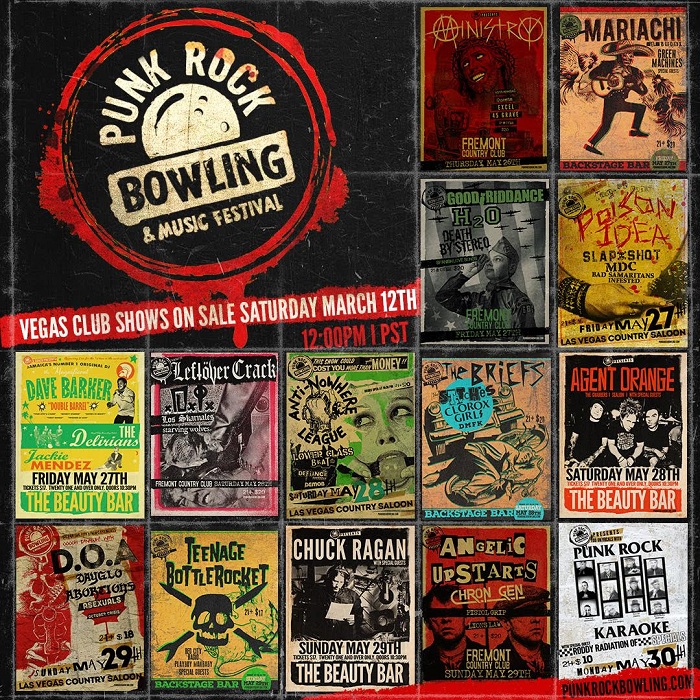 Punk Rock Bowling is like no other festival on the planet. There are few major festivals that are able to instill in it's attendees a real sense of community across the entire scope of it's population. The level of quality and consistency that BYO Records is able to achieve year after year is impressive. No where is this more prevalent than the annual cluster of Punk Rock Bowling club shows.
In a lot of ways, I'm far more interested in the lineup of Punk Rock Bowling 2016 club shows than I am in the actual festival itself. While the major story line of this year's installment of PRB is the expansion of the festival to include an East Coast weekend of festival days and club shows in New Jersey, today's announcement of the schedule and lineup of the Punk Rock Bowling 2016 club shows has me talking to myself.
One night in particular stands out to me and might just be all the motivation I need to keep my attendance streak going. The Thursday night club show at Punk Rock Bowling 2016 is Ministry, Excel and 45 Grave are playing the motherfucking Fremont Country Club.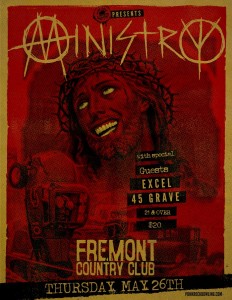 I'm not sure what the general consensus excitement level is across all attendees but this show is enough to get me in town early and enthusiastically. The rest of the days and nights are pretty damn exciting too.
Punk Rock Bowling is offering a limited club show pre-sale on Friday, March 11th from 12:00pm to 3pm for a select number of club shows with a purchase of a 3-day festival pass. You must buy your 3 day pass by Thursday, March 10th at 12:00pm to take advantage of this offer. All tickets are available for purchase at Punkrockbowling.com.
Here is a complete list of Punk Rock Bowling 2016 Club Shows.
The club schedule is as follows:
Thursday, May 26
Fremont Country Club
Tickets $20, doors @ 9pm
Ministry, Excel, 45 Grave
Friday, May 27
Fremont Country Club
Tickets $20, doors @9pm
Good Riddance, H20, Death by Stereo, Spanish Love Songs
Country Saloon
Tickets $16, doors @ 9pm
Poison Idea, Slapshot, MDC, Bad Samaritans, Infested
Backstage Bar
Tickets $20, doors @ 9:30pm
Mariachi El Bronx, Green Machine, Plus Special Guests
Beauty Bar
Tickets $17, doors @ 10:30pm
Dave Barker, The Delirians, Jackie Mendez
Saturday, May 28
Fremont Country Club
Tickets $20, doors @ 10pm
Leftover Crack, D.I., Los Skarneles, Starving Wolves
Country Saloon
Tickets $20, doors @ 10:30pm
Anti-Nowhere League, Lower Class Brats, Defiance, Demob
Backstage Bar
Tickets $20, doors @ 10:30pm
The Briefs, The Stitches, Clorox Girls, DMFK
Beauty Bar
Tickets $17, doors @ 9:30pm
Agent Orange, The Grabbers, Sealion, Plus Special Guests
Sunday, May 29
Fremont Country Club
Tickets $20, doors @ 10:30pm
Angelic Upstarts, Chron Gen, Pistol Grip, Lions Law
Country Saloon
Tickets $18, doors @ 10:30pm
DOA, Dayglo Abortions, Asexuals, October Crisis
Backstage Bar
Tickets $17, doors @ 10:30pm
Teenage Bottlerocket, Red City Radio, Playboy Manbaby, Plus Special Guests
Beauty Bar
Tickets $17, doors @ 10:30pm
Chuck Ragan, Plus Special Guests
Monday, May 30
Country Saloon
Tickets $10, doors @ 10pm
Punk Rock Karaoke, Roddy Radiation (of The Specials)