Spending Wednesday Nights in a Pirate Bar with Name The Band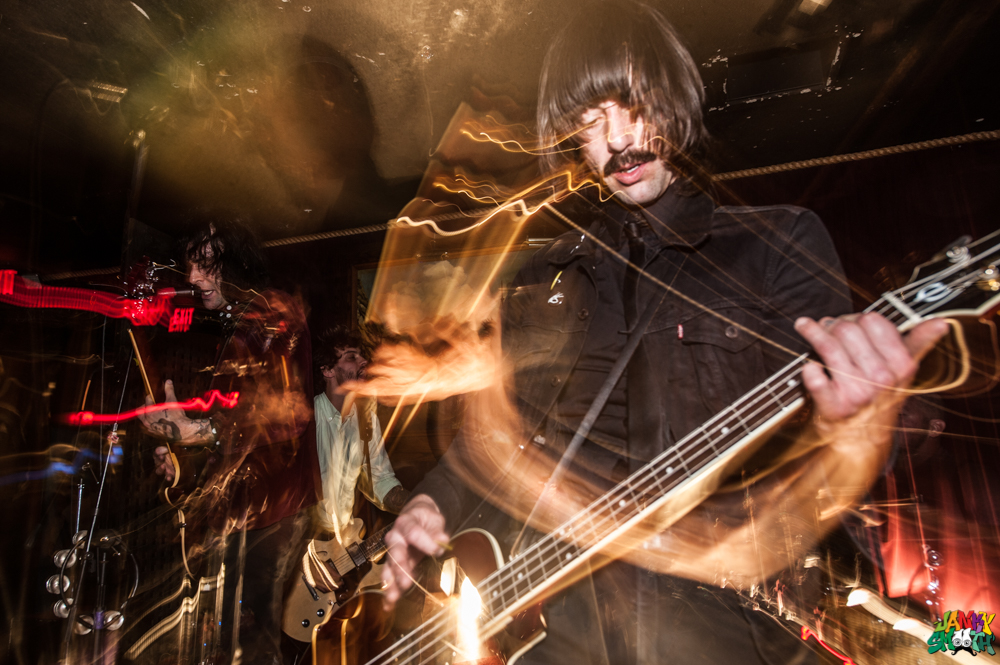 The Name the Band residency at Redwood Bar & Grill has been very popular, which is evident in the number of people who showed up early for the third Wednesday of March's show. The bar itself is punctuated by a large neon sign in the middle of 2nd street's 300 block. Inside looks like the hull of a ship complete with ropes, portals and a giant deep sea diving mask. The stage sits at the back of the long, rectangular room. Booking bands who's sound is designed for an intimate performance space and the available acoustics can be tricky but the lineup for this week promised a good time.
The space itself isn't very big so it caused quite a bit of commotion as Gatto Di Morte took the stage with three drummers, a saxophone player, keyboardist and various other assorted ensemble members. The whole entourage was costumed in everything from a sequin Santa suit to a giant prosthetic worm head. Assorted props were strewn across the stage as the band began tuning their instruments and running soundcheck, or so I though that was what was going on. Before I proceed, I must say I am a true believer in not saying anything if you have nothing nice to say. It gives me great displeasure to speak ill of hard-working artists but Gatto Di Morte crossed a line with their performance on that evening and I feel it must be recognized. The venue, promoters and resident band booked the show under the pretense that Gatto di Morte was going to play as their better-known project, Death Cat. However, prior to showtime they informed those involved that they would be playing as their newer psych rock/experimental project. As they took the stage they proceeded to produce the equivalent of a 6th grad band practice; Everyone playing out of tune and dissonant with no tempo or consistent beat and complete with caterwauling vocals and screaming mic feedback to boot. The gathering crowd either fled to the smoking patio for a reprieve or left the venue altogether, myself included. They were booted from the stage about eight minutes into the set for fear of the other performers losing their audience and the venue losing money. It left the staff, promoters and other performers feeling a bit like they had been bait-and-switched. Perhaps that type of performance could be enjoyed in a house show setting or when it develops a bit more but it was disorienting and abrasive. It was like the musical equivalent of the "glove dropped on the floor" in a modern art museum that everyone is too pretentious or clueless to admit definitely isn't art. In bringing a spectacle of that magnitude to the stage Gatto di Morte tried to get gangster but it came off as openly disrespecting the other artists, the venue staff and the thousands of musicians out there who live and die on the dream of playing these gigs in the heart of Los Angeles like The Kate's, Frankie and the Studs and Name The Band.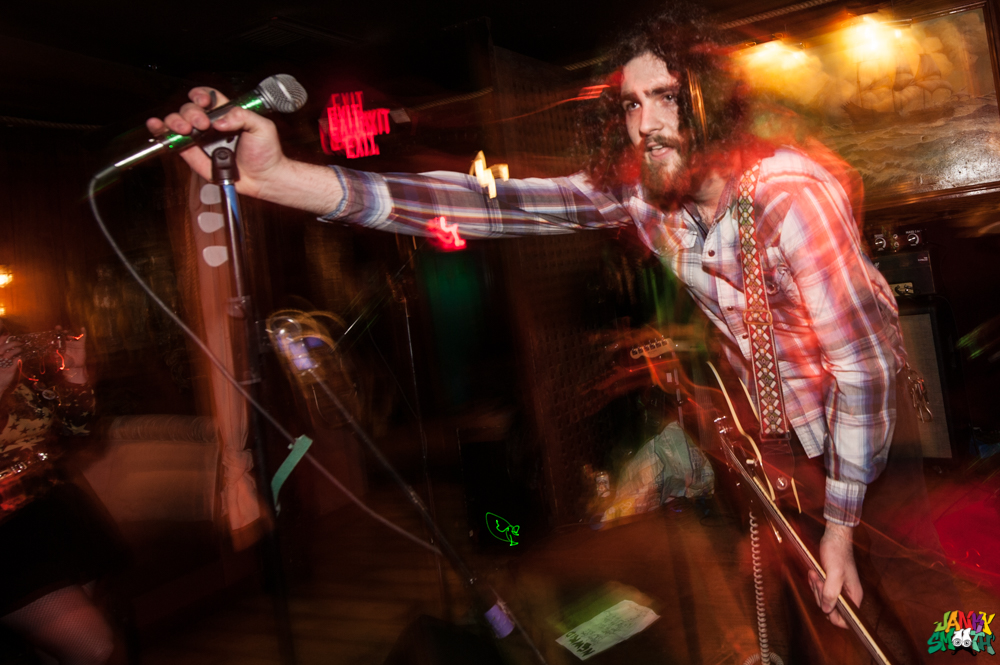 The Katellas got the night off to a better start and drew a large and participation-ready crowd. They play with a boundless youthful exuberance, despite being veteran performers. The group shows immense talent in their ability to play as a cohesive unit and their harmonies are charming. It's a four piece band composed of Dewey Peek, Brian Melendez, Patrick Tomsu and Jeff Garrison.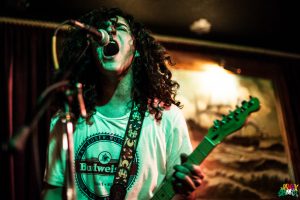 The Katellas are lighthearted and amicable with their audience."This one's called 'Technical Difficulties' and it's my favorite song" Guitarist Brian Melendez told the crowd while they adjusted and tuned their instruments. We've seen frontman Dewey before, his side project Ford Madox Ford, opened for The Meat Puppets earlier this month and they were the resident band at the Redwood in May of 2016. Songs like "Minimum Wage" feature shredding guitar solos and heavy percussion. It's good old fashioned angst-ridden garage rock sprinkled with punk and grunge elements and executed flawlessly. They made use of the entire stage space, throwing their bodies through the air and wrestling with each other throughout the duration of the dynamic performance.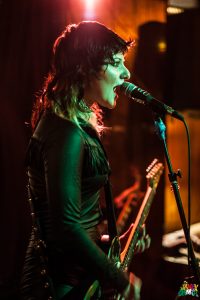 Frankie + the Studs and their prowess haven't been completely undocumented; Frankie Clarke is amazingly talented and her style pays a generous compliment to artists such as Joan Jett. Stripped of her multitudinous credentials, she and the band could play in a pitch black room and still make an impression with the force of their sound. Her father is Gilby Clarke and Frankie is proof that rock and roll is genetic. But Frankie + the Studs don't need to lean on star power to get us to come out to their shows. They covered a Nick Gilder cut that Pat Benetar made famous, "Hot Child in the City" and they mashed it. Frankie played an extensive set in her fringed catsuit and she made it look easy. Although she is still very young, she has defined her style and established a place for Frankie + the Studs in the L.A. scene.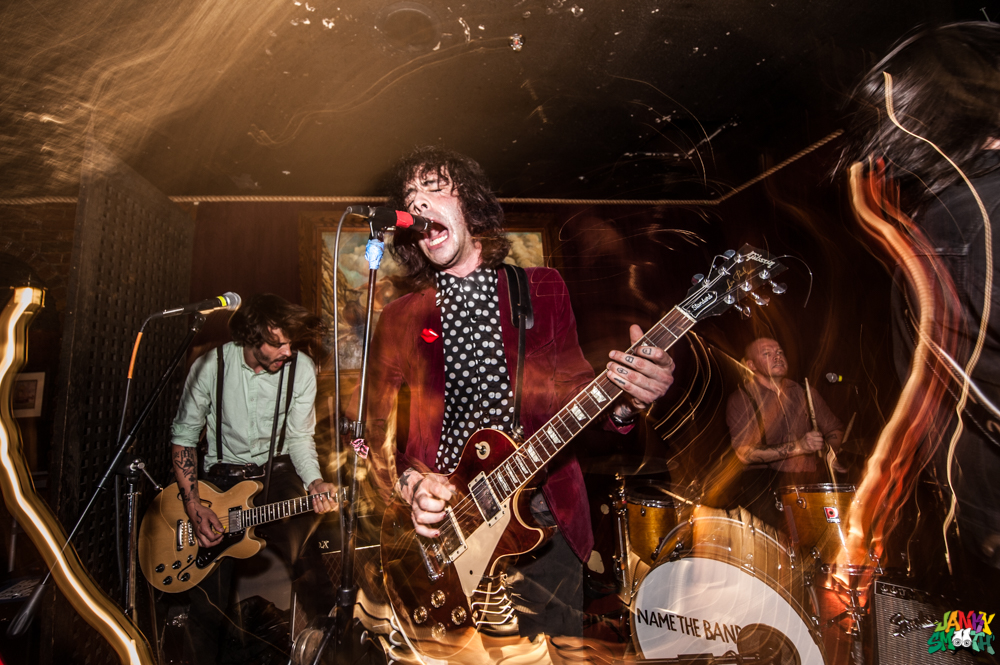 Name The Band designed their own residency; They named the price at the door and selected the lineup to create their idea of a perfect evening. The group themselves are eye-catching for a number of reasons. First off, they dress like the cartoon figures in Yellow Submarine and look like multiple versions of Frank Zappa. They absolutely embody the coveted image of successful indie rockers even before you hear them play. Their version of garage rock blends the accessibility of radio-approved indie pop with classically influenced original music. Name the Band are from Brazil but they play American Rock and Roll in a way that re-defines the genre. I learned this only after hearing them speaking in Portuguese to their guests, who danced and sang along to every song. Their music is mood-elevating and reminiscent of it's origins. Bassist Vini Marmore showed me his bleeding fingers after the show- could there be a better metaphor?
"They sometimes split but this is a lot of blood!" Marmore joked, allowing the blood to run down his hands.
Name The Band has one more date left in their March residency at Redwood Bar & Grill this week. They're an absolute must-see for rock and roll fans and could possibly be the best thing happening on Wednesday in a city being overrun by musicians, fully formed bands and new venues popping up on a regular basis
LISTEN: NAME THE BAND'S NEW ALBUM 'SUMMER LUSH' ON BANDCAMP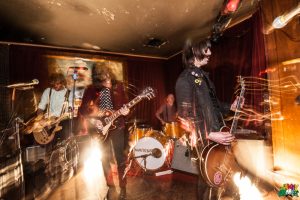 Words Aria Silva-Espinosa
Photos Jessica Moncrief