Chance The Rapper And My First Hip Hop Show by Justin Cornwall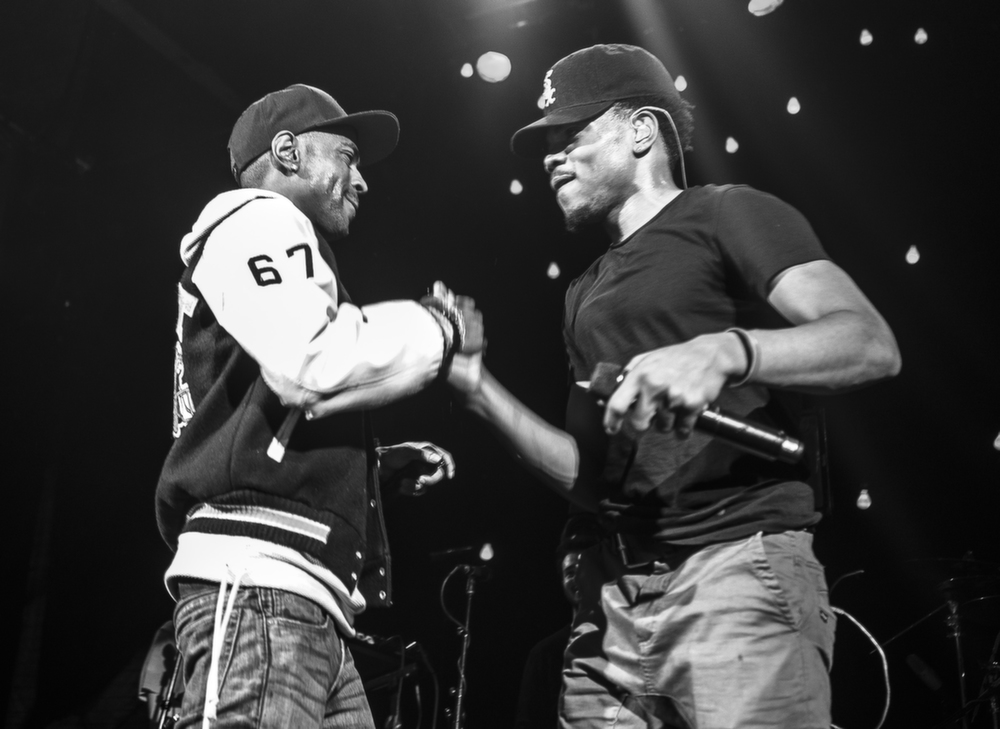 I'd never been to a hip-hop or rap show prior to setting foot in the House Of Blues Hollywood last night. Chance the Rapper, Azizi Gibson, Kamandi baptized me into a new world – and I couldn't be happier with the lineup. After some confusion with the House Of Blues and the Red Bull team, I eventually made my way into a sold out night and settled myself up on a balcony.
Kamandi is going to be huge. The New Zealand native performed his first show in America, in Los Angeles, opening for Chance. He may have underwhelmed the crowd, but he left an imprint on me that I won't soon forget. He fits the exact same vein as Flume, but more aggressive and gritty. He got under my fingernails and had me digging for more. Bass heavy creations flowed from his laptop through the PA and caught the ear of those with fine taste. The majority of the crowd was full of "basic bitches", as many nowadays would say, and for the most part shrugged off Kamandi's set. However, he ended his set with a reworking of "Return Of The Mack" which pulled everyone into his universe for the very end of his set. Red Bull picked a winner with this one – just wait to see once some booking agency snatches him up and he's at every festival in 2015.
After a short lull, Kamandi returned to the stage as the backing DJ for Azizi Gibson. An opening rhythm crept in and the call "Welcome to mother-fucking 30 Days In mother-fucking LA" sent the crowd into a frenzy. The Los Angeles rapper, resident on the Brainfeeder (as well as Red Bull Sound Select) lineup, controlled the stage with a headliner presence. He made an instant effort to banter with the crowd, almost to a fault (quick stops to songs, to make half-assed jokes), but did his best to win the crowd over. Once again I felt like the talent was wasted due to the nature of the crowd, but Azizi charged on for 40 minutes doing the best he could. His cadence reminded me of Kendrick Lamar and his reoccurring shoutouts to the 420 crowd were something out of a Snoop Dogg single. He worked as one with Kamandi (who has actually produced a few of Azizi's tracks) to push the songs out, but had no flow to his order of songs. He would abruptly stop at the end of a track and talk for a few minutes, and then jump into the next one. Maybe that's normal in the hip-hop world, but I would've preferred a seamless transition between songs rather than elongated pauses. Altogether, another impressive opener on a Red Bull LA night.
The crowd was rowdy with anticipation as they waited for Chance The Rapper to overtake the sound system. The "basic" crowd I mentioned earlier turned into a whole other monster during the changeover – chants for Chance filled the air, along with smoke dancing off all types of paraphernalia. From opening to closing, this showman cemented his place in the new generation of hip-hop overlords. The crowd knew every lyric; the full band – with brass ensemble – hit every note, the energy never dropped for a second. I was completely taken off guard by Chance The Rapper. He needed no guests to support, but gave the crowd a treat and had Detroit meet Chicago with a cameo from Big Sean near the end of his set. Chance channeled the spirit of James Brown with his dance moves the entire night and never let up. There were no haughty claims to being some interstellar deity (Kanye), no rants about how much money he made (Khaled), and definitely no claims to turf or aggression (Every other rapper). That was a big part of what won me over, it was apparent he appreciated every single person in the room and knew why they were there. Even the overcrowded VIP section was dancing.
I guess I like hip hop shows now. 15/30 #30DaysInLA was a hit.
Words: Justin Cornwall
Photos: Red Bull Content Pool