King Tuff and fam- Burger-raucous at the Constellation room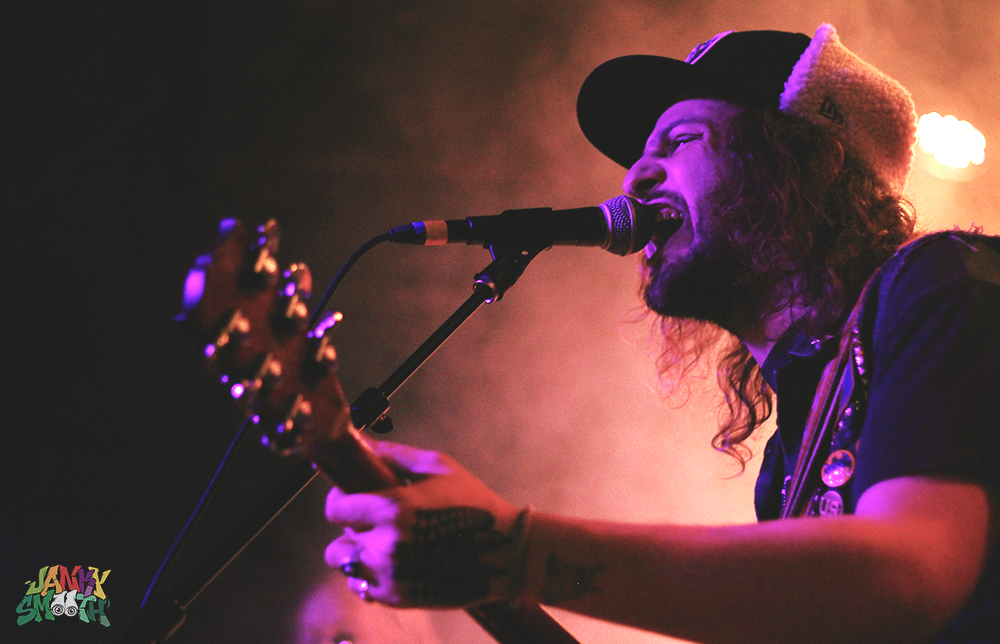 The Observatory has become a sanctuary for Orange County's Burger youth, being the proud host of almost every artist to grace the Burger Records label. It's Constellation Room offers the musty, humid, sardine can ambiance synonymous with garage punk, making it the perfect place to catch a lineup like King Tuff, White Fang and Feels.
As expected, the room was packed before Feels had a chance to open the bill. A sweaty mix of septum piercings, Doc Martins and kids straight off the Zephyr skate team invaded the dance floor as the walls were lined with the older crowd.
I was especially excited to see Feels. They've changed a lot over the last year, altering everything from their name and lineup to their sound and it has been for the better, on all counts.  They've figured out a way to be melodic yet rough as well as musically talented but raw. Laena's voice is downright beautiful and she performs with so much elegance. She has a Bowie-esque grace on stage which she is able to compliment with some pretty filthy guitar work. When her and guitarist Shannon Lay trade off vocals during songs expect goosebumps. The new addition to the lineup and contributor to their new, heavier sound is bassist Amy Allen. She is fast and drivey and is a perfect fit for how Feels should sound. When the crowd overcame the initial awe, violence ensued and a night full of substantial moshing commenced. Feels are dynamic, original, talented and easy to bang your head to. An A+ for sure.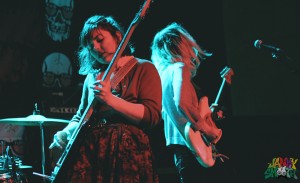 Next brought the beer punk onslaught that is White Fang. Lead singer Rikky Gage walked out on stage to Jump by Van Halen and made sure to take his clothes off before anything else. What happened next was a tornado of beer belly and back hair enforced by mullet clad guitar solos. I took two shots to the kidney and a PBR tallcan to the head in an attempt to get some photos. If you've never seen them imagine Iggy Pop producing a bastard child with a drunk teddy bear somewhere in the Florida Everglades. Between songs were one liners like, "Everybody tells me I should follow my dreams but I have dreams of having sex with my grandma." The crowd loved it. The stage smelled weird afterward.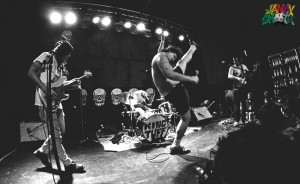 Finally, LA staple King Tuff took his turn. Dawning a new Raider cap instead of his trademark Dodgers, he picked up his bedazzled Gibson SG and the smoke machines let loose. He opened with "Madness" which was extremely fitting for how the crowd reacted. This time I took a kick to the head and a few fists to the ribs.  You have to respect the enthusiasm of the Burger youth. King Tuff took the time to thank everybody and address the show as a "Burger family event" and he couldn't have been more right. The set was action packed with billowing smoke and relentless stage diving. The air was thick enough to cut a slice out of it and Tuff's buzzsaw guitar sound seemed to do so. King Tuff capped the night with "Anthem" and beer showered the crowd as everyone tried to catch their breath. I now have whiplash and a hangover.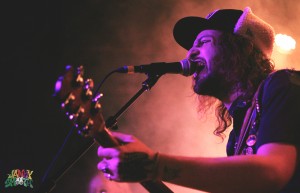 Words and Photos: David Evanko