Take This: Dirty Laundry TV Summer Fest Giveaway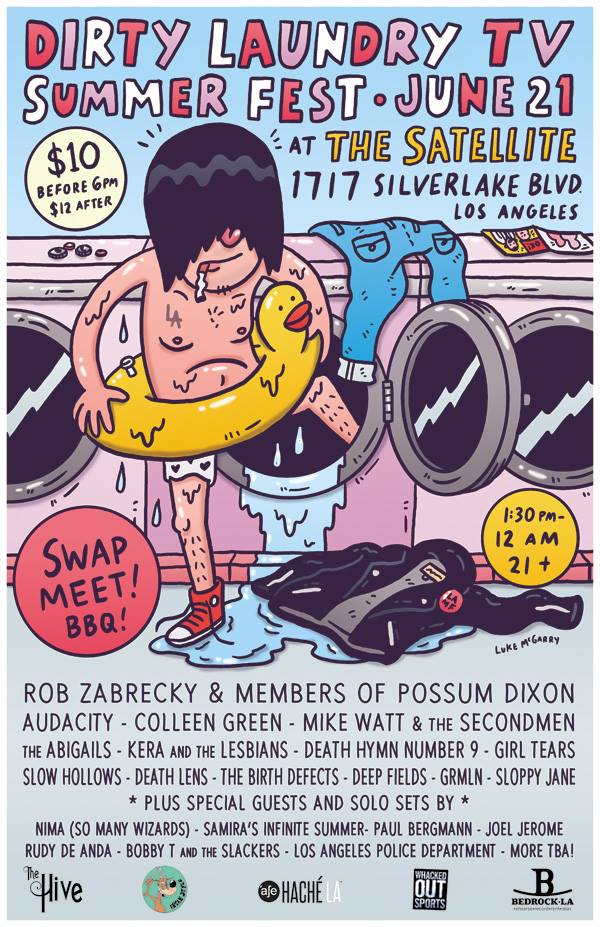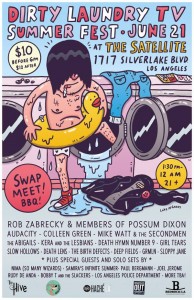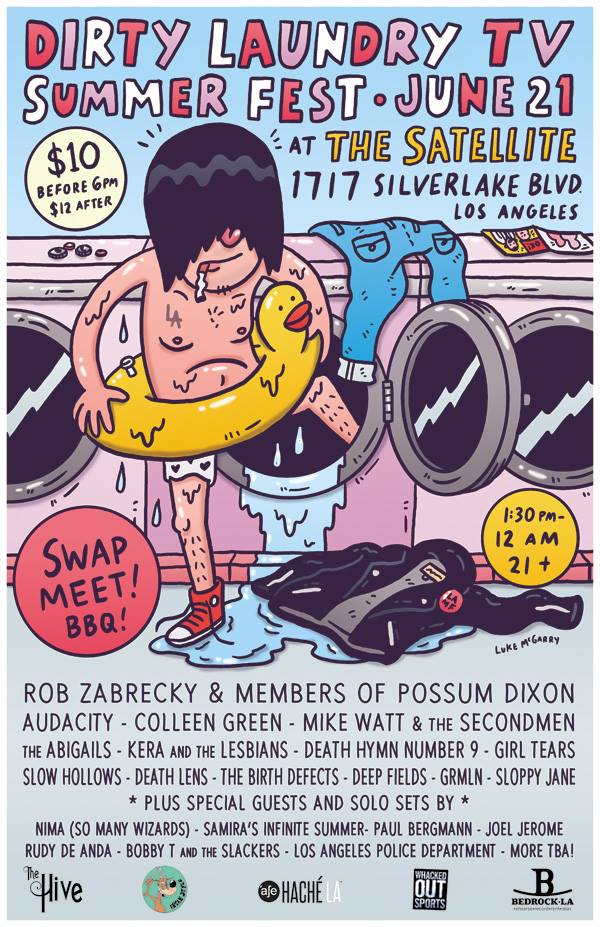 Dirty Laundry TV Summer Fest is taking place this weekend on Sunday, June 21st at The Satellite. Sponsored by HACHE Burger, Summer Fest features some of Janky Smooth's favorite local bands like Mike Watt and The Missingmen, The Birth Defects, Death Hymn Number 9, The Abigails, Kera and the Lesbians, Colleen Green and sooo many more. Full list of Dirty Laundry TV Summer Fest bands below.
Dirty Laundry TV is famous for interviewing bands on tour as they do their laundry. They have given Janky Smooth an exclusive giveaway package for one lucky fan. The winner will receive two tickets to the festival and a free Dirty Laundry TV Comes Clean Cassette Compilation.
To enter you must complete ALL the steps below. Winners will be selected on Saturday, June 20th at 10am.
1. Share or retweet our contest posts on Facebook, Instagram or Twitter and tag @jankysmooth – You must share from our posts, not create your own.
2. Comment in the comment section of the post on our website stating you completed this step and give us a reason why we should pick you..
3. Like us on Facebook, Follow us on Twitter, Follow us on Instagram
Dirty Laundry is hosting a day/night Summer Festival Show at The Satellite with 15 bands, DJs, Acoustic Stage & HACHE Burger
Rob Zabrecky (and members of Possum Dixon)
The Audacity
Mike Watt & The Missingmen
Colleen Green
Gateway Drugs
The ABIGAILS
Kera and The Lesbians
Death Hymn Number 9
The Birth Defects
Deep Fields
GRMLN
Sloppy Jane
SadGirl
Special Guests
Acoustic Side Stage with
Nima from So Many Wizards
Samira from Winter
Paul Bergmann (acoustic)
Joel Jerome (acoustic)
Rudy De Anda Bobby T. and the Slackers (acoustic)
Los Angeles Police Department (acoustic)
Hobart W Fink (acoustic set)
Rufrano
and more tba
DJs
Andrew King (Crystal Antlers)
Mariana Timony (Lo-Pie)
McAllister (KXLU)
Thanks to our sponsors Bedrock LA The Hive Los Angeles Mighty Oak Entertainment Freak Style Booking HACHÉ LA
Tickets are $10 before 6pm (only available at the door. No advance sales) $12 after
Swap Meet Vendors:
Tiny Splendor
Danger Collective Records
Viva Los Cupcakes
Love Sweet Mess
Biological Jewels
Laura Ann's Jams
Quetzal Boutique
Monkeyhouse Toys
Record Truck
Bare Bones Body Care
Jane Valentin
Phiffer Books
JDN73
Angel City Roasters
& more!!!!