Joey BadaSS at The Fonda- A Rare M.C. That Still Wants to Rap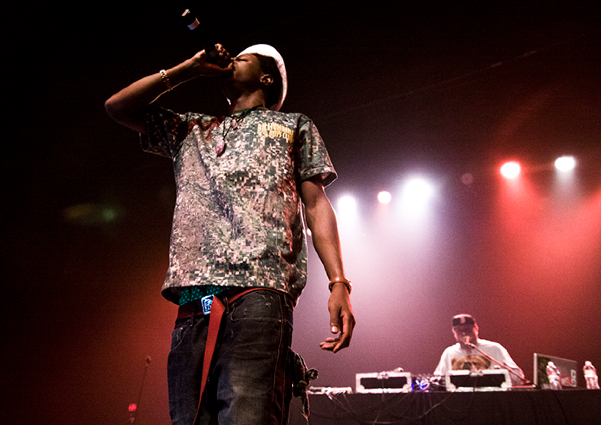 A couple of weeks ago, writer Jeff Weiss (@passionweiss) tweeted: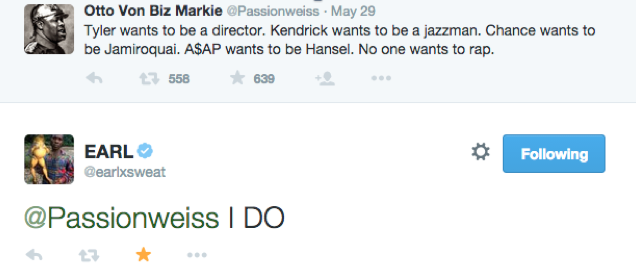 "Tyler wants to be a director. Kendrick wants to be a jazzman. Chance wants to be Jamiroquai. A$AP wants to be Hansel. No one wants to rap."
Earl Sweatshirt promptly responded "I DO" (along with Open Mike Eagle).
I would certainly make the case to add Joey BadaSS to that list.
The first time I heard Joey BadaSS flow was on A$AP Rocky's, cameo-filled, 1 Train. Not an easy feat to stand out on a track with verses from Action Bronson, Danny Brown, Rocky, Big K.R.I.T and (the current God MC) Kendrick Lamar. But he does, reaffirming his independence, "while thinking about signing to the Roc," the youngest MC of the group, by almost 7 years (14 years younger than Yelawolf), follows KDot at bat, and doesn't disappoint.
Fast-forward 2 years later, still independent, the Brooklyn born, 20-year old, Pro-Era Collective co-founder, released his debut album, "B4.DA.$$," moving 56,000 units the first week making it the #1 rap and #1 independent album in the country. For the past few months I have had the album on heavy rotation. And while my love for "To Pimp a Butterfly" dwindles down to a few tracks, I can bump "B4.DA.$$" from start to finish every single time. It's a true "press play" album that would make a 2006 Diddy jealous.
As soon as I saw Joey Bada$$ was playing The Fonda I immediately bought tickets. Even though in my advanced age (I'll be 36 in August) and the idea of driving from Marina del Rey to Hollywood makes me sweat, just thinking about it, I had to go. I was a bit concerned I would be the oldest person by 18 years, but I was wrong. The crowd was diverse, completely unlike Run The Jewels at The Regent in DTLA, not everyone was a white male hipster in a flannel shirt. I got there just as Denzel Curry finished their set.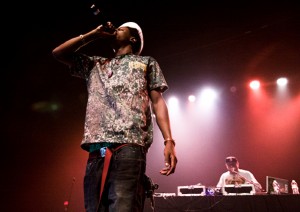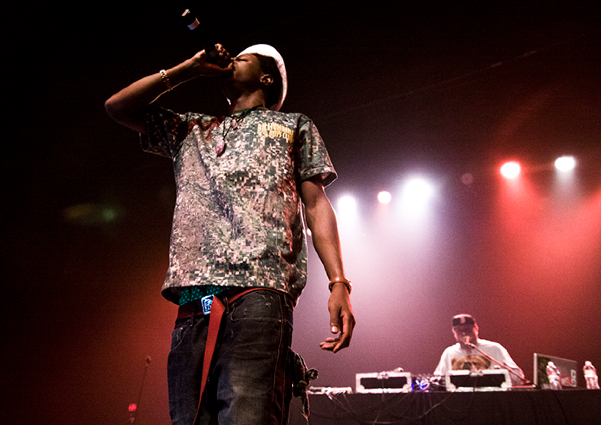 At 11pm, Joey took the stage. With no vocal backtrack and 1 hype-man, Joey rapped. Often considered monotone and moody, his lyrics are filled with poetic double-entendres. For the first half of his set he performed tracks from his mixtapes from his early days. When the beat for "Paper Trail$" dropped the crowd went crazy. With nothing but a simple stage (some color changing lights), a rapper rapped and the crowd connected with him and his music as he performed tracks from "B4.DA.$$." While mostly a solo-showcase, towards the end of his set Ab-Soul jumped on stage to perform "Enter The Void" followed by his friends, The Underachievers, and all of Pro-Era who helped him close the show.
Just like his debut album, "BA.DA.$$," Joey did not disappoint. In a world full of auto-tune, backtracks, lip-synching competitions, dubsmash apps, pyrotechnics, apparel lines, Kardashians, Paul McCartneys, premium Vodkas and Tequilas, Joey wants to rap.
Listen to the full album here
Words: Josh Axelman
Featured Image by Carl Pocket for Buzz Bands L.A.