Jaga Jazzist at Teragram Ballroom: An All Out Assault on the Senses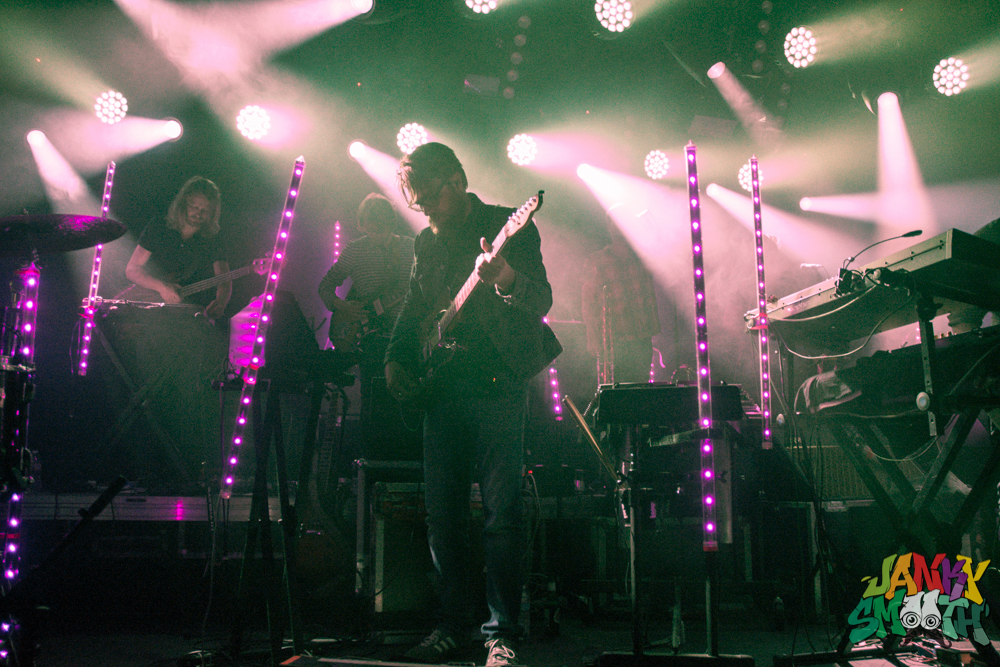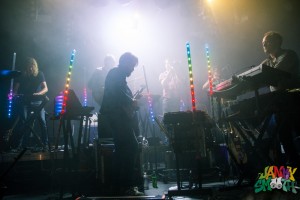 Jaga Jazzist are not a normal band. Teragram Ballroom is not a normal venue. Last night at the newly opened and renovated venue on the outskirts of Downtown Los Angeles, I heard sounds I've never heard before. I'm still not quite sure if it was the band or the venue that produced some of the most pleasing tones I've ever heard but I suspect it was a bit of both. With 8 supremely talented musicians ejaculating all over their instruments simultaneously, just the fact that you could hear every note and cadence is a testament not only to the audio and acoustics of the Teragram Ballroom but also to the men themselves who resisted the urge, unlike most virtuosos, to stomp on that tiny silver boost button that most musicians include in their rack effects.
Jaga Jazzist, if you don't know, are a band of contemporary jazz musicians from Norway who make their home on the Ninja Tune record label. I had a casual love of their music prior to last night and now that I've seen them live, I'm obsessed. Their latest album, "Starfire" dropped on June 2nd and last nights show at the Teragram was the first date of their tour of the U.S.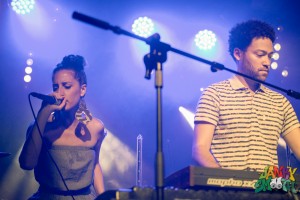 I walked into the Teragram Ballroom for the first time at 9pm last night- Just in time to see the opening act, Taylor McFerrin. Taylor McFerrin is the eldest son of Bobby McFerrin. It was easy not to worry and be happy during McFerrin's set (sorry, I couldn't help myself). Taylor McFerrin is a one man wrecking crew. His music is the antithesis of most of the beat based artists that are popular in music today. As I say on a fairly regular basis, pushing set is much different than pushing play. Especially the way Taylor does it. Watching him work and program his beats in real time is as exciting as the arrangements he creates through the process. He taps into so many styles in his music. From R & B to break beat, Taylor McFerrin produces varied vibes that range from uptempo dance tracks to downtempo slow jams. At times, there was a very real Frank Ocean vibe that collided with early DJ Shadow type beats. Being turned onto artists like Taylor McFerrin is half the reason I still enjoy going out to review shows.
Caribou Does NOT Push Play at The Fonda Theater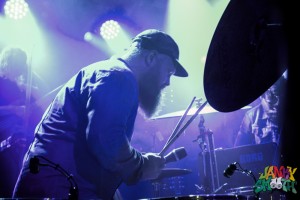 At around 10pm last night at The Teragram Ballroom, Jaga Jazzist filled up the stage with it's 8 members and about 50 musical instruments that ranged from flutes to midi controllers. The stage was overrun by people, wires and cables that connected both amplifiers and a series of lighting sticks that stood up next to each member of the band, including drummer and one of three Horntveth brothers, Martin Horntveth, who was strategically and genius-ly set up at the front right of the stage. Throughout the set, Martin captained the band into and around diverse time signatures that were pleasing to everyone that witnessed the Jaga Jazzist performance that night- not just music geeks. Acts like this rarely reach the heights of popularity this kind of talent and prodigiousness deserve. The masses and even in-the-know hipsters like easily digestable, 4/4 time signatures but there is something about the complexity of Jaga Jazzist compositions that make them a bit more accessible than most experimental music outfits. Make no mistake, Jaga Jazzist ARE a musical delicacy but one that hits your musical taste buds without needing to be an acquired taste.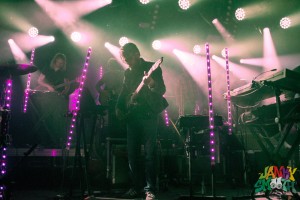 The mix of amazing musicians in Jaga and the sound at the Teragram gave me a number of jaw dropping moments last night. The venue is insulated perfectly, unlike almost every renovated theater-turned-venue in L.A. There was absolutely no sound bouncing off cavernous concrete walls, which helped to reveal each note and each echo off every delay effect contained within the music. The racks of lights that hang above performers on the Teragram stage seem to be very advanced and expensive. Last night was an all out assault on the senses and the fourth show ever and my first at the Teragram- and it was completely unforgettable.
Words: Danny Baraz
Photos: Taylor Wong