Super Tight Rides into the Sunset at Final Show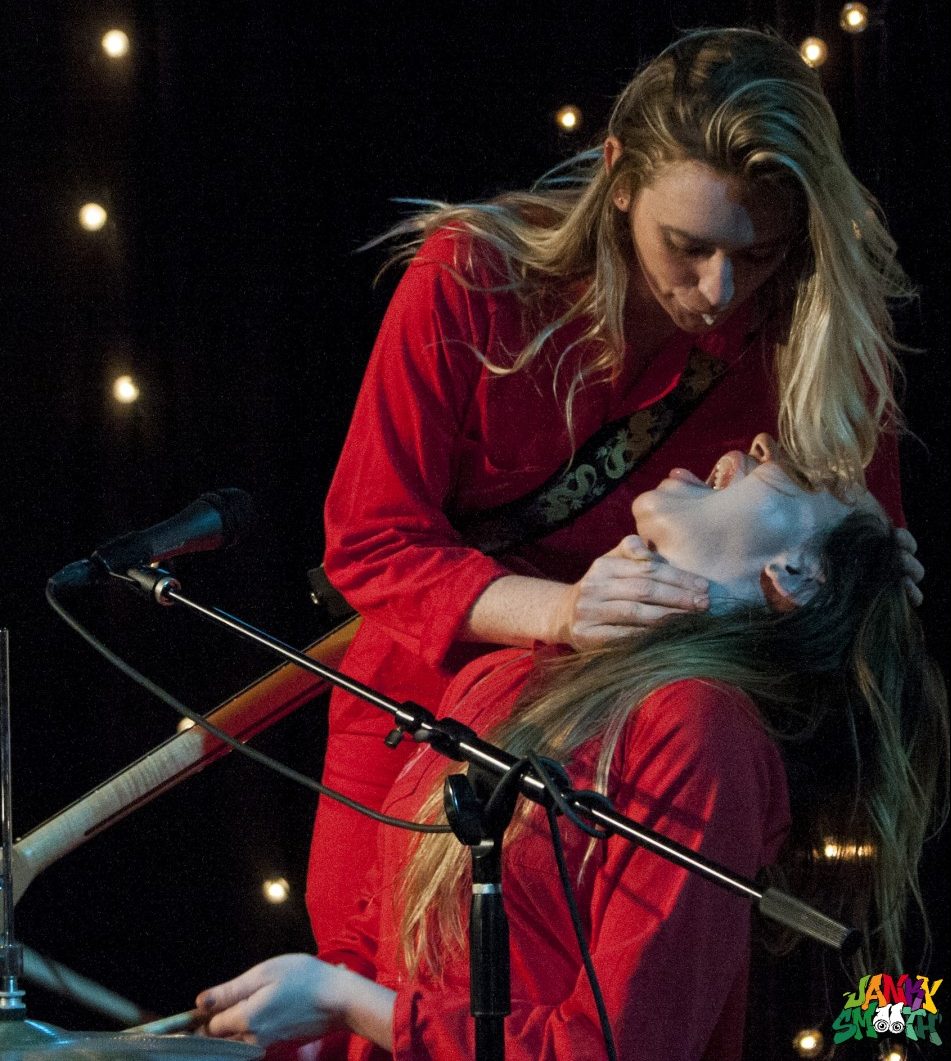 At first glance, the psychedelic clown flyer for Super Tight appears to be some underground Tim & Eric masochist party where everyone takes drugs, has sex and talks about the TV Show they're developing. Actually, wait: that's kind of what it is. In the best way.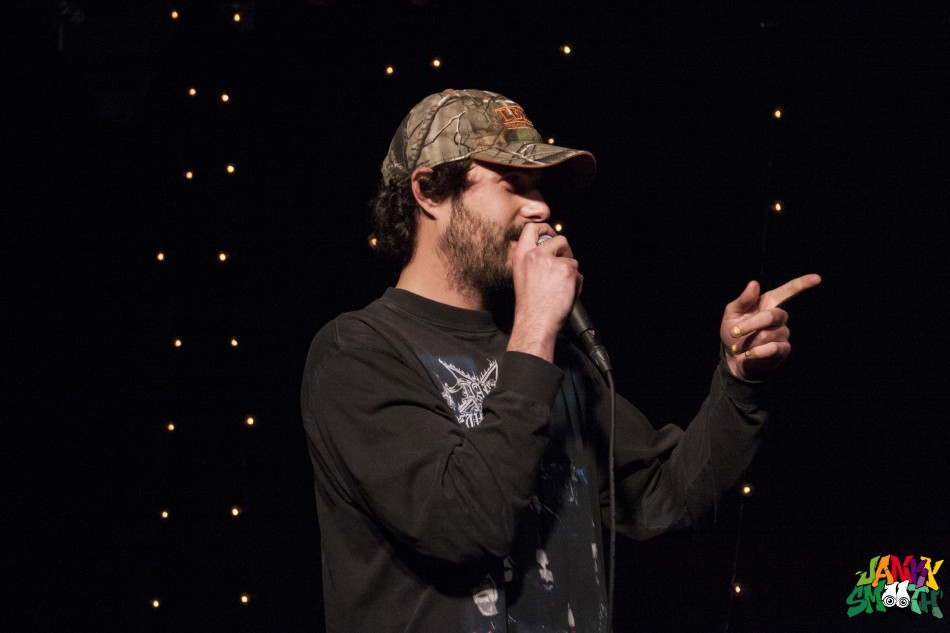 This out-of-focus Polaroid shows a fierce thirty-something female with pink furry hair and sequined flower-antennae standing shirtless against a purple wall. She wears blue lipstick and a red clown nose on her orange and green-painted face, with the words "SUPER TIGHT" emblazoned in bubble letters in the white space below. This kind of eye candy is enough to make any hipster in Highland Park run his hand through his hair and say, "oh, shit."
Super Tight is a monthly show produced, curated and maintained by Casey Rup, a young producer in the animation world. He's a nice guy, and humble in his accomplishments, which range from animation producer of Viceland's Party Legends, to executive producer of Ricking Morty, an episodic commentary on the hit Adult Swim show Rick and Morty.
Rup got his start in the animation world by working as an executive assistant on Rick and Morty, which is arguably the most original and entertaining animation show on television, excluding The Simpsons and South Park. The venue hosting the event was Starburns Industries, or Starburns Castle, the production company and animation studio behind Rick & Morty. Dan Harmon, creator of Community and Rick and Morty, was supposed to perform at Super Tight but apparently came down with a bad case of shingles. Is there a good case of shingles? Get well soon, Dan.
But this article isn't about Casey, or Dan, it's about how to throw a successful DIY variety show that not only builds relationships and provides a platform for artists, but strengthens the community as a whole through the creation of boundary-pushing art.
I've seen flyers for Super Tight the last couple years on various LA Comedy Facebook pages, but never got around to going. Mainly because I'm scared and think everyone hates me. Is this what anxiety feels like? Super Tight doesn't promote much because they don't have to. I showed up last weekend and learned it's their final show. What the fuck. So all of you reading this who haven't been will never be able to go. Ever.
Now on with the review.
To start out the place was packed. All the chairs up front were full, and the row of bleachers in the back were too. Donation-based beer was available—which is always great—but the keg dried up quick. It was a great warehouse space with tons of room, an ideal venue hiding in the shadows of Burbank.
Comedic band Sorry About Everything opened with some solid rock n' roll songs that made you think and occasionally chuckle. The band is fronted by the guitarist/singer Dino Stamatopolous, who is an accomplished and award-winning TV writer who has written for Mr. Show, Mad TV, and Late Show with David Letterman. He played the recurring role of Star Burns on Community, where he served as writer and producer. He is also a co-founder of Starburns Industries. He no longer has star-shaped sideburns, however. One stand out song was entitled "Topping from the Bottom," which I had to google to learn the meaning. For those who don't know, it's an expression describing a sexual situation where the submissive partner attempts to control the dynamic of the relationship from their submissive position using seduction, persuasion, provocation and/or a variety of other sly techniques.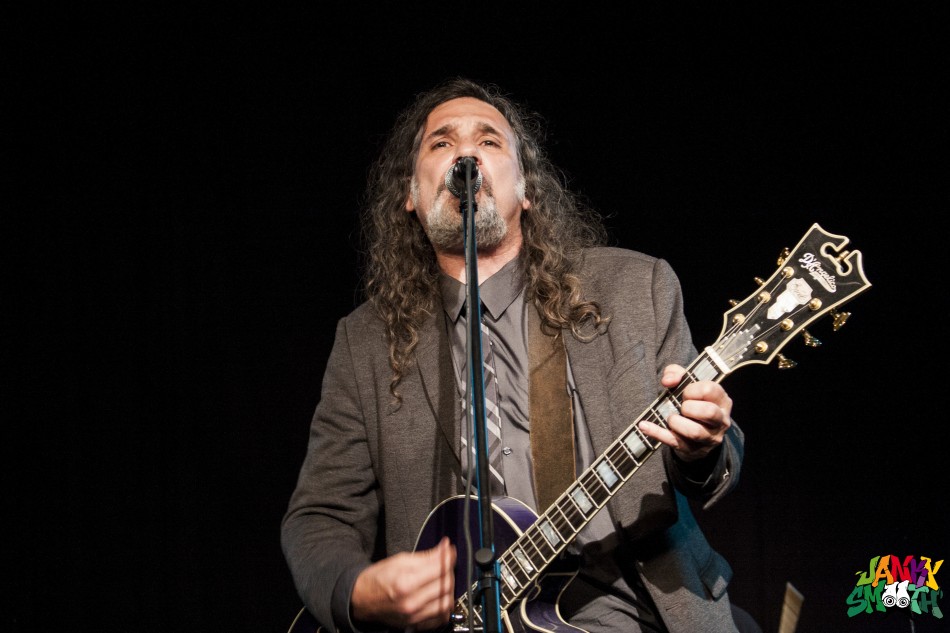 It opens with the lyrics, "I'd rape her if she let me, I'd transgress her if she was only on my side," which is actually the chorus and hook to the song. One verse describes how he would "take her on a journey inhibiting all her mobility," and she would be "passively relieving all of her active responsibility." Fun and a bit creepy, perfect in this 2018 post-#metoo movement environment. All jokes aside, I'm a firm believer that no topic is off limits when it comes to art, and if we start censoring artists that's when we know that Big Brother has taken over for real and it's time to escape with mind-altering drugs to an insane asylum. At least I would be safe there.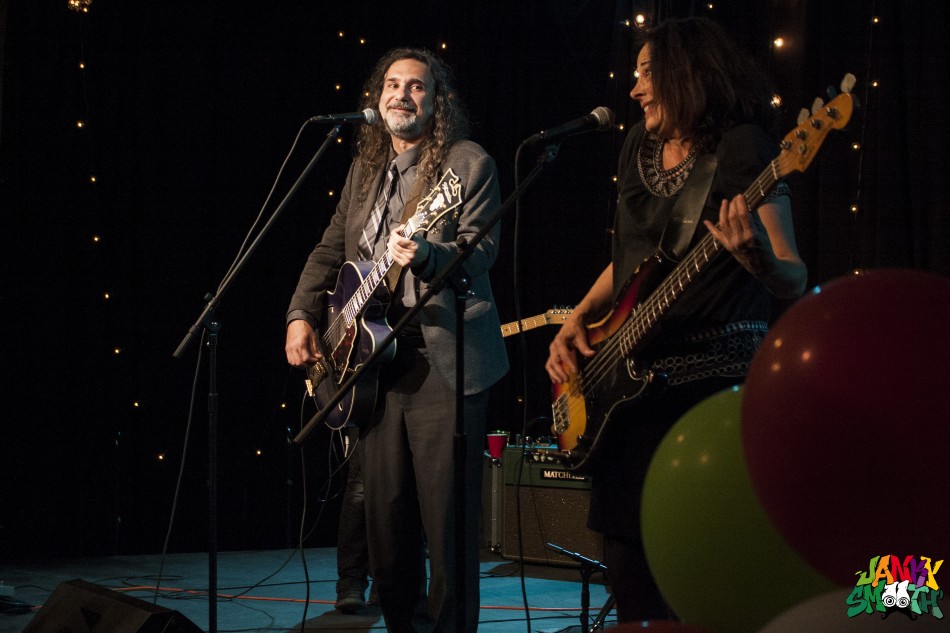 Sorry about Everything has played Super Tight in the past and Dino is friends with Casey. In fact, most of the performers of Super Tight are Casey's friends or former co-workers. The Duo MYSTIKI came next with their tasteful and hilarious comedy/magic show. Performers Elizabeth Messick and Simone Turkington sported hands-free microphones and tossed light orbs back and forth as they introduced themselves in quasi-motivational speaker fashion. Then they pulled an audience member on stage, crowned him with a Lei wreath and forced him to worship the God Tiki. This looked and felt like the opening of Pandora's box or the gates of hell. But I couldn't stop watching. Elizabeth Messick sang a song while playing with string. And at one point, Turkington was calmly tearing newspapers on stage. The symbolism was heady. They cycled through a few more stage antics before ending on a rendition of "Bang Bang (My Baby Shot Me Down)" made most famous by the Kill Bill soundtrack.
Then came a music video for Sorry About Everything entitled "Brown Booze," which can only be described as an outtake video made by drunk crew members at the wrap party for The Blair Witch Project.
Filmmaker/Director Lance Bangs was supposed to perform, but technical difficulties prevented that from happening. Super disappointing, considering he's created music videos for Sonic Youth, Nirvana and Arcade Fire, and directed a David Cross film called Let America Laugh. Shit is right up my alley. The performance he wanted to do at Super Tight involved recording four different popcorn machines simultaneously, then I'm guessing he was going to overdub all the popping in real time, and freak everyone the fuck out. Again, next-level art.
The absence of the Lance Bangs performance created a need to fill time, which is fine because we watched episodes of Viceland's Party Legends, also created by Lance Bangs and executive produced by Spike Jonze. One of the Party Legend episodes featured beautiful 3D animation of comedian Duncan Trussell telling a story about how he got over his mom's death and the mortality of life by hiring a Dominatrix in Downtown LA. Another video featured comedian Jon Daly as a duck recalling an ice-skating memory where he was tripping on acid and made friends with an 8-year-old boy. All perfectly appropriate subject matter for Super Tight.
Shows like this are the reason I love Los Angeles; on any given night I can go out and see a bunch of diverse, vibrant artists creating something new. Back in Nebraska—where I'm from—we had a lot of fantastic artists too, but Los Angeles has about 100,000 more, and they're nicer than you'd think. A few more videos played and then Jon Daly came out in real life to perform on stage. You might recognize him from Kroll Show, Comedy Bang Bang and I'm Dying Up Here. He wore what looked like a cheap military-style Elvis costume and played the saxophone. One of his songs was a tasteful parody of Soundcloud rappers entitled "I'm Your Dad" which highlights his real-life feud with 21-year-old Rapper Lil Xan. Daly calls out the rapper's bad face tattoos and relays the struggles of being his dad, and having to deal with his son's bad decisions.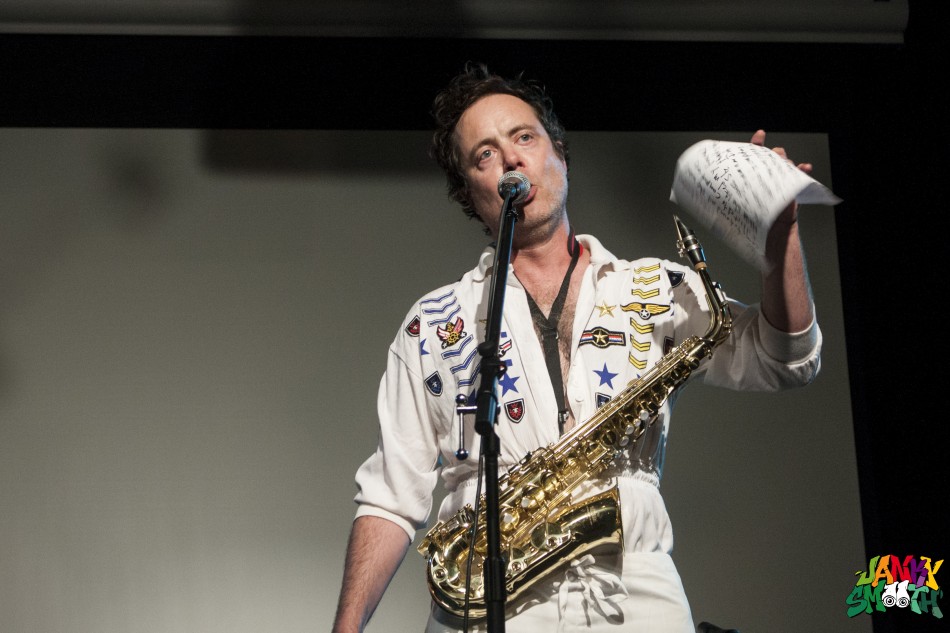 Very topical subject matter considering the rising and recent phenomenon of young, dumb and stupid rappers diluting the soul of hip-hop. Compare Tupac or Biggie to Lil Pump, Lil Yachty and Lil Peep. Yes, those are all real names of rappers millions of youth idolize. Seriously if you're gonna take pills, at least don't drink at the same time which more than doubles the odds of fucking killing yourself. I mean don't get me wrong it feels goodand life is tough but stay away from pharmaceuticals in general. They killed Prince. They killed Tom Petty. They almost killed my mom. Weed and alcohol and some psychedelics are okay, though.
My favorite act of the night starred two young rising starletts: actor/comedians Natalie Palamides—an abusive Dolphin Trainer—and Courtney Pauroso—the Dolphin— who are evidently roommates in real life. The setting was Sea World, the trainer has a mullet and let's just say there were some provocative scenes where physical and verbal abuse took place. Palamides, who won Best Newcomer Award at Edinburgh Festival Fringe in Scotland last year with her one-woman show LAID, is extremely fun to watch. She commands your attention by embodying a character so many of us have known – a dumbass white guy like me!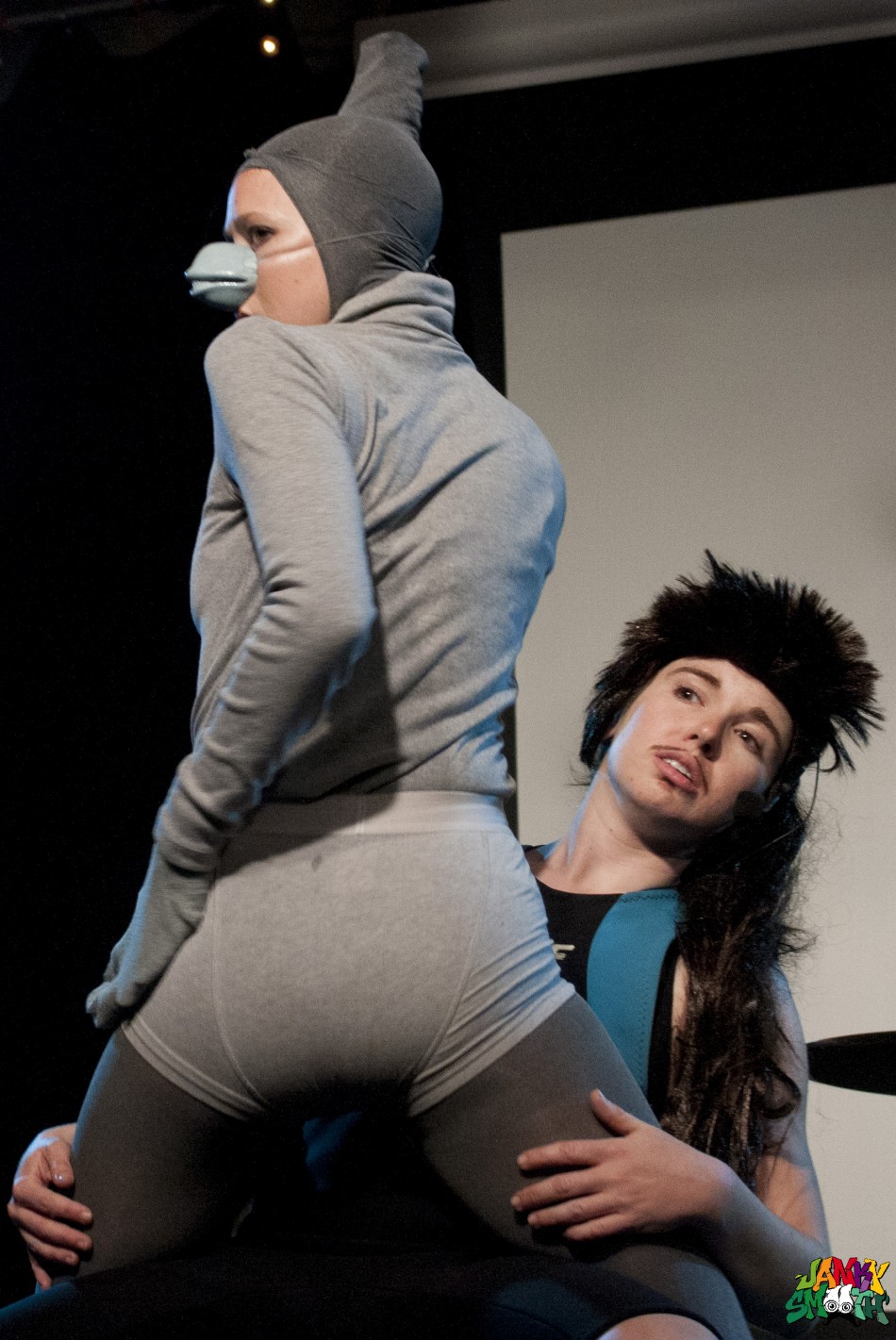 Pauroso plays the sexy, coy dolphin. Prancing around the stage and batting her eyes, avoiding the clutches of her master, maintaining dominance with her beauty alone. Do I have to mention topping from the bottom again? Palamides pushes her around and forces hugs and grabs her arm in a way that made me uncomfortable at times. Like an abusive boyfriend scene in those dated original Lifetime Channel movies. The dolphin trainer released some of the tension by peppering in comedy relief, but the overall vibe was totally next level. And when I say next level, I mean I've never seen or witnessed anything like it, whether in real life or on the internet. It's not an overdone theme. It's fresh. It's new.
The dolphin recruited a man out of the audience and made out with him on stage. Tongue and all. She also bent over and let him smack her ass, or was he petting her? It was hard to tell, and he was instructed to do it. One thing was for sure: it was hot. I asked the lucky audience member after the show if he was in on the gag, but he denied it. The sketch concluded with the animal trainer and dolphin having sex on stage—in a grand finale of whip cream spraying out of a can and Palamides groaning in a fantastic white-trash orgasm fit only for a trailer park.
At some point young standup Brandon Wardell performed a set. I don't remember anything about it. His words failed to move me. That's okay because everyone has a bad set and I'm picky. Plus he wasn't planning on performing. Wardell has been featured in Rolling Stone and on Adam Devine's House Party and makes a living doing comedy. He has 40K more Instagram followers than I do. I think he's a nice guy. Do I sound jealous? Probably. I also lost his interview. Thanks Brandon!
Local LA Musician Colleen Green played a solo, stripped down indie rock set after all the comedy ended. She recently performed at the Santiago Pop Fest in Chile and has been badass and in the news for years now. She also DJ's around town.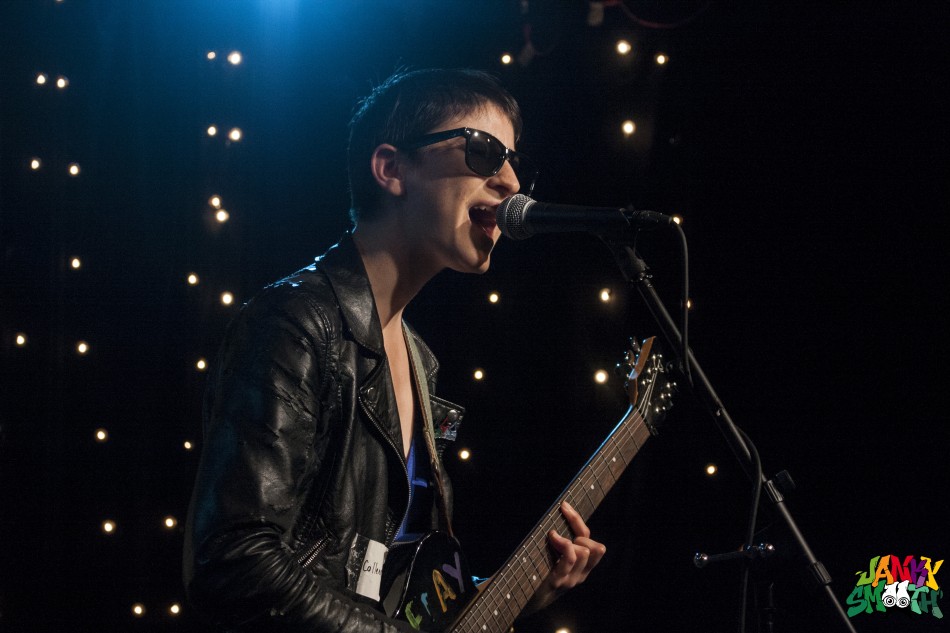 Slut Island closed out the night in all their red jumpsuit-wearing glory. It was the second time I've seen them. They are kind of like a parody band but kind of not. They write their own songs and are gaining a steady following. They regularly open for regional and national acts around the city—and use music as a vehicle to deliver their absurd high-energy performances that often morph into spontaneous dance parties where they hump each other.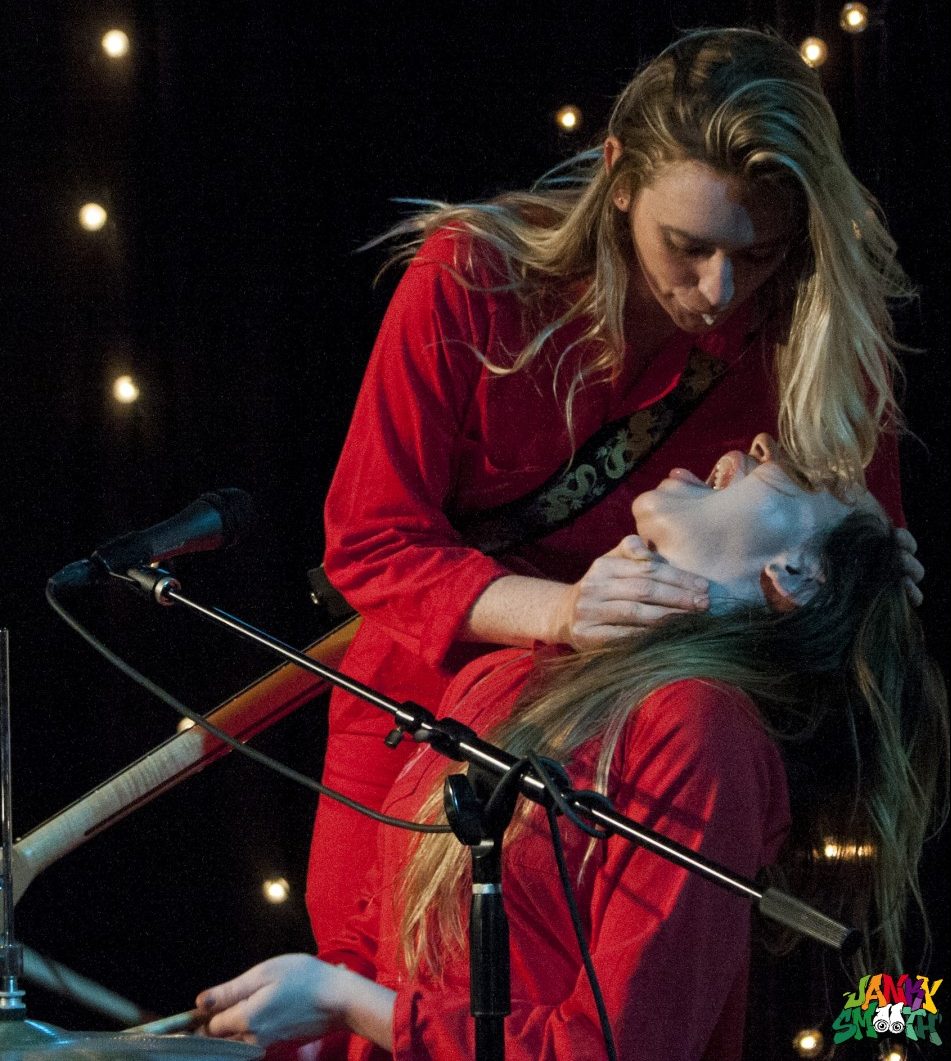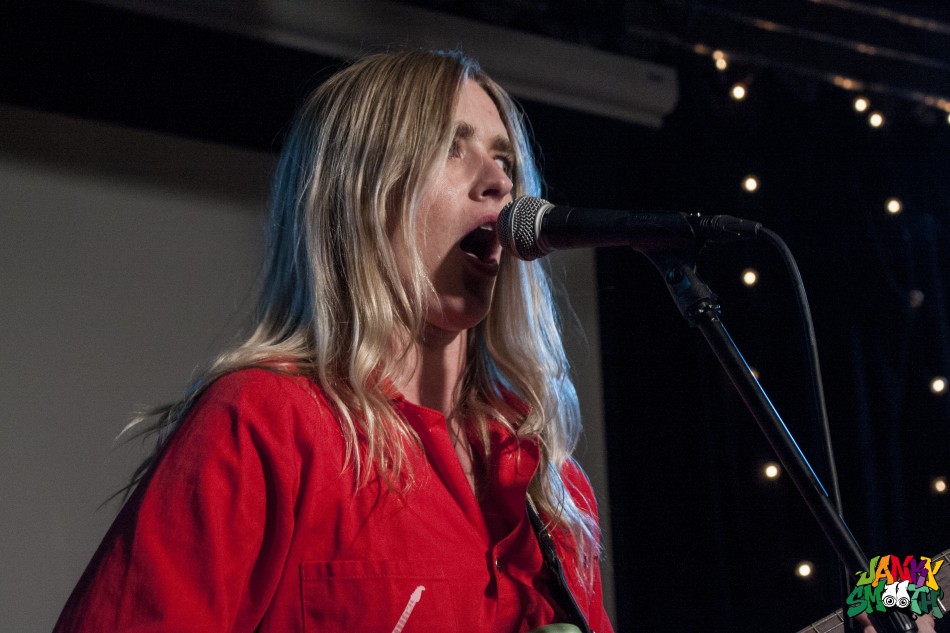 Fronted by two gorgeous and goofy dance queens Penelope Gazin and Kate Holloway—who met on the LA Municipal Dance Squad—it's hard not to fall under their spell as they contort on stage, sing about HPV and bad Church kids and spit in each other's mouth. Gazin is also co-founder of Shop Witchy, a successful artist-curated sales platform. Slut Island encompasses both of their senses of humor, which borders on the line of experimental art. Similar to Mystiki, where you're not quite sure if what you're watching is real or not.
Or maybe it's performance art?
Doesn't matter. The point is you're entertained and wanting more by the time their act is through. All the performances shared this. All nice people with interesting stories. Most accomplished and living their dreams. They come together under the same freak flag and spread love through new art that challenges the intellect and goes against the grain. My type of stuff. Keep it up, Casey. Thanks for the support.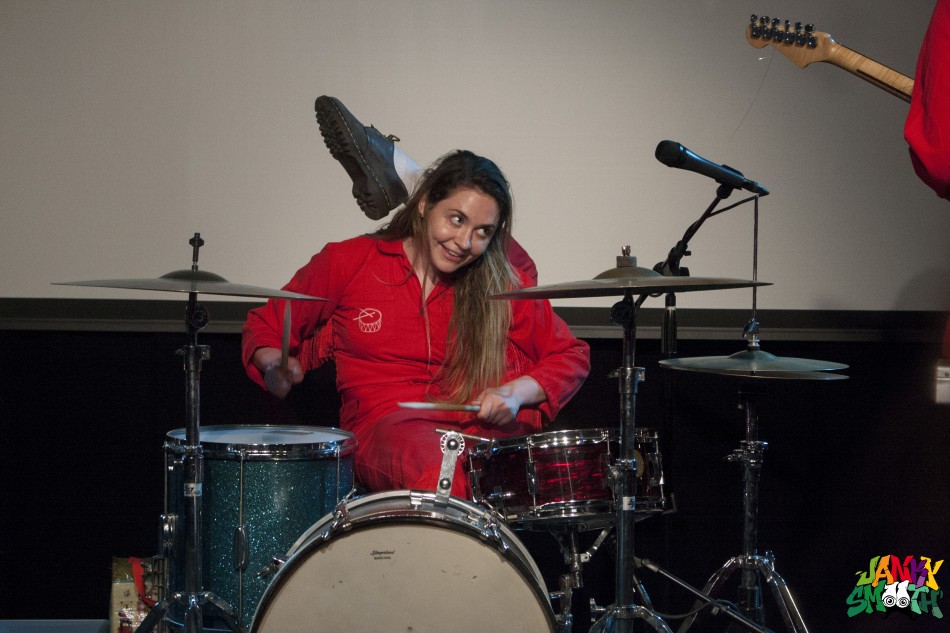 I look forward to your next venture.
RIP Super Tight.
Photos and Words by: Travis Beck