Sylvan Esso Moves The Fonda for Day 3 of 30 Days in L.A.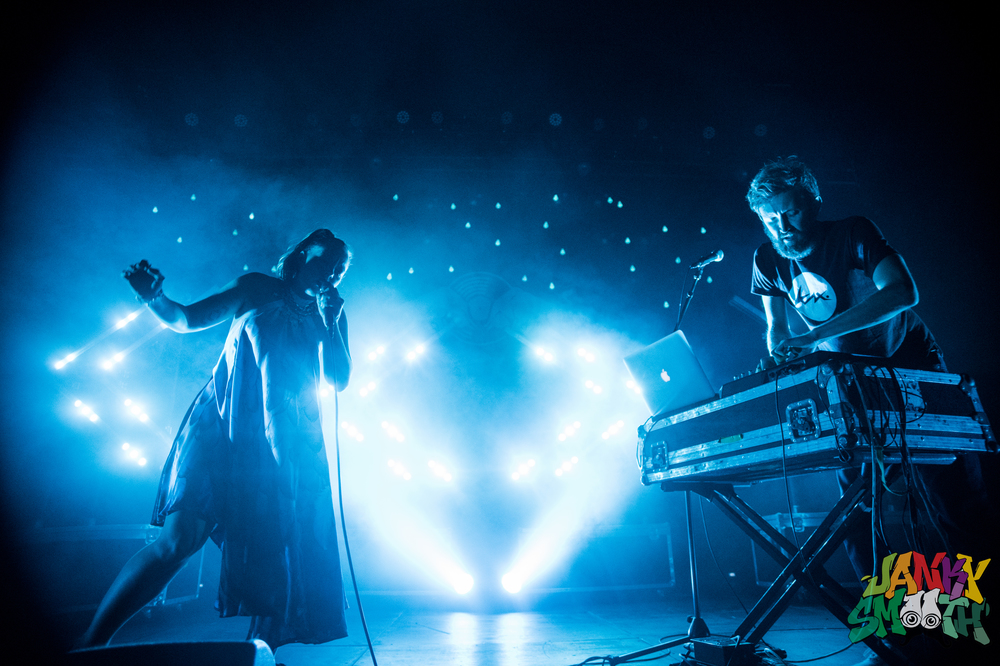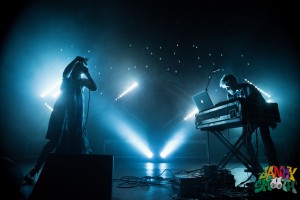 Day 3 of Red Bull Sound Select's, #30DaysInLA featured performances by Sylvan Esso, Race Banyon and Akua at The Fonda. The evening was sold out, but Red Bull kept the crowd light rather than packing the room to capacity – which was a nice relief. I've experienced many sardine-packed nights at the Fonda, it was good to see the promoters give back in a conscious way to the fans.
This year the #30DaysInLA lineup is a bit lighter (headliner-wise) and even lighter on the support acts, most of who are relatively unknown in the Los Angeles market, but as the neon signs in the venue declare – Red Bull is here to BREAK MUSIC. The atmosphere during the opening acts has a battle of the bands like vibe to it, you can feel them fighting to make an impact on the crowd (who the majority of is there for the headliner). Sometimes they hit the mark and stick, sometimes they're local and draw on their own, but sometimes they become a complete afterthought.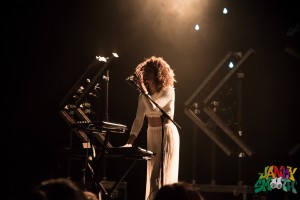 Akua is a Montreal based one-woman band, gently crooning to the audience with even calmer instrumentals. Unfortunately, it seemed the crowd was here to dance to a heavier beat – not to discover rising talent. The powerful yet gentle voice of Akua wafted to the rafters of the Fonda as the early birds of the night settled in, yet nobody seemed to take notice. I felt for her as a crowd of conversation talked over the majority of her set – maybe it's just LA, but I thought it was totally rude. I had a hard time finding a place to stand and enjoy the music without hearing the latest gossip from the people around me. Armed with a looping board/sampler and mic – Akua did the best she could despite the contrast in energy between the crowd and stage. Akua would be great with a band backing her, or being featured on tracks with artists like Disclosure, etc. I feel like this may have not been the best booking for her, but she has a few other parties to play while in Los Angeles and I think she'll leave her mark!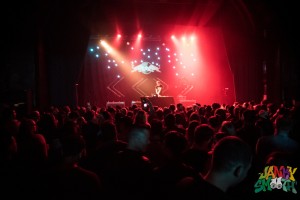 Race Banyon (aka 17-year old Eddie Johnston) is another New Zealand raised producer on the Red Bull circuit. Last year we got a taste of the NZ dance scene with Kamandi, and I was looking forward to hear what Race Banyon had to offer. His set started slow.. and shyly. The young producer didn't make eye contact with the audience, gaze stuck to his laptop screen, as he shifted back and forth to gain comfort in front of the audience. I don't blame him, the audience had doubled since Akua began and this was Race Banyon's first show in America (and first international tour date, for that matter). His slow, bassy sounds took a while to take hold of the Fonda crowd, but once he had a bit of time to work on them, he seemed to crack the seal on those too cool to dance. Slow builds, pitched up vocals, 808 snares – Race Banyon didn't necessarily play anything I hadn't already heard something very similar to, but he consciously built his set around the vibe of the crowd. Many DJ's in that PC music bass genre have the same exact set every time you see them, but I saw/heard Race Banyon's knack for reading the crowd as he carried the room through his set. By the end of the set, closing out with an edit of Drake's Legend (which the hipsters LOVED), Race Banyon left the crowd happy – but is anyone going to know who he was? No visuals, no signage, and a crowd who was mostly under the impression they were coming to a Sylvan Esso show – not a Red Bull showcase – will have to put some effort into following up on the producer's career. In a sea of similar sounds/artists, I think Race Banyon has what it takes to stand out with his ability to play to the room. Looking forward to see where the young musician's career goes.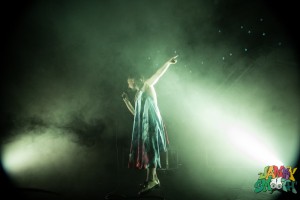 After two acts who didn't move much and messed around with electronics, the crowd was ready for who they came for – Sylvan Esso. American indie pop duo from Durham, North Carolina, singer Amelia Meath and producer Nick Sanborn ran onto stage with energy we hadn't seen yet that night. They were excited to be there and the crowd was even more ecstatic. If you came into the room expecting a set that sounded like their blogosphere hit single Coffee or familiar Hey Mami, you'd be in for a surprise. The group brought airy, joyful vocals, heavy 8-bit bass and thick kick drums in the first few songs, having the entire crowd moving along. Amelia danced all over the stage and Nick could hardly stand behind his production console as they vibed along with the crowd. Their fan base was obviously dedicated and hanging on every word. Their lighting setup was impressive: it was totally synced to each synth/drum hit/bassline. Tracks like H.S.K.T. left a big impression – this is the future of dance music. Live energetic performances that you can feel and engage in, not overpaid bros in snapbacks that drugged out drones stare at. I can't wait for acts like Sylvan Esso to catch on, which they are obviously doing at a rapid pace. In the same vein as Slow Magic or Robert DeLong, performing your music rather than playing it goes a long way. Sylvan Esso was a major undercard on the festival circuit this last year (I totally regret not catching them sooner), I can't wait to see them bumped up a stage in the seasons to come. The group announced during their set that this is their last show in LA for a while.. and their last show in general, for a while, especially supporting their current music – they plan to get back in the studio ASAP to put together a new album for the masses to enjoy.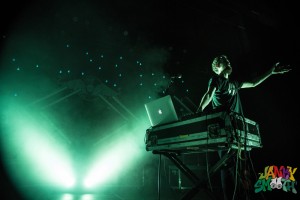 It feels great to be back out covering #30DaysInLA, I'm looking forward to the fresh talent Red Bull has for us accompanying familiar headliners.
Words: Justin Cornwall
Photos: Taylor Wong