Dum Dum Girls Headline Night 16 of 30 Days in L.A.
Warning
: Attempt to read property "post_excerpt" on null in
/www/jankysmooth_505/public/wp-content/themes/morenews/single.php
on line
53
November 16th, night 16 of the Red Bull 30 days in LA. Well I made it, the back end of the month of November. Boy has it been exhausting. This night we were given a performance by Lowell, Tapioca And The Flea, and Dum Dum Girls. I wasn't familiar with any of the bands other than my boys in Tapioca, so I was pretty excited to see what was in store for me. As soon as I got there I saw a lot of familiar faces. It was a cool mix of people I had met over the course of the 30 days and a large group of supporting friends were there, shit even my ex-girlfriend was there. The venue was The Well, a small clothing store in DTLA with a artist warehouse space in the back. The show never hit capacity which shocked me seeing as how it was a sold out show.
I got to the show a bit early so we took advantage of the free pizza and prize give away. I'm pretty stoked on my new ear plugs I won. These ear plugs actually came in handy as soon as Lowell started playing. I definitely wasn't a fan but to be fair, straight synth pop aint my thang. I stuck around for a few songs, seeing as how I had to give them some what of a chance but then I ventured outside. The out door smoking area had its own bar, the free pizza I mentioned earlier, and the .Gif selfie making thingy. Yeah I'm going to go with that name for the device. So this contraption distracted us long enough to get through the first band.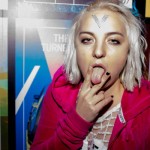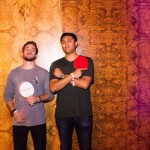 Tapioca And The flea went on next. These boys are quite talented, so it was a bit unfortunate that the sound got fucked up during the first couple songs. I'm no musician so I have no idea what happened, but luckily Sam Lopez has the kind of charisma that it was barely noticed. We danced for the whole Tapioca set and danced even harder when they closed out with Take It Slow. This set was by far the highlight of the night.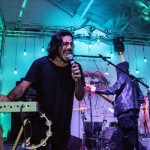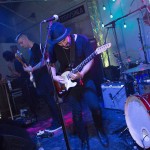 Dum Dum Girls came out and this was my first experience hearing anything by them. I was pretty confused that the band was entirely girls, minus one dude. Luckily all the women in the band were so amazingly gorgeous that i stopped caring about the minor detail. These girls could definitely play and I was fully attentive for the first couple songs. Then I was distracted by the fact that Nick Zinner of The Yeah Yeah Yeahs had just passed me. I got slightly star struck and went to tell him about previously seeing his performance with Head Wound City in October. He's not much for talking to small time press from what I have recently learned. At that point I realized the set was now over and all I was left with a broken fan boy heart.
Words: Taylor Wong
Photos: Dani Meigel