Punk Rock Bowling 2017 Kicks Off w/ The Sonics, Throw Rag & Moore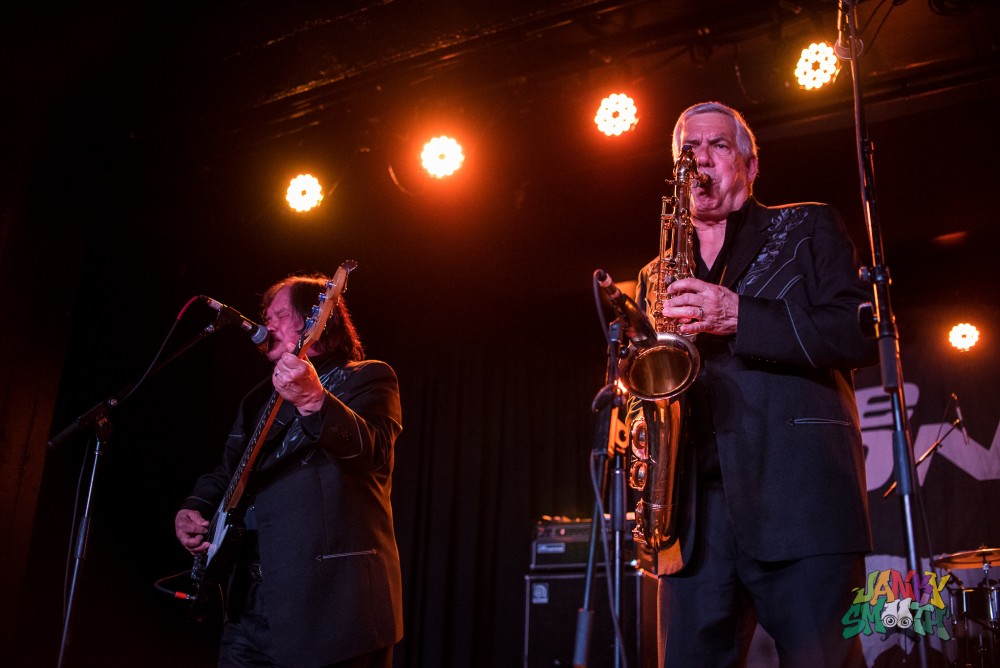 There was a handful of early-bird punks and a few scattered tourists as we approached a surprisingly sleepy version of downtown Fremont Street but with a line-up including Dr. Madd Vibe (feat. Angelo Moore from Fishbone), Throw Rag, the Mutants, Chicken Hawk All Stars, and OG (that's original garage) rockers The Sonics at Fremont Country Club– we were about to get woke the fuck up.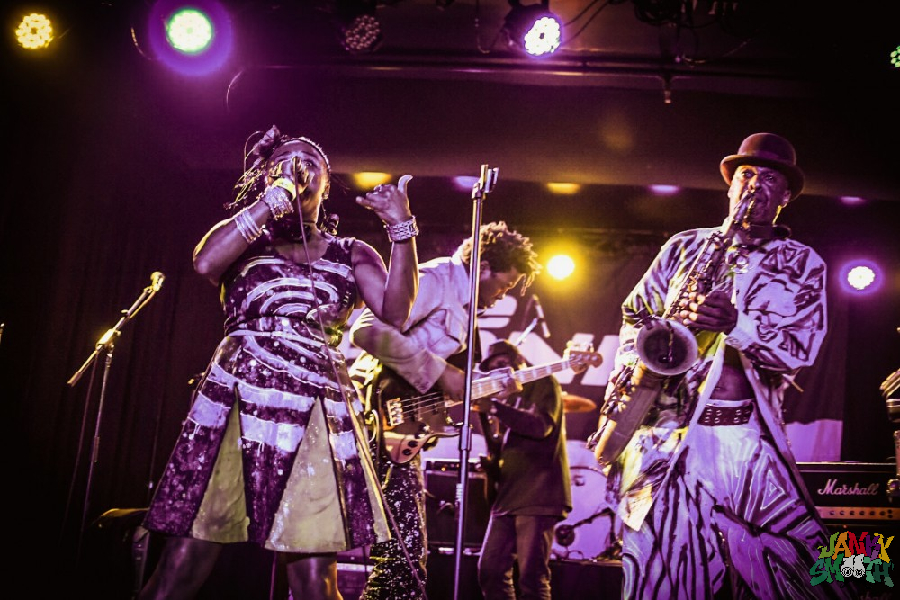 It was the unofficial opening night of Punk Rock Bowling and Music Festival 2017, now in it's 19th year (how old are we?!), and the Stern brothers have yet to disappoint- although it was now 9:30pm and the doors were not yet open. Of course we overlooked the first day sluggishness as we got a sweet and smooth welcome from our Hollywood homeboy and star of the night, Chicken Hawk All Stars lead singer/Fremont Country Club venue owner, Big Daddy Carlos.
It was at least 10:15 before the curtain came up with Dr. Madd Vibe's blaring instruments and dueling vocals as loud as Angelo's hand-painted, psychedelic suit. Always a showman and masterful musician, the energy was there but the crowd had not yet caught up.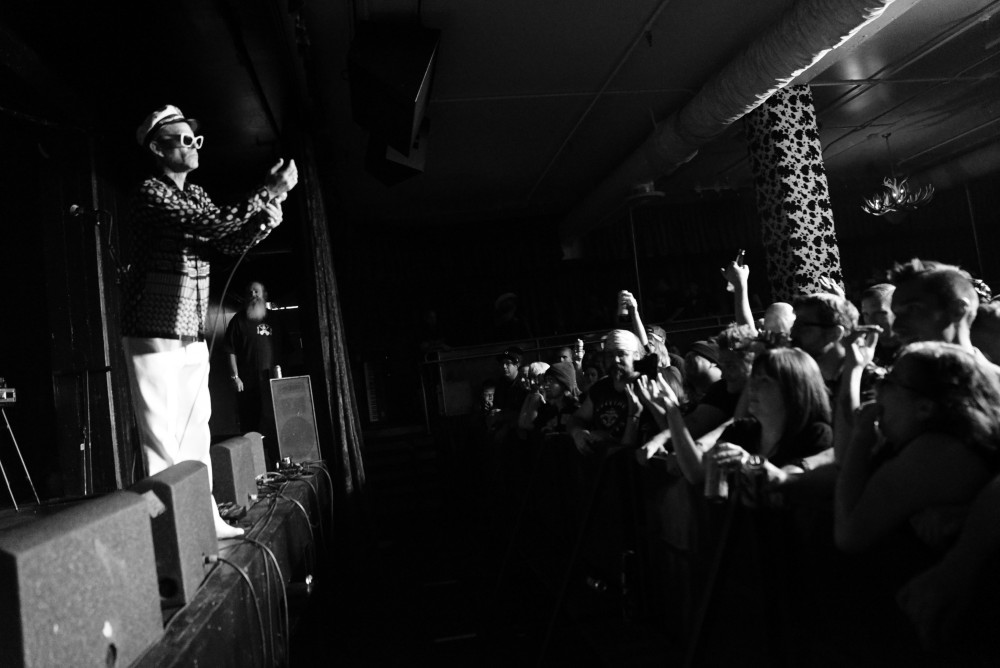 It wasn't until the polished white and gold suits of Throw Rag took their positions on stage and made way for Captain Sean Wheeler, that the fine people of Las Vegas seemed to get jolted to attention. They played a clean and mean set, spawning the first circle pit of PRB 19. That in itself is legendary, no? Also enjoyable to note: Sean's quick-change clothing magic…stripping from his suit into tiki resort wear and even teasing us with too much skin (which got him into trouble with some lusty ladies a bit later in the evening…). We would also like to shoutout to the man in the business suit that kept it going in the pit. No, not a rude boy, straight up Kinko's corporate. You stick it to the man, honey.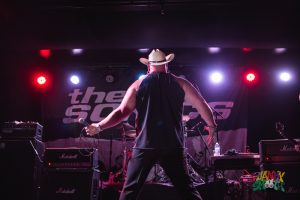 The crowd seemed to disappear again after the band left the stage and we realized that without any set times, these poor kids didn't know how to gauge when it was time for drinks or music and with so many bands on the bill, they couldn't tell who was who. Being our janky smooth selves, we knew that that was the Chicken Hawk All-Stars taking the stage a wee bit past midnite. Fronted by "Big Daddy" Carlos Adley and backed by punk legends Greg Hetson (Circle Jerks, Bad Religion, Redd Kross) and Todd Youth (Danzig, Murphy's Law, D Generation) among others, and our favorite hollywood DJ and Johnny Thunders-ish glam boy Garron Gash on backup vocals and that mean tambourine. The crowd seemed confused as they broke into "Hollywood Babylon" and Big Daddy, always the host with the most, offered to buy the entire room shots of tequila…which got a response of blank stares. Soooo maybe punk isn't dead but the "punks" sure seemed to be sleeping.
They finally woke 'em up again with The Damned's cover of Elton Motello's "Jet Boy, Jet Girl"…The pit started by a cute girl with a black bob and her spiked and studded friend in a wheel chair. It was good to finally see these guys and be pleasantly surprised by Big Daddy's smooth and booming vocals paired with those Elvis-like moves. It's good to be King.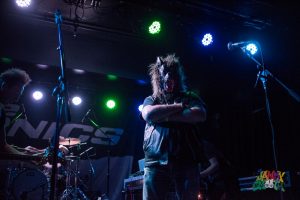 It was nearly 1am when the Mutants took the stage but it was clear the party was just starting. Sean Wheeler pulled double-duty (as he often does) and shared lead vocals with Kevin "Bingo" Richey (Mojave Lords) as they dosed us with that special variety of trippy desert rock n roll, replete with creepy masks and stage antics. I'm not sure if the punks were ready for it, as it seemed they didn't even notice Rat Scabies of the Damned was on drums.
We made our way out back, looking for the half of the crowd that seemed to disappear and there they were, nearly 200 people stuffed into the smoking area, drinking beers, meeting their peers and wondering if it was too early in the weekend to start a fight. Indeed it was and the headliners, 60s garage heroes, the Sonics were about to give us that good ol' fashioned rock n roll.
So what if original member Rob Lind is in his 70s and it was quarter to 2 in the morning? This is Vegas. This is Punk Rock Bowling. The Sonics blasted into "Cinderella" before the curtain even finished rising and it was obvious that no one was sleeping through this set. They've figured it out. The older guys have committed to rocking through retirement, the younger guys get to play their favorite songs with a band they idolize. No one is going half-assed here. They're super tight and spit everything into their set…almost too tight…with our boy Danny B dubbing them an 80s movie soundtrack band…but we think that may have been the libations talking as it was nearly 3am when we were leaving.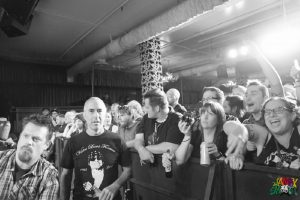 It was a long night filled with famous and infamous notable punks, friends, strangers, and obvious outsiders…a bit confused, disjointed, and unpredictable…but let's be honest, that's how we like our punk rock. It was just the right pace to ease us into what would most predictably be an extensive weekend of chaos.
Words: Vanessa Burgundy
Photos: Travis Moore, Todd Anderson, Taylor Wong