Music Tastes Good In Long Beach – It Really Did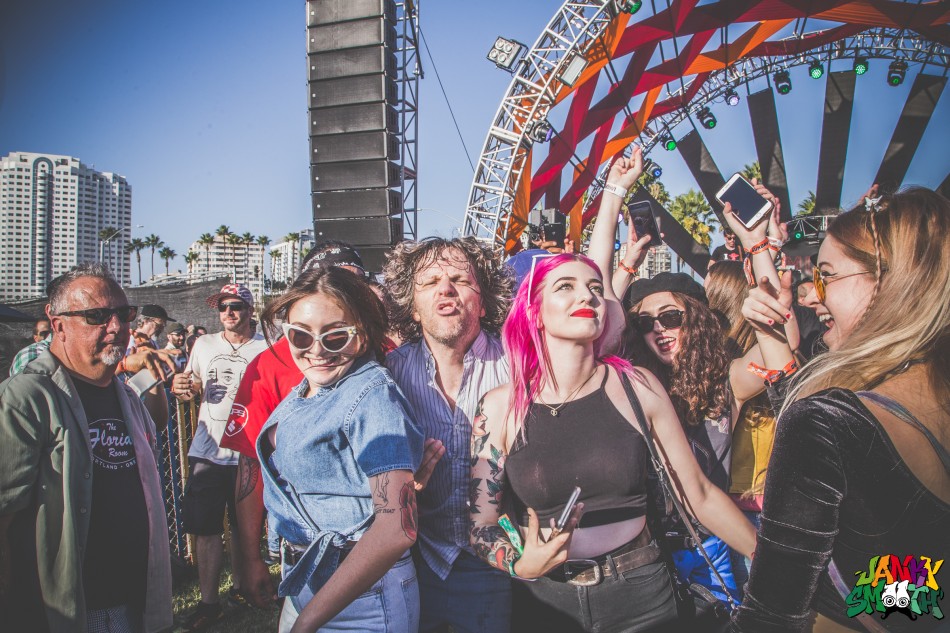 Music Tastes Good 2017 was a fun-filled weekend featuring eclectic music and gourmet foods on the breezy coast of the Long Beach Marina Green Park on September 30th and October 1st. As I first arrived at the festival on Day 2, all my senses were immediately going off as I was greeted by the fiery sounds of the Hot 8 Brass Band, smelled delicious foods, saw incredible 3-D works of art and my feet began to feel the beat of the band, leaving me dancing as I explored the festival grounds. I only briefly lamented missing all the great music of Day 1.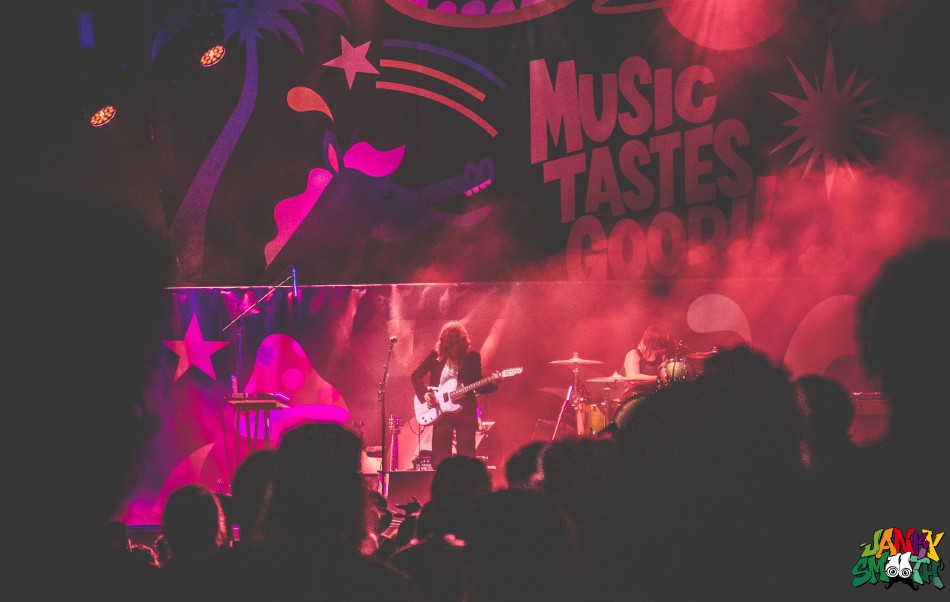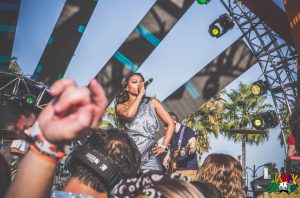 The first full set I was pleased to dance to was that of Dengue Fever, a Cambodian-American band currently based in Los Angeles. Their jazz meets psychedelic rock infused music had the crowd swaying blissfully as lead singer Chhom Nimol belted out beautiful melodies and led the cheerful crowd. The stage was decorated to match their 60's inspired grooviness with colorfully painted hearts, rainbows and stars. At the end of their set, they rang out their brassy solos and high energy as the crowd cheered.
Much to my surprise, the festival wasted no time and kept the dance party going as the stage began to turn to reveal the next band, Old 97's, who were rocking right as their side of the stage was in sight. They started out with a bang by jamming out a bluegrass-inspired ditty that had the crowd clapping their hands and stomping their feet with their twangy melodies.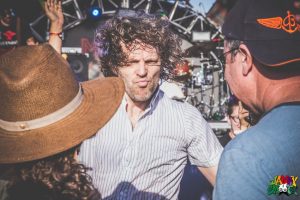 I made my way over to the New Orleans Stage to see !!! (pronounced chk-chk-chk), who did not disappoint. Within the first few hits of a booming kick drum, the band began to play funky dance music that got the whole crowd moving. Frontman Nic Offer dominated the stage as he bounced around with his female singing partner, both doing some fun dance choreography that had the crowd screaming at the top of their lungs. Highlights of their set included their song "Pardon My Freedom", which had energy comparable to that of lightning striking, as well as him jumping off the stage and dancing through the crowd! Offer's incredible energy not only was fantastic onstage, but off as well, as I was lucky enough to run into him backstage after his set and he was kind enough to stop for a chat and let me get a photo with him.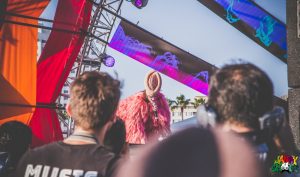 Perhaps the most entertaining and unforgettable performance of the day was Peaches. As I have been a fan of hers since "Operate" was used in the Mean Girls soundtrack in 2004, I had high hopes of singing along and doing a bit of nasty dancing to her pop bops, and these desires were fulfilled beyond expectation. She wasted no time in excitement by making her entrance with a large vagina on her head, as the audience was yelling, "Slay me!" (Okay, maybe that was me.) After what seemed like every song came to an end, Peaches would change her costume on stage, ranging from furry pink vaginas, a white spacesuit, and even going full boobies out on some tunes! Her backup dancers were super cute and full of great energy as they did dances ranging from ballet, twerking, and even scissored at one point as Peaches stood behind them hitting powerful notes, leaving goosebumps on my arms and legs, as well as leaving me rather excited (wink, wink). Peaches even had a giant inflatable penis that she walked through over the crowd, and it jizzed onto some lucky audience members. You can best believe that my voice was raspy and dead after screaming every word to her hit "Fuck The Pain Away", a song that I have treasured for so many years. One of my favorite moments of her set is when she had the audience hold her up by her feet as she sang. "Jesus walks on water, but Peaches walks on people!" She is an incredible performer and I found her show so empowering. She is a queen of self-empowerment and not being afraid to express herself.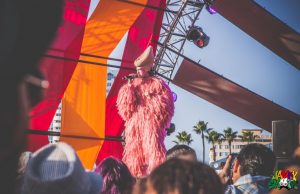 I was so exhausted from jumping around at Peaches set that I grabbed a beer and vegan pad-thai from one of the amazing food stands and sat on the grass next to the side of the Long Beach stage to watch Tune-Yards. I blissfully sang along to their hits "Bizness" and "Gangsta" with pad-thai noodles hanging out of my mouth. Instead of dirty looks, members of the crowd looked at me with wide smiles as they danced along to the beautifully strummed ukulele sounds mixed with experimental electronic music. After finishing my food, I felt energized and joined a dance circle formed in the middle of the crowd and boogied down with some happy Long Beach locals.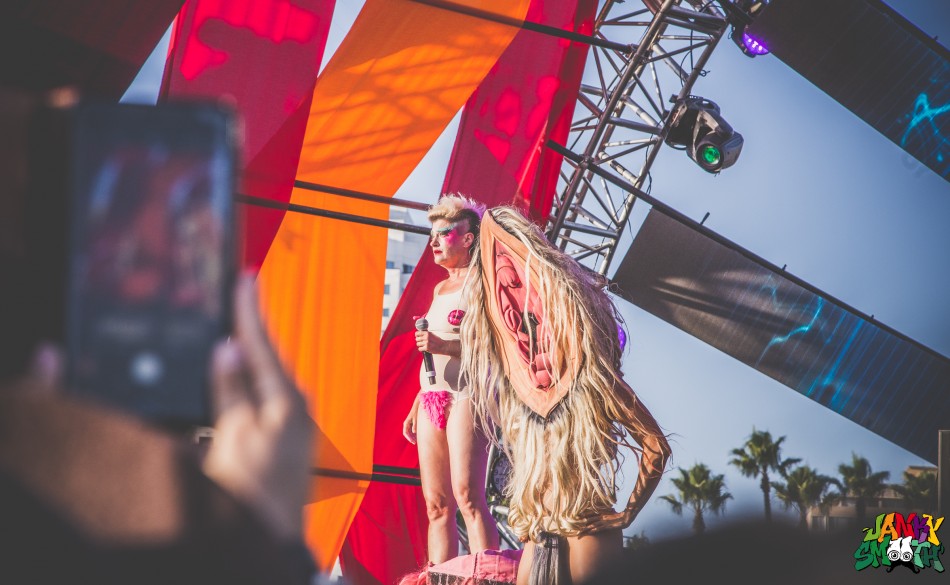 The legendary Dr. Octagon took the stage closing off the night on the New Orleans stage, giving a trippy performance with colorful visuals projected behind them with a light show. In all matching white lab coats, except for one of the coats being covered in blood, Dr. Octagon provided spooky-themed dance tunes with great hip-hop flow, record scratching, and an amped-up audience who would turn down for no one.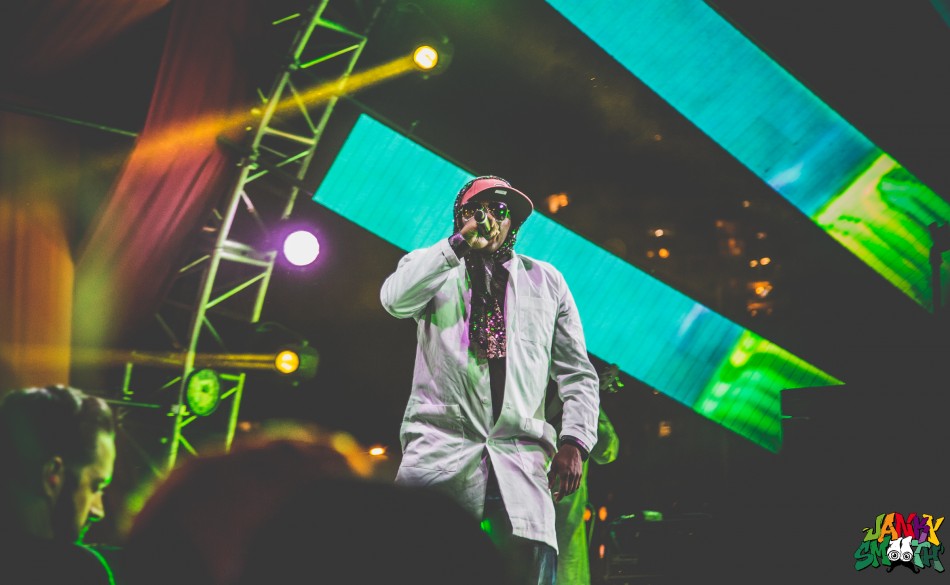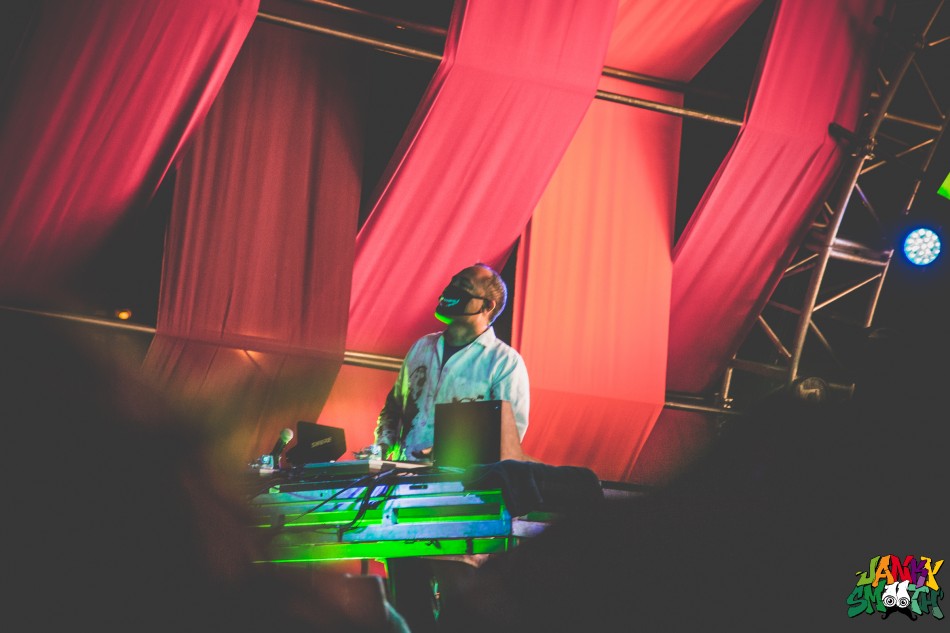 Ending the evening, I walked through the colorful art installations which featured colored lights and painted glass while swaying to the sounds of bonafide badasses Sleater-Kinney. As I made my way towards the stage, the crowd seemed to nearly triple as everyone crowded in to hear the legendary band play their hits "Modern Girl", "Dig Me Out", and "Jumpers". Guitarists Corn Tucker and Carrie Brownstein bopped around the stage as drummer Janet Weiss threw down a heavy beat, worthy of mosh pits and a few crowd surfers. My riot-grrrl dreams came true as they played "Good Things" and I knew this was going to be a day I would never forget.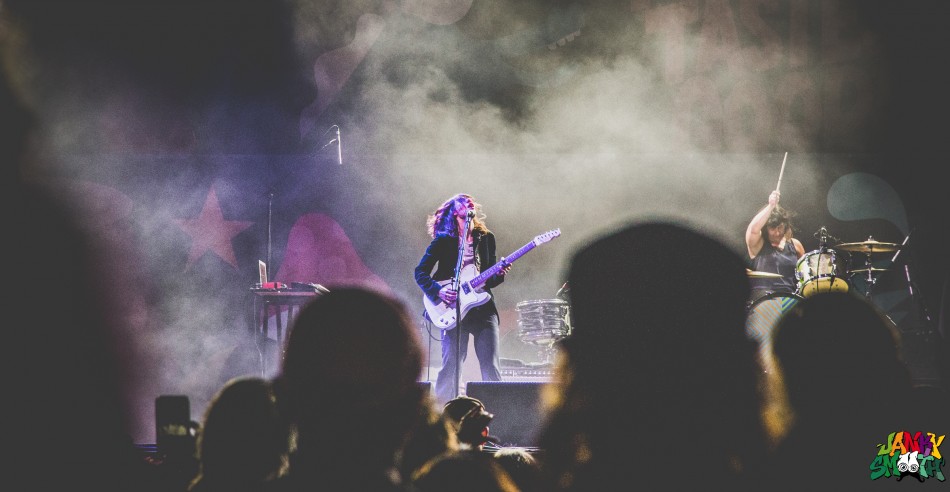 Overall, Music Tastes Good was a fun day packed to the brim with talented acts, some of which I've loved for years and some that I had just heard of for the first time as I watched their sets. I am lucky to have gone and I can't wait to see the lineup for next year!
Words by: Melissa Brooks
Photos by: Michael Haight