The Brian Jonestown Massacre Play 3 1/2 Hour Set For Night 1 at Teragram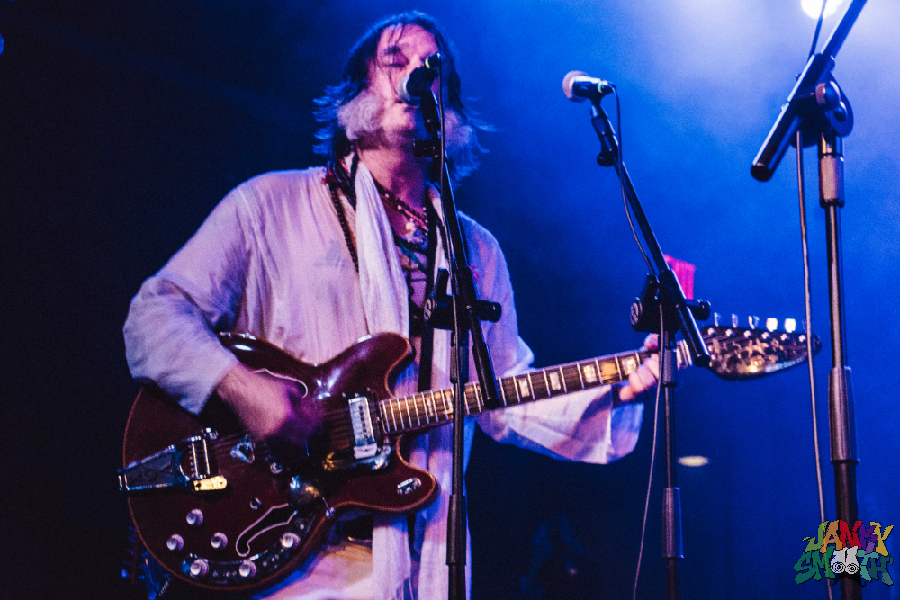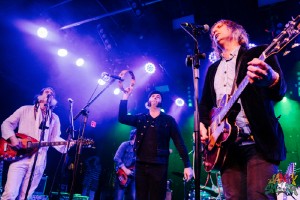 Sunday nights in downtown LA can be magical but particularly so when seeing '60s psychedelic rock outfit The Brian Jonestown Massacre is playing a gig. The band is an eclectic mixture of '60s British Invasion, '80s dream pop and shoegaze, as well jangly folk thanks to Anton Newcombe's talent to tailor-make genre-specific sounds into his own.  The first night of three sold-out shows at the Teragram Ballroom consisted of organs, tambourines, and loads of sass from The Brian Jonestown Massacre percussionist, Joel Gion.
Opening up for the iconic band was Los Angeles' very own Mystic Braves, who will be embarking on a national tour with Dream Ride this September in support of their newest album Days of Yesteryear. At one point during the Mystic Braves' set, the band invited Rob Campanella, Brian Jonestown Massacre keyboardist, to accompany them on a few songs. Definitely a crowd pleaser.The Mystic Braves have been dominating the Los Angeles music scene with their psychedelic tunes and charisma since 2011. This showed last night when Julian Ducatenzeiler (guitar & vocals), Tony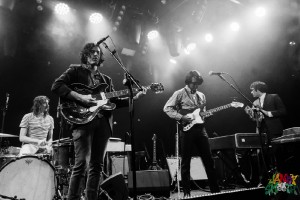 Malacara (bass & vocals), Shane Stotsenberg (guitar & vocals), Cameron Gartung (drums), and Ignacio Gonzalez (organ/tambourine) effortlessly captivated the Teragram Ballroom with their psychedelic aura of grooviness. The act didn't waste time with introductions and instead burst into snazzy renditions of fan favorites like "Great Company", "Desert Island", and "Bright Blue Day Haze". Speaking of Bright Blue Day Haze, the lighting remained static blue throughout the entire set. I was not expecting that given the expensive set up at The Teragram and  the typical, Mystic Braves vivid and colorful liquid light shows but it was appropriate.
The Brian Jonestown Massacre played a 27 song set, roughly three and a half hours of nonstop jams, beginning with a few new songs. Anton Newcombe enthusiastically announced that he has been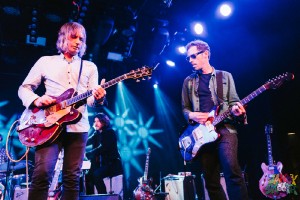 recording new material and plans to release two albums in 2016. The seven musicians opened with "Never Ever!" from their debut album Space Girl & Other Favorites, a tune very reminiscent of one you would hear by The Velvet Underground. This instantly set the tone for the evening as fans cheered and grooved away in the wash of sound.
Joel Gion, the band's percussionist, stole the attention of the crowd with his dramatic tambourine rattles and nonchalant yet crazy antics as Dan Allaire's drumming prowess proved to be nothing short of mesmerizing. It wouldn't be a Brian Jonestown Massacre show without a little bit of drama, of course. A few songs in a fan yelled at Anton Newcombe to play "Nevertheless", a song off their eighth full-length album Bravery, Repetition and Noise. Newcombe yelled back and told the fan that he doesn't take requests and that they should just "sit back and enjoy the show." Coincidentally, "Nevertheless" was the next song on their four-page long setlist.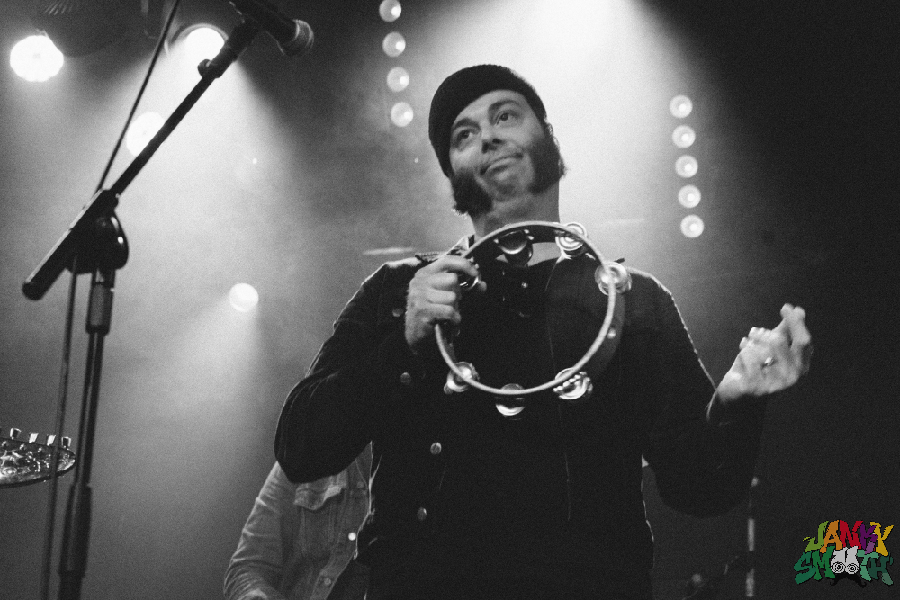 Ending with "She's Gone", a staple in the face of the shoegaze genre, The Brian Jonestown Massacre lived up to their reputation. BJM have probably one of the greatest bodies of work known to music and Anton Newcombe seems to have the ability to pump out new tunes without taking much time to take a breath. Welcome back crazies and see you at Desert Daze in the fall!
Setlist
1. Never, Ever!
2. Geezers
3. Vad Hände Med Dem?
4. Who?
5. That Girl Suicide
6. Nevertheless
7. Here Comes Waiting for the Sun
8. Jennifer
9. Leave It Alone
10. Groove Is In The Heart
11. Anenome
12. Wisdom
13. (Instrumental)
14. Down
15. When Jokers Attack
16.Sailor
17. Days, Weeks and Moths
18. Pish
19. Open Heart Surgery
20. The Devil May Care (Mom and Dad Don't)
21. Goverment Beard
22. Yeah Yeah
23. Short Wave
24. Servo
25. What You Isn't
26. Lantern
27. She's Gone
Photos: Natalie Somekh