Friday Night Shows in Los Angeles- Suck it Brooklyn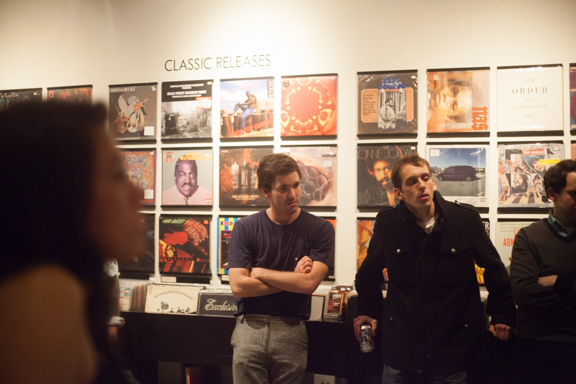 I jumped in my car and just started driving west. It was a weird week of muggy, rainy weather. The type of weather that simultaneously collects rain drops and sweat beads on the forehead. I drove by a man in a clown suit as I made a right onto the 10 freeway west off of La Cienega. Was I in L.A. or Florida? No matter how many bad neighborhoods they turn into good neighborhoods, Los Angeles will always let it's freak flag fly on a Friday night.
"I'm going to go for a quick skate in Venice then head over to Touch Vinyl. What time you going to be there?"
"I'm getting there around 7pm and we go on at 9:15. Come check out French Vanilla, they're rad."
"Cool dude, I'll try and make it for that but I'm stoked that I'm finally going to get to see you guys live. Don't suck, ok?"
"Hahaha. We'll try our best"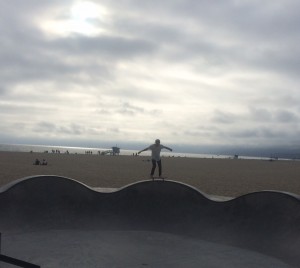 I got off the phone with Travis, pulled my deck out of my trunk and skated over to the park. When my skate was over, I headed over to Touch Vinyl for their "June Untouched Music Series" presented by Dirty Laundry TV and Todo Se Mueve. Touch Vinyl is a small but potent record store on Sawtelle in West Los Angeles. On the ride over, I got a text from Dr Buzz, Dentist extraordinaire who has fixed more famous punkers fucked up teeth than anyone else in the world. I got an invite to chill with him at his old stomping grounds at KXLU radio station during the Stray Pop radio show, hosted by punk radio pioneer, Stella Voce.
"Bring some music with you. Maybe you can play a few tracks on the show tonight and plug Janky Smooth."
I raced back home, loaded a thumb drive with three songs and headed to Touch Vinyl in West L.A. to check out the band, Sunshine Mind.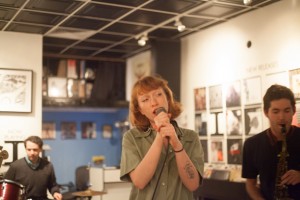 I walked into the record store around 9pm. The band, French Vanilla had already started their set. French Vanilla seems to be captained by bass playing, saxophonist, Daniel T.  When on Bass, Daniel and drummer, Max Albeck lock into somewhat complex and totally unorthodox punk/funk arrangements that are bouncy and energetic.  Guitarist, Ali Day compliments that complexity with ultra simplistic six string chords and rhythms while vocalist Sally Spitz, a 6 foot, Amazonian ginger spews her diary into lyrical and borderline melodic nervous breakdowns. Ali and Daniel periodically switch instruments with Ali picking up the bass and Daniel picking up the saxophone. French Vanilla create a frenetic energy in their music that is a mix between Bikini Kill and Dead Milkmen.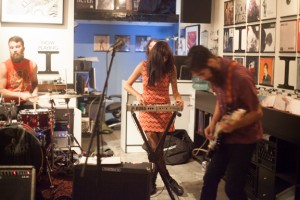 After chewing into a good 10 minutes of their set time setting up and sound checking, Sunshine Mind started their tender assault. That 10 minutes was totally worth the thumb twiddling to achieve the sonic landscapes created by this psychedelic outfit.  Frontman and guitarist, Henry Lopez has the prerequisite reverb tone and twang necessary for any self respecting psych outfit but with an exceptional sound. I told Henry after their set that his reverb game was strong and what better compliment can you give a psych band these days?  No, but seriously, the guitar tone and the entire band, for that matter, emitted the most pleasing auditory hallucinations with warm tubes and perfectly tuned drum heads smacking off the low ended bottom of the rhythm section of Travis Moore and Edgar Barrios.  Lopez's vocals are reminiscent of a young Ben Bridwell prior to his descent into an all out country pop singer. With their recent EP released by Lolipop Records, Sunshine Mind should just start playing as many gigs as possible because they have that winning combination of fun and emotion.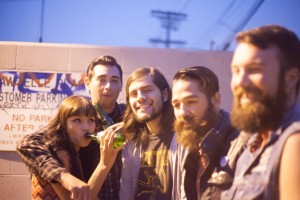 I thank the heavens that Sunshine Mind were so good. Drummer, Travis Moore is a a frequent videographer for Janky Smooth and a friend and it would've been awkward if they were awful because we try to tell it like it is, no matter what the relationship. Phew!
I left West L.A. and headed to The Roxy to meet up with Dr. Buzz and check out another installment of Punk Rock Social featuring Lower Class Brats and Zero Boys! What a fucking rad Friday night this was turning out to be!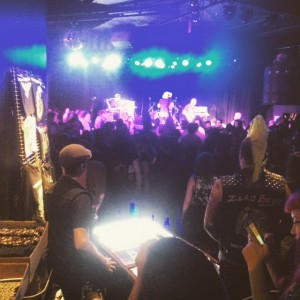 I got to The Roxy and I just missed Lower Class Brats which was a bummer but I finally got to fill the void in my life that was missing a Zero Boys show. They were actually really fucking great and ultra believable. You never know what you're going to get when an old punk band gets together to play shows.  Are they strictly going for a paycheck or are they looking to relive the past? Hopefully, it's a good balance of both and I can say Zero Boys have that. They are the quintessential, Mid West punk rock band and they blazed through songs off the iconic Vicious Circle album.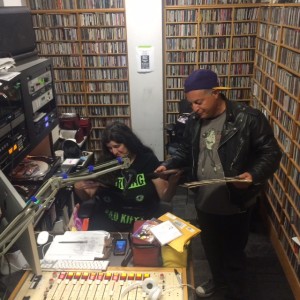 Dr Buzz, Kobe the dog and I hopped in our cars and raced from West Hollywood to Loyola Marymount University near Playa Del Rey. We entered the KXLU studio at around 1am and we came bearing gifts. Popcorn, donuts, big macs, chips, cookies, yogurt covered pretzels and soda were just a few of the offerings we presented to the radio gods that night. Being born and raised in Los Angeles, this was surprisingly my first time entering the iconic, independent radio station that helped slam punk rock into the city of Los Angeles in the early 80's. Dr. Buzz was a DJ at KXLU at that time and so was Stella Voce who still broadcasts the Stray Pop radio show on Friday nights between 11pm-3am. She's been spinning records on KXLU for over 30 years!  In the two hours remaining of the show that night, I received an education from those two. For instance, I heard the original of the song American Society by Eddie and the Subtitles. All this time, I thought that it was an original song by L7. Not only that but it was also the first musical project by Eddie and the Subtitles singer and bass player, Mike Patton!!! Why have I never heard about this? I am blown away anytime I can learn something new about by my rock heroes and Patton is definitely in that class for me. Stella was gracious enough to let me plug Janky Smooth and play a track and I chose No Regrets off the new Ho99o9 EP, Horrors of 1999 that just dropped last week. I pushed a little to turn the listeners on to my other favorite new band, The Birth Defects but alas, time ran out.
At 3am, Stray Pop went off the air and I jumped in my car to head home and end this incredible night of music and spontaneity. As usual, the most difficult thing about going out in L.A. on a Friday night is deciding what to do. Sure, one could take some time to think about and plan a night a few days ahead of time but planning is boring. I don't want this to come off like some cheap, Los Angeles promotion for tourism by the LA Chamber of Commerce but let's face it, Los Angeles, at this very moment, is the greatest city for new music in America. Suck it Brooklyn!
Friday Night in L.A.: A secret show with Ariel Pink at OP and Kurt Vile at First Unitarian Church
Ho99o9 Recruit Your Children to Their Death Kult at The Church of Fun
New Album Review: The Birth Defects- First 8 Mistakes
Words and Smartphone Photos: Danny Baraz
Photos from Touch Vinyl: Teresa Flowers