Joey Badass Rips the Mic At The Belasco On Classic LA Night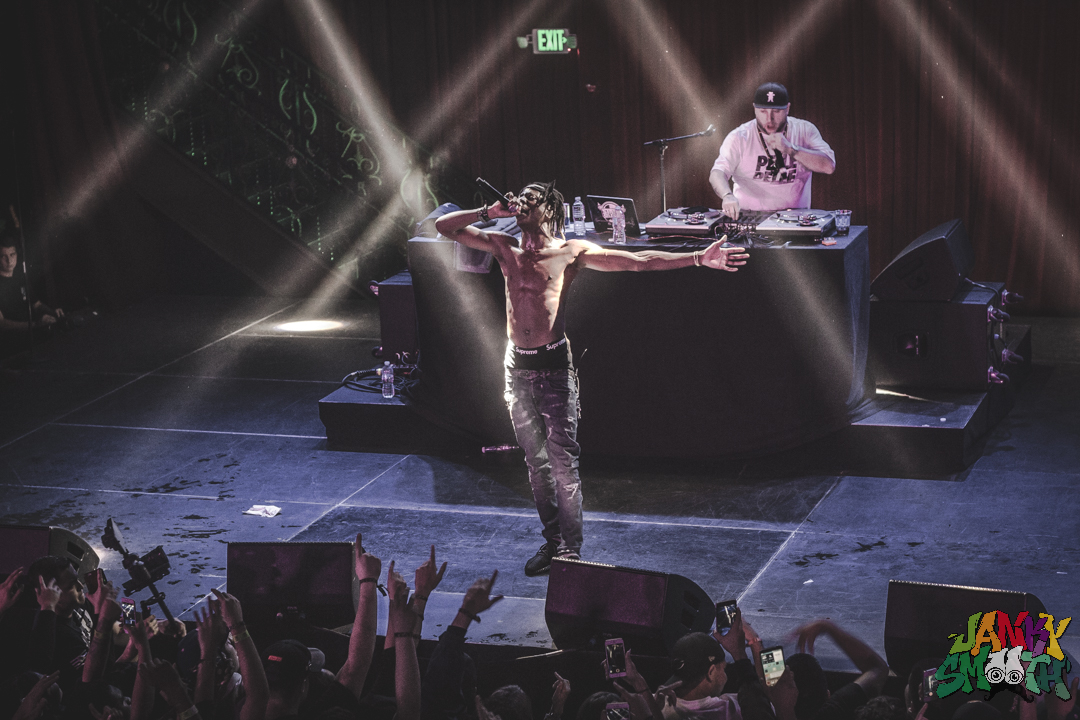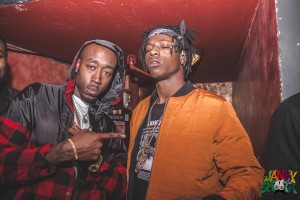 On Wednesday night, Joey Badass headlined The Belasco Theater in Downtown Los Angeles as a part of Red Bull Sound Select's, 30 Days in L.A. Joey Badass showed why he is the illest M.C. in Hip Hop right now. The preeminent Pro Era MC was joined on the bill by Chicago's Lil Herb and local, L.A. crew Warm Brew.
There is nothing like Fall in Los Angeles. Last week, the Santa Ana winds moved in to blow away the built up smog of a long, hot and punishing summer. Just a few hours of rain on Monday served to wash away the impurities in the air to reveal the true palette of colors in the City of Angels. It felt like it would be a classic type of night in L.A. One of the photos you see in your mind when you think about the good times. One of those nights that makes you proud of your city. With the transient nature of industry in L.A., sometimes it's easy to forget there are millions of real people born, raised, schooled and molded by the teachers, artists and streets of Los Angeles. People who have nothing to do with Hollywood movie studios or a music business drowning in generic formulas that have nothing to do with art. People who have nothing to do with that often repeated stereotype of phoniness. My people.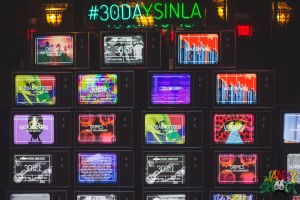 Red Bull's roster of bands and musicians is hit or miss but hip hop seems to be an area in which they shine. A few weeks ago, Red Bull Sound Select had a show in Venice with punk outfit Cerebral Ballzy as the headliner and hip hop/punk mutts Ho99o9 and innovative MC, Fat Tony reppin Red Bull on the undercard. It was one of the best Red Bull Sound Select shows I've ever seen but was conspicuously missing Venice/SM local's and Red Bull artists' Warm Brew. Now I understand that Red Bull had something special in mind for Warm Brew because they were the first group on the lineup on Wednesday night opening for the best MC in hip hop right now, Joey Badass.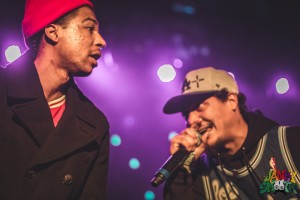 Warm Brew, aka The Ghetto Beach Boyz are O.G. sons of Venice and Santa Monica. Before the term "Silicon Beach" had ever been coined, there was Dogtown. It was a beautiful stretch of beach and land from the south side of Santa Monica to the Venice/Marina Del Rey border. It was decorated with graffiti and populated by salt of the earth, working class folks that were tight knit and very territorial. It was a rough place that was claimed by everyone from Venice 13, Shoreline Crips, SM 17 and punk rock clique, Venice and Santa Monica Suicidal. Before GQ named Abbot Kinney Blvd the coolest street in America and before Google moved in and before small, one bedroom bungalows in an area known as Ghost Town started selling for north of a million dollars, the people of Venice shaped the music, skate and surf landscape, not just in America but the entire world. Warm Brew are born of that old guard in Santa Monica and Venice, like me. Like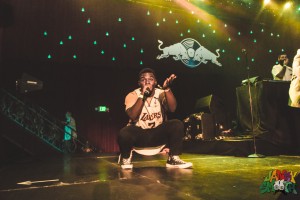 them, I am a product of Santa Monica High School in a time before the national record number of homeless people were replaced by an endless sea of joggers. They have that old school, Westside of L.A. image and their music walks a fine line between gangster rap, conscious flow and trap, club bangers. The Belasco was already overflowing when Warm Brew took the stage, which is unusual for Red Bull shows. MC's Ray Wright, Manu Li and Serk Spliff instantly got me into that old "hood mode" with their proclamation, "This is L.A. Shit." Dudes were rocking a Lamar Odom and Kobe Bryant jersey and I threw my "Wes Wes" in the air and looked around and the already, almost capacity crowd gave mad love to Warm Brew. They handled that stage like headliners and got everyone more hyped than any opening act normally could or should. It served to remind me that even though the neighborhood has changed on the westside and even though the lion's share of art and culture lives in the eastern parts of L.A. now, the westside of L.A. has an undeniable piece of the soul of Los Angeles, even though most hipsters don't know it.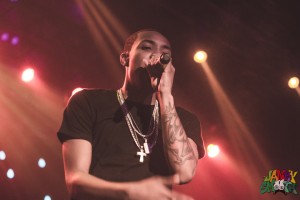 Now that I was filled up with neighborhood pride, I was ready to see what Chicago hip hop had to offer with the next act, G Herbo aka Lil Herb. With the likes of Drake shouting out Lil Herb as the future, I was hyped to see what the hype was about. There is so much to be excited about with the current crop of up and coming MC's. There is also a lot of shit out there. I'm a fan of MC's like Joey Badass, Ab-Soul, Danny Brown, and most members of OFWGKTA. I'm no Drake fan, at all. I also don't get all the hype around dudes like Lil B, at all. I know I'm going to catch heat for that opinion but especially after seeing Lil B live, I just don't understand what you all are hearing because it's not what I hear. His flows are loose and the lyrics lack originality and creativity. I was at a festival earlier in the year that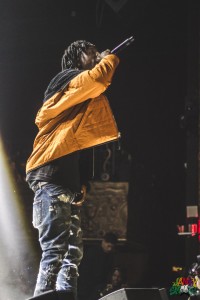 had Ab Soul and Lil B performing simultaneously and I stood between the two stages and just listened. I just can't believe all the love the Based God gets from people I respect. I'm missing something. I had that same feeling when listing to G Herbo. He flowed over a track that had the studio vocals on it. He lost his breath on a number of occasions. He let the track play and just stopped rapping so many times that it almost seemed like he could've lip synched through the entire set and gotten a better result. His style and execution remind me of Lil B in a lot of ways so if you are the ones that "gets it" then G Herbo is for you. I'll tell you that the Joey Badass fans were with me as I heard some muffled heckles on a number of occasions and a chant even began in the middle of one of G's songs "Joey, Joey, Joey". It was awkward to say the least. I left his set half way through and was able to catch the end of the Golden State Warriors playing the L.A Clippers in one of the bars in the Belasco. There was way more excitement at that bar than on the main floor of the venue and even though I'm a die hard Lakers fan, and a big fan of what's happening in Golden State, I started to get pissed off about some of the L.A. hate that was happening in that bar. The Clippers are L.A.'s stepchild and while we can talk shit about them because they're fam, I got a bit heated at some of the LA hate happening at that moment. In the end, The Clippers came up short, as always but I was feeling a lot of pride in my city on this night and I laughed at The Clippers in silence hahahahahahahahaha.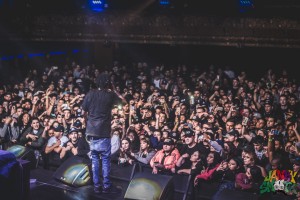 Now it was time for Joey Badass to take the stage. I haven't had the privilege of seeing Joey live yet but one thing is clear- Joey is a REAL MC that has perfected his craft both in studio and in his live show. DJ Statik Selektah casually took the stage, waved to the crowd, set up his lap top and decks and a few moments later, Joey Badass came out. The music for the interlude off the B4.Da.$$ album, Greenbax started pumping through the PA and the crowd immediately lost their shit. Joey wasted no time easing us into the set as he launched into the mega, DJ Premiere produced track, Paper Trail$. There was no half steppin from Joey Badass as his energy was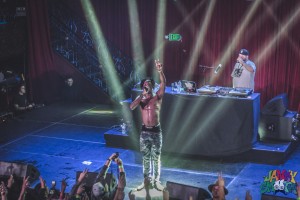 immediately transferred to a very well versed fan base that sang each lyric, word for word. In stark contrast to the act that preceded Joey Bada$$, the talented young MC didn't miss a beat or lyric the entire night unless it was to allow the audience to recite it, which they did. Almost every song performed that night was well known to the crowd, even tracks off early mixtapes like 1999 and the cut, World Domination. I was expecting many more guests but Freddie Gibbs joined Joey on stage for the song "Carry On". The sound at The Belasco was incredible unlike similarly gutted, ex theater, turned downtown LA squats, turned high end music halls that are popping up all over. The walls wobbled and handled every decibel with power and crystal clear clarity.
This was one of the best hip hop shows I've seen in awhile and the cavernous and opulent Belasco Theater was a perfect setting for night 4 of Red Bull's, 30 days in LA.
Words: Danny Baraz
Photos: Oscar Diaz