Make American Green Again: The Great American Smoke Out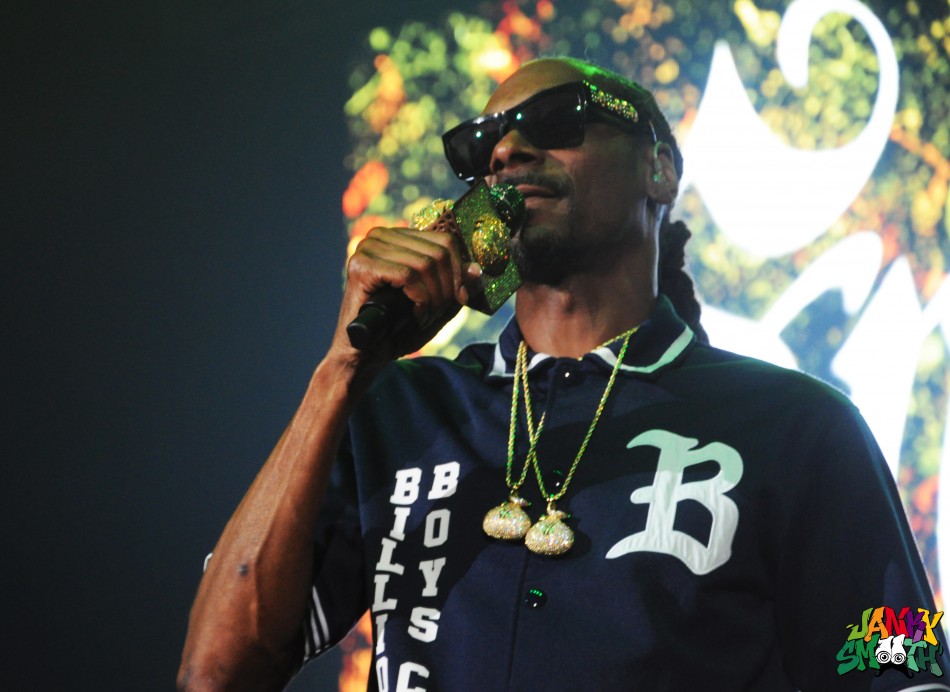 Words and Photos by: Maggie St. Thomas
Master rap artist Snoop Dogg celebrated 25 years of Doggystyle, his debut album on Death Row Records. Produced in 1993 by Dr. Dre with cover artwork by Mr. Joe Cool, Doggystyle sold almost a million copies within its first week of being released. While taking the sold-out arena back to the days of old school hip hop using the microphone as a time machine with heavy weights Cypress Hill, Bone Thugs-N-Harmony, and adding a heavy dose of hazy funky infusion with Slightly Stoopid and reggae legend Don Carlos. Though the words on the flier read that Wu Tang Clan, Berner, and Warren G were scheduled to perform, so were the words 'line-up subject to change.' It didn't seem to matter as the legends murdered the stage, and if you were a participant in that hot-boxed arena at The Great American Smokeout you got more than your money's worth. Musical Youth, Afroman, Kottonmouth Kings and DJ Quik were also featured performers of the night, but let's concentrate on the headliners.
Cypress Hill opened with "Band of Gypsies" taking our minds to strange and welcome places. B-Real took the stage mixing his helium style rap lyrics with Sen Dog's rhymes performing their anthems like "How I Could Just Kill A Man," "Dr. Greenthumb" and had everyone bopping around singing "Insane in the Brain". B-Real lit up the stage with his trademark super-sized cone joint packed with at least a 1/2 ounce of the finest greens and encouraged the audience to light up "and get high, so high" as copious clouds of smoke filled the arena.
Slightly Stoopid performed songs off their latest release on Silverback Records 'Everyday Life, Everyday People'. They played ''Anywhere I Go'' with smiles on their faces and powered thru their hits bringing out reggae legend Don Carlos who delivered his signature sweet and soulful vocals on 'Stay The Same.' His presence and soothing lyrics take Slightly Stoopid to a whole new level. Singers Kyle MacDonald and Miles Mahon exuded confidence in their delivery, Kyle MacDonald onstage with his foot mounted in a cast. The crowd's affection was evident as their excitement of chants created a positive energy consistently found in soulful reggae music and in live concert atmospheres.
Bone Thugs -N-Harmony members Krayzie Bone, Layzie Bone, and Flesh-n-Bone took us on a musical journey of all things Bone. Rapping about what people can relate to with a spirituality in their harmonies that makes you stop and think. Their great chemistry seemed to be living through every rhyme as this trio bounced off each other. After performing ''Foe the Love of Money,'' Krayzie Bone stated on the mic "I think we should keep it on the streets right there California with this shit upside ya heads," then in unison Bone Thugs-n-Harmony began "East 1999 My Niggas!" Keeping things rolling thru their set with heart and gusto only slowing speed to pay homage to Easy E. The audience participated with their arms making X formations in front of them when asked to by Bone Thugs-N-Harmony if they ever lost somebody, then they closed out their set with their Grammy-winning track "Tha Crossroads."
Energy levels were jacked up high as the Long Beach master of rap Snoop Dogg hit the stage delivering a genuinely flawless performance. He offered no apologies or excuses as he strutted around the stage like the true ultra smooth and laid back Boss Dogg he is while paying tribute to 2Pac and Nate Dogg. Performing his classics that made Snoop Dogg the king of gangsta rap he has proven to be since the early 90's, working his magic thru his setlist in a luxurious dark blue sweat set that read Billionaire Boys Club on the upper right in white trim. His back up dancers and their pumped up explosive choreographed dance moves worked the packed arena.