Time Machine for Young and Old: Gary Numan at the Fonda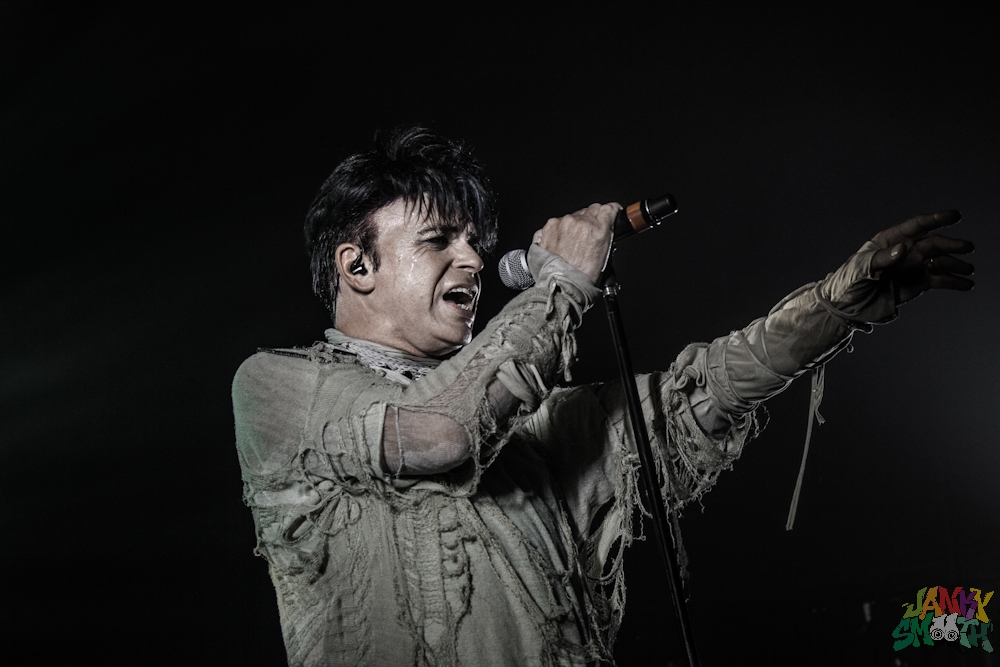 Gary Numan teleported his Los Angeles audience into his multidimensional universe for the final leg of his "Savage" tour on Saturday.
It was 8:00 p.m. The venue, called the Fonda Theater, has a capacity of 1200. By the time the I got there, around six, a dense line of fans had circled the block, waiting for the door to open. They were mainly clad in leather jackets and Nine Inch Nails shirts, and with the exception of some millennials, almost all of them seemed to be older than 50.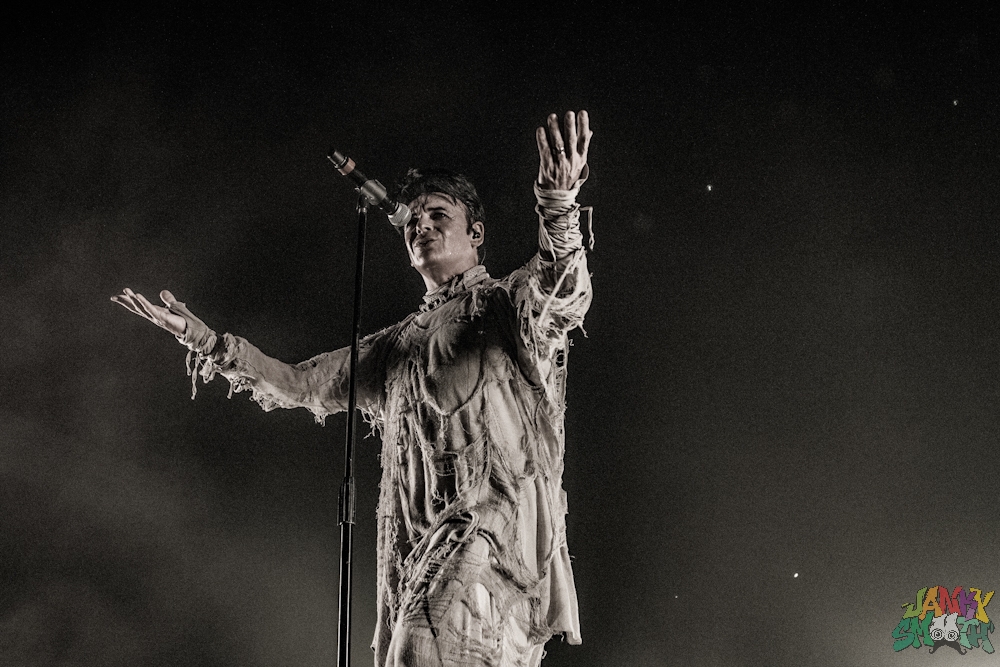 When the doors opened, a sea of veteran fans and first-time attendees flooded the floor. For 63-year-old Mike Sperks, who's seen Gary Numan 10 times since 1979, he's gotten better and better. "I like his music better now. There's more energy. My all-time favorite song of his is 'Prayer for the Unborn' — a song dedicated to his unborn child," he said.
Among the older people was a group of 18-year-old University of Redlands students from a class called "Punk Rock DIY for Personal and Social Change." Their professor held Mr. Numan in such high regard that he bought them the tickets to the show. Among them was Noah Magana. "'Replicas' was so good I bought it myself, and now I get to experience it for myself. I got chills I first heard the guitar part in 'Are Friends Electric?'" Noah said.
It was 9:00 p.m. The evening's openers, a Los Angeles-based avant-grunge trio called Nightmare Air, walked on. "Is this an all-ages show? Can we cuss?," the band's guitarist, Dave Dupuis said. And, deciding he didn't care, continued. "Well, fuck it. It's rock n' roll."
Then came the droning vibrations of Dave's Jazzmaster and the croons of female vocalist and bassist Swaan Miller. They even got the most dark and brooding of Gen-Xers to clap: a true feat to achieve.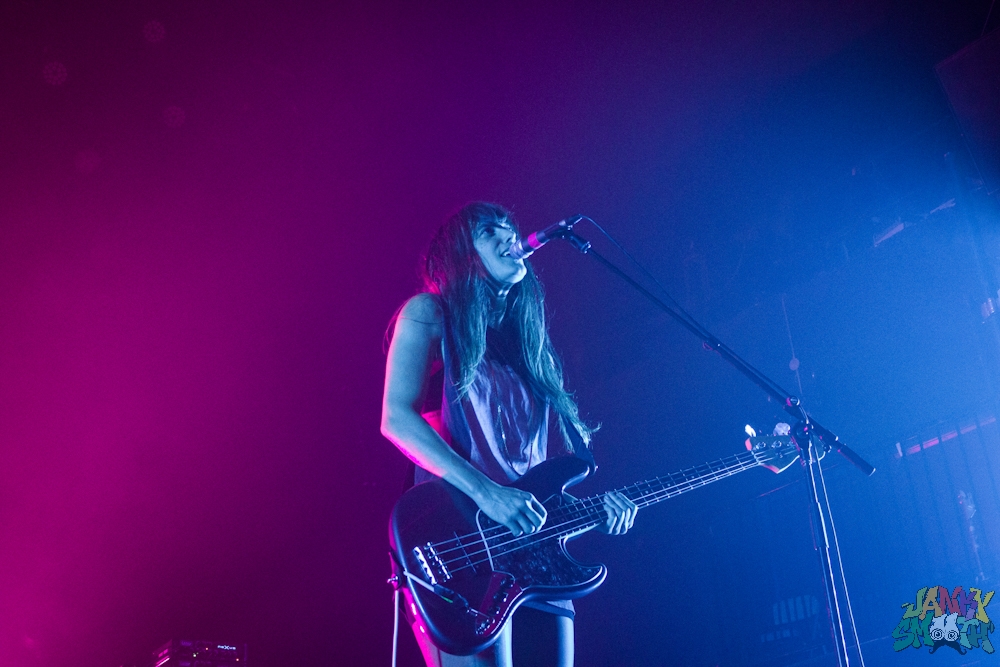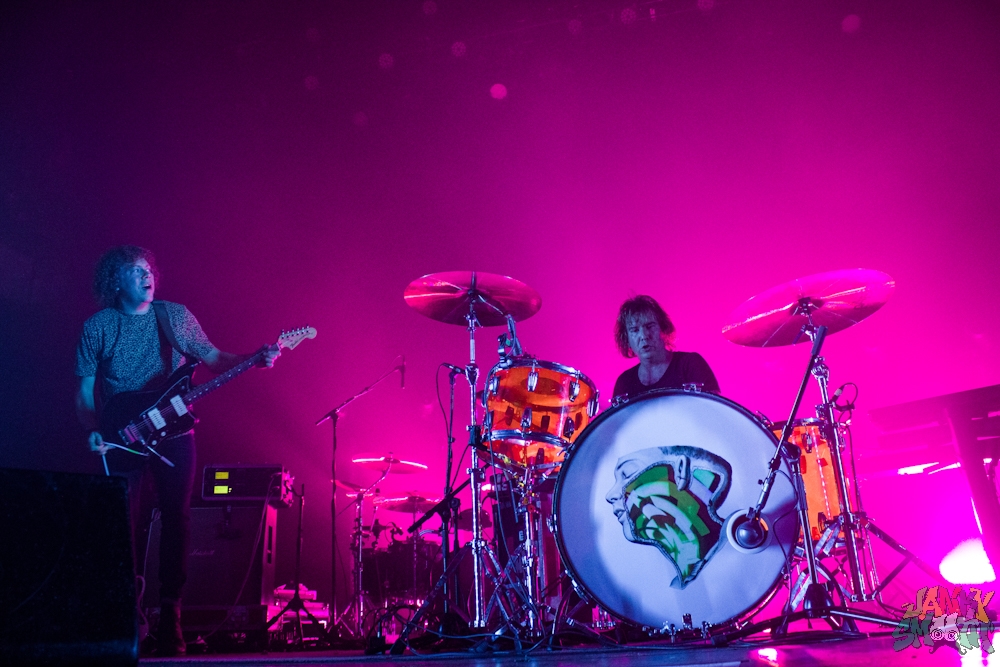 Once their set was done, in true journalistic sleuth form, my next step was to get backstage. Unfortunately my press pass didn't grant me backstage access. However, a bribe of a vodka-cranberry to a person unnamed did. As I crept into the greenroom inconspicuously, I watched the dynamics of the Gary Numan band preparing for the show.
I overheard multiple conversations — none of which were about music — but one in particular caught my ear. Mr. Numan was speaking to a tall, dreadlocked fellow in a black top hat adorned with feathers. When I noticed the stranger's glistening facial jewelry and tinted spectacles, I was surprised to see he was talking to Al Jourgensen, founder of the Industrial band Ministry.
Mr. Jourgensen, a self-proclaimed "36 years in the making" Gary Numan fan, admitted to me that he and Gary Numan had never met each other prior to this night.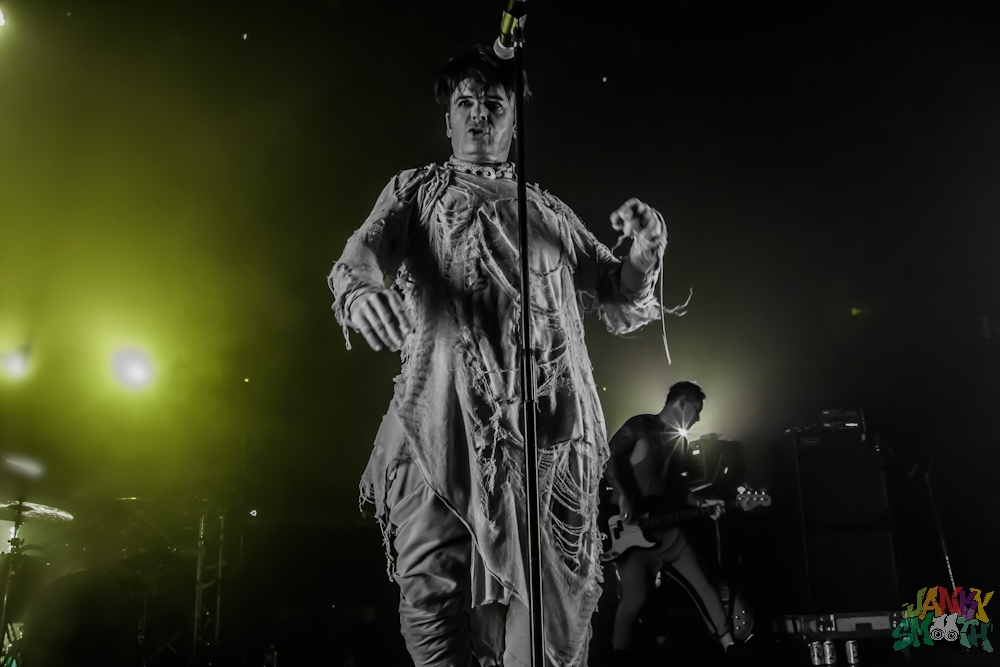 And, yet, there they stood in deep, intense conversation regarding favorable vendors and antiques to be found at the Rosebowl Flea Market in Pasadena! I sheepishly introduced myself and foolishly said, "Oh my god. You're Al Jourgensen. I wasn't expecting to see you here."
He replied eloquently, "Indeed, I am," and we shook hands. As I tried another entrée to Mr. Numan, I was obstructed by his wife and escorted out. Alas, so close, and yet so far.
Subsequent to the escort, I strategically placed myself among the other reporters and photographers, closest to the stage, and for the first time, experienced Mr. Numan's genius, which was far beyond anything I could have imagined.
At precisely 10:08 p.m., Gary Numan and his band, Tim Muddiman on bass, Steve Harris on guitar and Richard Beasley on drums, bounded to a stage of lasers and fog. They tore into "Everything Comes Down to This." Its sharp edge and dull distortion was reminiscent of a broken machine, working in perfect contrapuntal harmony, and prepared the crowd for a night of anticipation and surprise. The old music was both the preface and the epilogue of what was to come: musical prose in its construction.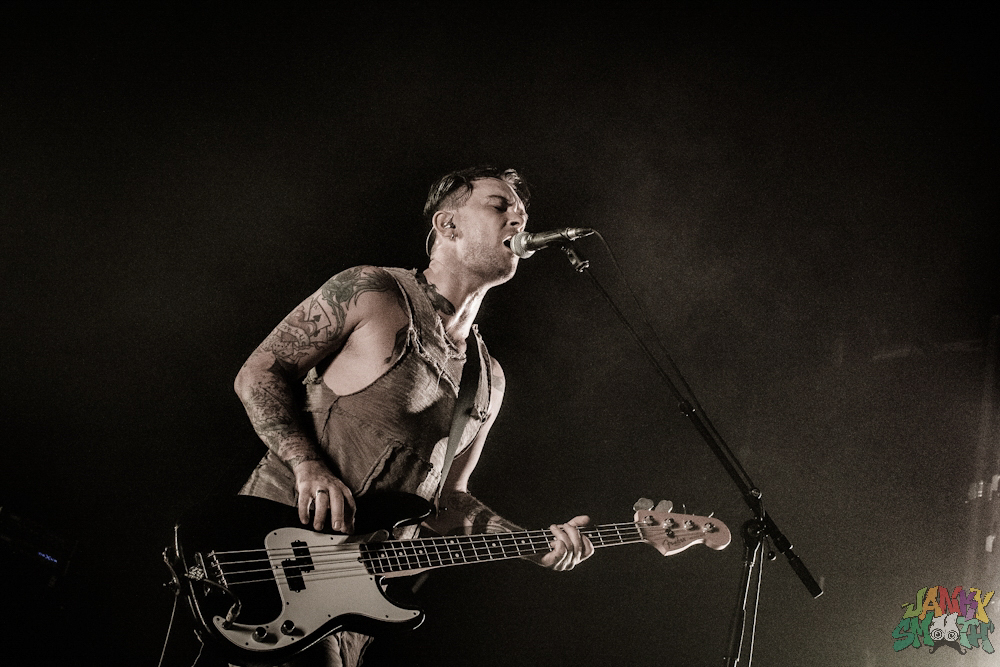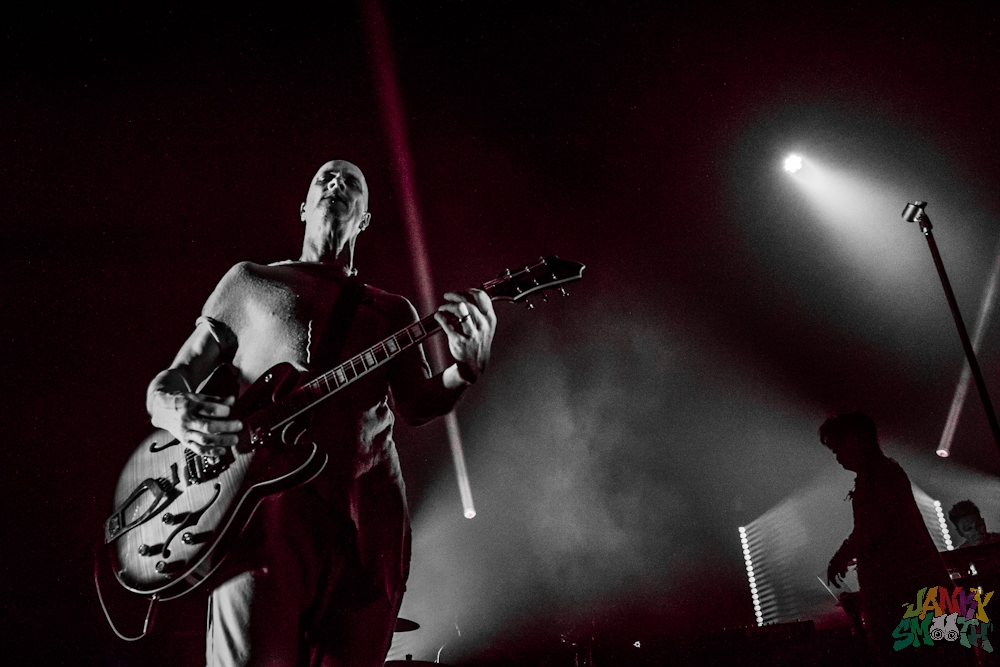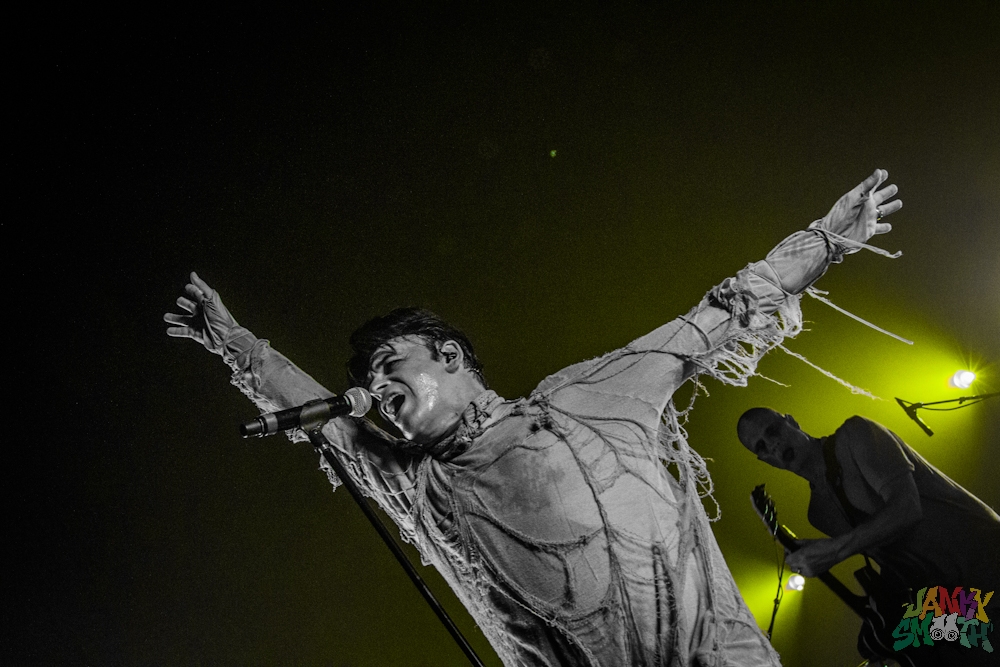 Mr. Numan then welcomed his daughter, Persia, to the stage. She is definitely following in her father's footsteps, and her beauty is only surpassed by her talent — an airy, ephemeral and striking voice. The haunting harmonies and sheer chemistry between Mr. Numan and Persia, on "My Name is Ruin" were remarkable.
The lights then went down, and Gary Numan delivered the deep and visceral lyrics of "Here in the Black" with impeccable diction. Strobe lights syncopated to the beat, disoriented everyone. There in the black, we were lost, but we were content with being there.
When he performed "Cars," I was in sheer disbelief that, at 60 years of age, Gary appeared completely weightless, as he slipped and glid across the stage with more energy than a child has after eating a candy bar. Clad in the attire of an interstellar pioneer, he integrated the themes of his past with that of the present with grace and vigor.
After "Mercy" and "Love Hurt Bleed," the band dissolved into "Are Friends Electric?" — the Tubeway Army magnum opus. The crowd actually sang the part that we all sing aloud in the comfort of our own privacy: the synth part. You know it: "Da-da… Da-da… Da-da… Da-da!" At that moment, I wondered if Noah was experiencing the same chills that he had on his first listen. I wondered if Al Jourgensen was thinking about antiques to buy for his new friend.
Addressing the raving fans with a look of pure euphoria on his face, Mr. Numan said, "You see, this means everything to me."
As much as I expected the classics to resonate with me, it was hearing "Savage" in full that epitomized Gary Numan's insurgence. His edge fails to dull as he continues to make music for chameleons in an ever-changing world… And for those of you that want something different or unexpected: you, too, may want to invest in a vodka-cran.
Words by: Audrey Kemp
Photos by: Abraham Preciado