Free Your Mind And Your Ass Will Follow: Funk the Influence at the Lodge Room Highland Park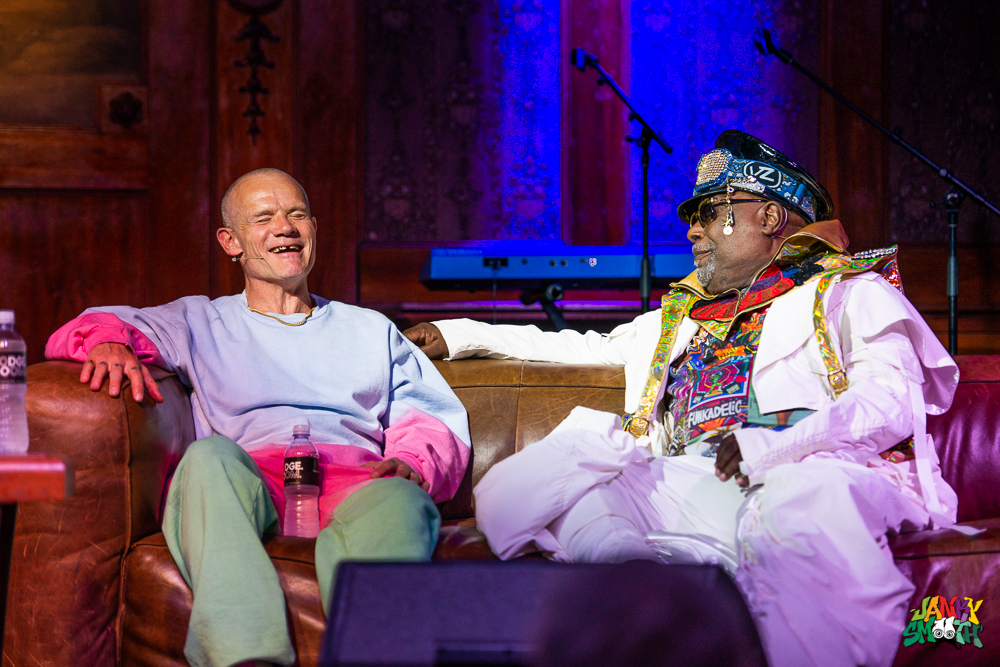 Words by: William McBee
Photos by: Jessica Moncrief
Last Saturday began like most weekends do, sleeping in, laying awake, starting the day off slow. I was thinking of how to organize my day and did some mindless scrolling on social media when I came across the flyer for "Funk The Influence" with guest speakers George Clinton and Flea. I asked myself "How could I not go to a symposium featuring the Godfather of Funk and one the greatest bass players of all time?" I pulled the trigger and rushed down to Highland Park to see what all the hype was about.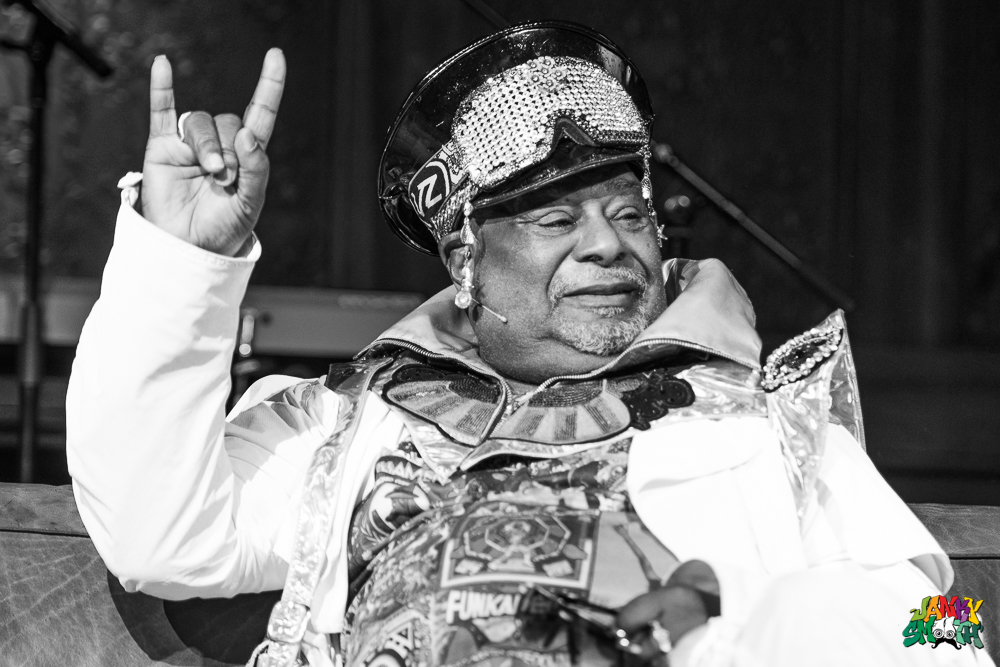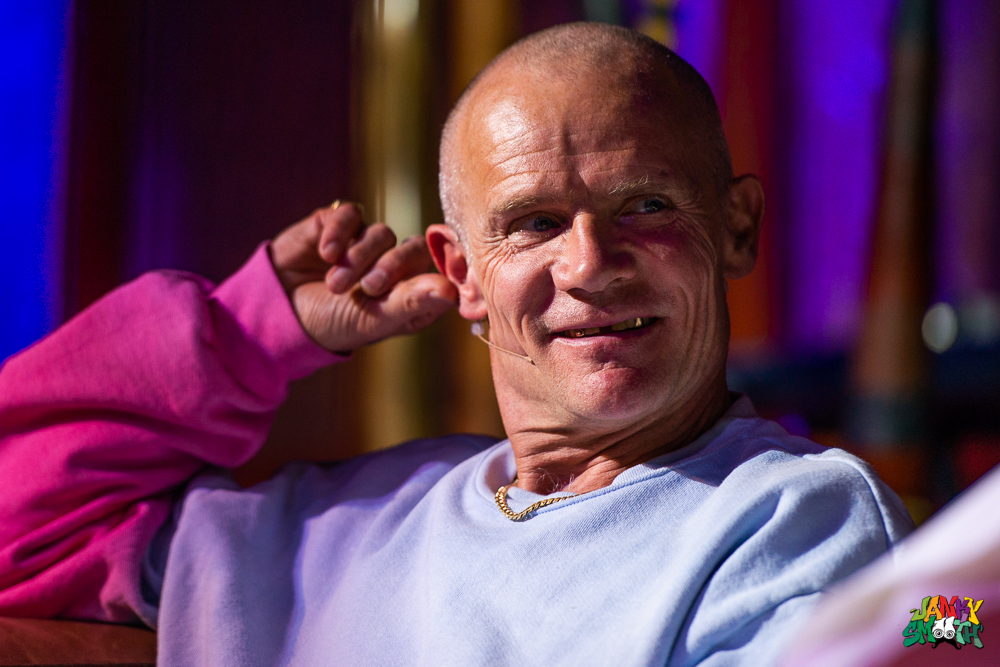 When I arrived at The Lodge Room, Gorangatang was performing. The duo consisted of a rapper and a didgeridoo player. I enjoyed every second of their deep grooving funky jam. It was my first experience witnessing a didgeridoo and I instantly loved it. The set was followed by a branding panel that included Hairstylist Maisha Oliver, Designer Melody Ehsani and DJ/producer Clinton Sparks.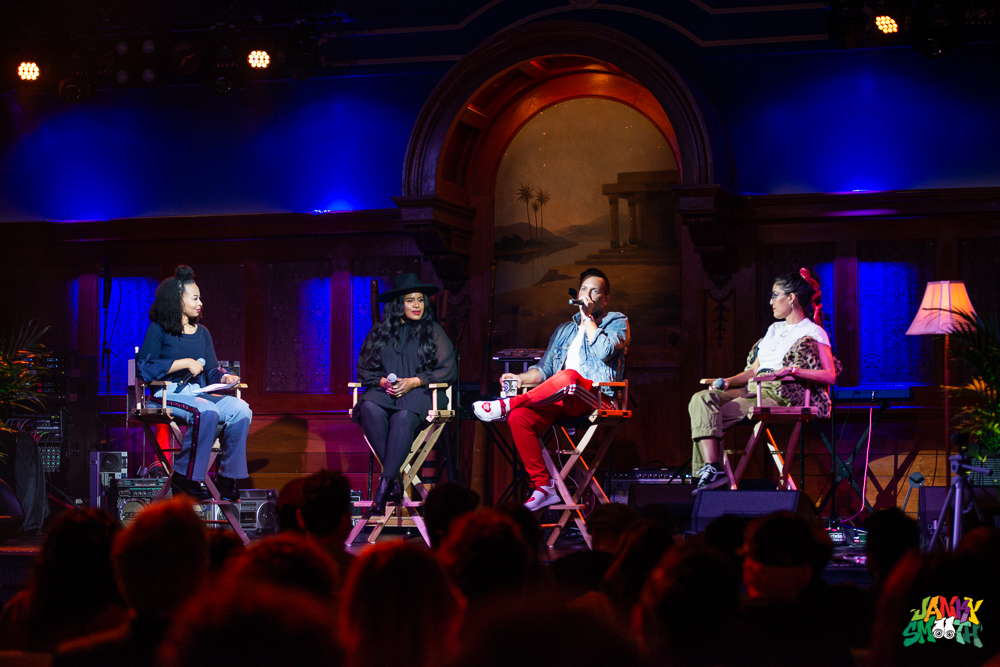 While I was hoping for more music, the conversation between the panelists kept me engaged and intrigued. Clinton Sparks spoke to the audience as if he knew us on a personal level, laying out all his emotions and personal tragedies on the table, he showed vulnerability, I respected that. Aside from his personal confessions, he had an interesting method for dealing with his work and life outside of music. He stated how he was able to separate himself from his "celebrity life". The way he put it was: "theres me, Clinton Sparks, then there's the CEO of me." By almost tricking himself into working this way, he's able to better separate and manifest himself. Being an entertainer can be exhausting, who you are on stage isn't necessarily who you are or want to be behind stage. It's important to be able to separate ourselves from what people expect us to be vs who we really are. Being able to flip a switch and become the CEO of yourself was a very interesting approach I thought. On the other hand, Melody believes in finding the abstract through the concrete. Showing up in her most authentic form of self and allowing that to be her brand, was key to achieving success. She followed the sentiment up with the understanding of why others may need to compartmentalize their brand from their personal self to take the pressure off. Maisha touched on the importance of self care.
"Being a stylist is basically like being a therapist."
She shared her technique of writing things that weighed heavy down on paper and then burning it to help her let go of the residual energy that may attach itself throughout her work day. Growing up in different circumstances and environments, each panelist had varying (and at times polarized) views on brand, business, and personal development. Even though they had different ideas, the commonality that brought them together was their true love and passion for their art form.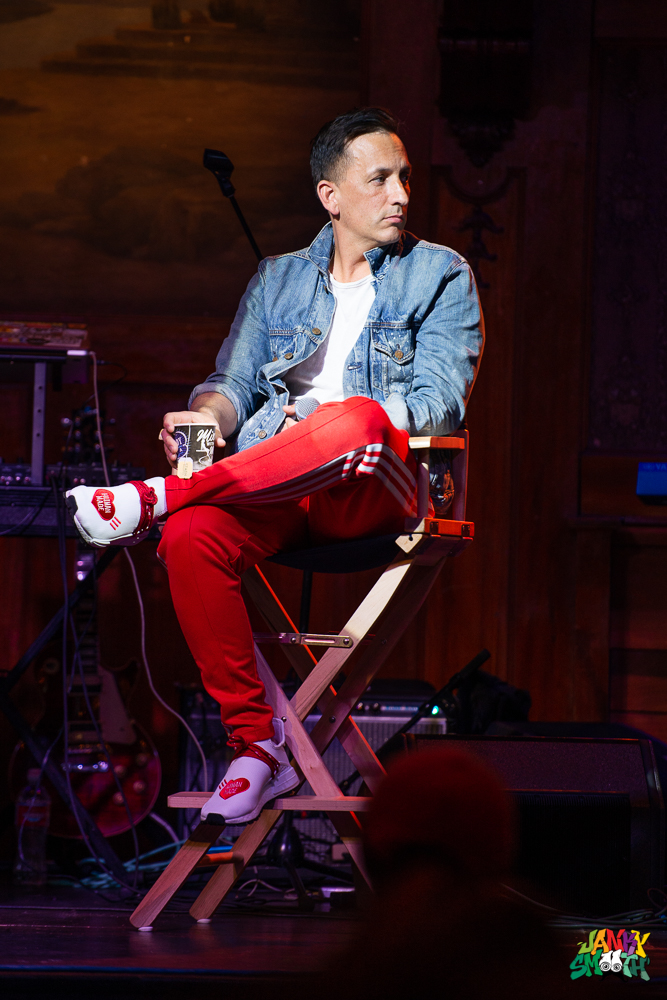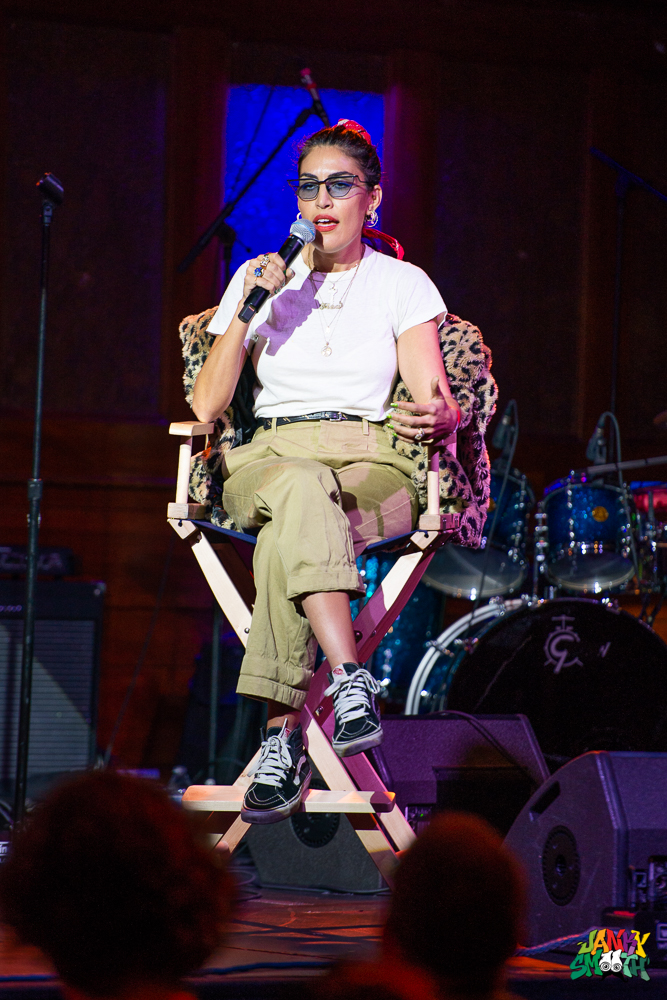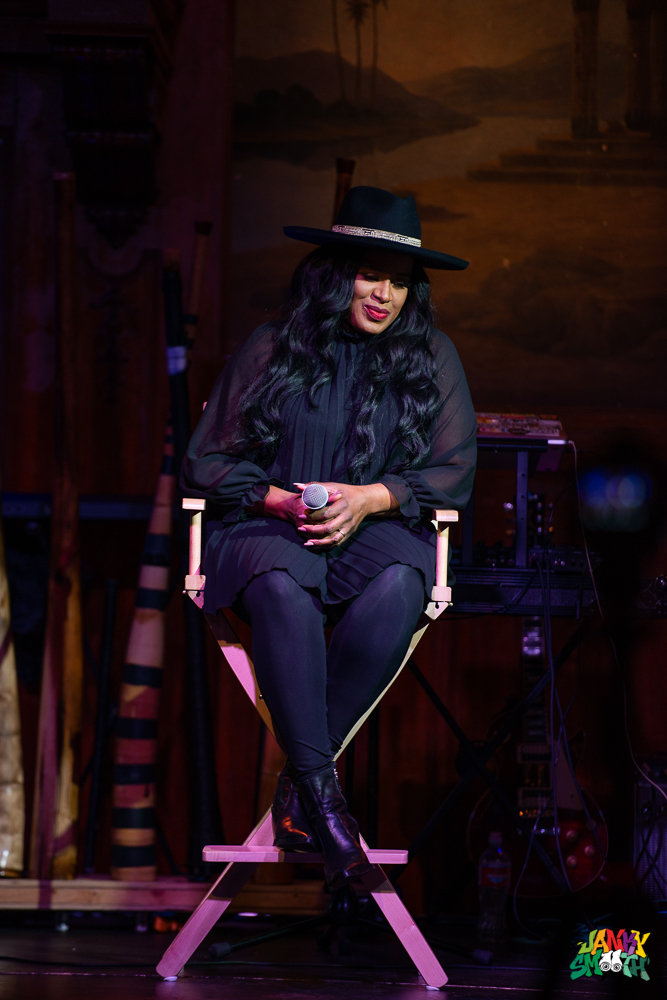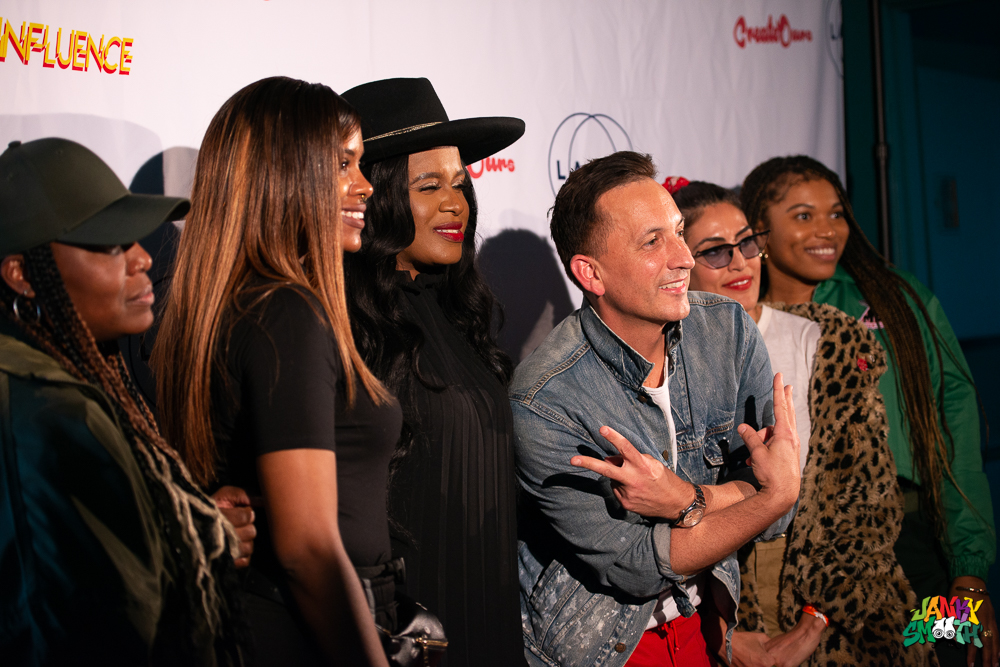 After a short intermission, it was time for George Clinton and Flea to take the stage. Moderator and Somatic Psychotherapist, Morgan Smith introduced George and Flea to the stage and was right on in when she said:
"If music is healing, then musicians are healers."
The energy felt like a burst of euphoric magic as the two legendary artists walked into the intimate setting of the Lodge Room. The two sat adjacent to each other on a plush couch, Flea dressed in a colorful matching cotton sweatsuit and George casually sported a white custom couture suit with his iconic and colorful complementary fashion accessories. Even though this was a moderated interview, I felt more like a fly on the wall, watching two old buddies chop it up.
They reminisced about their first time meeting and shared the story of how they came to work together on the RHCP's second studio album, Freaky Styley. During the course of the discussion, they touched on many subjects, however, the underlying theme throughout the course of the talk was enlightenment and how some of us are capable of achieving such a high quality of success or perfection in whatever field we work in.
Flea spoke of the great Kobe Bryant and how he was one of those guys to just completely be in touch with himself and the game when he's on the court. He was an individual who was capable of tapping into this energy at will, harnessing it and mastering the craft, each and every day. It fascinated Flea to watch him play every night. This also resonated with George, and he pointed out that we as humans are still evolving to reach that level of enlightenment. Some will get there before others and as George put it, "we're still trying to find the code to let us access that ability." Consistency is key to being able to master one's art and raise his or her game to next level. It's an evolutionary process for humans. I think part of why Kobe was able to get so close to perfection was because he wasn't afraid of vulnerability. By doing so, he opened his mind to new, fresh ideas and challenges. Being consistent with new challenges and ideas is what elevates one's skill and overall enlightenment.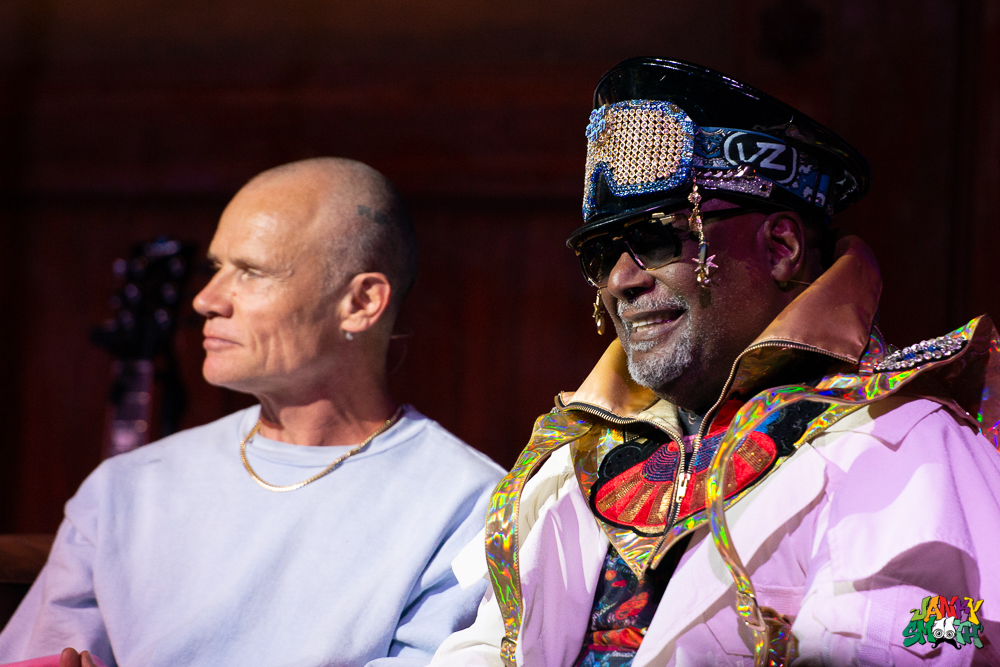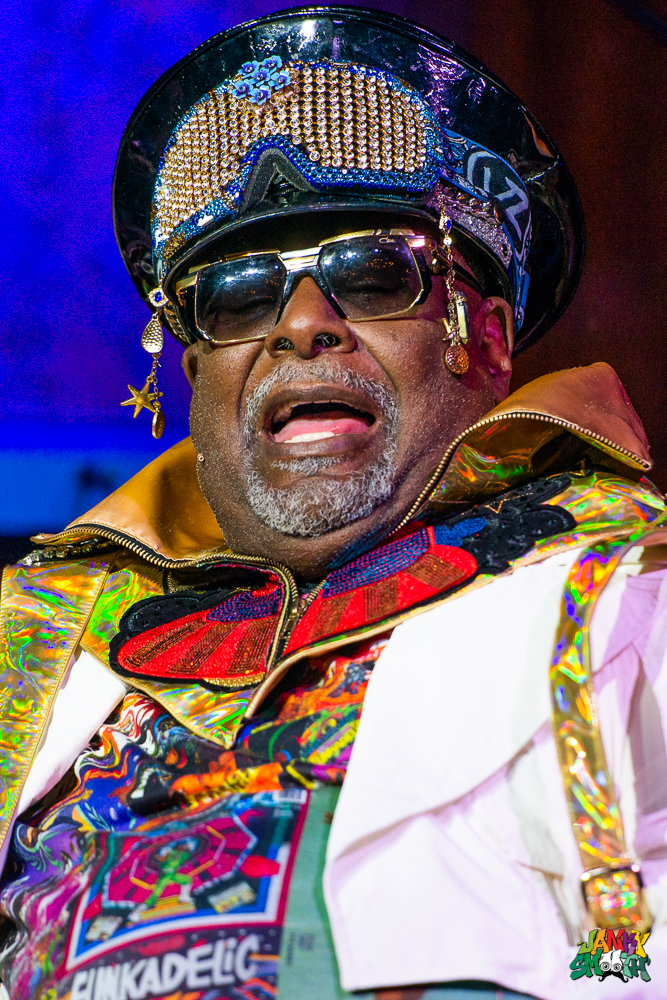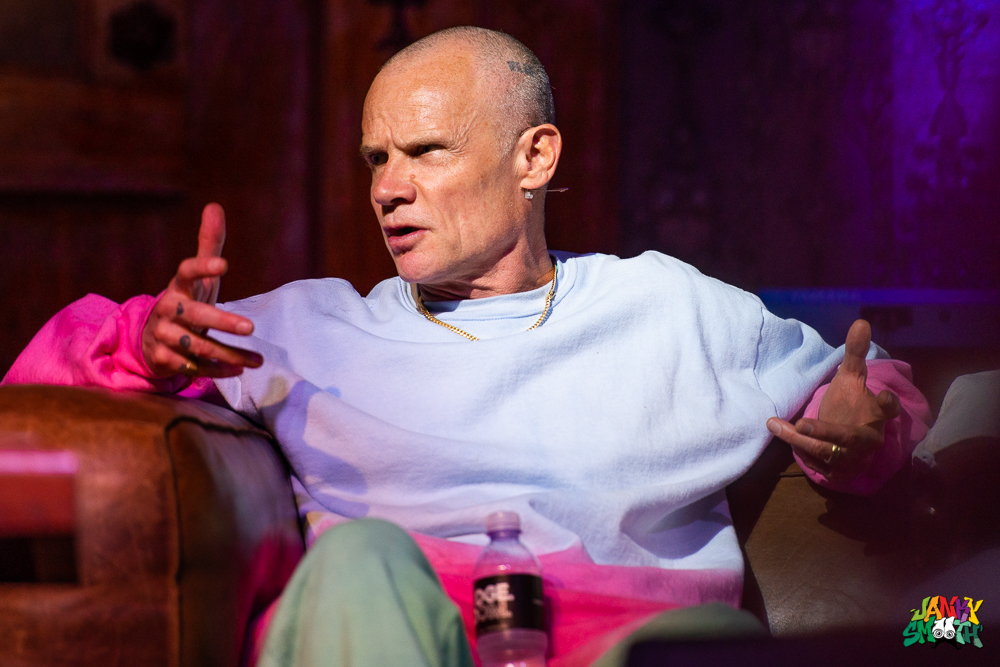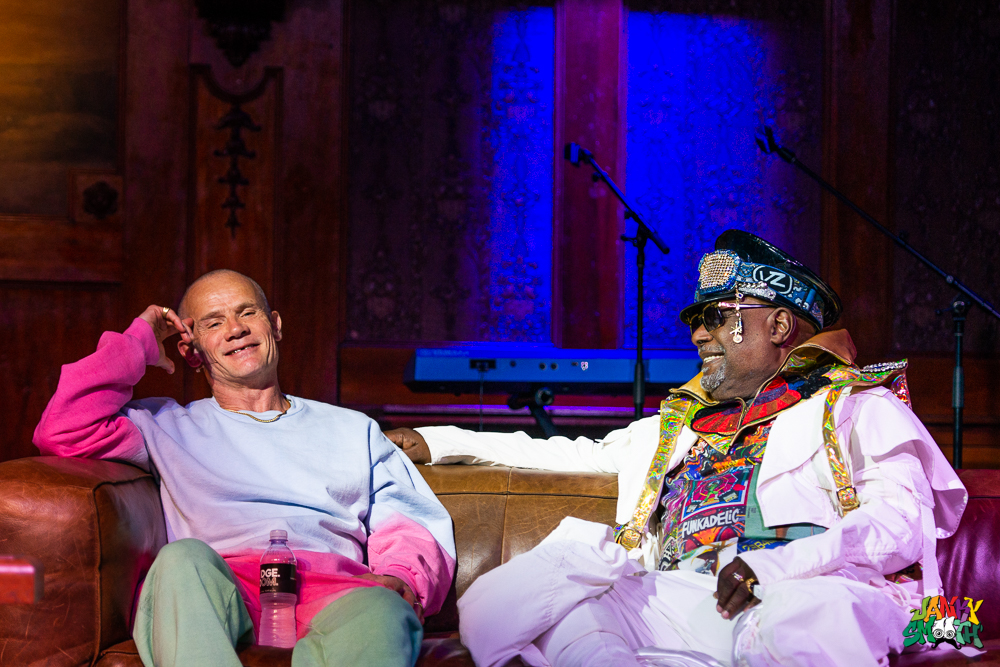 When asked what it takes to be successful, Clinton replied, "You gotta be crazy. Crazy is a prerequisite!" He referred back to times when he knew he was over the top, but he couldn't help but do it, because he liked it!
Both Flea and George are gods in their own field of work. George was influenced by Motown and in turn created Funk music and Flea was influenced by his stepfather's upright bass playing which led him to be one of the most recognized bassists of all time. While they were on the topic of genre defining artists and what influenced them, they referenced the Godfather of Punk, Iggy Pop. Flea stated that he heard Iggy say he grew up wanting to be a Blues or Funk musician, but he knew he couldn't out-funk what had already been funked, so he had to do his own thing.
They didn't achieve this level of success easily. They pushed their limits and boundaries, challenged themselves and took risks. George knew that whatever he did, there would always be someone to say "you ain't shit". So George would often tell himself that beforehand, that way every time someone would tell him "you aint shit", he'd respond with "I know, you late". I believe this opens up an endless possibility for challenging yourself and pursuing perfection. If you can humble yourself, ain't nobody in the world can fuck up your happiness and success.
"When I go see a show I want vulnerability, I want them to risk falling on their face" -Flea
Not all who are successful in their career are happy per-say and vice versa. The definition of success is different for everyone. George admitted to purposely fucking his chances up for a Grammy on multiple occasions because, he wanted to keep it underground. When the panel asked if there was a moment where they knew they made it, George responded "I never want to feel like that (that I've made it) I want to always be a little behind it (happy) cause once I catch it, I got nothing else to do." That statement really resonated with me. I've always wondered about happiness. We experience short term happiness everyday but is it possible to achieve a level of success that leads to happiness that lasts forever? I don't believe so, but what George expressed is that the pursuit of happiness is what keeps us going. If we had the means, we'd probably all take an instant happiness pill and be set for the rest of our lives. But we are human, we are wired to move, to fail, to get up, fail again, get up again. It's the chase that increases our endorphins. As soon as there's nothing to chase, it's over. It's like Wile-E Coyote and Roadrunner. The series would end if Wile E Coyote ever caught Roadrunner.
Flea concurred with George's belief. Here are two legends in the flesh, who've achieved such high levels of success, seen it all, and influenced thousands, if not millions. They're at the top and still have the humbleness and passion to confess their desire to continue to chase happiness. As a fellow musician, hearing that was very comforting. The idea that someone "making it" means they've achieved happiness is misleading, it doesn't work that way. As humans, we need to find the path that allows us to generate perfection and and chase that goal or challenge. It's during this process where one can find a piece of happiness. Once that path is established, the next step is consistency. To pour your heart and soul into the things you love, always challenging yourself to reach a new level of consciousness. George Clinton said it best "Free your mind and your ass will follow. Use the funk, do the best you can, then funk it up".