Dick Dale: The Last Stand of The First Guitar Hero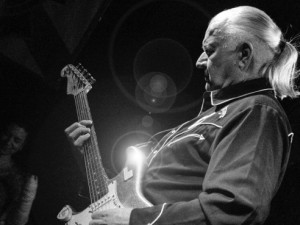 "Don't get me TOO excited". That was the warning from 78 year old Dick Dale as he scanned the highly vocal, sold out audience with a surprised and maybe a bit of a worried look on his face. I was just as shocked as he was. For once, I wasn't the "old guy in the club" and almost 45 minutes passed until I remembered to suck my gut in. On Saturday, September 19th 2015, Dick Dale played a gig in Malibu just steps away from Surfrider beach at Casa Escobar, formerly The Malibu Inn. The King of Surf Guitar (I was informed by his wife Lana that he doesn't dig that title) is failing in health but not in the exceptional gift that was bestowed upon him at birth. That gift is the only thing standing between himself and death. Literally. After the show, I realized that simply writing a show review would be trivial in light of the fact that almost all the pages have been turned in the book of his life.  If you've always wanted to see Dick Dale then don't delay too much longer.  He is still very active in playing shows.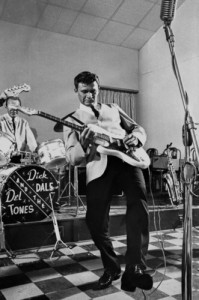 With the heavy responsibility of using my words to describe the contributions Dick Dale has made to music and guitar, it became apparent through my research how criminally underrated this man has been. Dick Dale not only redefined how the guitar is played but how it was amplified. He was not only on the front lines of rock but he was the first ever "guitar hero". Sorry Django. Dale was the first guitarist credited with using "fast scales". Dick Dale was among the first guitarist to use reverb. Dick Dale was the first guitarist to play through a 100 watt amp. Dick Dale created the Surf Rock genre. Then why did Rolling Stone place Dick Dale as the 74th greatest guitarist, just behind Kurt Cobain? Kurt Cobain? On a list that included Skrillex, Spin Magazine failed to place Dick Dale on their 2012 list at all.
Until 1994, Dick Dale had been all but forgotten by popular culture until Quentin Tarantino used Dale's iconic song, Misirlou as the opening song of the movie, Pulp Fiction. To this day, I get chills when I watch the opening sequence of that movie. In all honesty, I was formally introduced to Dale's music in the form of Southern California skate punk band, Agent Orange with their 1982 cover of Misirlou. I discovered Agent Orange for the first time in the late 80's, along with my overall, head first dive into punk music. It's a testament to the power of cover songs and compilations and their ability to cast a wider net and capture schools of new audiences. After doing a bit of research, (there was no internet in the late 80's so research back then entailed more desire to find information than the few clicks it takes to find it today), I instantly fell in love with the original Misirlou. Once Pulp Fiction was released, Dick Dale started getting gigs again. Usually with the punk and harder edged bands that ruled the 90's. And that's where Dick Dale belongs.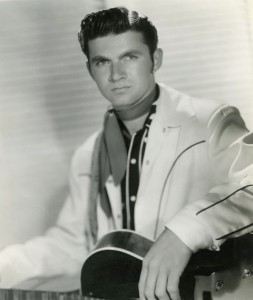 Dick Dale belongs in the same sentences when discussing those who throw off the shackles of limitations and conventionality. Oh, your current amplification equipment has limitations in the applications of your live sound? Cool. Let's build a new one. Oh, you're left handed? Just learn to play a righty guitar, testing all the conventional technique and theory taught to guitarists- at least until you find a set up on a lefty guitar you are comfortable with. Surfers in the 60's? Those guys are bums! Maybe worse than Hippy's. Let's create a genre of music built around those people and the negative stereotypes of those who reject the typical lifestyle and expectations of young, American boys and girls, at that time.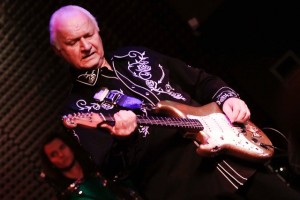 On Saturday September 19th at Casa Escobar in Malibu, Dick Dale performed his songs and selected cover songs with all the virility and accuracy of a young virtuoso. It was in between songs that his vulnerability, impatience and visible crankiness was revealed as he mean mugged his rhythm section for missing the queue to go half time. The impatience of a genius who's research and contribution is coming to an end. The vulnerability of mortality and the frailty exposed when the set was over and he needed assistance off the stage and back into the green room. But during the set he appeared impenetrable and indefatigable.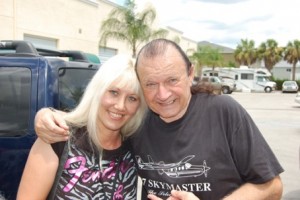 Dale's dialogue with the audience was indicative of a man who might be in the midst of the type of heavy introspection that accompanies the reflection of one's life. He talked about God and blessed us in Latin. He mentioned being from Boston as the sole reason why you should never fuck with him and his beautiful bride, Lana Dale who sat on the side of the stage for the entirety of the performance. After meeting Lana and chatting with her after the show, I definitely wouldn't mess with her. With frequent mentions of their love, their lawyer and many other anecdotes, Lana Dale seems to be guarding her husband's legacy with a fervor and affection that few possess.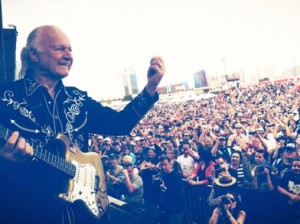 Dick Dale ripped through classic originals and covers that are signature Dale like Let's Go Trippin, The Wedge, Jungle Fever, Pipeline and of course, punctuating the end of the set with Misirlou. But it was the other songs selected that told a more complete story of what has influenced his genius. When Dale and company broke out into Eddie Cochran's, 1958 released "Summertime Blues", it made a lot of sense when considering Dale's first single, "Ooh Wee Marie" was released the next year in 1959. When Dick Dale broke out into traditional Jewish Folk Song, Hava Nagila I became very confused at where this influence came from with his Lebanese father and mother of Polish descent. I asked Lana about it and she didn't really have a succinct answer for me but when he applied his fast picking technique to this Jewish folk song, I'm sure the type of unique spin Dale placed on it hasn't been seen since Anthrax's, I'm The Man in 1987. Epic.
The circumstances behind this show are directly related to Dale's health conditions which you can read about here. He is compelled to continue playing, not solely for the love of playing, although I'm sure that's a huge factor. When men like Dick Dale are placed in precarious health circumstances by the current condition of the health care system in the U.S.A., it must be comforting knowing that your brand, your legacy and your life's work will most likely sustain your life until the end. Most people aren't so lucky. But Dick Dale has earned it by changing how the guitar is played, changing the sounds of the beach and changing popular culture in America, forever.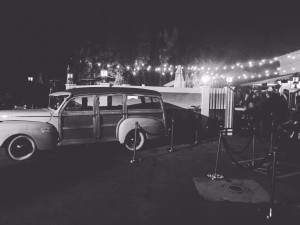 On a Saturday night in Malibu, old, young and everything in between came to pay homage and respect to the worlds first guitar hero. Even though there was a group of what appeared to be, 19 year old, privileged young Malibu locals snickering and chanting "We Love Dick, We Love Dick" at the conclusion of the show, the majority of attendees understood the contributions of this man and Dick Dale rewarded us with 2 hours of face melting guitar work.
If you've never seen Dick Dale live, you still have a chance. He has shows booked through April of 2016 and I can almost guarantee that dates will extend past then, for as long as he's able to perform. His next L.A. show will be in Burbank on Oct 15th but you can see his nationwide schedule HERE.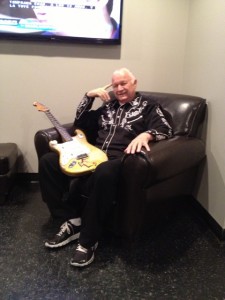 We have a short memory in this country. Even with the totality of knowledge humanity has discovered residing in our pockets and at our finger tips, politicians are still able to lie to us directly and Spin Magazine can leave Dick Dale off their list of greatest guitarists. Fuck them but more importantly, fuck YOU if your desire to remain ignorant is stronger than your desire to be inspired. Dick Dale is a living, breathing piece of Americana and a walking, talking bad ass that changed almost EVERYTHING about how the guitar was played. He was a general on the front lines of exposing white America to rock and roll and he must be recognized as such. I don't know if I would call Dick Dale my favorite guitarist but I am prepared to stand by the fact that he might be one of the most IMPORTANT guitarists. When I crank my own 100 watt guitar amp up to 11, I know that 100 watts of amplified guitar sound did NOT exist before Dick Dale and his collaboration with Leo Fender. And you should know that too. Thanks Dick.
Words: Danny Baraz
Featured Image: Daniel Garcia