Review: The Dead Weather- Dodge and Burn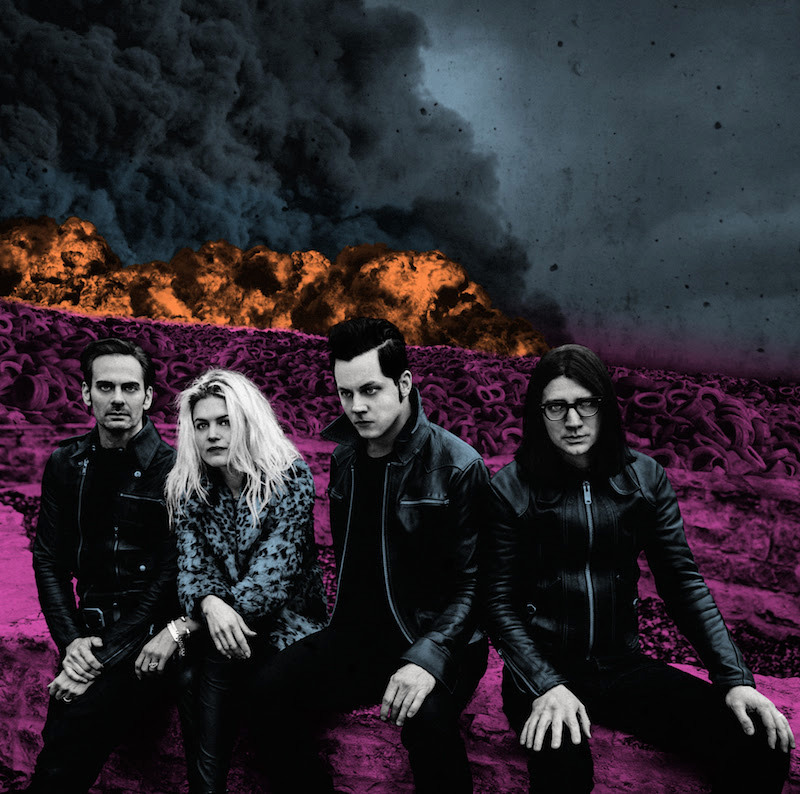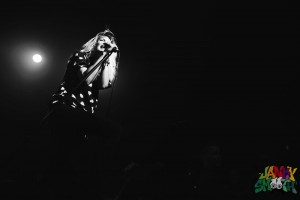 I'm gonna be honest here, and you can take me to the chopping block for it if it makes you feel better. I'm not a big fan of every project that surrounds this cast – Now with that being said The Dead Weather has created a die hard, simple yet smart, banging record that is easily digested and sticks to the roof of your brain. No group of musicians work this well together without it being in tune and inspired by one another. For me, it is always an honor to write and share my opinions on the underrated. You might be saying to yourselves "but all four of these cats sit in the perfect seat for scootin' on up the music biz ladder". Maybe you think they don't need the attention, or they're privileged, if not more privileged than most other musicians. We've seen many talented collaborations of super-groups fail and fail badly. The truth is, The Dead Weather being a colab project of well known artists opens them up for more credibility to lose and more criticism to gain. For me, good music is good music, and bad music is…well, bad. My first reaction of the Dodge and Burn record released on September 25th on White's, Third Man Records sparked curiosity and anticipation, which is always a sign of good things to come. It's like a middle school make out session – things are only gonna get more mysterious and feel much much better as the night goes on.
As a guitar player, drummer, and bass player, I'll tell you plain and simple, this ain't no collection of technically inspired rock tunes. It's bigger than that. It's a well-oiled machine working together to benefit the songs. It's like "The old rock and roll", where each individual taps into the muse that surrounds their talents and takes advantage to create what's what. The Dead Weather's sound has become a killer blend of raw talent. The song, "Three Dollar Hat" makes me want to go out and riot! It's the classic "give and go" song. Play it live and get the crowd riled the fuck up. The story telling talent of Jack White on this song is clear as day, creating great visuals for you to play with- a touch of psychedelia, a dash of dirty ashy blues, and a lot of rock and roll. Alison Mosshart jumps in exactly when she's needed, delivering a great dynamic that builds the song up into the perfect peak- a screaming wall of attitude and soul. The album rolls on giving off the feel of times past, the explosion of an album lost on the shelves of a vintage record shop. A great find for anyone into blurring well thought out fuzz guitars and keys, tight drums and bass, and hypnotically intoxicating vocals. It plays out like a good read, a classic novel, a great book. There's a story here and this doesn't sound like some side project or hyped-out super star collaboration. The band has really comes more into their own with each record they drop. Dodge and Burn paints the picture of a hard working band on a mission to excite and inspire. White's drumming is insanely simple and gang tight! Dean's (The Ranconteurs – Queens of the Stone Age) signature sound comes across with authority! Lawrence never seizes to amaze with the clarity he can get through all that frenzy of noise. The lovely Allison?… Drew me in close for the kill.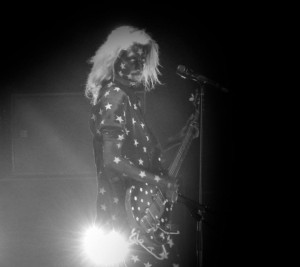 The sound of the entire album is balanced by the delivery of each band member. Jack White's passion for drumming comes across with brutal force. Breaking up beats with a sniper's precision and laying back when needed – to not push the songs further than they need to go. It is the art of caveman drumming, and it is only tolerable when the player delivers it with raw, natural finesse. He knows not he's playing with others and only feels the strange sounds that surround his delicate ears. Jack is this caveman. Banging away for the sake of banging, and hooting and howling from time to time to release the wilderness inside. Jack Lawrence on all The Dead Weather records always finds the right places to hit it and quit it- on this record more than any other. He stabbed away into the flesh of each song, filling in the empty spaces with glorious feel. It isn't traditional bass playing. He doesn't follow the standards of the mainstream bubblegum machine. His playing tastes good, long after the song is over. It is for lack of three better words that I dub this Splendid Ear Torture. Then there's good ol' Dean Ferita, a mad professor of the fuzz guitar sound and drone keyboards. His guitar sound is quick and to the point, his keyboards dish out a film of sporadically layered colors that evolve inside your ear drums. The science experiment that Dean has perfected on the guitar and keyboard has panned out in gold. A rich find, one that many wish they'd have the patience to dissect. Alison Mosshart never ceases to amaze me. Her energy transcends into your soul like a cult leader on steroids. Her voice and performance can literally be felt in your skin. She threw me for a loop on the last song, "Impossible Winner", giving me another way to enjoy her music. The album ends with a surprisingly effective string quartet and piano accompaniment. Egos move aside to bring forth a beautiful, messy, memorable, and correct album.
Dodge and Burn Track List
1. "I Feel Love (Every Million Miles)"
2. "Buzzkill(er)"
3. "Let Me Through"
4. "Three Dollar Hat"
5. "Lose The Right"
6. "Rough Detective"
7. "Open Up"
8. "Be Still"
9. "Mile Markers"
10. "Cop and Go"
11. "Too Bad"
12. "Impossible Winner"
The Kills Come to Los Angeles and Burn it To The Ground
QOTSA and The Kills Blow Up The Forum on Halloween Night
Words: Alfonso Contreras