Beach Slang Bring Their Noughties Revival to the Troubadour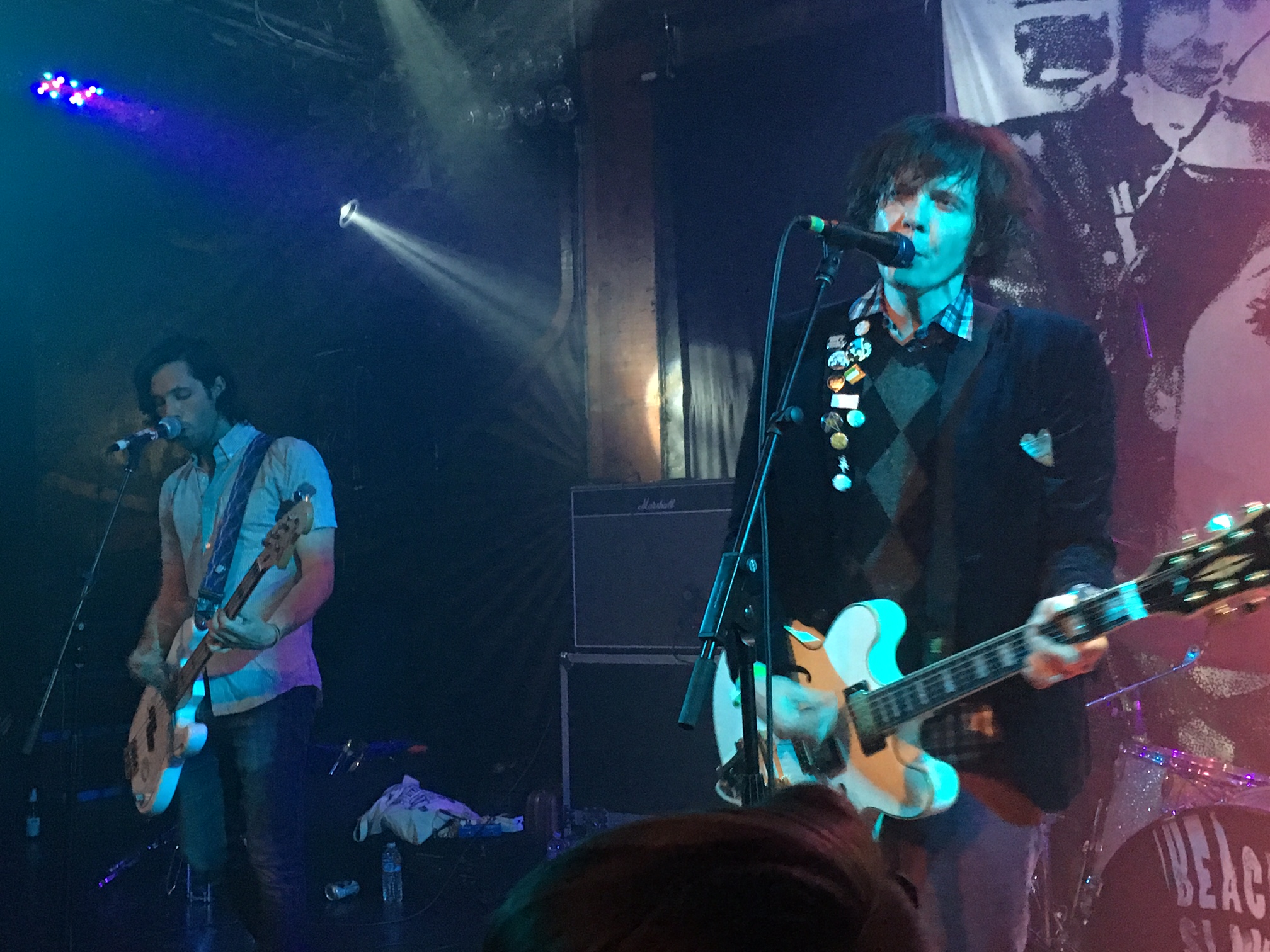 Smack dab in the middle of their USA Spring Tour, Beach Slang packed the Troubadour and brought their revived noughties sound that's got people buzzing from coast to coast. What's that sound, you ask? Emo revival? So soon? Well, you be the judge. It's not FIDLAR, but it's not exactly Fallout Boy either (sigh of relief). Lead singer James Alex is another shining, sweaty example of how it's never too late to punk—even for dads. Like imagine if Jason Bateman's character in Juno hit it big instead of creeping on a pregnant teenager. What I was really stoked on were the opening acts: California, Dyke Drama, and Potty Mouth. It's always nice to get to know some non-local talent up close and personal, and Beach Slang was bringing new noise from all over the map.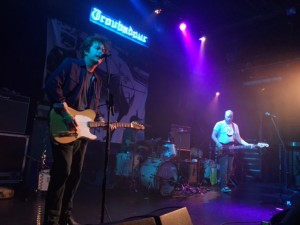 The night kicked off with newly-formed, SF-based California, fronted by touring-guitarist-turned-official-member of Green Day, Jason White, Jawbreaker drummer, Adam Phaler and Dustin Clark of The Insides.  As White graciously introduced each song—tracks like "Bad Direction," "Cut & Paste," and "No Hoodoo"—a few circa-2000 punks showed up out of the woodwork, witnessing a 3-piece of alt-rock vets riding the new west coast garage wave, diving in while the surf's hot. Obviously, the Green Day influence is there, but I'd go so far as to say it sounded like a more refined Green Day (suck on that GD diehards). They played a lot of up-tempo stuff and then bring it down for more bluesy, grown-up tracks before speeding it back up again, of course. Naturally, I wondered if "California" was a not-so-subtle allusion to our golden state's state-of-mind (though nowhere nearly as pretentious as RHCP's Californication). It seems its ambition isn't just about dipping into the platitudes. It was in the same tumultuous year that White formed the new band and had his second child that he was also diagnosed with tonsil cancer. It's safe to say he's operating with one hell of a fire under his ass, though I'd never know it watching him onstage. He was cool as a cucumber, totally in his element, absent of any swagger that could easily come with being in one of the biggest bands of the last twenty years. He simply lets the music speak. I'm rooting for Jason White. I'm rooting for California.
Two words nicely sum up Dyke Drama: brutal fucking honesty. Okay, that was three words, but all totally necessary. It was 8:35 exactly when they took the stage, and singer/guitarist Sadie Switchblade looked at her non-existent watch, "Huh? I'm only 5 minutes late to work?" She said, sipping a PBR. "Hold on, I'm not drunk yet." They played songs like "We Don't Care" and "Die Hard 2," signaling perhaps an empowered move from the vulnerable, flop-sweat tone in last year's EP Tender Resignation toward more ramshackle fun. They blend a pop punk/alt country sound that really makes me want to see them in a battle of the bands against the wild boys of Wild Wing. Sadie's sardonic wit between songs was enough to put half the struggling comics in town to shame. "Remember to tip your bartenders because you're probably all pieces of shit and they hate you," she said to the audience before busting into a song on her big-bodied Epiphone, moving around the stage like a tipsy Chuck Berry. We learned of Dyke Drama's first LP, surely to be an anticipated follow-up from Tender. "We recorded a 10-track album that'll hopefully never see the light of day." Nice try, Sadie. We're all over that shit. Though they were among stiff peer competition, they had the most punk attitude of the night, bravely soliciting Angelenos for couches to crash on. "We don't have a place to crash tonight, so if you wanna hang out with four faggots…! Okay, somebody's probably fucking video recording this right now, so I better shut the fuck up." Image is a very big thing here in the world capital of plastic, but with these ecstatic troublemakers and booze-happy hellions from Olympia, it's not about image or, for chrissake, "brand" (a new four-letter word). It's about the happening, it's about the party. Though they weren't completely without their sentimental side, "Thank you for letting us freak all over your shit…. I would like to thank my bandmates for talking to me every day. We're fired. Good night."
And I'd love to only talk about the music, but the questions are going to come, aren't they? (In bro voice): "So, what's the deal? Is Sadie, like, female? Is their bassist, like, male? Are they lesbians or what?" etc. etc. Ooh, wouldn't you like to know. Sure, you could call them trans and queer (they're certainly not without their social media transphobic drama), but who knows if they even prefer a designation. Maybe they're trans in the truest sense of the word, in that they're through; beyond. Maybe their queer in the truest sense of the word, in that they're truly anomalous; deviating from our static norms. And, as their brash moniker suggests, perhaps they are not subdued by the violence of language or the asininity of labels (a breath of fresh air in our online circus). I know labels and pigeon-holes are very big right now, and I know we've found a way to shit on the shitting of labels—but fuck that, labels are still stupid (unless, y'know, you're in marketing.) If you want to get educated, go see a show and support the cause. Sheeeiiittt, I might just drive up to Olympia myself once the tour's over just to see them again.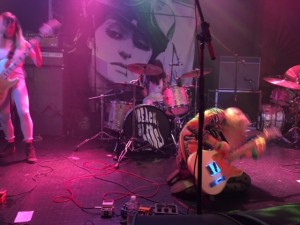 Potty Mouth came on next, with lead guitar/vox Abby Weems decked out in a preserved beetle pendant around her neck, red lipstick, smoky eyes, polka dot nylons, and a trippy paisley dress. They played from their new album Hell Bent, all power chords with lots of minor notes thrown in, which I love. Their look is psych but their sound is grunge. Or now that I think about it, akin to Cheshire Cat-era Blink-182, the best Blink album IMO (nothing against Travis Barker). Vocals more like a disaffected Mark Hoppus in that mid-90s post-grunge void. Except Abby cuts through any monotony by giving a good scream and turning from the mic to fall into some hair-thrashing instrumentals. Bassist Ally Einbinder was splashed in aqua from hair to denim to the body of her bass. Her driving is a big part of the sound. I stopped taking notes for nearly the entire set because I was enjoying it so much. Good news for us Angelenos, they announced their official move from Massachusetts to L.A.! I'm sure they'll be rightfully embraced in their new home. We're definitely looking forward to seeing them all around town this summer.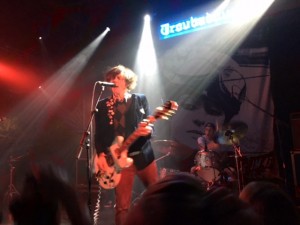 "We're Beach Slang, and we're here to punch you in the heart," James Alex proclaimed as they hit the first song of their set. And yeah, it was like a punch, or an adrenaline shot. Especially when Sadie Switchblade stage dived out of nowhere straight on top of my head, which was awesome. I wasn't coming to the show that night expecting to become a fan of Beach Slang. I actually had my reservations. I wasn't much a fan of rock in the noughties. I hated everything mainstream. I probably only went to all of two shows in those years of fear and Bush: Yeah Yeah Yeahs and Velvet Revolver (RIP Weiland). Don't get me wrong, I didn't mind those like Story of the Year or even Yellowcard so much. But man, fuck Avril and all the shitting she did on a genre she never even had a grasp of in the first place. Beach Slang, though, (and the bands on their tour) is taking that era we mindlessly coasted through, like it or not, and giving it new life with a new sound. More garage, less studio (though Beach Slang's production value is anything but lo-fi). They only have one album, and they played a set equivalent to three or more. The fun-loving heckles came in barrages between each song. "I love this room," Alex said, "I know why Bukowski would read here now." In a dark, flair-ridden sports coat, looking like a Hogwarts reject pounding beer every chance he got, the crowd was eating up every word, and singing along to the words like it was a Rooney show. It certainly me a good idea of Beach Slang's already-formidable following. Once the heckles reached peak critical mass, Alex caved and announced they were recording a live record, and the bellowing and howls grew louder. Alex is all sweaty heart, which he literally wears on his sleeve, bringing back guitar-tossing emo tricks and gracing us with a sincerity only a new father could.
Their set "finished" and when Alex came back on for an encore, he came on playing solo, then slowly joined by the rest of the band (he's a bonafide rockstar, bruh!) A two-song encore turned into two more, then I lost track after that. He was feeding off the crowd's vibe, presumably giving the live album's engineer a lot to work with. He toyed with covers like "Jessie's Girl," Dramarama's "Say Anything," and even "Don't Fear the Reaper." Admittedly, they didn't have the cowbell, to which he sung "TSA took my cowbell away, my cowbell away, my cowbell away." He's a commanding frontman, and it's a good thing for the mainstream that he's finally caught his stride. Something tells me we've only seen the breached fin of the shark, and I'm eager to see what the rest of the beast has in store. Beach Slang certainly bridges the indie-mainstream gap. But does that really matter? I suppose only if coverage in the New York Times matters. If anything, it hopefully endows the post-9/11 pop punk schtick with some soul.