Air + Style Day 2: Snowblind in So-Cal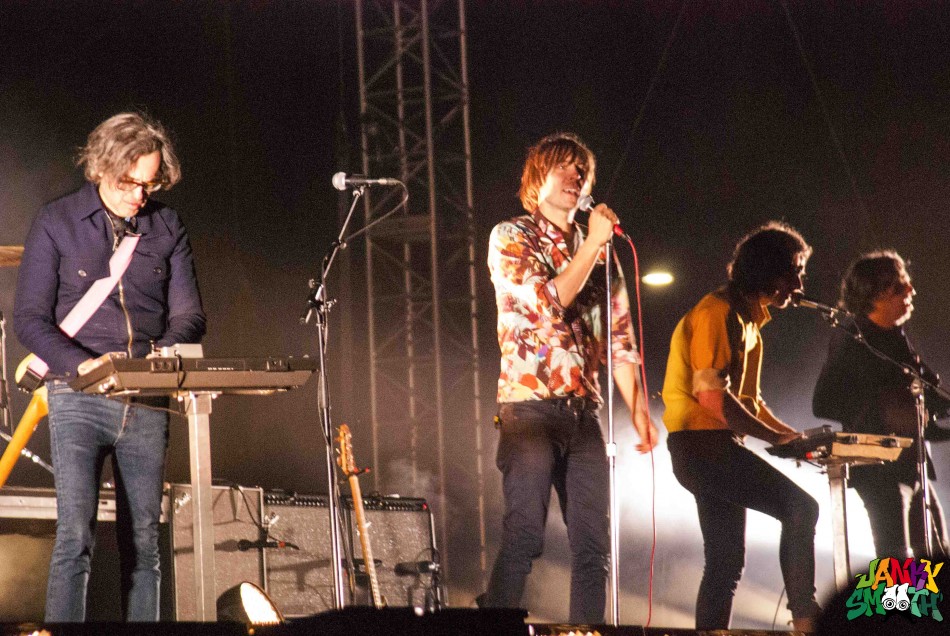 Construction cranes tower over Exposition Park, obscuring the view from the festival grounds. Although Sunday means progress is stalled, the skeletal half-constructed stadium leaves the stages set up for the festival looking dwarfed in comparison. The lineup boasts a lineup similar to what I would put on a 'Sunday Morning'-type of playlist, Gucci Mane included. Like any Sunday of a festival, it took awhile for festival-goers to start filing in. A good percentage of the earlier crowds consisted of families with school-aged children and even stroller-bound infants. This serves as a reminder that this is just as much of a family-friendly sporting event as it is a music festival.
When attending a festival, it isn't uncommon to be forced to make the heartbreaking, relationship-ruining decisions about which sets you're going to catch and which will have to be sacrificed due to conflicted scheduling. Not so with Air & Style; the sets are split between two stages and staggered so nobody has to miss anybody they want to see.
We caught part of the Cloud Nothings' set and being that it was still barely afternoon, the VIP pit section was open to everyone and we joined the gathered clump of teenagers in denim jackets nodding along to the music. At the conclusion, we shuffled along with the herd of people from the mainstage within the designated 'WINTER' section to the smaller stage at the 'SUMMER' section to check out Mija's DJ set. Mija appears very innocent and genuine, which is playfully offset when she lights a cigarette onstage and blends heavy bass drops into her impressive set, enforcing her well-established status as a talented producer and respected figure in the EDM world.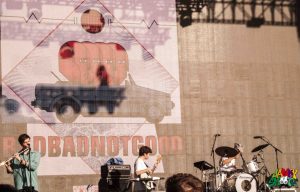 In the last hour of remaining daylight, BADBADNOTGOOD delivered an ethereal set; musical accompaniment to the quintessential Sunday vibe. As a late addition to the lineup, I don't think the festival would've been the an enjoyable of an experience without them. At this time, I had to stop for a while to check out the snowboarding demonstrations. Being the uncultured recluse that I am, the concept of street-style snowboarding was brand new information to me. I had only ever seen or attempted the good old fashioned downhill descent which I personally found utterly terrifying given the foreign concept of being buckled into the board. I'm from Orange County; we're skate people, not snow people. This was my first introduction to this seemingly death-defying spectacle , which I'm guessing was the intention of these demonstrations – a public display of a sport that could not otherwise be performed in the heart of Los Angeles because we normally do not have an abundance of snow in the area.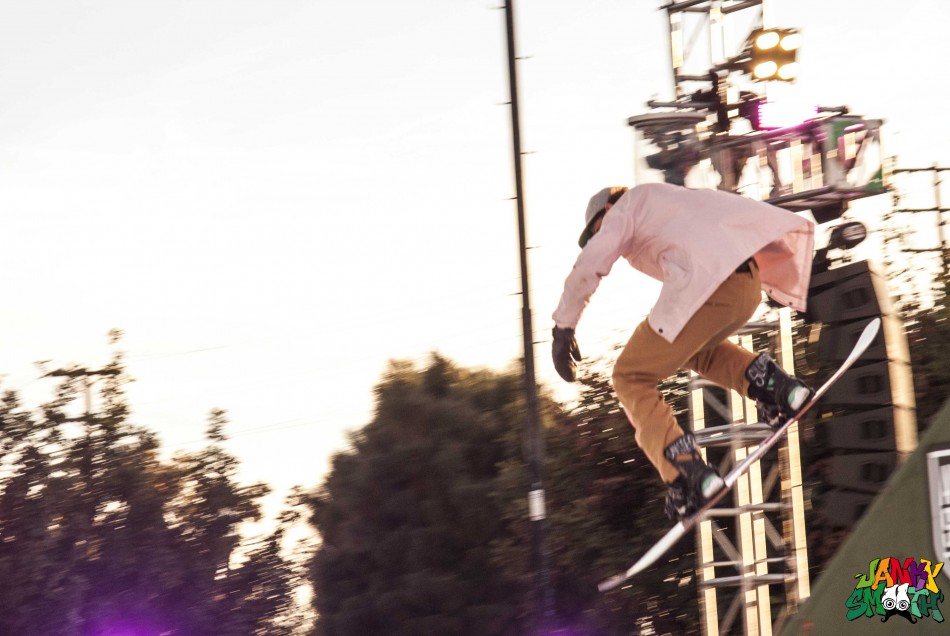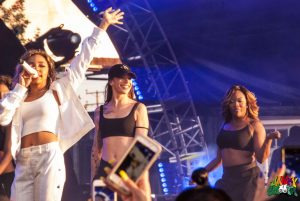 Heading back to the Summer stage, we caught a good portion of Tinashe's 90's diva dream set complete with glittering white pants and backup dancers. I watched this set with a twinge of nostalgia as Tinashe embodies the intoxicating yet innocent sexiness that was popular with the divas I idolized in my childhood. Although she brings a unique style to her stage presence, I couldn't help but reminisce about the days when Aaliyah, Mariah Carey and Brandy reigned supreme.
The sun was setting for the duration of Phantogram's dark, breathy indie pop set on the main stage. By this time, most families with young children had begun to clear out and the crowd thickened with people who were ready to party for the evening. This shift in audience set the precedent for an absolutely stuffed pit for Washed Out, who bathed the basking crowd in an ocean of brilliant light and sound. The self-described "future-funk" set by GRiZ on the mainstage was a brilliant marriage of complex instrumentals and electronic music. Known far and wide as GRiZ, Grant Kwiecinski is an extremely talented saxophone player who's bridged the often highly stigmatized gap between a DJ set and a jazz-influenced live instrumental performance. You can't help but move to it and be moved by it, it's so extraordinary how well the two genres compliment each other and produce a pleasurable and gratifying sound.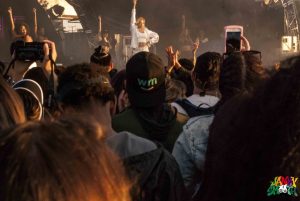 Naturally, I tried my best to hustle over to the Winter stage to get a reasonably good spot in the crowd for Gucci Mane but was delayed by an extended stay in the line for the port-o-potties inside the beer garden, since I couldn't locate any other alternatives. Seeing as you have to be 21+ to get into the beer garden, I guess everyone underaged just had to hold it all day. It didn't take long for clearly amateur festival goers who had had too much to drink started repositioning the fencing so they could piss BEHIND the portable bathrooms, always a class-act. After my turn FINALLY came to use the bathroom, we joined the massive crowd for Gucci's set. I stood in front of a couple who had decided that the responsible method of childcare was to place their two small children between the ages of four and seven on the ground in front of them basically smack dab in the middle of the crowd. The couple then proceeded to try to start a physical altercation with everyone and anyone who almost took a running nosedive attempting to avoid stepping on their largely invisible children. Gucci took the stage and was well-received by the crowd. He played the obligatory anthem 'Lemonade' and ended his set with a new song called 'Solitaire' in which he iconically rhymes 'solitaire' with 'Fort Lauderdale'. Since I was late to this set, I had to settle for being really far back and Gucci was barely visible except for his signature bright white Cheshire Cat smile and array of glittering diamond jewelry.
To conclude the night, Phoenix took to the mainstage for their indie darling set. Of course they played all their hits; the ones that you can't go a day without hearing if you didn't choose the internet radio station on any given day. Although their sound adheres closely to a textbook definition of indie rock, something about their sound is so distinct and wholesome and naturally congenial. A strong conclusive act to a big weekend for Los Angeles, Air & Style's momentum continues to grow since it's adaptation to the current manifestation of this event here in Los Angeles. It's true that music has been deeply ingrained in skate and snowboarding culture. Many can still remember a time when skate videos were a primary source for discovering all different kinds of new music, including the genres represented over the course of the weekend. It's great to see a festival combine both these cultures in an all-ages atmosphere and to see a festival where the music isn't the sole activity to engage in over the course of a weekend.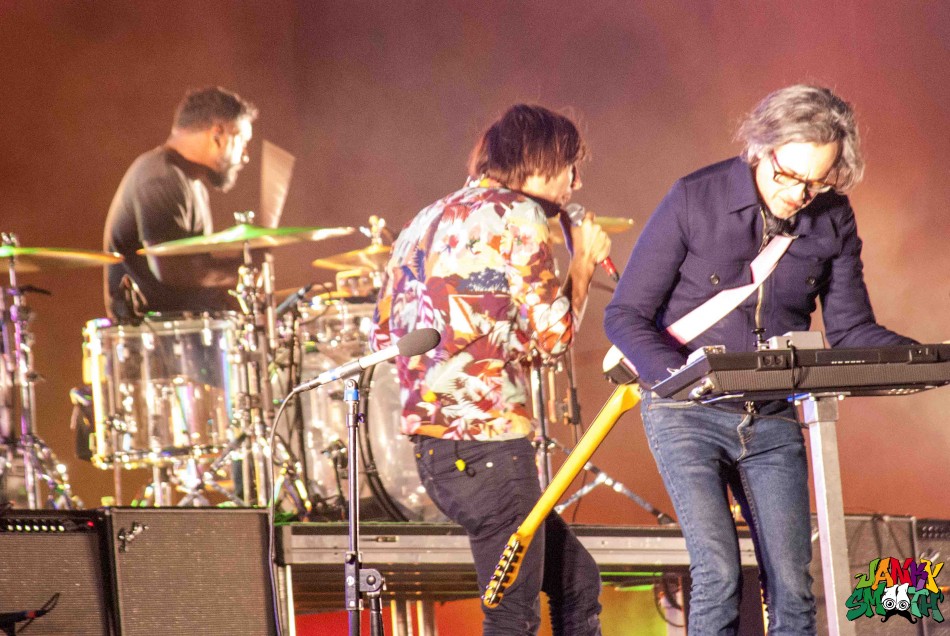 From art installations to free swag from sponsors and food trucks to massive stage performances by major international artists, Air & Style is categorized in my mind as more of a community event than a music festival. I find it refreshing and encouraging that there is a space for events like this to exist and develop into an influential experience for everyone in attendance. Still, the most impressive part of my whole weekend was the ability of the Air & Style's team to conceptualize and exceptionally execute the transportation and maintenance of snow in Los Angeles.
Words by: Aria Silva-Espinosa
Photos by: Grace Dunn