Veronica Bianqui and Friends Live Up to The Hype at Harvard and Stone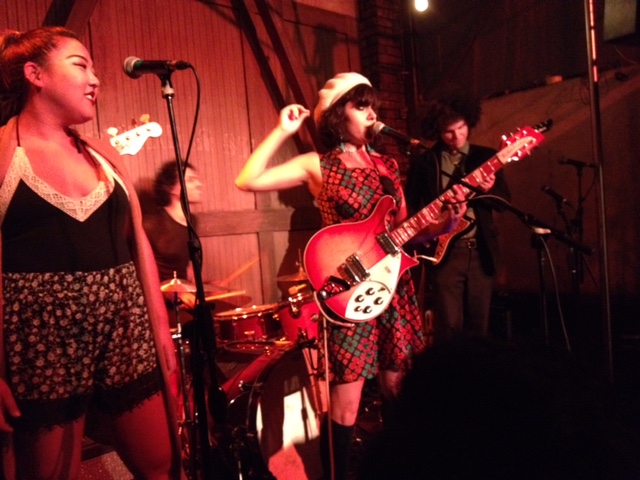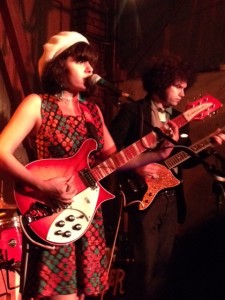 The second night of Veronica Bianqui's September residency at Harvard & Stone, presented by Grimy Goods, was a dancy, boozy trip through space and time—like lounging on the beach and soaking it up with Coppertone on the edge of the Milky Way galaxy. Featuring brain melting sets by Vox Waves and Rudy De Anda, Tuesday night's show attested why people are showing up in droves to see the new L.A. indie rock it-girl.
"I wanted all the bands to be friends of mine who I know are badass performers," Bianqui said of the residency when interviewed. "That's basically it."
I like seeing shows in the middle of the week, when all the decent folk are tucking themselves into bed and there's no line stretched down Hollywood Boulevard in Thai Town. Harvard & Stone (despite all the bitching you read about on YELP) is the best small stage venue in Hollywood, and, other than making some of the best drinks in town (Baby's First Bourbon is a new classic), it has played humble host to a crazy amount of L.A.'s bourgeoning talent like Dead Sara, L.A. Witch, Death Valley Girls, Tashaki Miyaki, Cherry Glazerr, and a billion others. It's the WWII bomb factory-themed brainchild of Houston Hospitality (the infamous Brothers Houston). This may not hit you until you notice the bathroom walls are awash with Rosie the Riveter imagery—relic pictures of real women making ships and bombs, safety equipment guidelines, and friendly reminders that 'loose lips sink ships.' It was the second bar erected (La Descarga was the first, Pour Vous followed) in what's become a long string of idiosyncratic speakeasies that has effectively tied Hollywood together and ushered in a new golden age of mythical partying.
If you want a chance to see your favorite acts up close and personal, H&S is the place to do it. I know something about it because I used to mop the floors of this place. In fact, I was sitting right where Joaquin Phoenix was sitting when I popped my Tequila Ocho cherry at his behest. Now I'm slumming it, slaving over music articles for Janky Smooth (can you see me winking, Danny?) so that you insatiable maniacs can have the scoop on what's happening on these mean, gentrified streets (actually some corners in Thai Town are still choice for getting mugged). Not to worry, fellow janks, it was a fucking awesome night with fucking awesome talent that I'm going to tell you all about. And what's better, this residency is going on for another two weeks.
I took advantage of the rad $5 cocktail/$3 beer happy hour as Vox Waves took the stage first—effectively taking the green hit of the night (I'm not at all referring to the dank smell of the back patio). The five-piece had a sound that was an energetic mix of psych surf pop blues. The lead singer was a shy, yet raw showman, really loose, beating a tambourine against his chest, giving off a blonde Jim Morrison vibe. He was always shaking the tension out of his body like a lanky boxer in esoteric jewelry. He kept his fingers on his vocals effects knob like an old school DJ with his hand on the pitch; there was a subtle awareness of timing in his seemingly spontaneous performance. Songs like "Wasting All My Time" were straight-forward pop while others like "New House" rambled and roamed with howling reverb. You can tell the stage didn't give him the room to really tramp around, but he broke the ice and put a pulse in the room, eventually ending the set in a heap of sweat.
In between sets, Lo-Pie DJs spun classic oldies like "Ruby Tuesday" while everybody swamped the circular bar like a rowdy Vegas craps table. The place was starting to fill up in anticipation.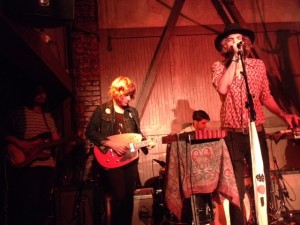 Vox Waves left some green in the bowl for Veronica Bianqui when she took the stage. And when she did, at a petite five(ish) feet tall, she helmed a six-piece band, complete with the clever and untapped use of two female back-up singers. At that point the entire front room was packed and bustling. In Peruvian mod style, she let loose some bright riffs on her red Rickenbacker. It wasn't long before the single "If Love's A Gun, I'm Better Off Dead" poured from the speakers, a single that dropped last week and received quite a buzz, off her soon-to-be released EP with Lolipop Records. There's a playful cynicism in this girl-group sound callback, which was void in the more innocent days of Phil Spector produced ditties—with Sonny Bono's "Bang Bang (My Baby Shot Me Down)" being the only exception that comes to mind. The lyrics "I've always been a crazy singer/ Said, 'fuck suburbia, I want some danger'/ But you'll put that ring onto my finger/ Soon we'll be shopping for coffee percolators" makes us giggle about the agony of longing. The gravity of Bianqui's throwback aesthetic is not as heavy as sadcore queen Lana Del Rey. We can still lament the sadomasochism of love and still dance about it. She eventually invited up a trumpet and saxophone as well, adding layers and filling the entire stage in glorious rose-colored sound.
It's been a long time coming for Veronica Bianqui, who's previously sung backing vocals and played guitar for various psyche rock acts like Jail Weddings, Isaac Rother & The Phantoms, and The Blank Tapes. If the EP is anything like the show I saw, we can expect more catchy and poignant two-minute bites of bubblegum pop noir. I'd say "If Love's A Gun" is probably among her more harmless songs. The crowd loved it to the end, and her draw had the bar busting at the seams on a Tuesday night.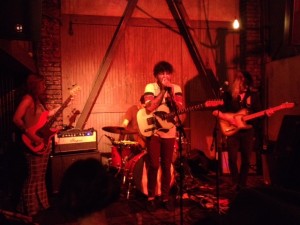 The bowl was scorched by the time Rudy De Anda and his cronies came on, which is probably just the way he likes it. Being that De Anda deals more in the experimental/avant-garde realm, it made for a fitting closing set to the night. Coming off the local success of De Anda's psych-prog outfit Wild Pack of Canaries, he's put out a solo 5-track EP Ostranenie, recorded, mixed, and mastered with rock hero Isiah "Ikey" Owens (Mars Volta, Jack White), that's now available on Porch Party Records. Notable tracks include "Visions of Plumerias" and "Tu Esquina." If you get the cassette, distributed by Lolipop, there are six bonus tracks on side B with titles like "Clay Melting on Our Backs," "Seventeen Tibetan Trampoline Enthusiasts," and "Second Coming" that really showcase his vigor. His live show is backed by J.P. Bendzinski (Crystal Antlers, De Lux), Zach Mabry (Forest of the Tongue) and Lily Stretz (Meow Twins).
The crowd became a little more sparse and the music became a little more weird and melancholic, at times tangential, albeit still in the garage pop vein—which makes the fact that this sound is coming out of LBC all the more ironically dissonant. It's a sound, not unlike Bianqui's, that reminds us of a post-war, post-bop America that was just as captivated by distortion as it was by color TV. He's somewhere on the spectrum between rocker Ritchie Valens and no-waver Weasel Walter, except he's not so much driven by deconstruction as he is celebration. His involvement with the Qvolé Collective gives him ringleader status in the revitalization of L.A. Chicano music, and our city's long, often obscured history with Chicano jazz, blues, and rock n roll (see Lalo Guerrero's "Marihuana Boogie"). His music demands less dancing and more listening, which we're sure to do in the future. (You can still dance too of course).
Be sure to catch next week's residency at Harvard & Stone, where Veronica Bianqui will be joined by The Creation Factory, Electric Magpie and folks from Lolipop Records will have DJ Duty. Go for the tunes, stay for the drinks.
Words/smartphone photos: Brent Smith