Passion Of The Weiss 10 Year Anniversary at The Echo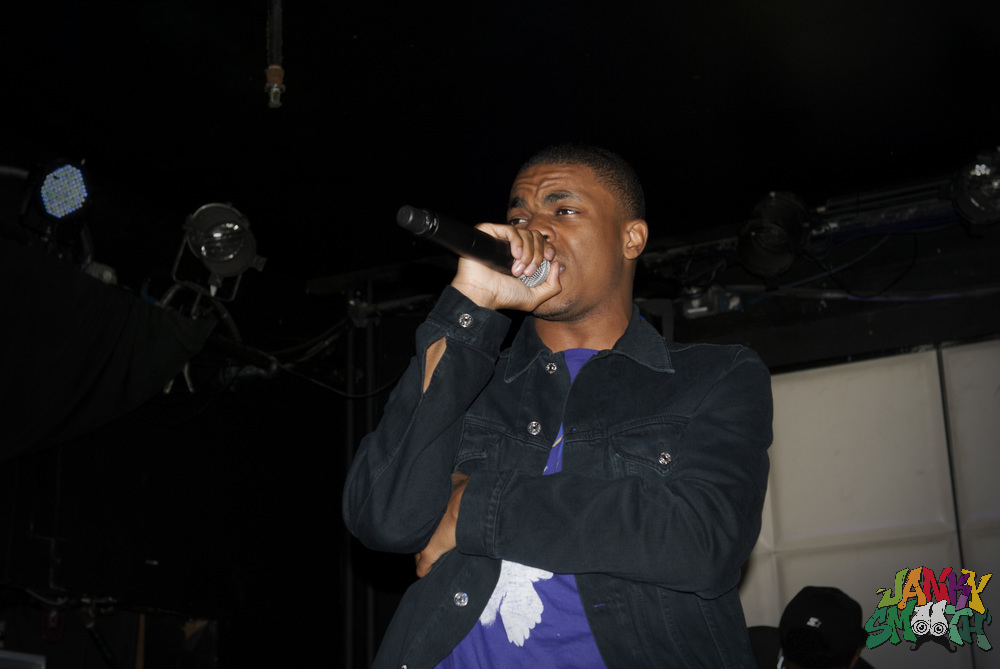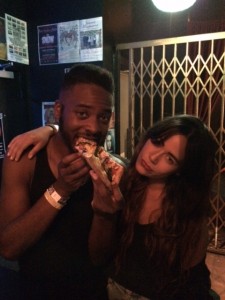 The Echo was transformed on Sunday when prolific music writer, Jeff Weiss, held a ten-year anniversary party for his blog, Passion Of The Weiss. The event was far different from the indie shows that are typically hosted at The Echo. From 4pm to 2am, rappers from all over the country came almost as quickly as they went off The Echo stage, spitting lines over fat beats. The lineup included both already established and up-and-coming artists, as well as three "secret guests". Gone were the beards and tattoos normally associated with The Echo and in came the overuse of cologne and the term "pimp."
I am not a hip hop head but I have big respect for Jeff Weiss.  I walked into The Echo and felt like I walked into a scene out of 8-Mile. People were swaying and head bobbing slowly to the beats that were pumping through the sound system. The atmosphere was intimate and full of energy. Jeff Weiss, who is editor of Passion Of The Weiss, a columnist for Pitchfork and LA Weekly, and co-host of hip-hop podcast Shots Fired, organized a lineup full of stupendous talent. Dr. Millionaire, Red Ferguson, Kweku Collins, Jordan Raf, The Outfit TX, and Chester Watson took the stage, before the first "secret guest" came on at 7:40pm.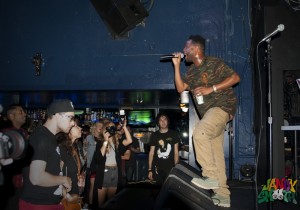 With just ten minutes to perform, Fat Tony, the first "secret guest" of the evening, converted The Echo into a b-boy paradise as soon as he took the stage. A circle formed and dancers did their thang. The entire room was his stage as he sauntered around and climbed upon the booth-like seats in the back. With songs like, "Eat That Sushi All Day," Fat Tony does not stray away from the stereotypical rap tropes of "pussy, money, and weed." But even so, a man who can refer to a woman's vagina as "sushi" still displayed an incredibly humble attitude. Upon completion of his set, he dished out multiple records to the audience and thanked LA for having him. As a Texan, he displayed some true Southern hospitality.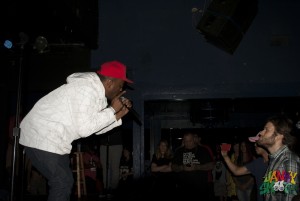 Before the other "secret guests" performed, rappers, Saba, Nocando, Open Mike Eagle, Nadastrom, and Boogie captivated us with some heavy bass-lines as they spit their flows. There were a ton of notable performances. Hailing all the way from Chicago, rapper, Saba, took the stage and had promised the audience he would up the ante. "On a scale of one to ten, this shit is a three," he said into the mic. "Let's take it to a ten." And that he most certainly did. He jumped up and down on the stage and spread his arms open wide, as if he were a back-up dancer in R. Kelly's "I Believe I Can Fly" music video.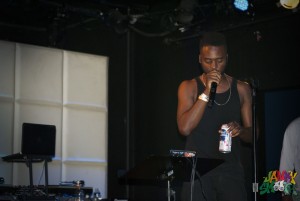 NOCANDO performed next and in my humble opinion, put on one of the best performances of this Passion of the Weiss Fest- Clever lines over simple beats with heavy basslines. "Catch and Kill", off of his 2014 Jimmy the Burnout album, is the sort of anthem that could persuade you to impulsively purchase subwoofers for your car, just so you could listen to it in full depth while hot boxing your 1994 Honda Civic. NOCANDO is most well known as a resident at Low End Theory, and I would highly recommend checking him out – if ya know what's good for ya!
If anyone could match NOCANDO's performance, Open Mike Eagle would be the man. With hilarious and metaphorical lyrics, Open Mike Eagle's ability to combine witty and meaningful flows could capture any rap-hating conservatives attention. "Who wants to play the advice show?" he asked jokingly. If hip hop doesn't end up working out for Mike Eagle, he definitely has a future in comedy. As the night went on, more individuals showed up and it was evident everyone in the audience (including those who looked like they were clearly struggling as they had been there since 4pm) were hyped with the performances. Speaking of struggling, when Nadastrom took the stage and started rattling some harmonious beats, I realized, I too, was a victim of "I've been here for way too long," in which point I left to go get a vegan pizza next door (also, highly recommended). Unfortunately, it seemed as though many others had the same idea, as the room slowly emptied. Though there were some highly enthusiastic dancers grooving along to their infectious sounds, perhaps Nadastrom should have been a closing act.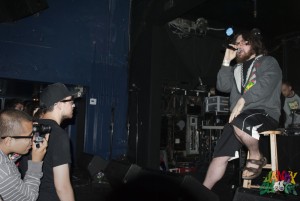 Roughly four hours after Fat Tony had come on, the highly anticipated second "secret guest" took to the stage. Out came a 25-year-old white dude wearing something you would see your 18-year-old stoner cousin in. Los Angeles native, Jonwayne, was adorned in a Ninja Turtles jacket, basketball shorts and Jesus sandals. Watching him perform was like watching Zach Galifianakas if he were capable of spitting out some really dope flows. He ethereally paced upon the stage, and once his ten minutes of fame were up, he walked off, still rapping, and exited the room as if to imply "yeah bitch, I betcha didn't think I could do that".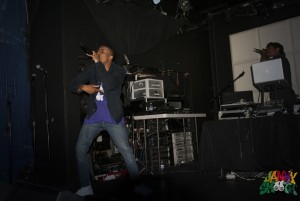 Immediately after Jonwayne, the third and final "secret guest" for Passion of the Weiss Fest came out. The audience went wild upon seeing, Long Beach native, Vince Staples take the stage. He is closely associated with Odd Future members Mike G. and Earl Sweatshirt, and is rapidly gaining popularity in the rap world. Mr. Staples spit out explicit lyrics such as, " I ain't never ran from nothin' but the police," from one of his most popular singles "Norf Norf," as the audience sang along. More than just a twenty-two-year-old shit talker — Vince Staples addresses issues that are touchy, controversial, and at times, all too relatable for some. He is definitely a special talent to be on the lookout for.
DJ Delroy Edwards closed the night with some funky tracks, and while I did want to stay, I specifically attended this show to tap into my "b-girl" — which I got more than my fill of. Upon discovering how poetic rappers can truly be, I developed a newfound appreciation for this genre of music. Rappers are wordsmiths who do not have catchy guitar riffs to back them up, they only have their words – and often times they are powerful as fuck. A newfound appreciation was also found when I discovered that hype men actually exist, and I think every band and every artist should have one. Even those who relish in attending The Echo on Smiths/Morrissey night could easily gain a new appreciation for this genre of music, and this Smiths/Morrissey night attendee could protest to it.
Words: Paige Vreede
Photos: Anna Ashkinaze