Turnstile "Shake it Up" at the Novo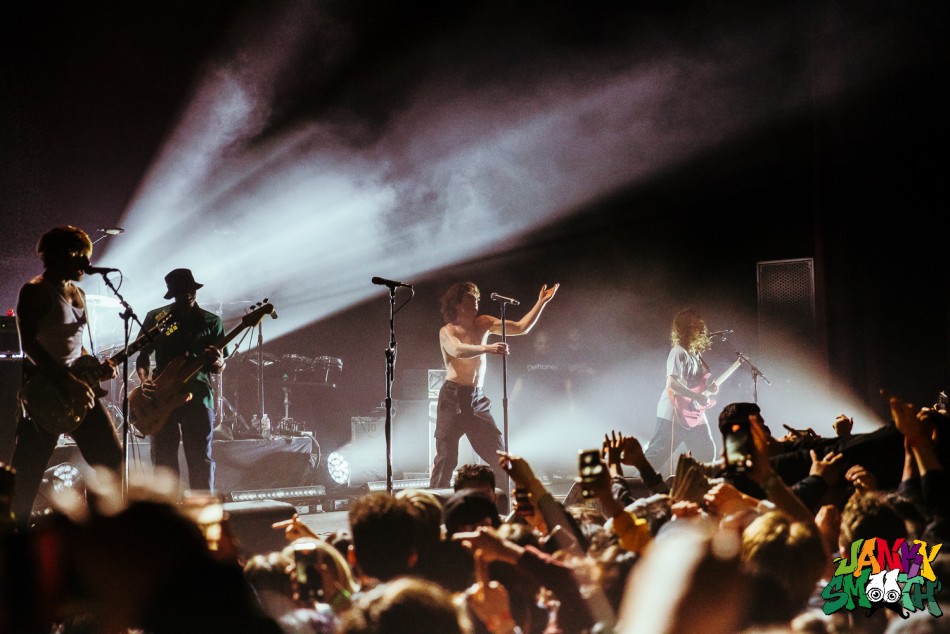 As I stood in the Novo vaxx card checkpoint line that wrapped around the block and took an hour to traverse, I found myself wondering what it would be like to see Turnstile in such a controlled environment, with a barrier and many different obstacles blocking the way between the stage and the floor. While I was waiting outside lamenting, I missed openers Citizen, Coco and Clair Clair. Sorry guys.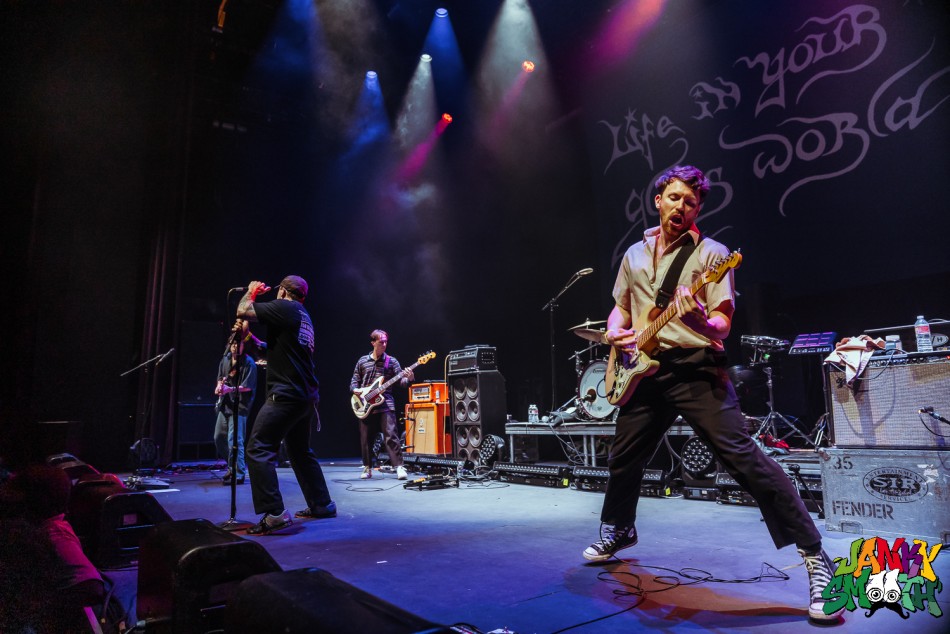 It's hard to believe Turnstile released Pressure to Succeed 11 years ago. While Turnstile have ruled the hardcore scene, to a large degree, to simply call Turnstile a hardcore band would be missing the mark on the massive mutt of music that spawned them. But even with the hints of hardcore punk and most recently, emo (don't hate me) laced into their songs and albums, make no mistake, they are a hardcore band.
Related Content: The Most Complete Sound and Fury 2017 Review on Earth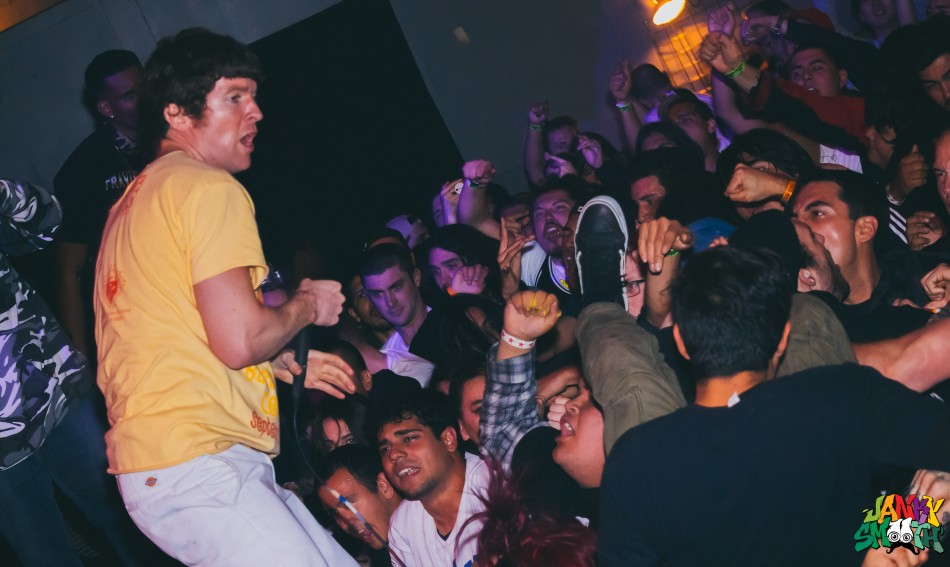 It had been a few years since I saw Turnstile live at Nature World Night Out and the first time since their album, Glow On hit most hipster top 10 albums of 2021- no small feat for a hardcore band from Baltimore. And with that kind of recognition, it's no wonder Live Nation swooped Turnstile up for two dates at The Novo and sightings of tastemakers to the masses like Matt Pinfield were common on this night.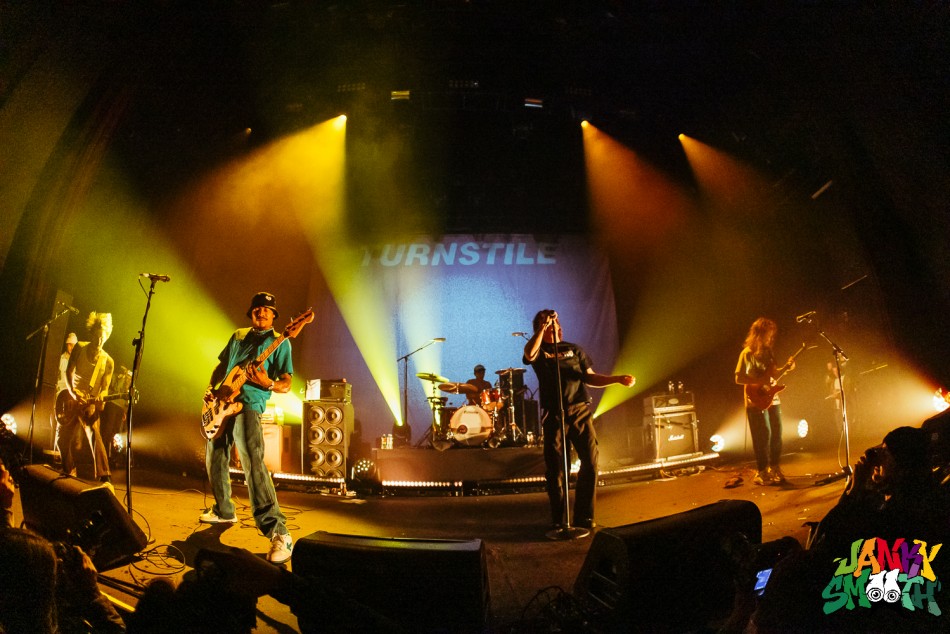 The buildup to Turnstile was surreal- the antsy vibes as the band was late taking the stage were palpable. Odd but calming songs like Suzanne Vega's, "Tom's Diner" blasted over the public address making me wonder what dimension we were in. You could see people unpacking their plan of attack to get into the wristband restricted pit section of the floor.
A collective sigh of relief spread among us as Turnstile took the stage at the Novo. The first of Brendan Yates' many appeals for us to "Shake it Up in here" was taken to heart with the very first bars of the song "Mystery" off their acclaimed 2021 release, Glow On.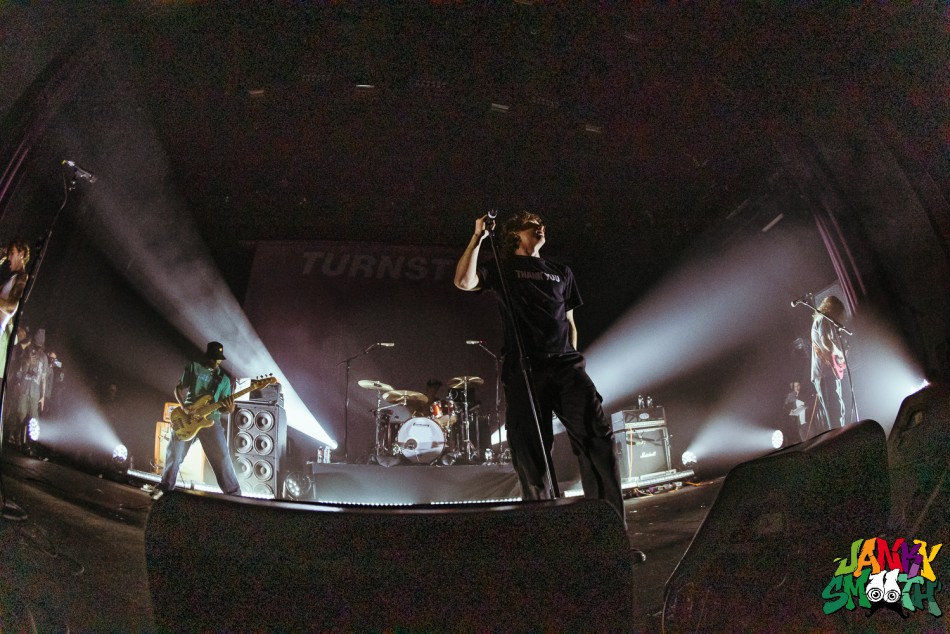 The floor exploded into a million little pieces as people relentlessly hopped the railing into the pit with thankfully little resistance from the Novo security, who fortified their positions at the actual entrances. But doors and windows meant nothing to this crowd of rabid fanatics. Even Turnstile purists couldn't help but lose their shit off this incredibly catchy and anthemic track from the divisive Glow On release. Truth is even as shunned as certain tracks of Glow On might be by some, the Novo was sold out two nights because of this album. Facts.
The purist exuberance was rewarded instantly as Turnstile launched into "Real Thing" and "Big Smile" from 2018's Time and Space album.
The set was heavy with Glow On tracks and while Turnstile didn't play the song I wanted to hear most, "Heavy Hand", that didn't stop me from having one of those live show moments I'll probably remember forever.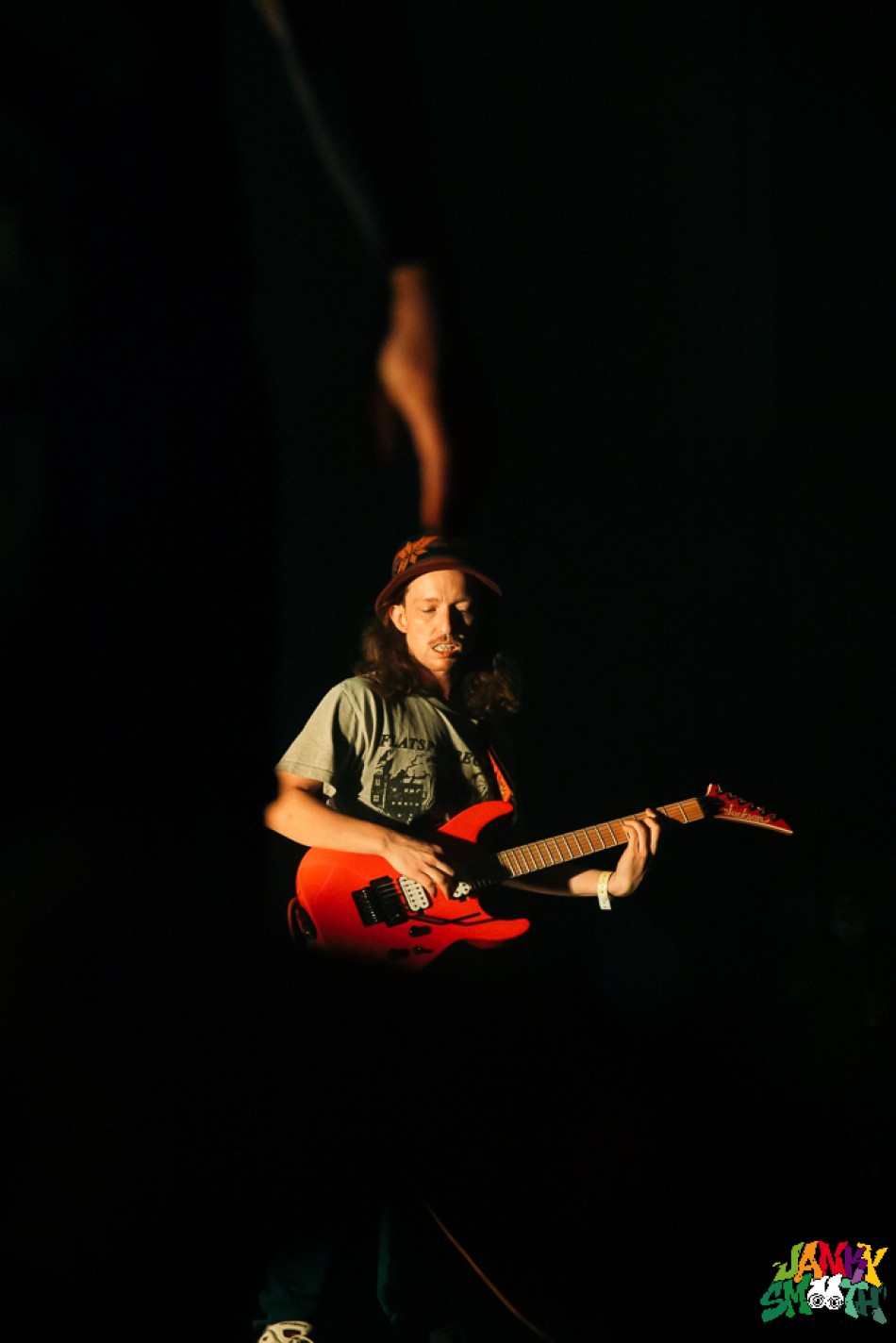 The trajectory of Turnstile is on a steep ascension. During the L.A. tour stop, the band made an appearance on Jimmy Kimmel Live that had the normy's of the world captivated by this band, whom like so many others before them, spawned in a garage and are now conquering the world.
Words: Danny Baraz
Photos: Rodney Campos