A Comprehensive Guide to Glowing On: Turnstile at Garden Amp and OPAC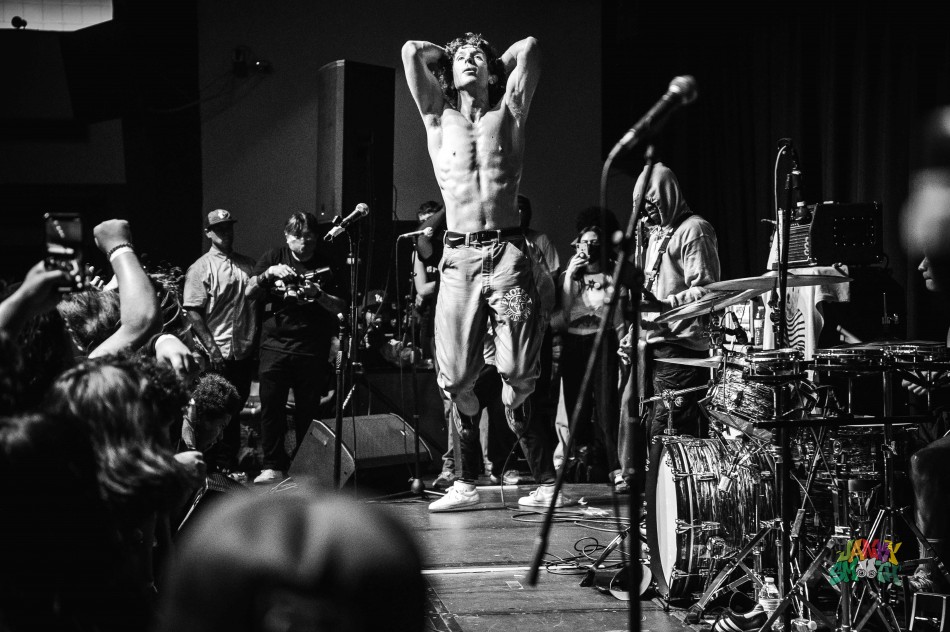 Words by: Rob Shepyer
Photos at Garden Amp by: Dillon Vaughn
Photos at OPAC by: Taylor Wong
For my money, Turnstile's latest album, Glow On, has more PMA than any hardcore record ever released. Beating out Hara Krishna and Rastafarian hardcore bands to achieve some kind of secular, light-hearted connection to "the supreme" and win this medal I've made-up, Turnstile brought their tribe out to Garden Amp and OPAC for two shows that will go down in LAHC history. With the band making recent headlines for the craziness of their stage show, rest assured, although there wasn't any human fecal matter on the stage for either of these efforts, fans certainly went ape-shit at these certified shit-shows.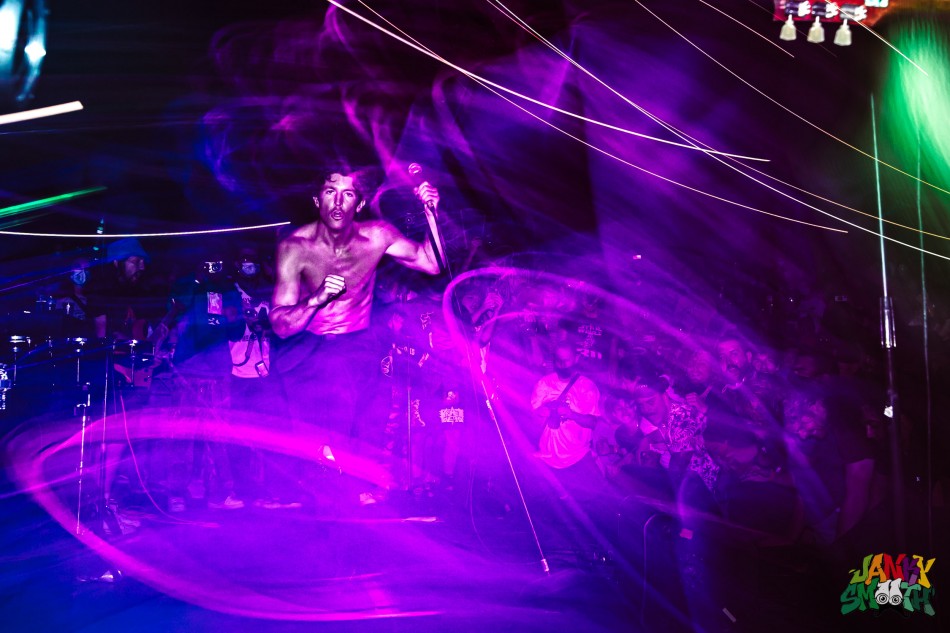 The album was released song by song until almost half the tracks came out as singles. One by one, we realized this was an evolution of the band's sound and vibe. Songs like "Holiday" and "Blackout" felt like elevated but classic Turnstile while songs like "Alien Love Call" and "Underwater Boi" gave us a taste of a Turnstile moving into the realm of alternative indie music. It's a very specific sound and scene the band is embracing. It's easier to identify the fans than the genre. It's Fairfax youth culture. High fashion hardcore. It's Golf Wang. Camp Flag Gnaw and Turnstile's Glow On are a marriage made in hardcore heaven. That's not to say the music or band is gearing up to appeal more to people that could afford Supreme but what it does mean is that the band has their finger on the pulse of diversity and youth.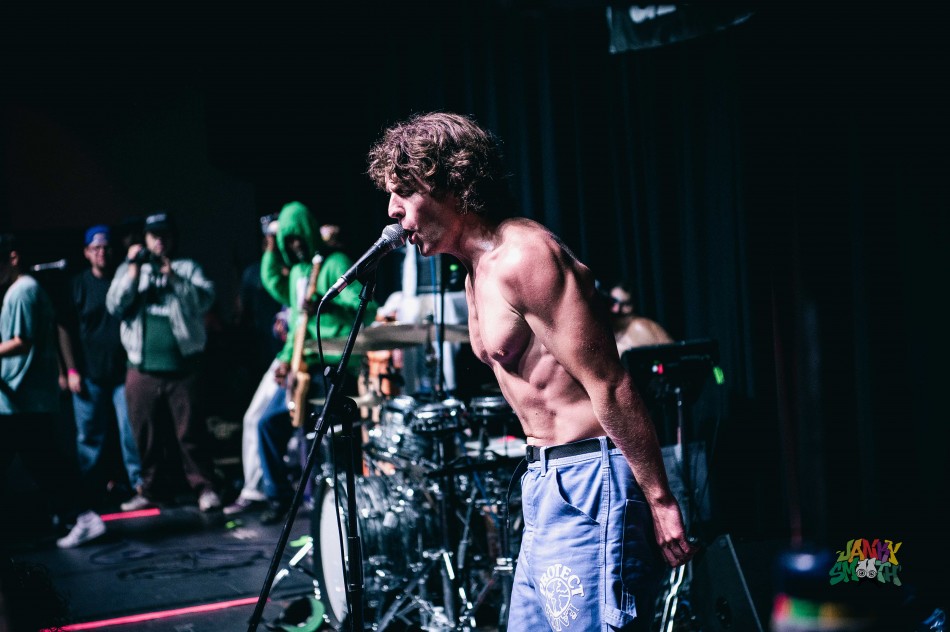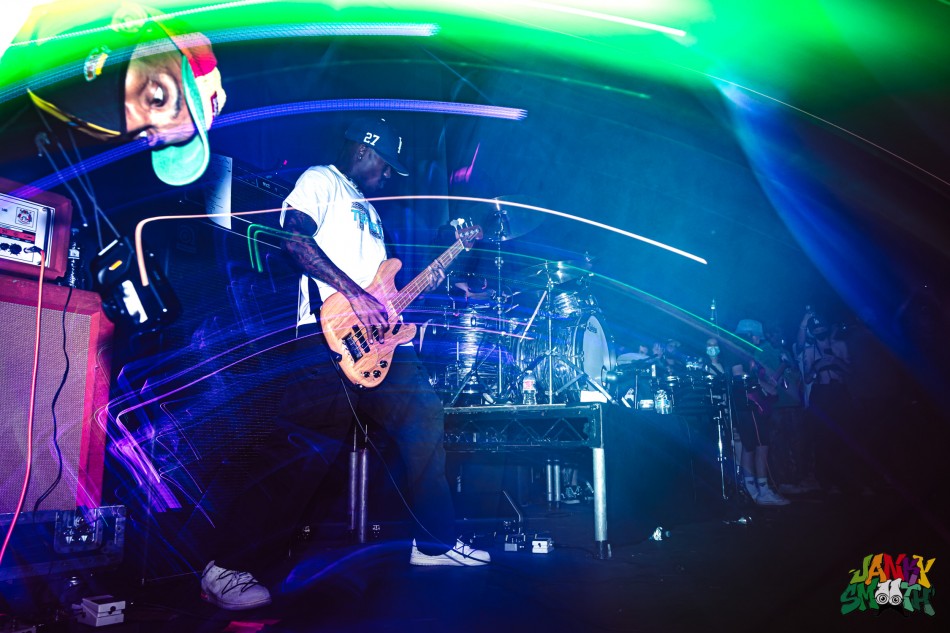 Garden Amp is a brilliantly built venue. It's outdoor, yet intimate. Chill, yet often creates chaos with such iconic sets as seen when Gorilla Biscuits played in 2019 and got every member of the audience onstage until the band had to stand on their own amps. I had no doubt this Turnstile show would pop off just as hard from beginning to end.
Triple B's Never Ending Game began the show with a classic hardcore vibe that weaved together influences from every region that makes up the band. From Boston, to Brooklyn, to Florida, you felt the hardcore pulse of the country in this set.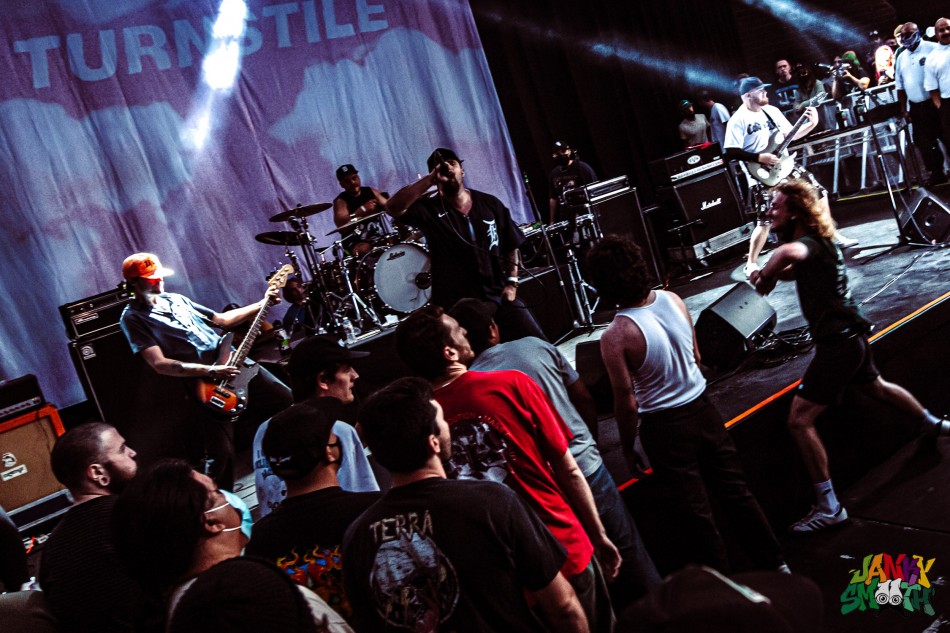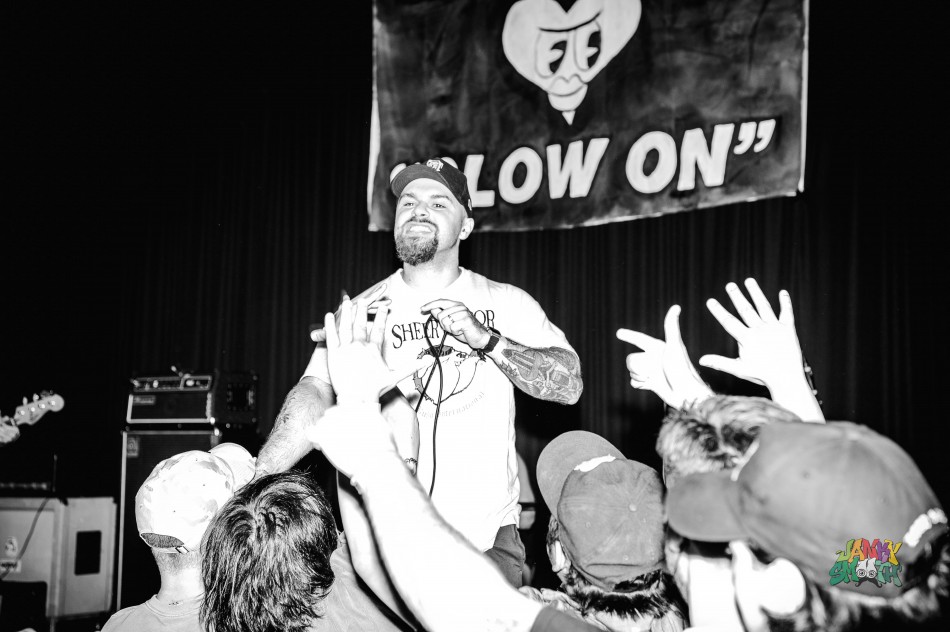 I fucking love Show Me The Body. I think they're the most interesting band in all of punk music. In their music, I can see the future of the genre but also the brilliant takeaways from the past. Their song structures, instrumentation and lyrics feel very much like minimalist poetry. It's punk with roots in a literary movement. The sort of poetry Show Me The Body recites paints the picture of a cut-throat world of urban decay. I can't help but feel like this band was handed down the torch first lit by Big Black and Steve Albini. The raw, crassness of their sound, the poetic significance of the songs, the dark satire of it all–It's high-art intellectualism subverted for hardcore's sake.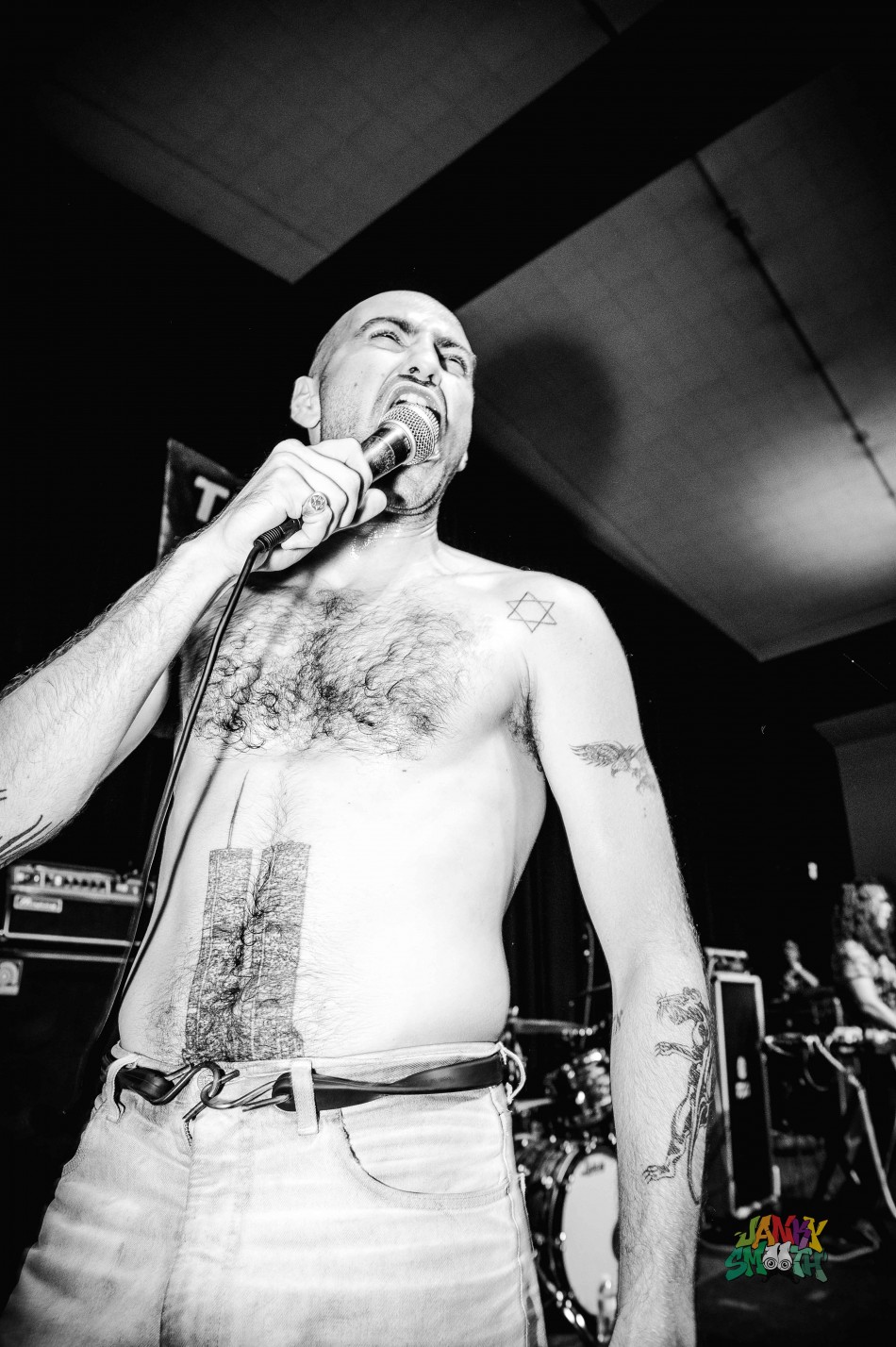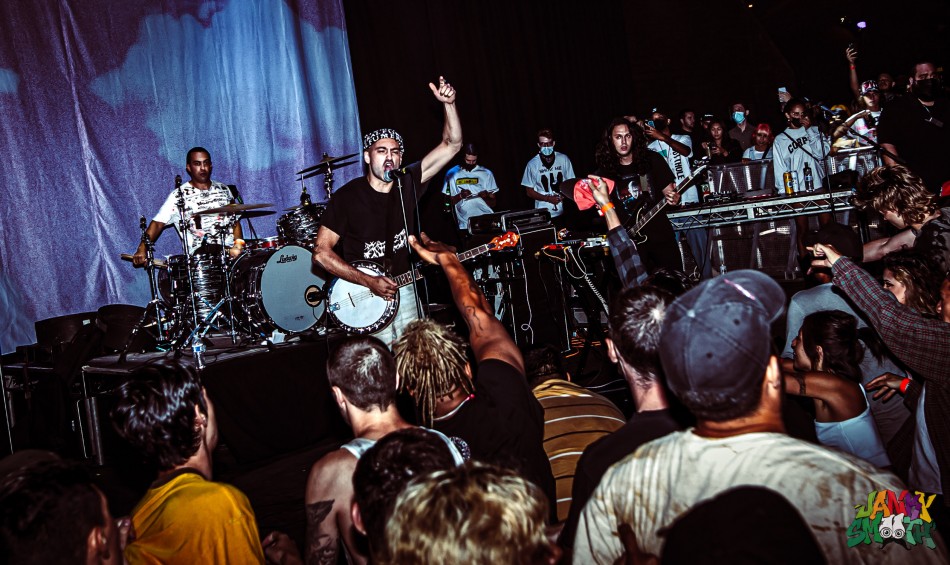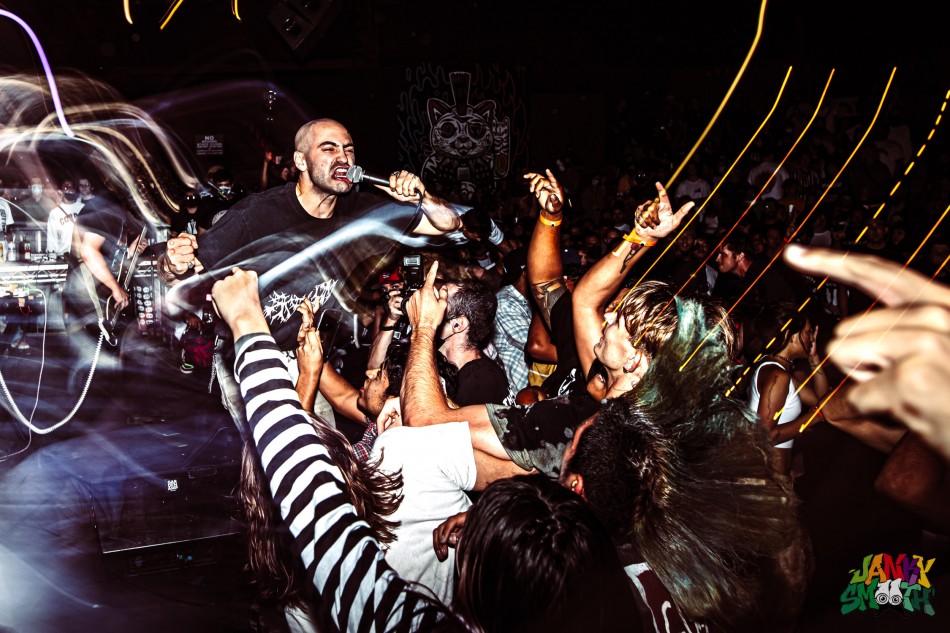 What's so beautiful about Turnstile is that it's hardcore you can dance to. I don't mean slamming or moshing, I mean actual dancing is possible with Turnstile rhythms and grooves behind you. You can make moves up that are pure projections of your inner spirit and soul and they totally make sense to Turnstile's music. The audience knew all the lyrics to every new song and there was a generally kinetic energy that never left the room even in the pauses between songs. All together, the audiences of either Southern California show, turned into living Keith Haring paintings.