Tod Seelie's "Outland Empire" opens at Superchief Gallery in LA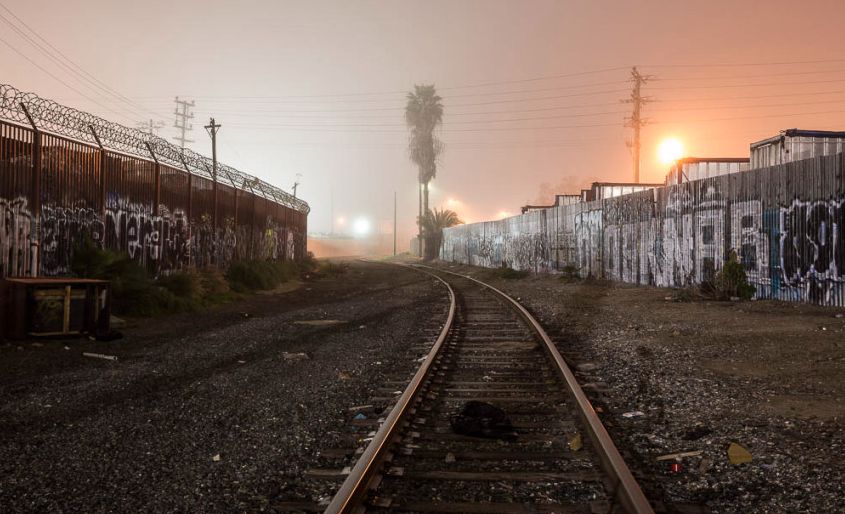 Tod Seelie– A New York based conceptual photographer opens a gallery show in L.A. with L.A. as his subject.  One might think that you would see images of glamour, celebrities and sparkling oceans and gentrified neighborhoods.  Too many have come in to this city with their lens to act as some sort of proxy paparazzi and half heartedly walked amongst the more obvious landmarks and landscapes to capture a cliche.  I knew, even before viewing his work at the Superchief Gallery in Downtown Los Angeles that that would not be the case with Tod Seelie.
Tod Seelie's show, "Outland Empire" captures Los Angeles and it's outlying territories in a sort of post apocalyptic glamour. The glamor of tweekers and flamethrowers and the glamour of beer and sweat soaked teenagers in the midst of an angry slam pit.  Non obvious landscapes and non obvious people as subjects seems to be what catches Seelie's eye.
Eaddy from Ho99o9 mentioned that they would be playing a show at the Tod Seelie opening the other week and I drew a blank on the connection between the name Tod Seelie and his works.  Once I started doing some digging I came across his Bright Nights book and the work he had done documenting the Juggalo in it's natural environment.  Tod Seelie is a master at finding the reality beneath the polished veneer we pretend is real in our day to day lives.  Outland Empire is a continuation of that theme but without being obvious or repetitive.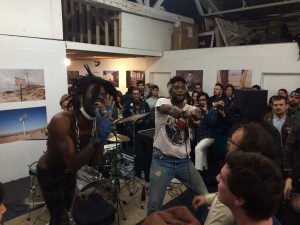 I was also wildly impressed with the images Seelie captured of one of my favorite up and coming bands, Ho99o9 and their live show.  Ho99o9 are the type of band that fit in perfectly with the type of subject matter that Seellie usually shoots.  His shots from the Church of Fun show were as eye popping as the show itself.  And tonight, once again, Ho99o9 put on an incredible show filled with rage and aggression.  They get better every time I see them.  The line between punk rock and hip hop keeps getting thinner and my new categorization of the type of music they play is called "Aggroflow".
The Superchief Gallery was the perfect place for this event.  Kohler street in Downtown LA is turning into quite the neighborhood for artists.  In an area that might've been a bit sketchy to walk down the street a couple decades ago, the residents are building a little mecca of art.
Words: Danny Baraz