The Growlers Reclaim Castle Beach Goth and all is Right with the World Again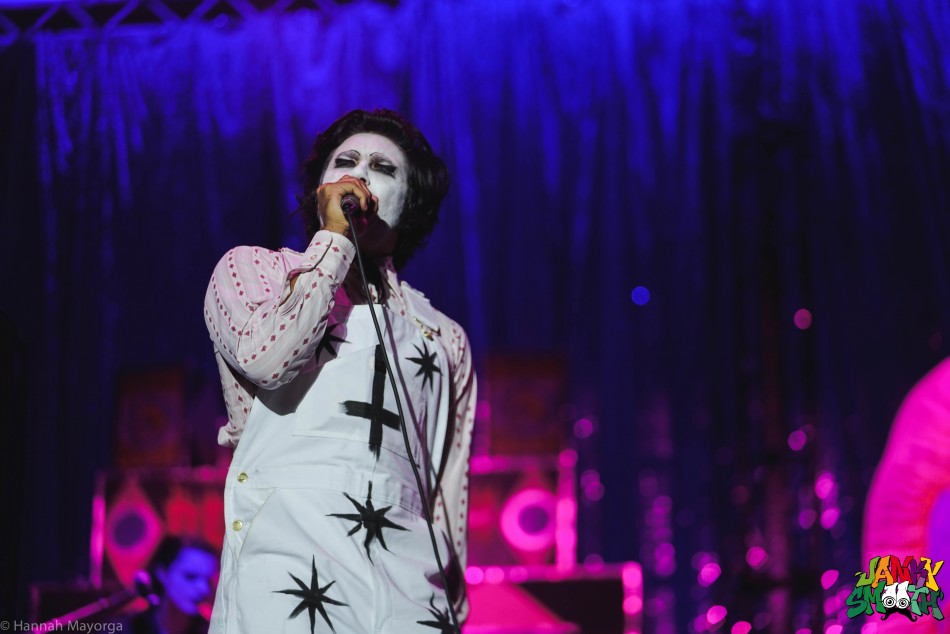 I love Beach Goth because The Growlers know how to book a festival better than anyone blessed enough to have their own festival. In the age of mixed bills, Beach Goth offers the total package every summer, with hip hop, hardcore, punk, metal, garage, goth, and everything in between. These artists then get presented on stages decorated like nothing you've ever seen, this year we celebrated "The Death of a Rat" on a stinky, burning garbage heap of a stage where bands and drag queens put on memorable and boundary pushing performances.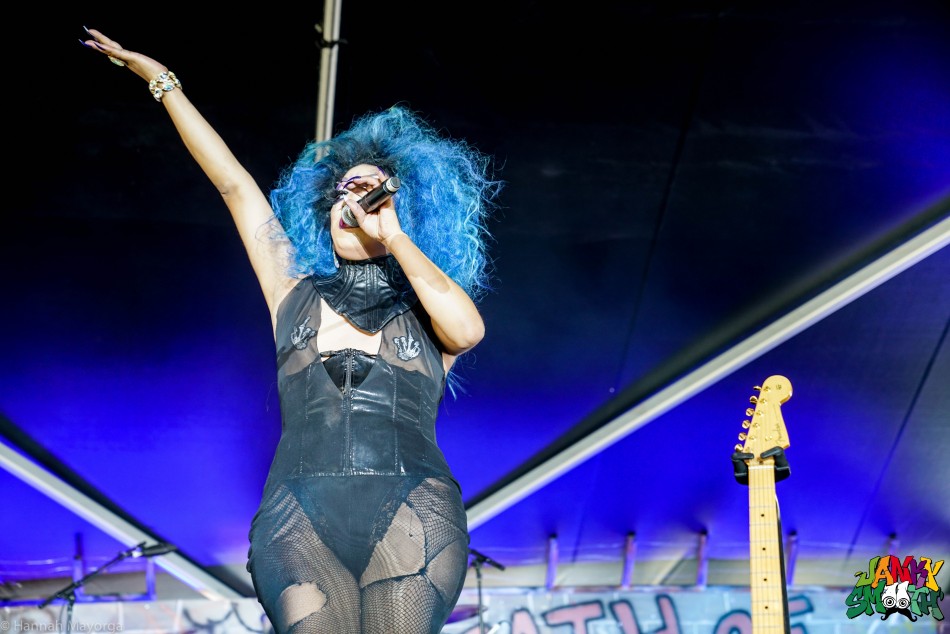 Beach Goth had to scale back this year. Usually, the festival would be two days with headliners that you could opt to see instead of the Growlers each night. This was partly due to the ambition of last year's festival. Last year was artistically a massive success, with the Geto Boys, Bad Brains, and even a Butthole Surfers reunion. It's also important to mention that last year, the festival was called "The Growlers 6" because someone had the audacity to try and claim ownership of the name. Call it whatever you'd like, Growlers or Beach Goth, it was monumentally cool but taken for granted because ticket sales did not reflect their vision or the quality of performance. Economically, they didn't hit the mark but this year, for the Growler's 7th festival, maybe they'd get lucky.
Could they achieve the same success with a one day festival with only their own band, The Growlers, headlining? Was their fan base loyal enough to make their bet pay-off? The answer was proven to be a resounding yes. With the name back in their rightful hands, Beach Goth 2018 was a success on every level and someday when the tale of The Growlers' victory will be recanted to generations far removed from us in the future, the story will be potent enough to bring tears to the eyes of a skeleton.
Having mentioned mixed bills, there were certain bands on the lineup that I was dying to see all year that were featured on this Sunday. Those were Youth of Today, Gwar, and Kirin J Calinan. There were also a couple bands I was apprehensive to embrace, like The Drums, who I thought were too soft for my taste and the festival's mainstays, The Voidz and The Growlers. Yes, that's right, I can love "Beach Goth" the festival but not Beach Goth the genre. Every previous Beach Goth I attended, I'd watch whatever other headliner was playing during The Growlers' slot. I never gave them a chance. I'd just make my judgement in passing and figure it wasn't my jam. I was intrigued to give them a whirl this year though, I'd have no other choice but to listen or leave.
My Beach Goth began with seeing Puzzle's set at "The Death of a Rat" stage. Puzzle is an experimental hip hop duo, led by The Garden's Fletcher Shears, who has a surprisingly natural talent for hip hop. Dressed in all black, Fletcher was karate rolling all around the stage while delivering his flow to the crunchy, distorted beats. This wasn't your typical underground hip hop, this was that gutter sound you hear from bands like Ho99o9 or Kate Mo$$. Abandoned house music. Puzzle was cool dissident, powerful, and made us all curious and thirsty for more.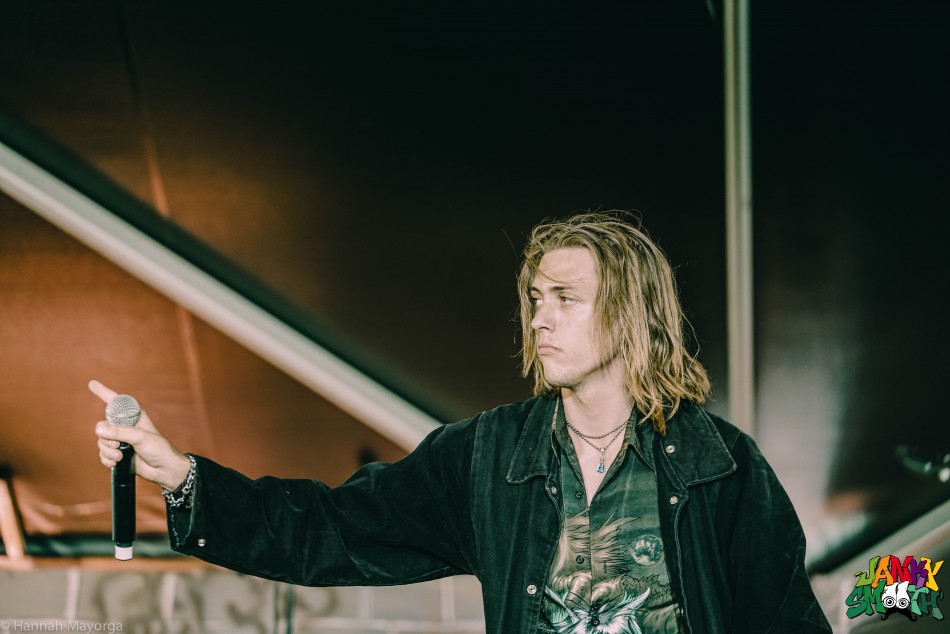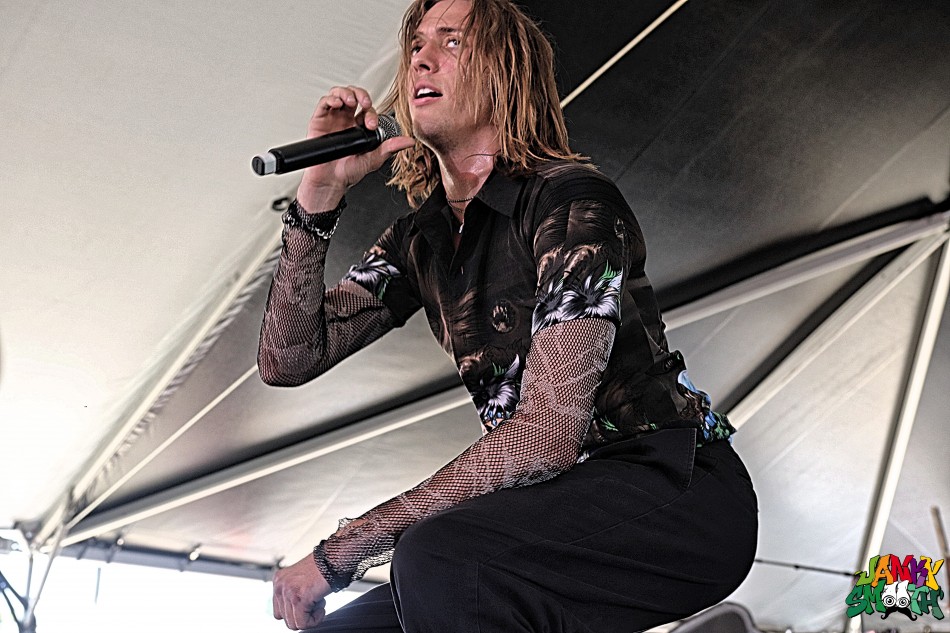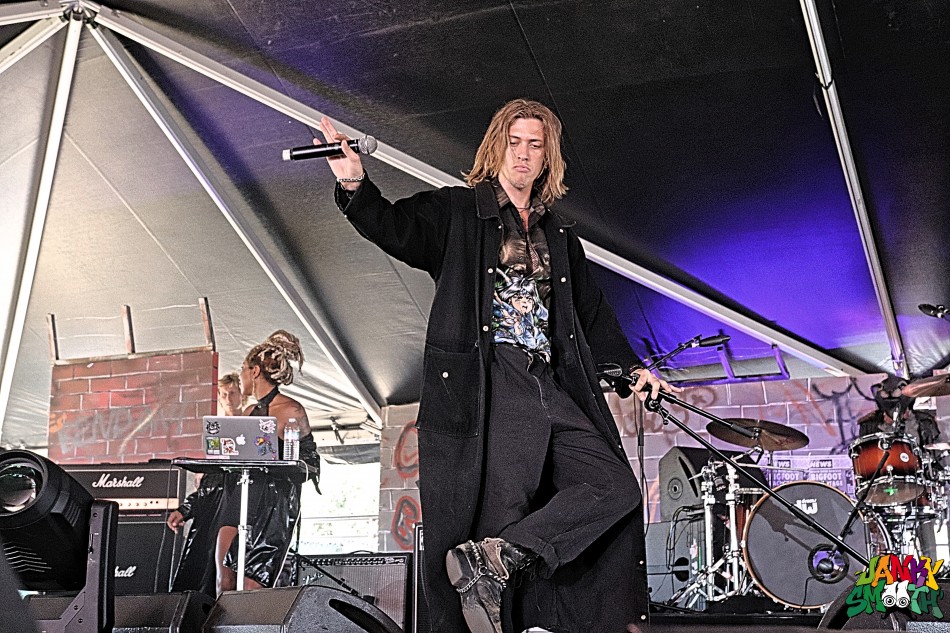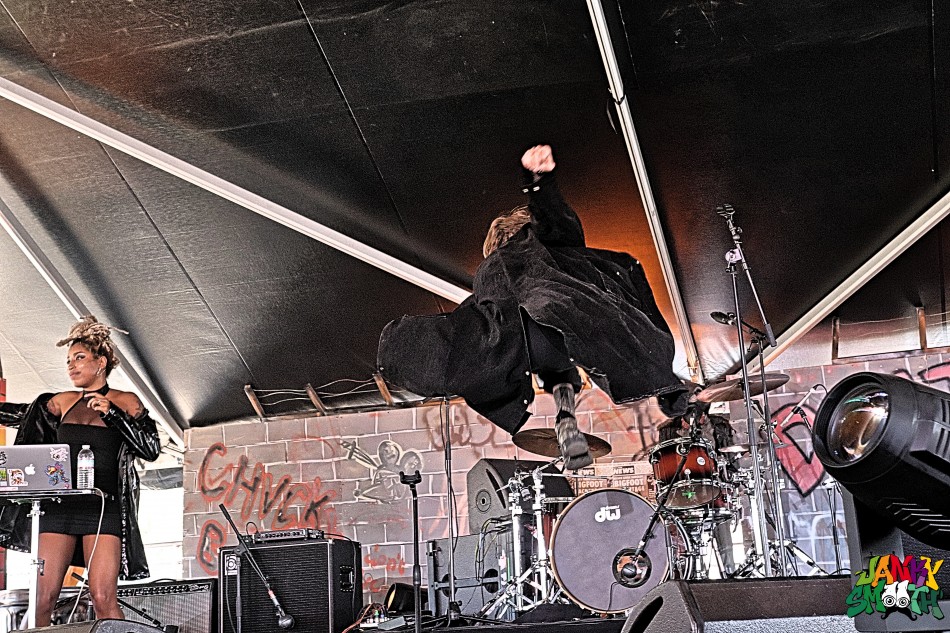 I then moseyed on over to the main stage to watch Deke Dickerson play some traditional southern roots rock. I knew this would be the furthest departure genre-wise that I'd get to hear throughout the day, so my ears savored the notes Deke would play. You could feel how every other style of music we'd be hearing throughout the day was rooted in this.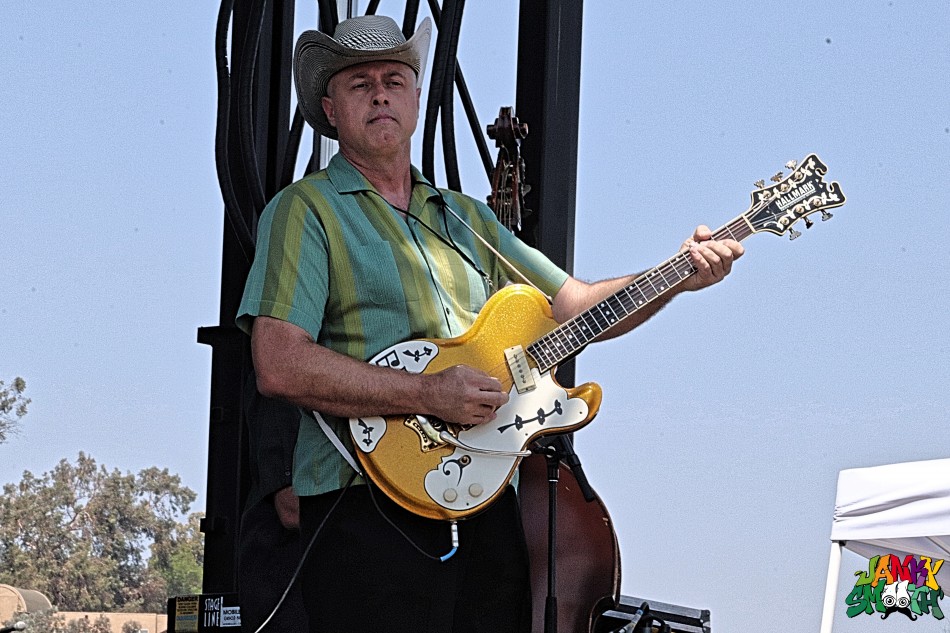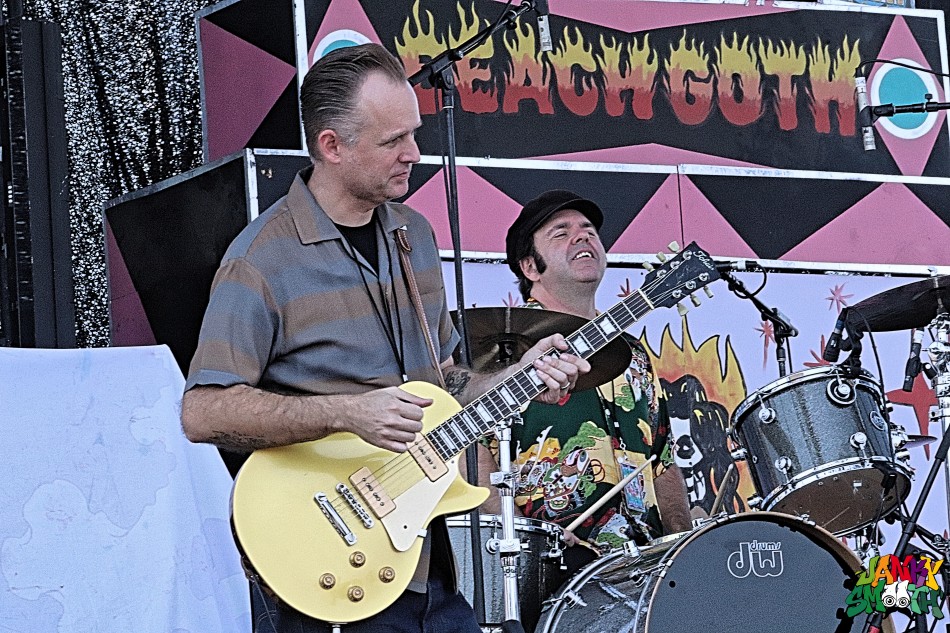 Kirin J Calinan excites me. He excites everyone who gets to hear and see his sexual stylings on stage. On record, his music is like listening to an 80's Calvin Klein commercial with your eyes closed. The striving, the animalistic desire, he captures all this drama and more in his raw, experimental pop. Hailing from Australia, his take on sexualized American white trash is a beautiful thing to behold. Notice the spurs on his cowboy boots. His band utilizes the aesthetics of trash and randomness to create something totally mutant and original. John Waters would be proud. If you're at the point of exploring music where the only thing that moves you is weirdness then Kirin may be the end of the line for you because it gets no weirder.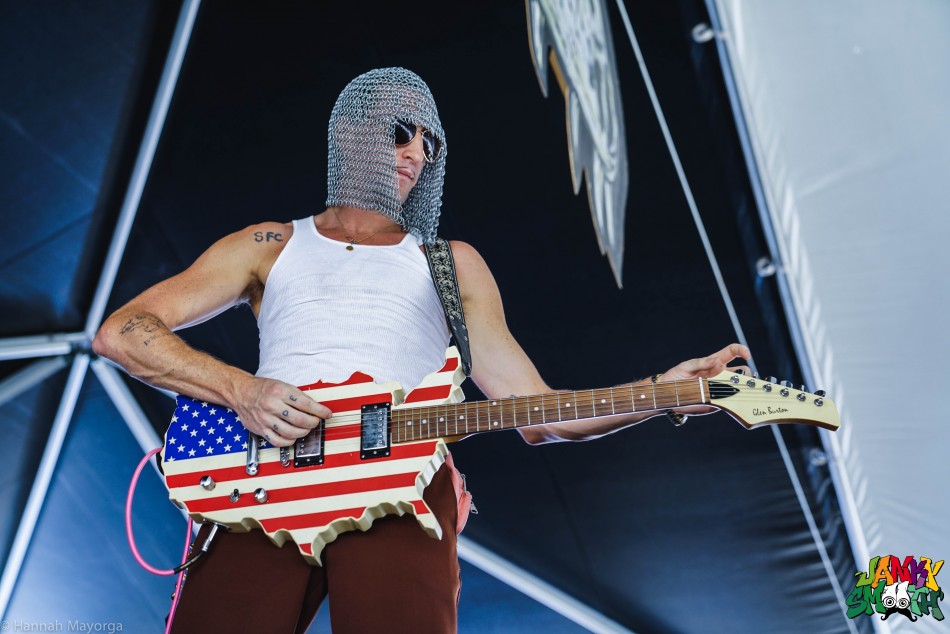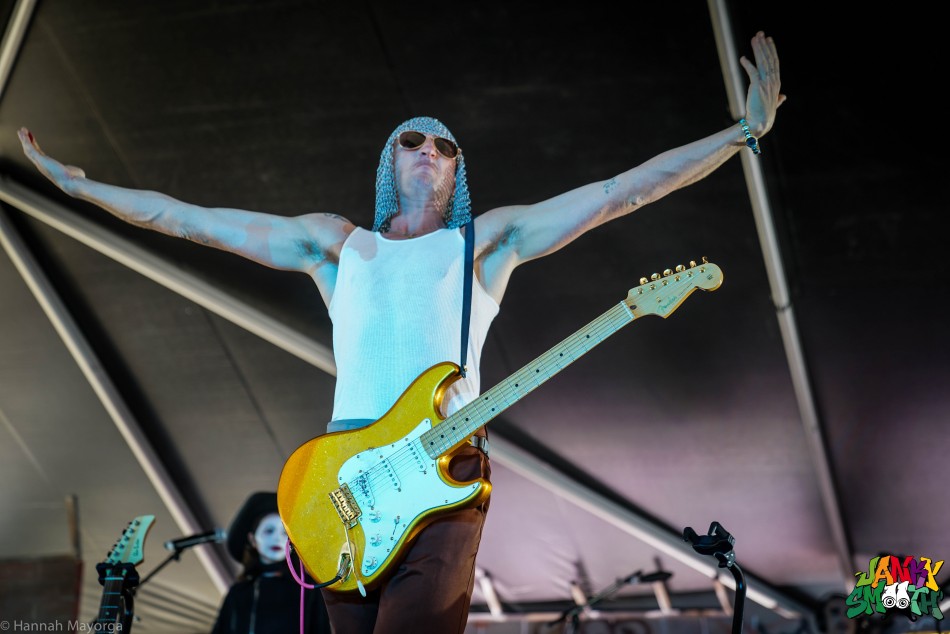 Gwar truly disappointed me. As a metalhead that had waited until after the passing of founder Dave Brockie to finally see them, I disappointed myself, but nonetheless the band's shtick felt predictable and lackluster and their songs weren't as metallic and brutal as I had hoped. They were more crowd-pleasing than shocking. The kids went crazy though and by the end of set, after Donald Trump's disembowelment, his blood had sprayed all over them and they were completely covered in an orange-red Marinara sauce-looking liquid.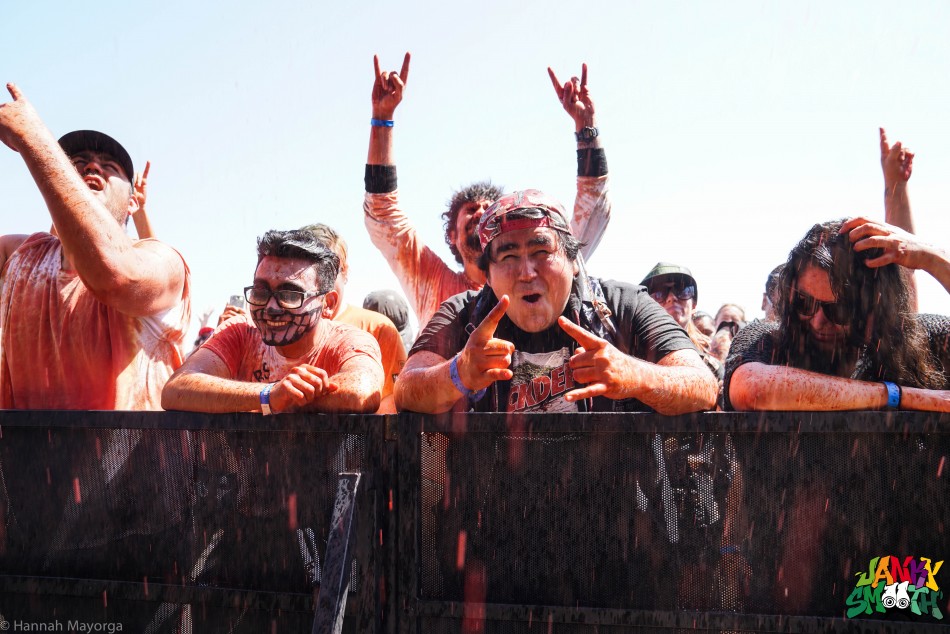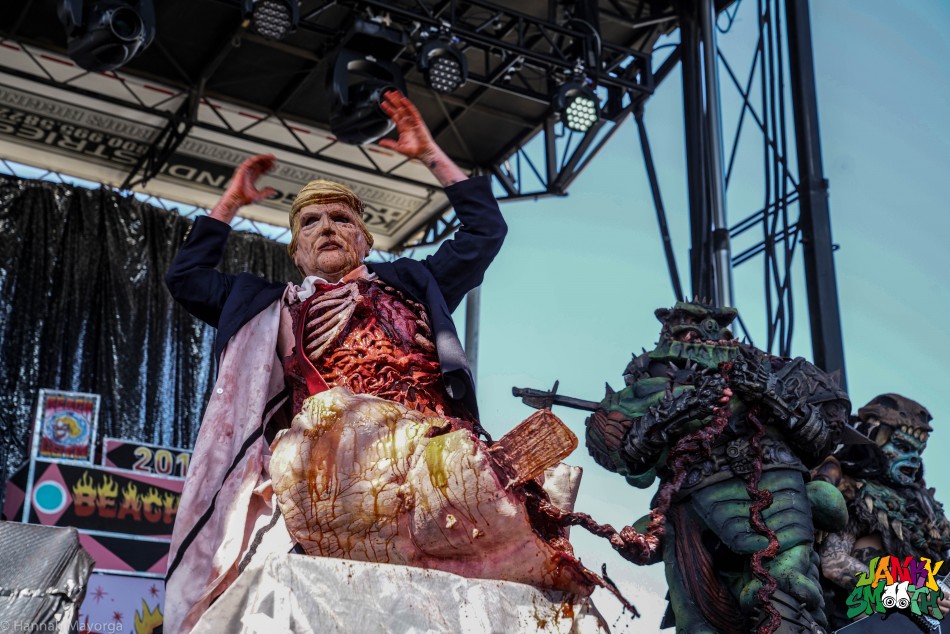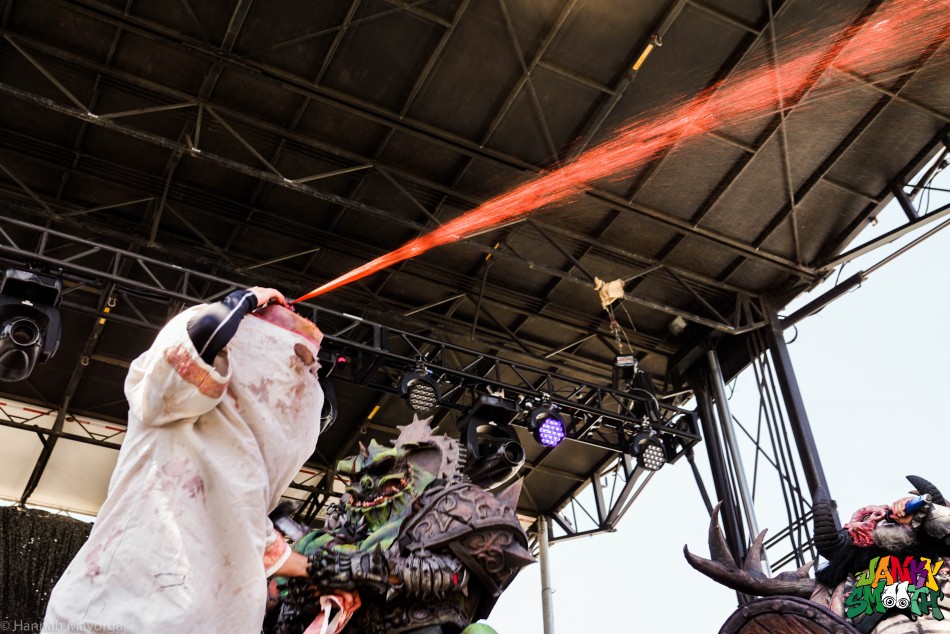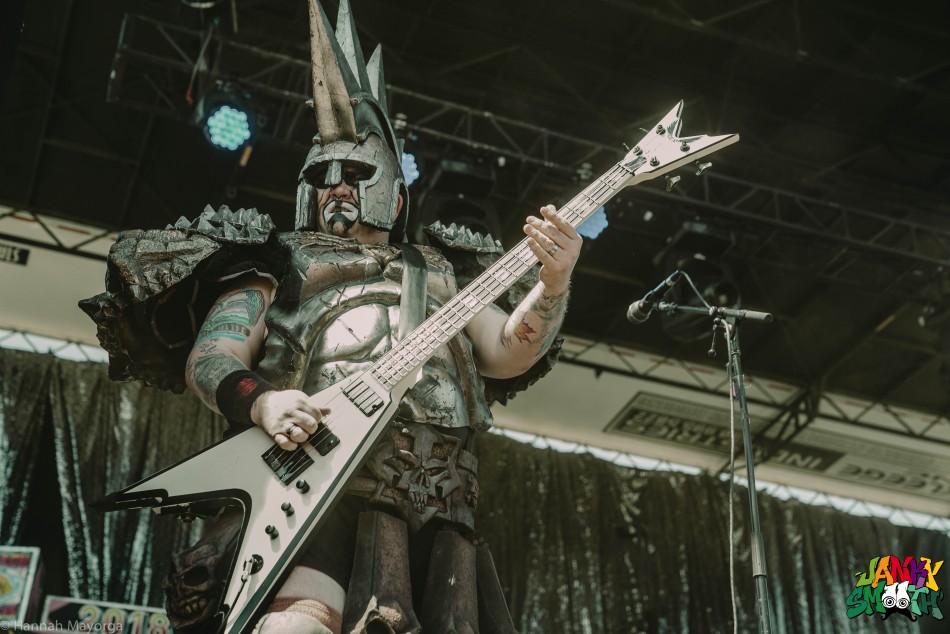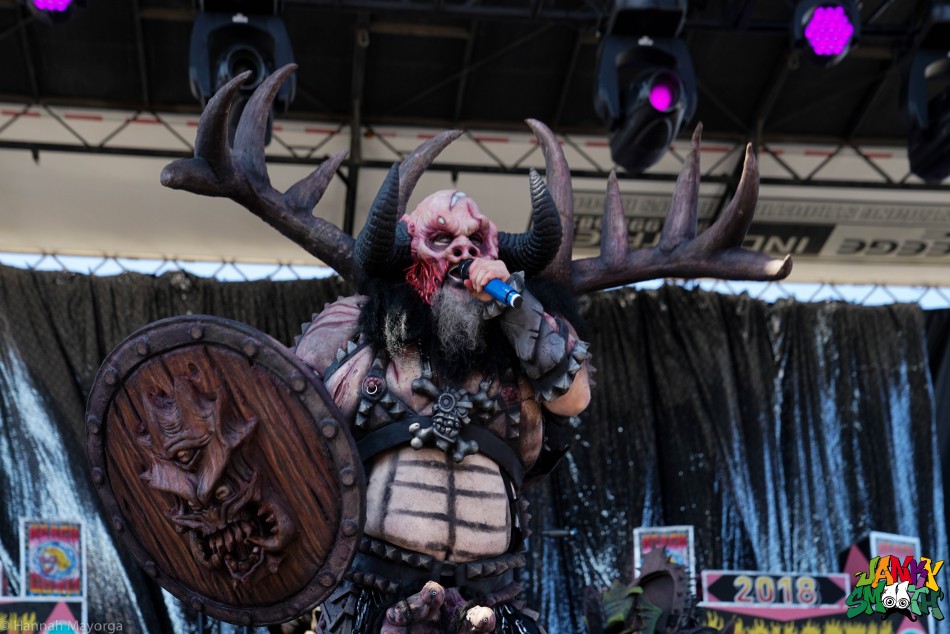 I opted to check out La Luz instead of Gwar, who played a chilled-out variation of surf rock that had me floating in the thin and humid air. They came on stage dressed as Furies from The Warriors and though their appearance made it look like they were ready to fight, their sound was undeniably ready to love. Soft and flowery, they tamed the metalhead in me for at least a moment.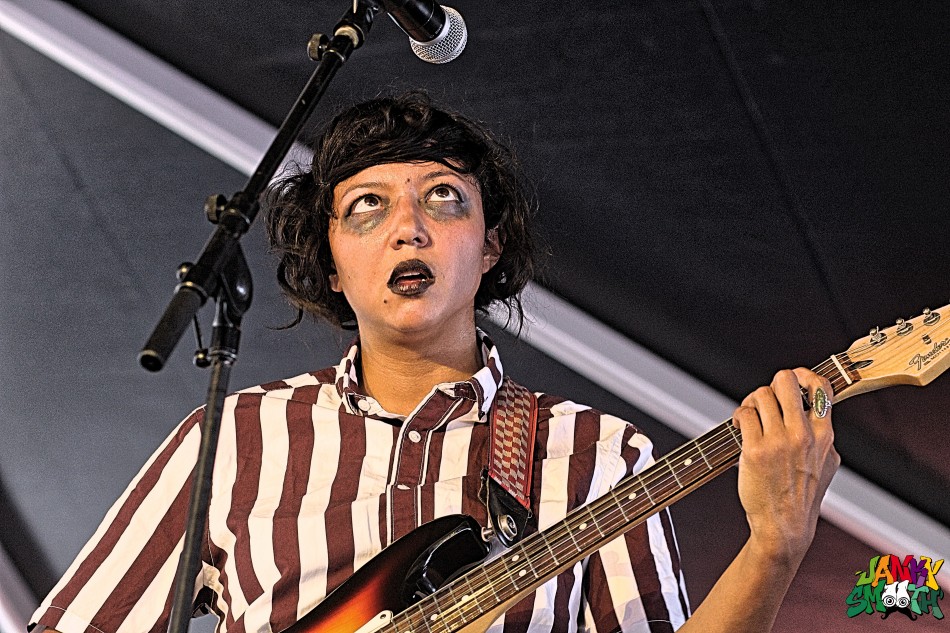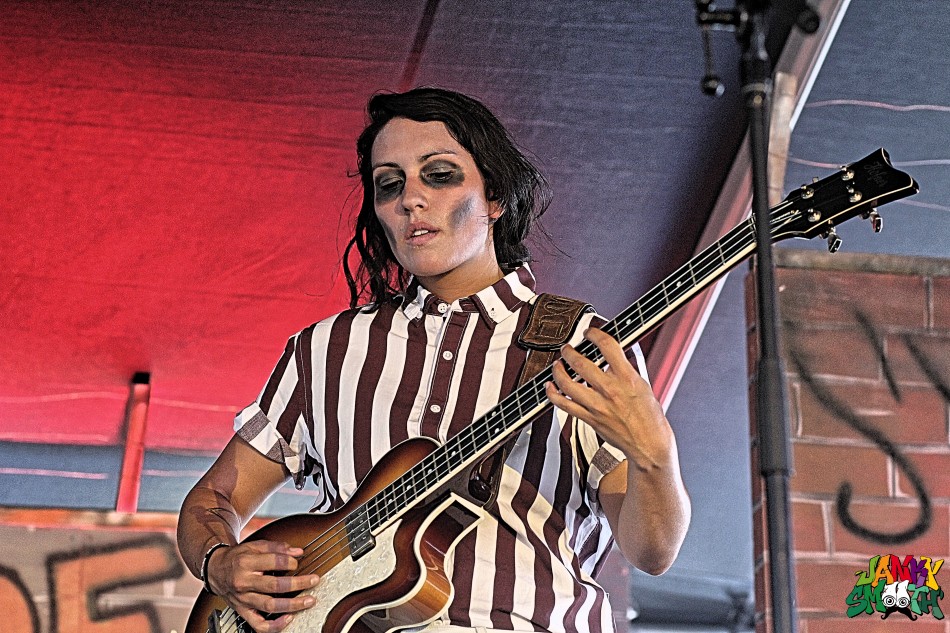 Youth of Today were more or less the reason I attended and they lived up to every expectation and dream I had. Prior to this show, I had seen John Porcelly's two other band's Shelter and Judge, so this would complete the trifecta. Ray Kappo gave his usually excellent and enlightening sermon as preacher/singer while Walter Schreifels from Quicksand and Gorilla Biscuits, put everything out on the line performing bass. Every member was covered in sweat trying to impress this new generation of kids who were probably unfamiliar with the band's iconic legacy. They didn't have to tell us though, about their legacy as one of the most important New York hardcore bands, we could tell after seeing them, they must've been something.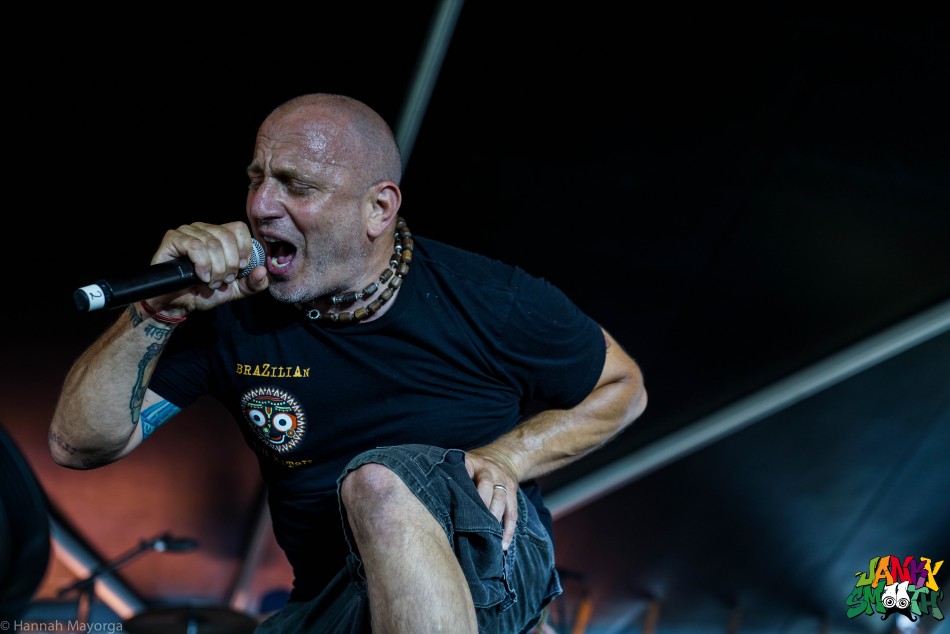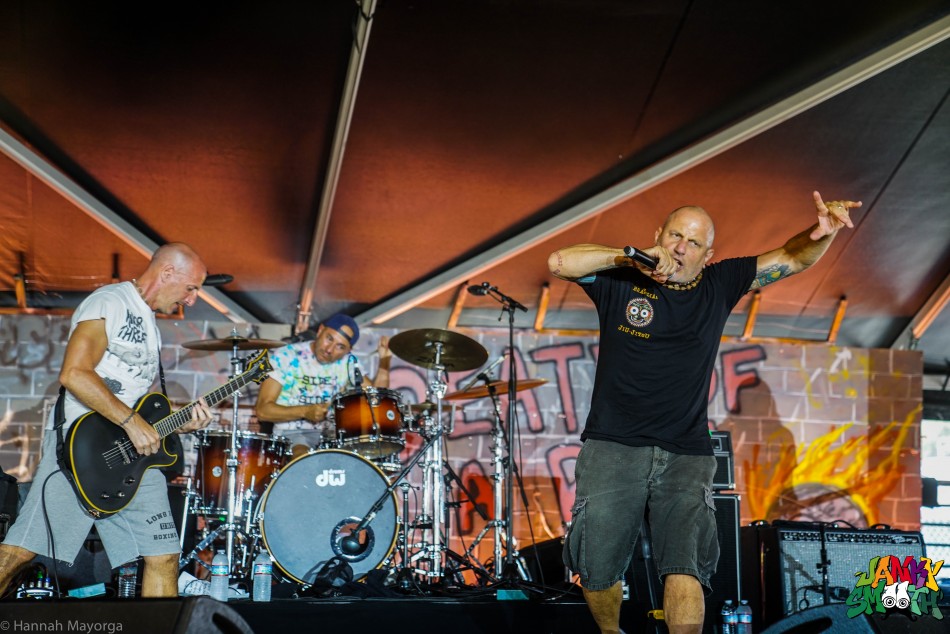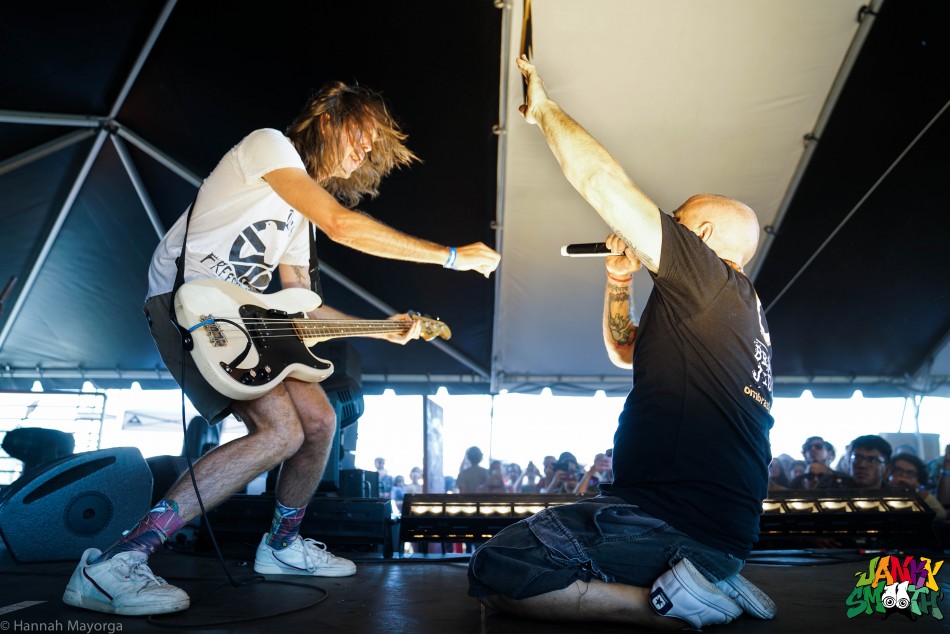 Doug E. Fresh had to be the biggest stinker of the day. He spent most of his set hyping the crowd up like a DJ would while the songs of other artists played in the background. From Bon Jovi to Bob Marley, we heard everyone's songs but Doug E's. He let his sons perform trap music which the crowd embraced but didn't respond to. He performed one, maybe two songs of his own but by then he had lost us. He could've at least beat boxed. His name brought a certain amount of credibility and diversity to the lineup that he simply didn't deliver onstage.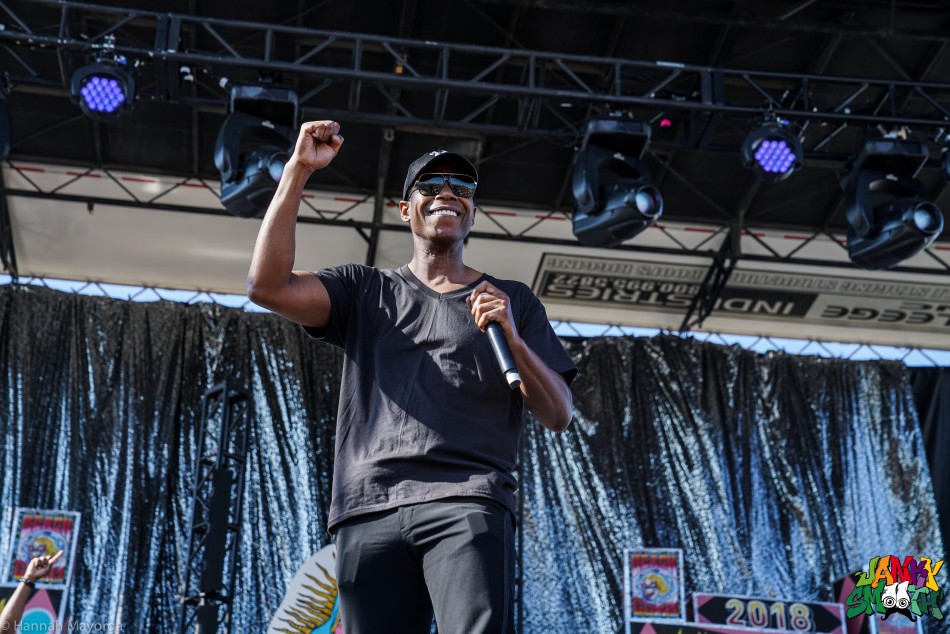 I came in expecting to hate The Drums and left thinking they were one of the standout performers of the day. They felt like a Sound and Fury band to me actually, the kind they'd book to fill up the relief set. It was cool, it was tranquilizing, it was meditative, but it also gives you this levity and feeling that even the bad things in life are chill. They're a band I'd like to see again on a stage all their own.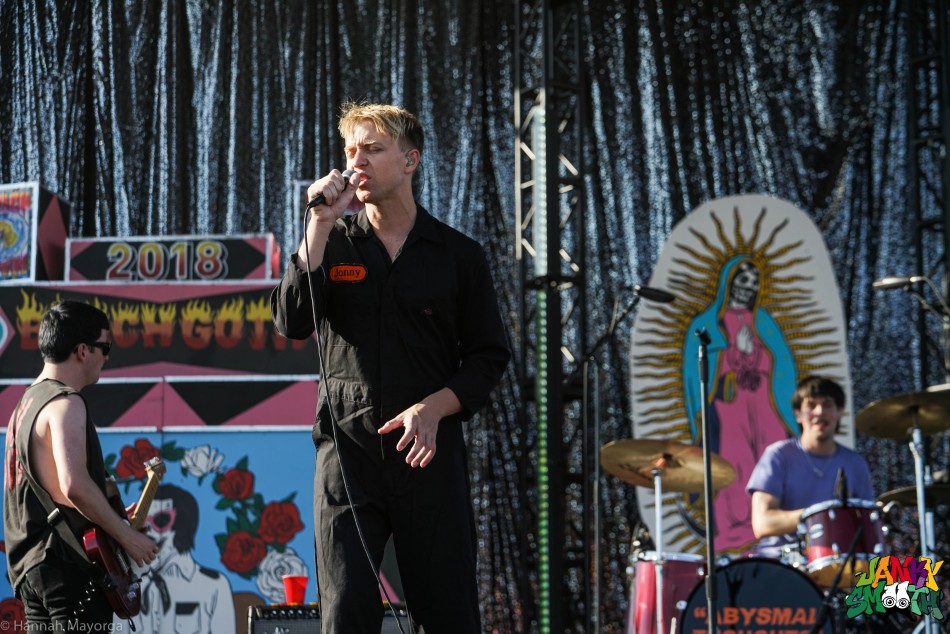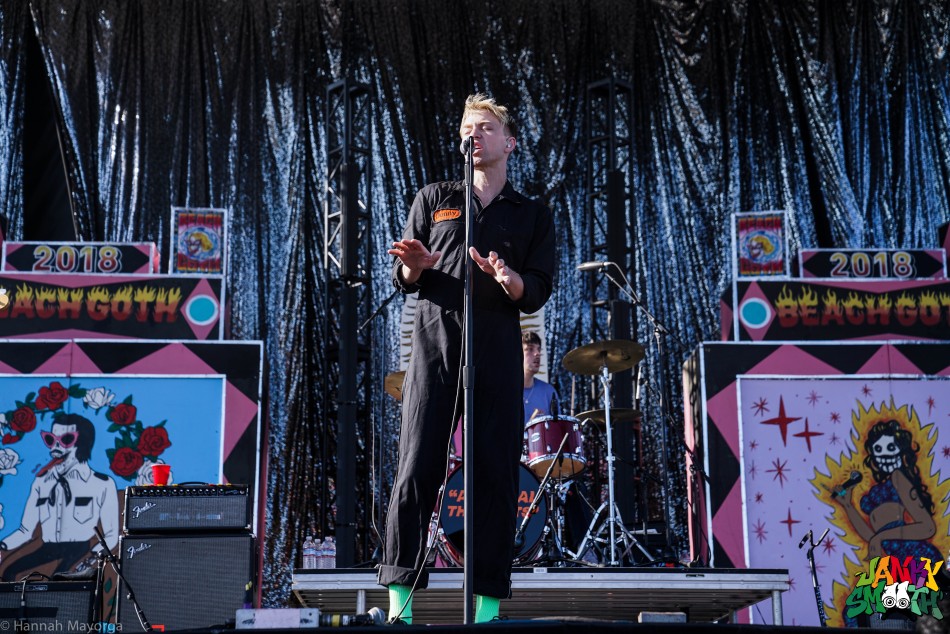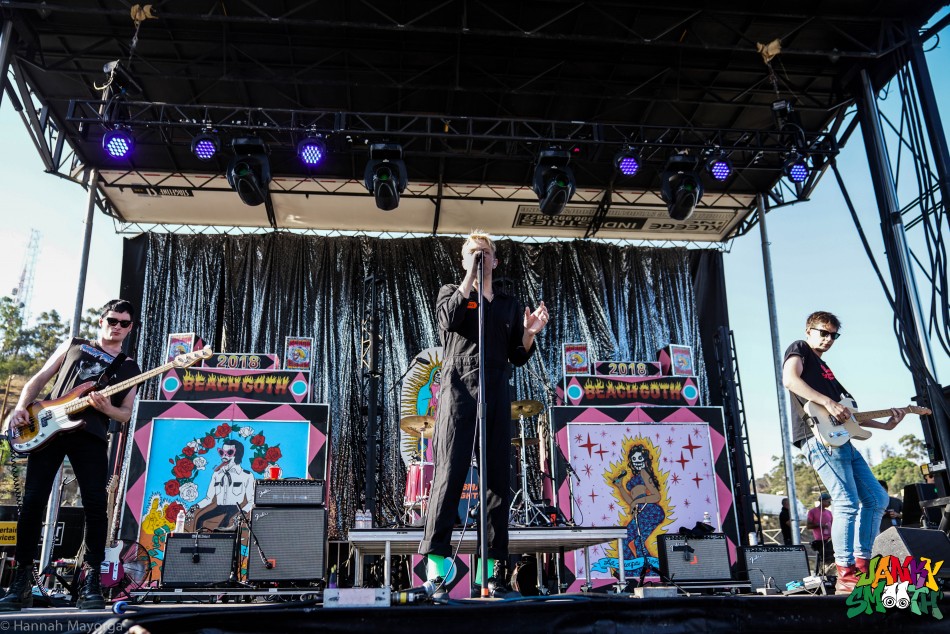 At this point, everybody knows Starcrawler will one day be bigger than any other band on this lineup. I remember Brody from the Distillers calling Arrow De Wilde the new Iggy Pop. Which is a stretch if you ask me but I can certainly understand the sentiment. While the band jammed out, every individual member shinning in their own unique way, Arrow walked on stage in a hospital gown, playing the role of some girl that escaped from a mental institution. This "Chicken Woman" flew over the cuckoo's nest and landed on the "Death of a Rat" stage to shock us all out of complacency with her crazed antics and punk icon to be abilities. With a strong threshold for pain and embarrassment, she played the fool and gave us all a lesson in becoming someone else.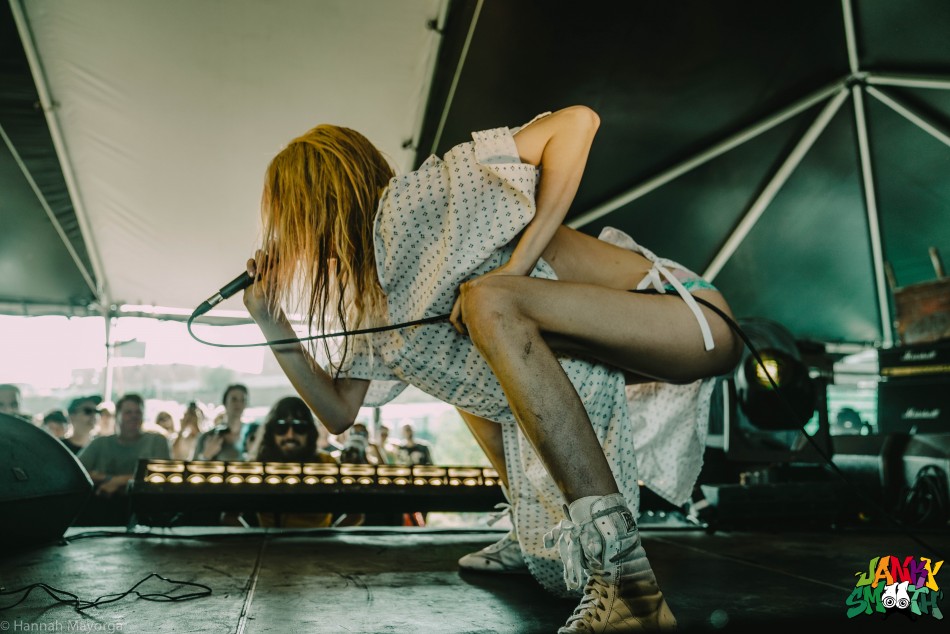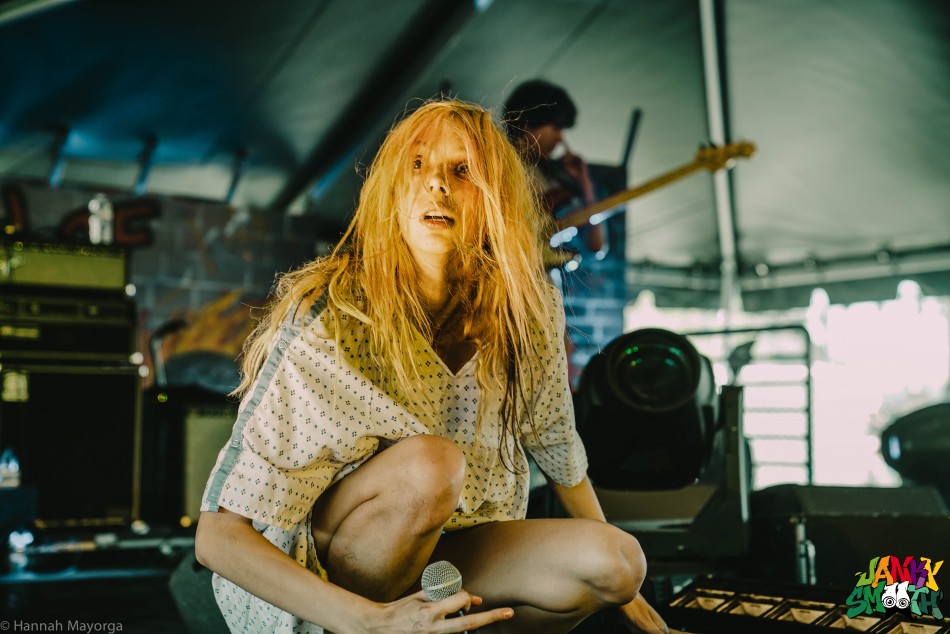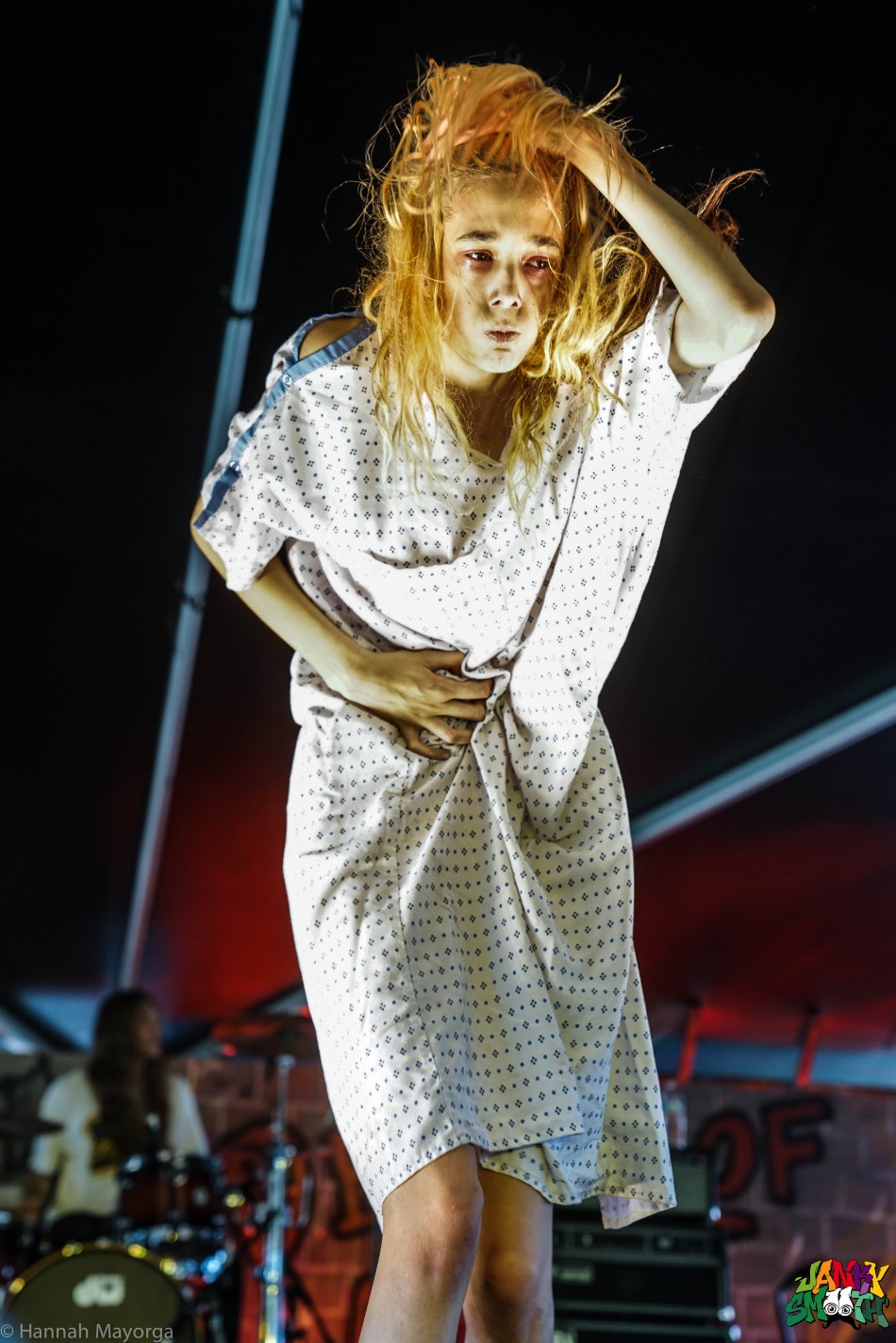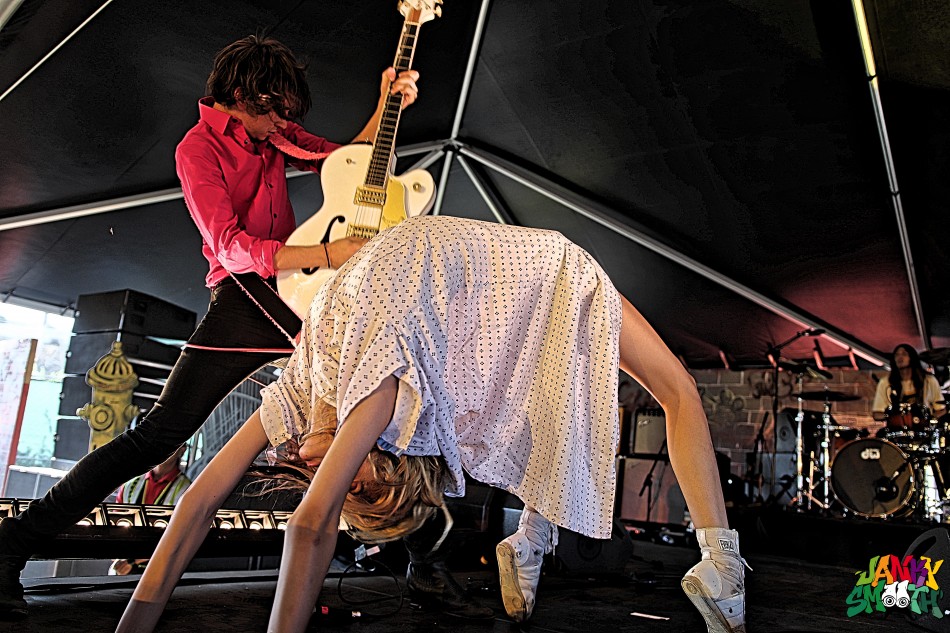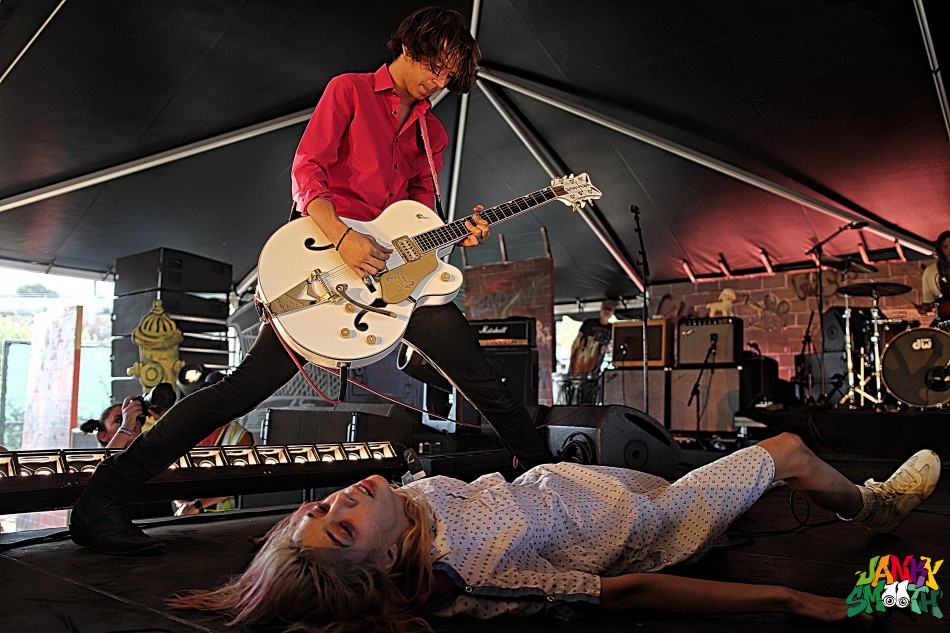 The Voidz don't do it for me. I see it as nothing more than Julian Casablancas worship. A cult of personality all his own, disguised as a fanbase for this new band. The music doesn't feel original or special and neither does the atmosphere the band generates. Their guitarist, Beardo, has interesting charisma, more than Casablancas I feel but even that wasn't enough for me to enjoy the show and stay put. I had a better time meandering around the festival grounds pretending to want to buy something until I made my way back to "Death of a Rat", where Club Scum was entertaining us stragglers with a drag show. These performers went all out with their costumes and dancing, showing us why Club Scum is the greatest drag club for people of color and beyond.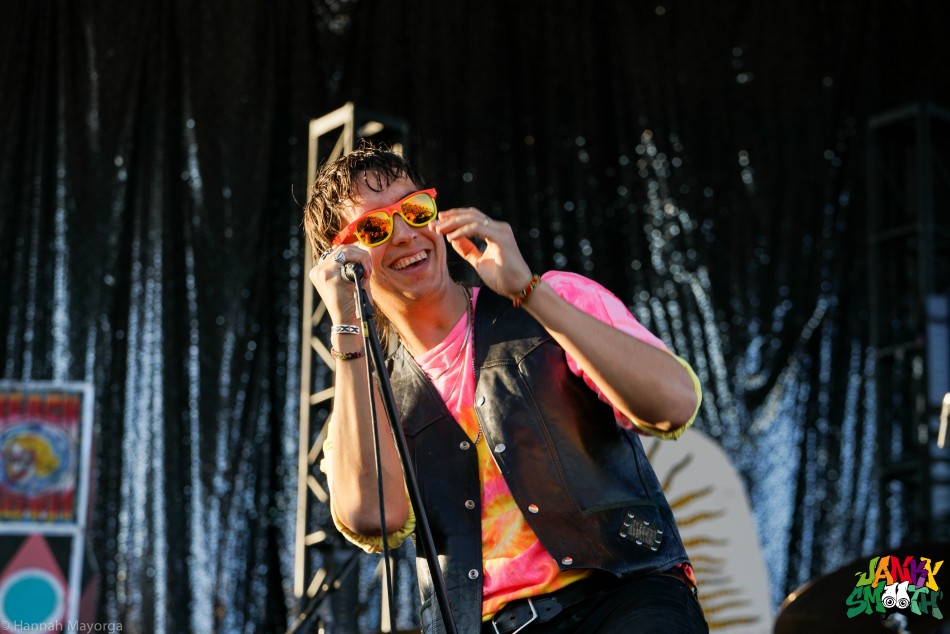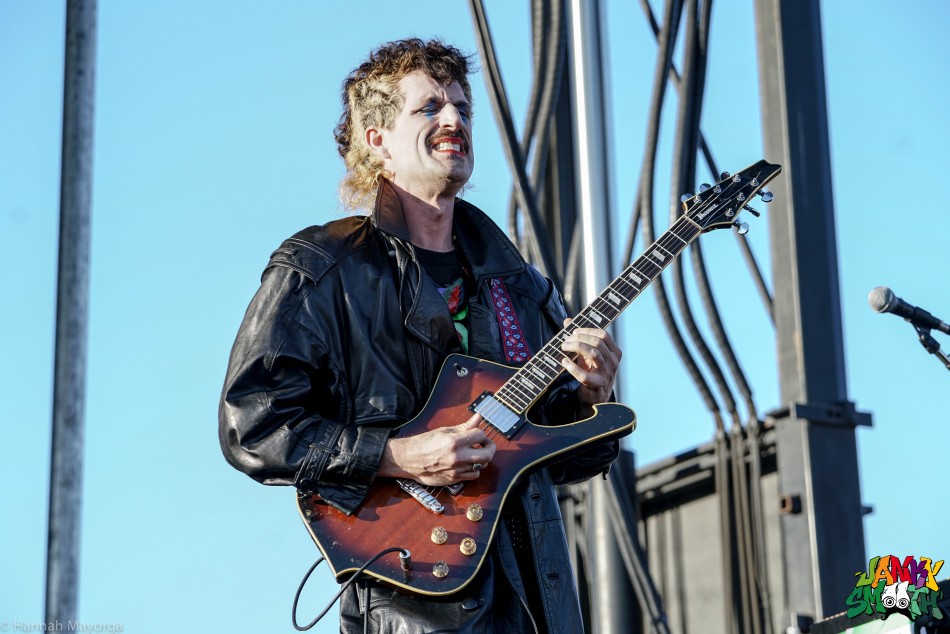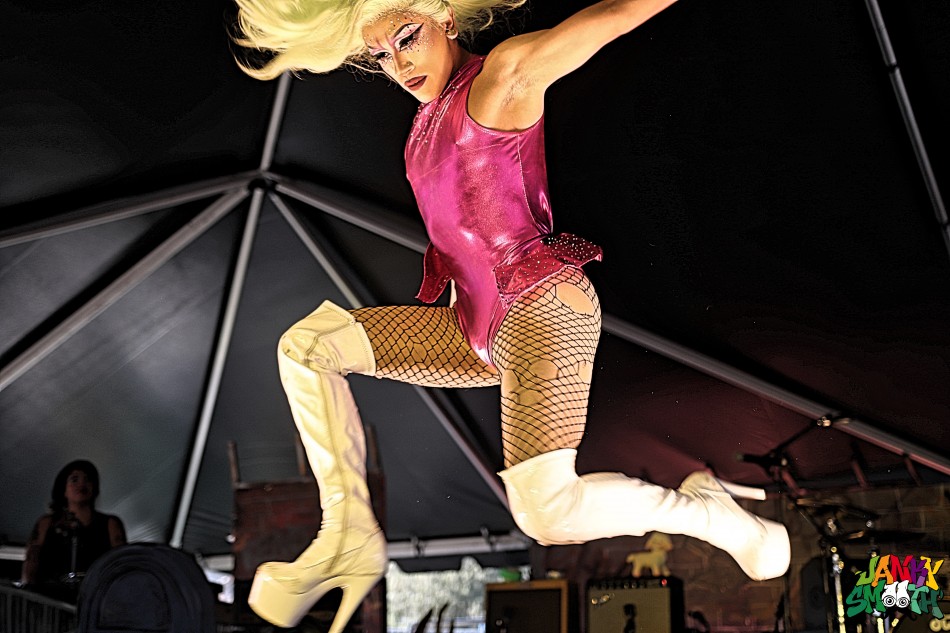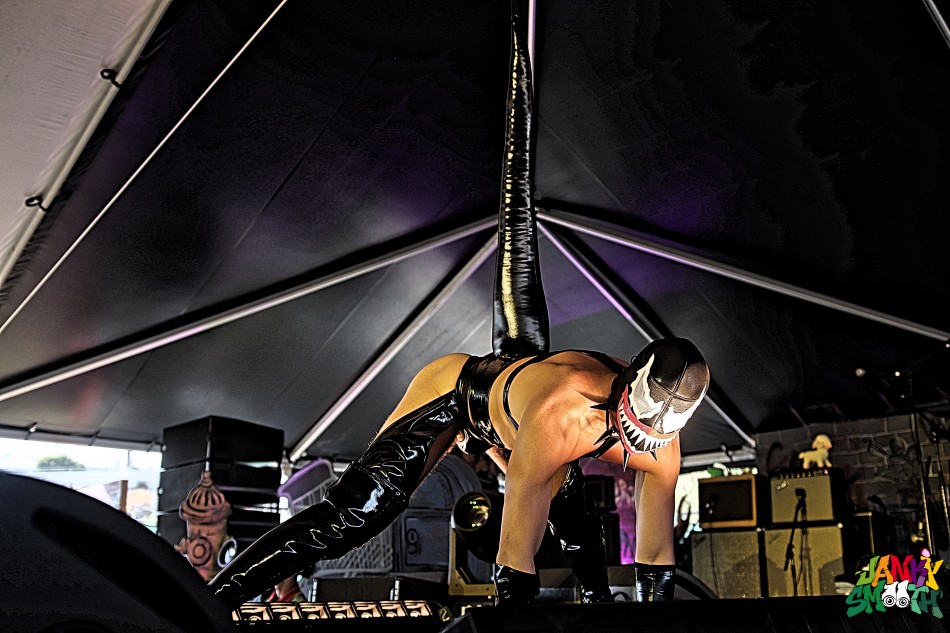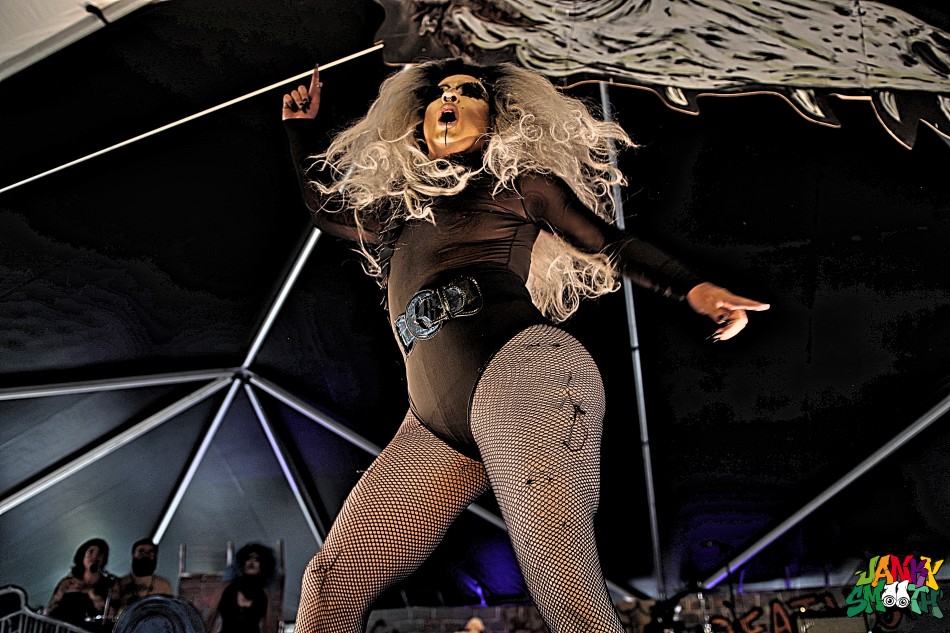 Seeing Bleached as the Ramones was sure to remedy me of the previous disappointments and lackluster performances of the day. They all came out in the iconic dress and wigs necessary to play the Ramones, jet black bowl cuts and torn blue jeans. Hearing Ramones songs live did my punk heart well, even if the band didn't bring their own element or extra punch to the songs, the covers had the crowd going wild and that's all we could ask for. Joey's energy as a frontman can never be replicated, he had an aura. Perhaps years of method acting could've given someone the same vibe as Joey on stage but I guess for a short set, the band did what they could.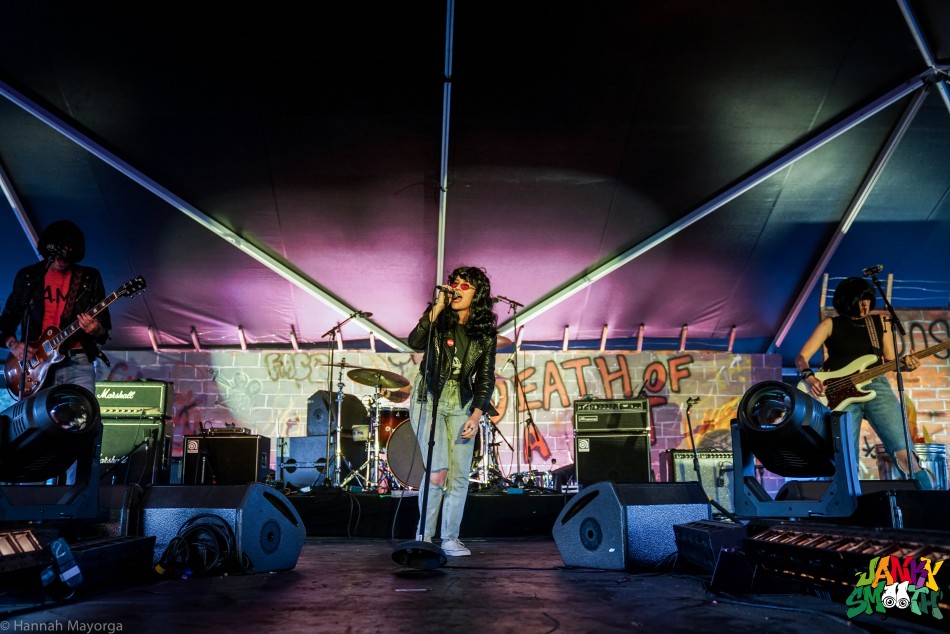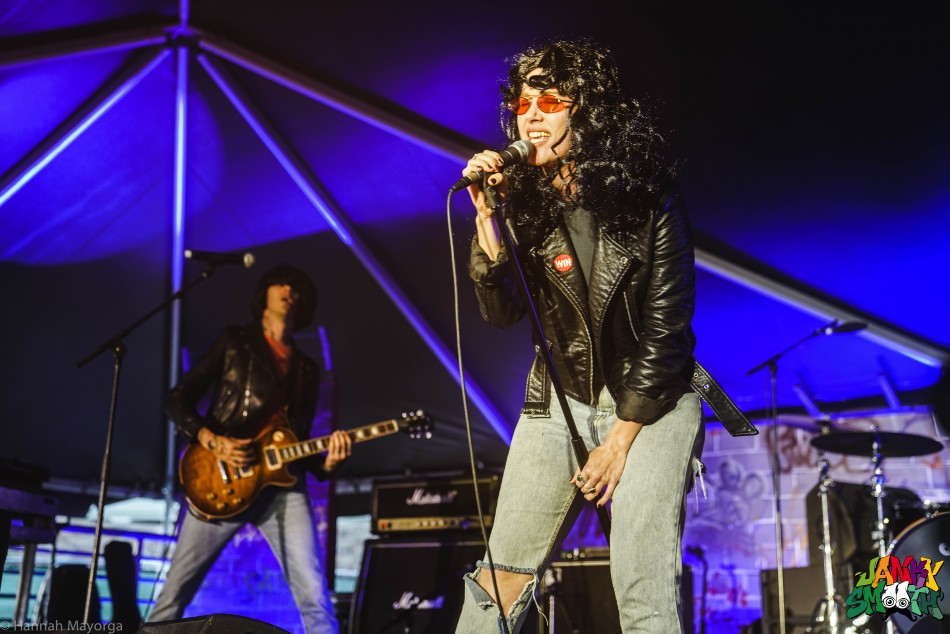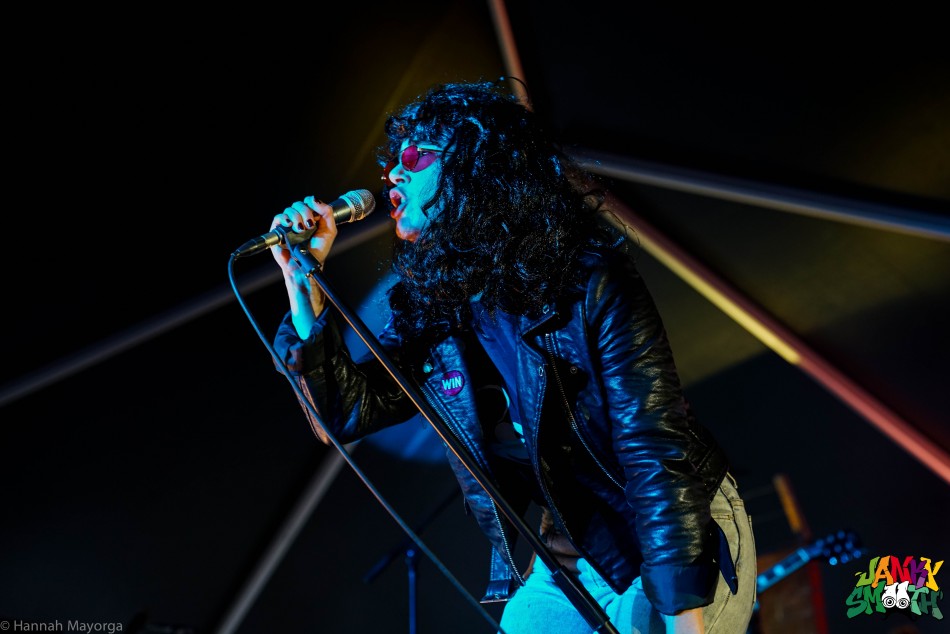 Don't let my harsh criticism give you the impression that I wasn't enjoying myself or that the festival was a failure, on the contrary the highs were much higher than the lows were low, I shrugged the bad performances off and found ways to entertain myself everywhere I looked, which is really unique to Beach Goth.
I adore Jonathan Richman. The energy of The Modern Lovers is alchemy no one can remaster. It never sounded so cool not to give a fuck. With Tommy Larkins on drums, I don't think I've ever seen a more potent and infectious display of apathy and strangeness as this duo when performing their macabre and curious hymnals. Having spent a lot of time seeing the twisted souls of the Los Angeles public transportation system, Richman's set made me feel nostalgic for all the crazies I had met in those escapades. They played a short set, really only distracting the crowd as the Growlers set up their equipment, then once introduced the Growlers, the audience erupted and rushed the stage until there was no where to go but stand in adoration of the night's heroes, the champion's of Castle Beach Goth, The Mutha Fuckin' Growlers.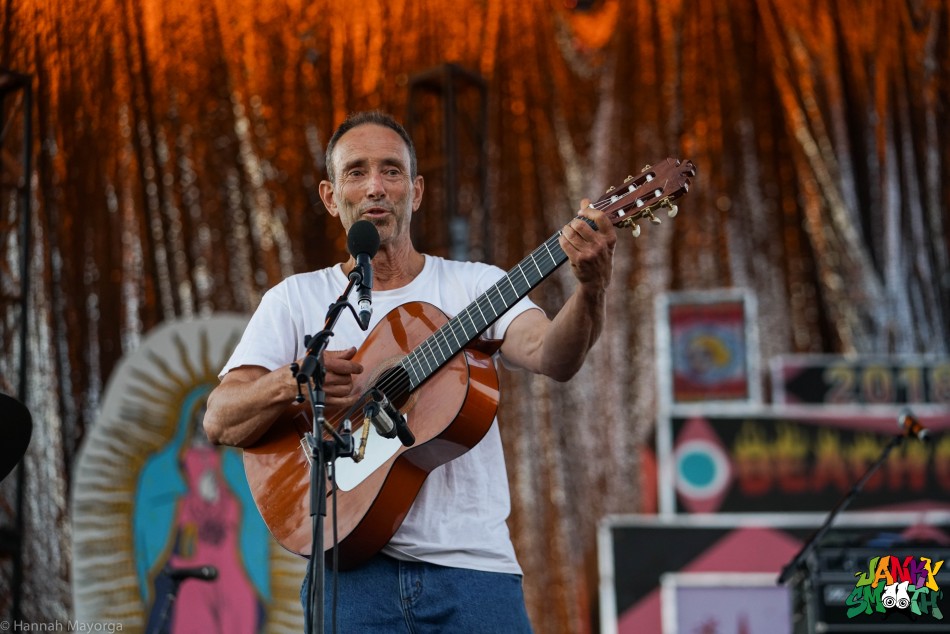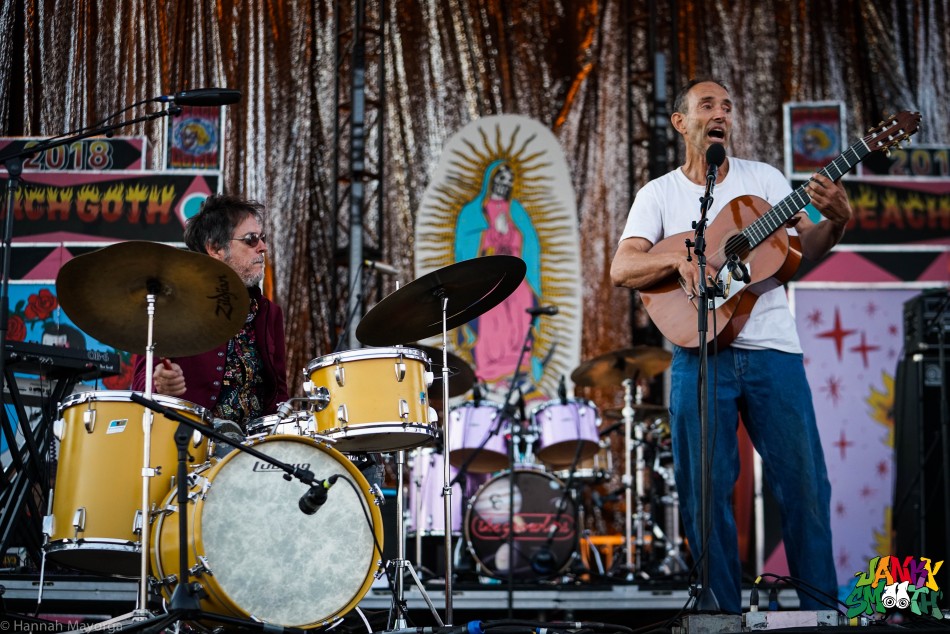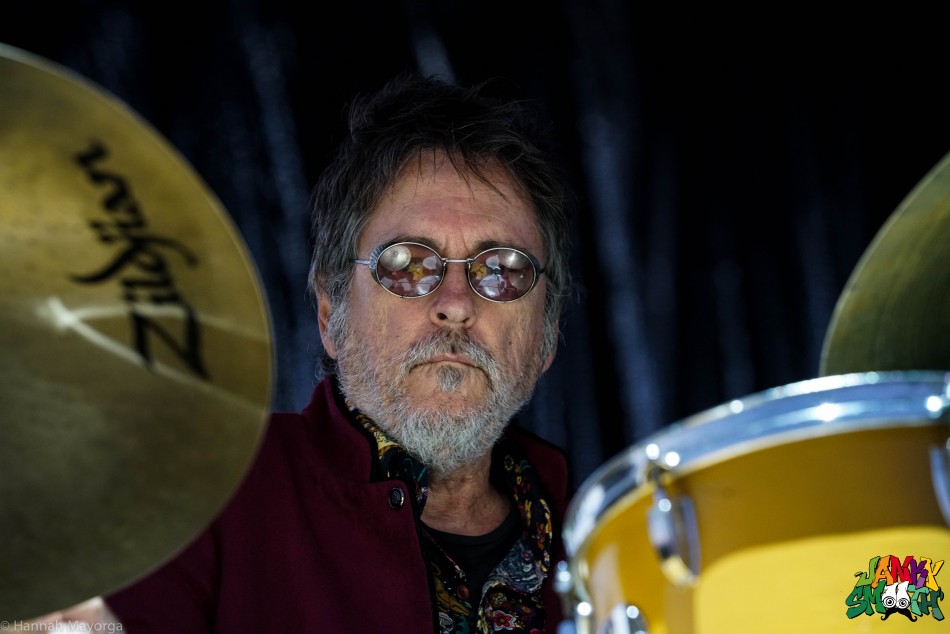 Like I said, I am not a fan. Then again, I'm thirty-one, so what do I truly know about The Growlers. Their fans, most of which were in their twenties, looked at the band, hypnotized and in pure love. The sound, which sort of blends reggae and goth, is best described as Beach Goth. It doesn't quite touch my rhythmic nerve or bone but the more I listened, the more I appreciated it. I didn't leave with a new band to play in the car, but I did leave with a new appreciation for The Growlers as a band.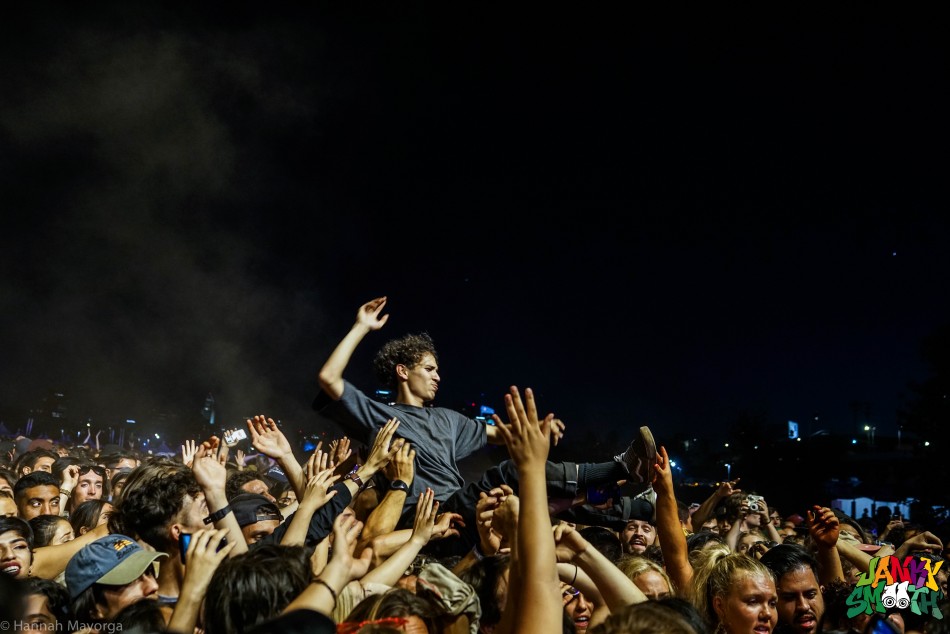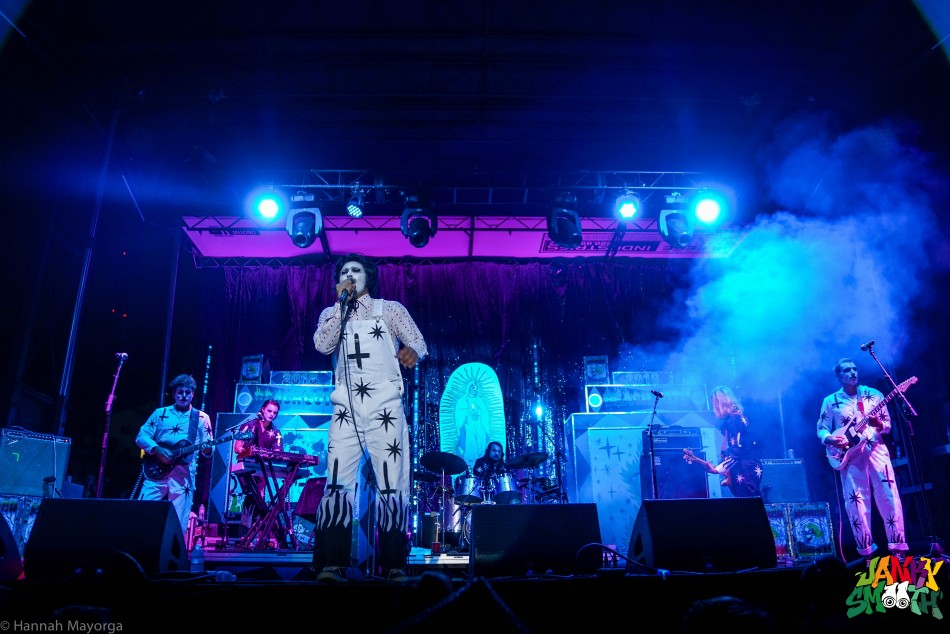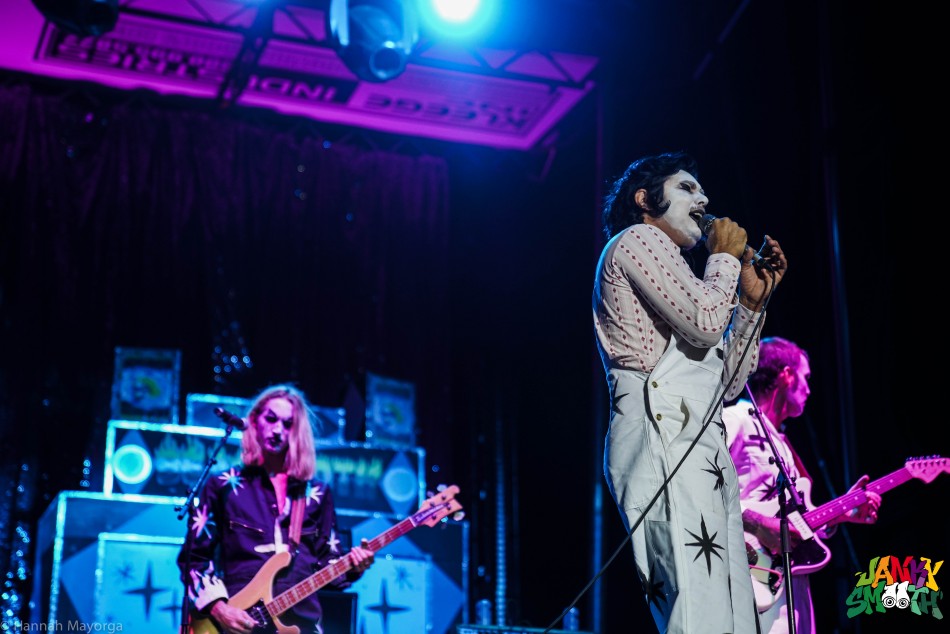 The Growlers have backbone. They have guts. They have vision. Ambition. They have their own genre. And damn it, The Growlers have Beach Goth… now and forever.
Words by: Rob Shepyer
Photos by: Hannah Mayorga and Alyson Camus