Runaway Fest: Double Reviewed & Fiercely Photographed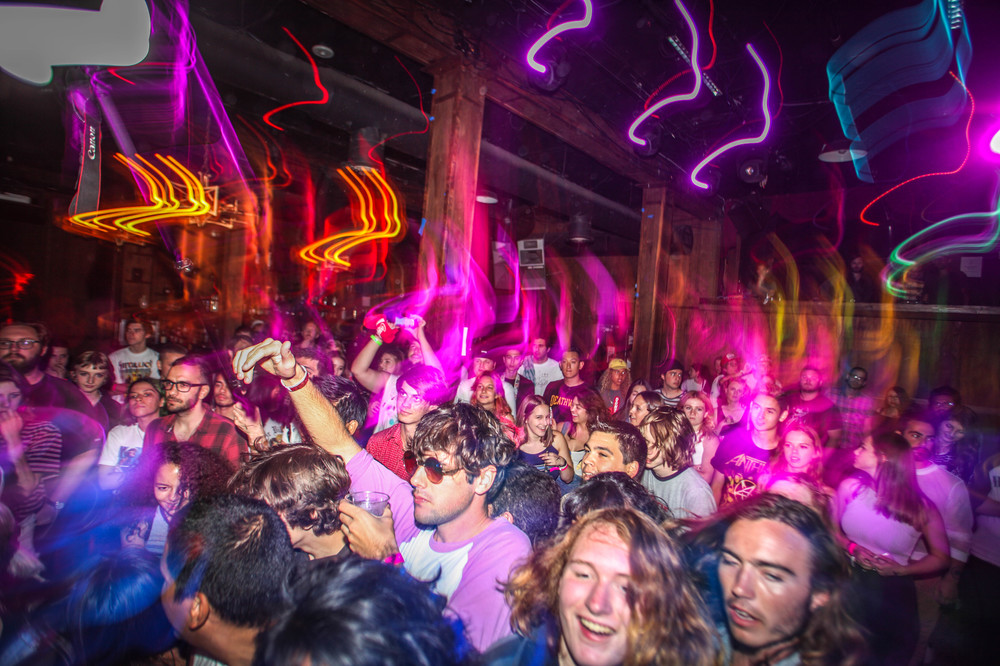 Runaway Fest Review 1: Paige Vreede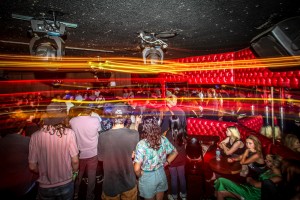 When I was 18 years old I thought I was cool drinking cheap vodka out of a plastic bottle at a friends house whose parents were out of town. However, the dudes at Danger Collective Records are actually the epitome of "cool kids." This past weekend I faced a sad reality upon realizing I have now become "old as fuck," among the new emerging music scene stemming from teenagers in Los Angeles. In collaboration with Michael Morin of &? Productions, Danger Collective hosted Runaway 2015. Even after being plagued with a last minute venue change at Los Globos, this group of High schoolers presented a show with over 35 acts including some of L.A.'s most impressive bands.
Though I saw more "Xs'" on hands here than I would have at a vegan hardcore show; half a personal pizza and 17 shots of tequila later, I felt cool enough to hang with the kiddos. As I sat in a corner completely exhausted, I felt a very confrontational moment of "you look like a fucking chaperone" and realized, given the contagiously rousing environment, I needed to get my ass up.
While there were many noteworthy acts that were among the 35-band lineup, there were a few performances that were particularly remarkable.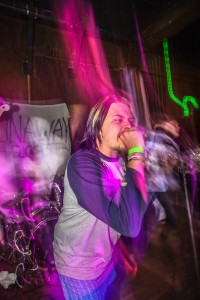 No parents should have played a later slot given their incredible performance skills and dedicated following. However, after catching up with guitarist, Ryan, it was made evident that their set time was only due to the fact that they had to rapidly excuse themselves to mission to San Diego for a show they were playing later in the evening. Death Hymn Number 9 upped the ante when chairs were thrown whilst singer, Paul Gonzalez ran on and off the stage. A chaotic structure then ensued and Kim House of Kim and the Created made herself the center of all of the pandemonium. At the same time Death Hymn Number 9 was playing, I found myself gravitating more towards Surf Curse, who in my humble opinion, were one of the best acts of the day. Though, there were a few technical difficulties during The Lovely Bad Things, the exorbitant amount of talent dominated any technical impediments. I may have even developed a slight girl crush on guitarist, Lauren Curtius as she rocked the fuck out, regardless of how shitty the sound was. Shameless circle pits arose as Toys That Kill performed; and while their infectious and exuberant performance was impeccable, the grandma in me was looking for something a bit more relaxed. Part Time was most definitely a tranquil change to the chaos that was occurring elsewhere. In a state of delirium (who knew drinking for more than four hours is straining on the human body) all that seemed to appeal at that point, was some tasty lo-fi tunes. The vivacious teenager in me then decided to make an appearance as I made my way back upstairs for Retox. Singer, Justin Pearson, performed a balancing act on the drum set while screaming into the microphone and shredding the Los Globos crowd while blast beats hit you in the face like a cold shower on a winter morning. Though Retox set the standards high for the main stage, The Garden subsequently delivered an impressive performance. Though I couldn't help but directly correlate them to their recent Yves Saint Laurent Runway appearance in Paris, it was incredibly interesting observing the two very eclectic twins spit out some of the punkest shit I've heard in a while. As a final act of the day, No Age took the stage. The sound for No Age was lackluster, but this was no fault of the performers. Regardless of the technical mishaps, they pulled thru an implausible performance like seasoned professionals. Dean Spunt, drummer and singer, was exceptionally sharp, and created an impressionable ending to a great day of phenomenal talent.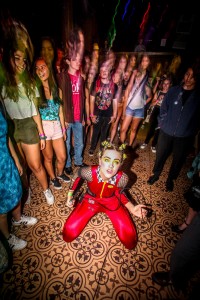 Also, shout out to the talented DJs that governed the music in between sets; because Mariah Carey dance parties that emerge while bands are setting up is always a good idea.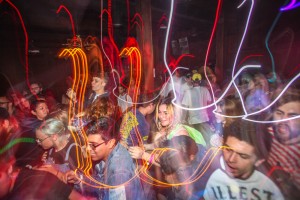 Other than feeling like I was going to fall to my death with the inordinate amount of vertical sets of stairs I had to battle in efforts to catch multiple bands; it was overall a fantastic day, set up by an admirable group of youngins'. While I am slightly jealous I was never as cool when I was 18 years old; I am extremely excited to see what else this young and motivated group of individuals have to present to us in the future.
Photos: Julien Kelly-Gross
Runaway Fest Review 2: Hanna J.
Los Angeles is going crazy for festivals right now. From Coachella to FYF, and Burgerama to Lolipalooza, it's clear what the people want. Tons of bands, all under one roof, curated by our favorite tastemakers, all for one low price – an avid concert goer could ask for nothing more. On the flipside, festival runners are now left with the daunting question of how to make their festival stand out from the rest.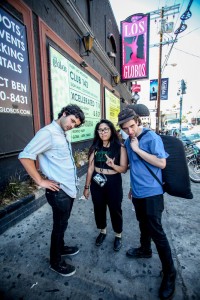 Danger Collective Records, alongside &? Productions, who are no strangers to music festivals and shows alike, didn't shy away from the challenge. With experience on their side (Danger Collective Records put on their very first festival, Insidelands, at the very same venue just last year), the young artist-run label pulled every resource available to ensure an excitement packed Runaway, with no shortage of music to see.
Runaway 2015 kicked off bright and early at Echo Park venue, Los Globos. Although it might seem like an odd place for a festival – with all four stages located inside, under low ceilings and chandeliers, surrounded by rough black walls and ever-present strobe lights – it surprisingly went off without a hitch. The outside area provided enough room for gallivanting youngsters to smoke and mingle, whilst also checking out the vendors and merchandise the festival had to offer. A particular highlight was Illegal Civilization, the skate crew and clothing designers most closely associated with Odd Future, who set up camp with a Nintendo 64 fully loaded with Super Smash Bros, alongside a plethora of awesome hats and shirts. Inside, stages were nestled close together, which made getting from one band to another a seamless experience, and also relegating the, "Damn, I missed my favorite band" cliché, to a thing of the past.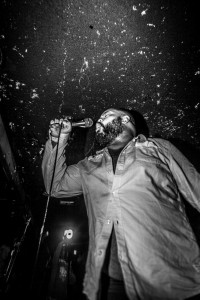 However, what made Runaway really stand out amongst the festival pack was the music it had to offer. While on one stage you had headlining idiosyncratic rappers Kool A.D., Antwon, and Blackie, just downstairs you had punk name stays No Age, The Garden, and Retox playing at the same time. Plausibly, these could have been two completely different shows going on. Yet, this is what made Runway so special. By putting those names under the same banner, cultures collided and audience members were exposed to acts they never would have seen before. I found myself gliding between genres all day, surprised that the common denominator amongst the acts was that they were all exceptionally talented at their respective fields.
Like all festivals though, Runaway has its standout performances. Unlike most one-day festivals however, the highlights came earlier in the day instead of the usual late-night headliner frenzy. Danger Collective's own Bobby T. & The Slackers, Slow Holllows, and Casinos, drew huge crowds early on, showcasing the label's young and rising L.A. talent. Sow Hollows, who are apart of the crew responsible for booking the festival, played an exceptionally tight set on the main stage. The four valley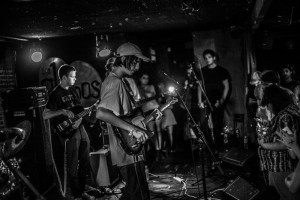 boys even had Tyler the Creator bopping his head throughout the whole set, who was trying to take pictures of the impressive crowd as they heaved and fell all around him. Downstairs, Kim and The Created played one of the most crowd engaging sets I've seen in a long time. Lead singer Kim House was fearless on stage, reminding me of Miley Cyrus if she completely lost it, decided her favorite band was Sabbath, and was angry about it. Vocally she held the band together, with rips, snarls and growls that brought to mind the vocal tendencies of Kathleen Hanna.
The festival peaked when Surf Curse took the stage. After taking an indefinite hiatus when both members moved to opposite sides of the country, the band played again together for the first time in six months. The prodigal sons had returned to Los Angeles, and you could see the excitement in their eyes as they sound checked their instruments. They even started five minutes early because they were so eager, but so was the audience, and they gobbled up both new songs and old, reveling in the fact that the boys were back in town.
Not only was Runaway a testament to what a bunch of kids can do with their spare time, it set a standard for DIY festivals in Los Angeles. With little funding, resources, and time, Runaway turned out to be one of the more surprising hits of the summer festival slew. With a line-up oddly comparable to the first year of FYF, it'd be no surprise if the festival continued to grow into something bigger and better in the years to come.
Photos: Julien Kelly-Gross