FIDLAR Put Razor Blades In My Candy At The Regent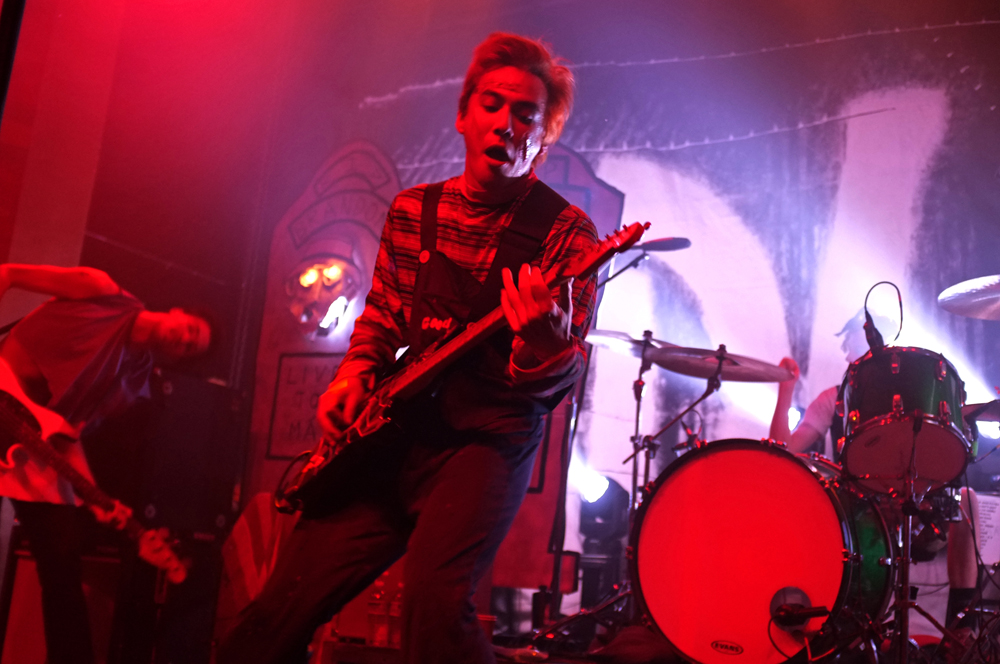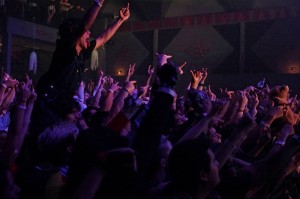 If you didn't celebrate your Halloween at The Regent Theater, you pretty much fucked up. Big time. FIDLAR, Dune Rats, and Mind Meld satisfied our ears and exorcised our afflictions with their garage-punk and party sound. It being the last show of their US tour, one could expect nothing less than chaos.
Upon entering the venue dressed as a ghost, it was to my surprise that nobody else was dressed up. I figured "fuck it dog life's a risk" and rocked that shit anyway. Halloween décor adorned the walls and the vibe of the room was that of a wild house party. The sold out audience mostly consisted of crowd-surfing and head-banging youths who were drenched in sweat and beer.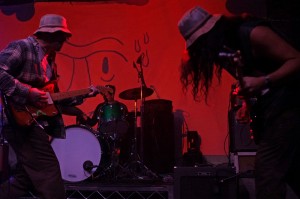 To begin the evening, psychedelic surf rockers, and LA natives, Mind Meld took the stage. Due to some Uber complications, I was unable to see them and was highly disappointed as they are most definitely up-and-coming in LA's music scene. There is no doubt that they will be headlining their own shows soon, and I look forward to seeing the talented quartet then.
Hailing from Brisbane, Australia, quintessential stoner dudes, Dune Rats took the stage next.  As someone who used to live in Brisbane, I was overjoyed with the familiar sound of "Oi cunts" as guitarist and vocalist, Danny Beusa, dressed as the joker, so sweetly addressed the audience. Immediately into their set, the music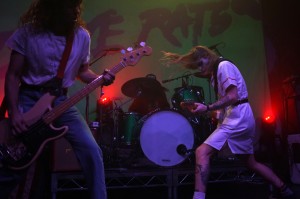 possessed fans as bodies started moving and beer cups skyrocketed up (because one would clearly have to be possessed to waste a full cup of beer). With chants such as "We'll never like you cause you're insane", their insouciant lyrics assist you in ridding any and all fucks to give. Towards the end of their set, the boys upped the ante with a cover of Violent Femmes's "Blister in the sun" and the party vibe was in full effect. Dune Rats are the five shots of whiskey you want before embarking on a bender– they know how to get the party started and they certainly prepare you for whatever wild shit is to come –a definite pre-requisite with FIDLAR up next.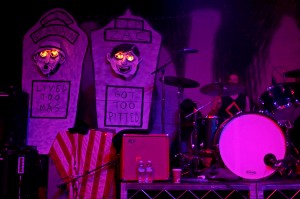 In an already rowdy atmosphere, a highly anticipatory crowd went wild when Chucky, Gene the cook, Quail Man and a priest took the stage, sandwiched between two R. Kelly mannequins. With the recent September 4th release of their sophomore album, Too, FIDLAR's set list included both new and old songs. Old gems such as "Cheap Beer" created an anthemic chant of "I! Drink! Cheap! Beer! So! What! Fuck! You!" while their new song "40oz On Repeat" had the audience singing in unison " Because everybody's got somebody, everybody but me. Why can't anybody just tell me that I'm somebody's?" Another sing-along that made an appearance was a cover of Elvis's "Devil in Disguise". Only FIDLAR could cause a pit to ensue during a song by the king of rock and roll. Closing up the set, vocalist and guitarist, Zac Carper asked everyone to sit on the floor. At this point, everyone who was backstage came out and sat alongside the musical maestros, knowing exactly what was to come. As the instrumentation of "Cocaine" ramped up, a sonic tidal wave took over the floor 00:35 seconds in. Fans burst upwards for one last hoorah. Their anthemesq music hits you with an urgency to cavort in a seemingly effortless manner. Toilet paper and confetti was thrown from the stage, as the environment became increasingly hectic. Being onstage and looking out at a crowd that was pitting, crowd surfing, and shouting "Cocaine running round in my brain", whilst Dune Rat's drummer, BC Michaels, joined Max Kuehn on drums, was like experiencing some crazy shit that you would only see on TV. It was an unforgettable night to say the least, and everyone in the crowd would agree.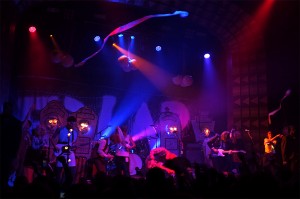 With their catchy riffs and their infectious sing-a-longs, FIDLAR is the kind of band that makes you want to put your arms around your best mate and drunkenly stumble the streets shouting their lyrics. Their music could provoke you to go to your parent's home just to say, "forget it dad, life's all right".  In an era in which many bands are trying to replicate the old punk scene, often times they get lost in the cosmos that is the music industry. But not for FIDLAR. Finding a band that stands out from the rest is as rare as a successful tinder date, and FIDLAR is the person you swiped right on and whose company you actually enjoy.
An Interview with Zac Carper of FIDLAR
Janky Smooth Archival Footage
Words: Paige Vreede
Special Thanks to Photographer Don Morris for The Grey Estates