Omar Rodriguez-Lopez Releasing 12 Solo Albums in 6 Months. For real.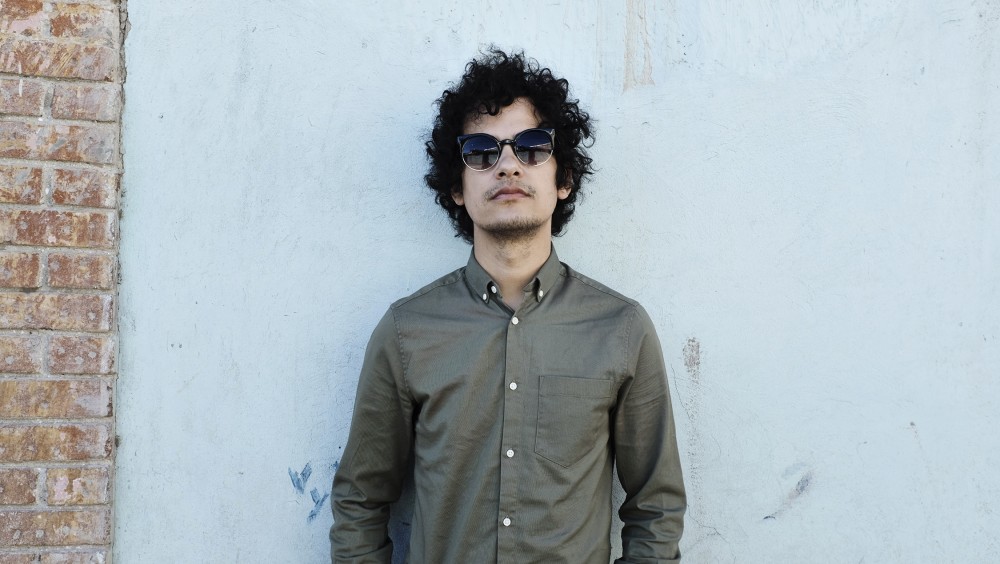 With a stoic stare through horn-rimmed wayfarers, framed with a short mane of dark, wild hair, sporting a button-down against a beaten brick wall on some street, Omar Rodríquez-López invokes Bob Dylan's iconic 1966 visage—the most elusive and most possessed of Dylan personalities. López's output is just as inexhaustible too; no doubt inspired. Never mind his work with Mars Volta or At the Drive-In, his solo work in the last decade is enough to make the likes of Ty Segall shake in his boots (mind the age gap), and apparently he's nowhere near finished.
His latest solo effort upholds the current indie dictum: be prolific or die. In an unprecedented move to release twelve (that's 12) albums from now until the end of the year—one every two weeks—López, in collusion with Ipecac Recordings, looks to bombard us with his pure, unadulterated schizophrenia.
Three of the twelve LP's are already out (and streaming on Spotify, you broke motherfuckers), with the release of the fourth just days away. They very much speak to his forays in acid jazz, space rock, poetic-spitting vocals, and sentimental pop soundscapes. Sworn Virgins is experimental without being hardcore. It has a postpunk sheen, darkly textured with effects, righteous guitar work, and wailing, scuzzy vox like Perry Ferrell. Corazones is more pop dream rock—lots of acoustic guitar and hushed vocals—with a cinematic flair; ruminative songs that demand visual parallels. Blind Worms, Pious Swine is as whimsical as it is tragic (see: the cover of Ellie Goulding's "Lights") and lots of driving bass and eerie ambient noise (see: "Hieroglyphs from Hell"). Arañas en La Sombra is out August 26, and promises more treading into dark and droll territory, sonically and linguistically. Don't worry, there's plenty more where that came from.
It's safe to say that in this crude era of demanded content all-day-every-day, our threshold of informational input is definitely going to be tested.
In a recent interview, as writer/performer/producer, López described a musician's wet dream. "It's more about the label and how it was willing to support an artist. I'm extremely lucky with Ipecac because it's actually way more than 12, the records that we dug up but, we said, 'Let's start at 12 and see how that works' in terms of manufacturing and what we can do better and all that.'"
López then shrewdly tipped his hat to one of the most prolific recording artists of the 20th century, "You can go back to, let's say, Sun Ra! Sun Ra decided back then, like [in the] '50s and '60s, to make his own label [El Saturn Records] and he was putting out tons of records. He put out a lot of records in his time through his own label. I think real artists like that are always expressing themselves and always creating. It must have been something really cool for him… There wasn't a label that liked that idea at all back then."
Though this sort of departure from major labels and embrace of industrious DIY fervor is no mere dream. In fact, it's proving fortuitously gratifying, especially in a time when certain major labels are accused of flat out imprisonment. Take Deap Vally, who has been making waves with their anticipated sophomore LP Femejism, which they recorded and produced after ditching Island Records for more creative control. "Over the past year we've been taking our business over hands-on," Julie Edwards Pirrone remarked. "This may be a dream, but it's also a reality. I could see how this would be our career. We won't be a flash in the pan. We work too hard."

It's hopeful news in a world of bad news, but it also makes the job of the artist that much more demanding, requiring discipline, focus, and vision, above all. You can no longer just (snort blow with closed eyes behind black shades as you) hop from limo to limo while a corporate team rallies around your career and curates your image. Sure, sure, you can still do blow—but you also have to figure out how you're going to record, mix, master, layout, press, distribute, and get the word out about your next LP. Then there's the whole business of touring, a crucial component in any act's sustainability. It's not an easy road, but every band with influence seems to be prefer the challenge. (Hell, even Zac Carper had to sober up just to keep the party going.) These days, we don't have 'that one universal band' to unite a disaffected generation (Nirvana may prove to be the last). In the wake of the wrecking ball that we've come to know as the internet, and the subsequent democratization of the arts—when gatekeeper palaces imploded like Building 7—music was no longer a bankable, monolithic money machine (unless you're Beyoncé). How else can you explain record labels putting up with "surprise" releases? They don't have a choice. Everyone from Miley to Death Grips drops shit for free.
So, yes, we have Omar Rodriquez-López, but we also have Ty Segall (and his many machinations), and we also have Teri Gender Bender of Le Butcherettes, (with whom, by the way, López is releasing yet another album a la their collaborative project Bosnian Rainbows), and we have Deap Vally, and FIDLAR, and Cherry Glazerr, and Bleached, and FEELS, and Thee Oh Sees, and Twin Peaks, and The Brian Jonestown Massacre, and Ariel Pink, and Jacco Gardner, and Savages, and FKA Twigs, and Beach House, and Kendrick Lamar, and Head Wound City, and Grimes, and Blood Orange, and Ho99o9, and Alice Glass, and Health, and Tyler the Creator, and Wyatt Blair, and Charles Moothart, and Black Lips, and Death Grips, and The Kills, and Wand, and Mind Meld, and Death Valley Girls, and L.A. Witch, and…(insert your favs ad infinitum 'til you drop) you get the idea.
It's clear the festival holds reign now. The gathering. The pilgrimage. The folk ubiquity. Family jams. We're getting back to Americana roots—with garages, basements and makeshift studios as fertile soil—and I don't mean in some gimmicky genre sense. I mean invoking of our communal sense of musical expression—celebrated multiplicity—fusing different instruments, sounds, cultural nuances and now tech, both analog and digital. In music, as in the other sectors of creative endeavors, the space for greed and monopoly is diminishing (perhaps now we should go after festival organizers to make sure musicians are getting paid).
Perhaps what holds reign even more than the festival is artistic vision, and, as both López and Ipecac are boldly demonstrating, the uninhibited flow of that vision. López is operating in an almost fractal sense—as above, so below. A glimpse into the minutiae of one of these new songs is a glimpse into the multiverse breadth of his work. "Music is a language, you see, a universal language," Sun Ra once said. "I'm playing dark history. It's beyond black. I'm dealing with the dark things of the cosmos."
As mentioned, expect Arañas en La Sombra on August 26, and either keep up with the pace of this 12-album odyssey like a rabid Game of Thrones fan, or hold out until they're all released and then binge until your head explodes Cronenberg-style.
You know the first four, here are the rest of the titles:
Umbrella Mistress
El Bien Y Mal Nos Une
Cell Phone Bikini
Infinity Drips
Weekly Mansions
Zapopan
Nom De Guerre Cabal
Some Need It Lonely