NOTHING Unhinge Echoplex Audience By Bending Sonic Waves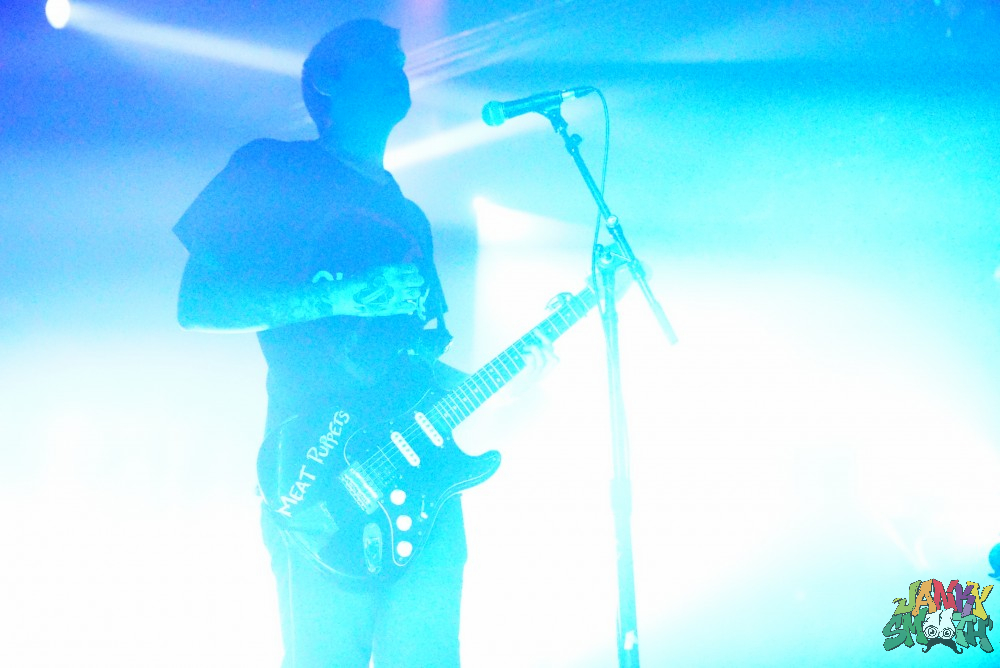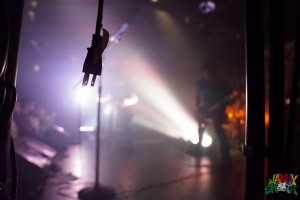 My night began with loading up on free booze provided by a high end art show. After cruising through all the pretty pictures and people and pounding down as many Peroni's as I could, I bounced out early, opting for more contact, a rush, an absorbing experience… like bathing in the shoegaze riffs of Philadelphia band, NOTHING who were playing a show at The Echoplex.
Ubering out to Silverlake, trading Hollywood glitz for hipster art farts, while buzzing drunk with a dead phone, my driver turned onto Glendale blvd and crept beneath the bridge that loomed over the line of kids that stretched down the block. They stood there, marinating in the pain of missing out because they knew they weren't getting in. Be quick or be dead. This is LA and Nothing is playing. Don't you know Nothing sells out LA?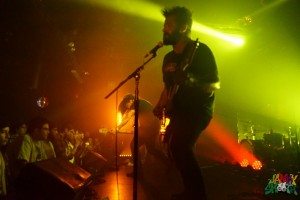 I cruised into the Echoplex, mid set of Miami band Wrong with their heavy, alt rock sound. They put everything out on the table in this pounding communion, bouncing up and down, making the stage their bitch. The audience followed suit, jumping and jiving in a pure mess of rock. Their sound reminded me of the heavier 90's grunge bands like Tad and the Melvins, decent doses of sludge but clean riffs too to keep you breaking in between the head bobs.
I started taking requests and a smooth Jameson on the rocks was just what the music ordered. Like the cubes in my drink, I would be soaked and submerged in a liquid warmth that would melt my mind and sync body to the sound's wavelength.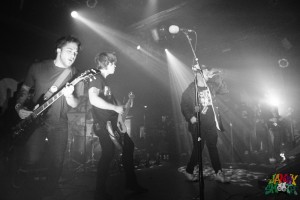 Inebriated and longing to connect, lo and behold a drunken rocker took the stage and with refreshing honesty confessed, in that hilarious white boy kind of way, just how fucked up he was. Culture Abuse singer, David Kelling, commiserated to us about getting too drunk too fast and how people should stop showing up late to concerts because he had been outside trying to give away free tickets to people that hadn't even shown up yet. He pumped up the crowd urging us to let go and have as much fun as possible and after a good laugh, we took his advice to heart and got rowdy. Culture Abuse's sound captures equal parts grunge and hardcore punk in a fresh, San Francisco way. Although he was drunk, Kelling's performance wasn't hindered even one iota. He delivered the vocals with passion and desperation, pumped up from his bruising boozing. They reminded me of UK's Basement but better, American. Every member of the band was tearing it up on stage and that effort would be the link between every band performing tonight. Even though the music feels beautiful and serene at times, creating it costs equal amounts of pain weighed in sweat to beauty measured in depth.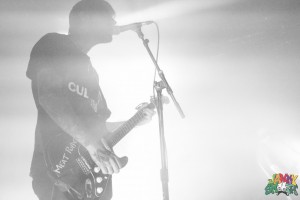 Philadelphia's NOTHING was played in by ambient noise that prepared us all to be unhinged by the band's bending of sonic waves. When they took the stage, they pounded their guitars and drums
down
down
down
to dust, building up that wall of sound and blowing up bombs of noise. This was musical D-Day. Their bassist took the center of the stage while the two guitarist/vocalists were on either side, the band's leader Dominic Palermo on my right. They hit the ground running, kicking the jams right out of the gate, playing Vertigo Flowers, the new album's first single, as their second song. They played much of Tired of Tomorrow with splashes of Guilty of Everything throughout, showcasing the tranquilizing powers of shoegaze while never losing that punk skeleton beneath it all. The band's music got the crowd bouncing, stage diving, and crowd surfing in some sections and dozing off into dreamland in others. Sometimes those stage dives would kamikaze bonsai drop those drifters out of their trips and just like the music, a beautiful but rude awakening would occur.
Palermo is a funny dude, down home, the kind of guy I would hang out with. His stage banter sounded like how my friends and I talk, say whatever's on our minds, lots of cursing, funny as fuck.
"We are YG, coming all the way from Bompton," Palermo introduced the band.
I've seen many heavy bands at the Echoplex and one thing singers often do is throw their mics up, arcing over the audience to hang off the wooden beam that runs across the ceiling. Palermo took it one step further in the middle of a song's bombastic climax and threw his whole fucking guitar up, so that it hung by its cord over the beam and fell just over the audience's heads. It could've been an insurance nightmare but as with great performers, it all sorta worked out and the kids would reach up, grab at the strings, and let their own distortions feed over the speakers. Eventually the audience pulled the guitar down and passed it around, keeping it hidden for the rest of the show until Palermo asked for it back by the last song.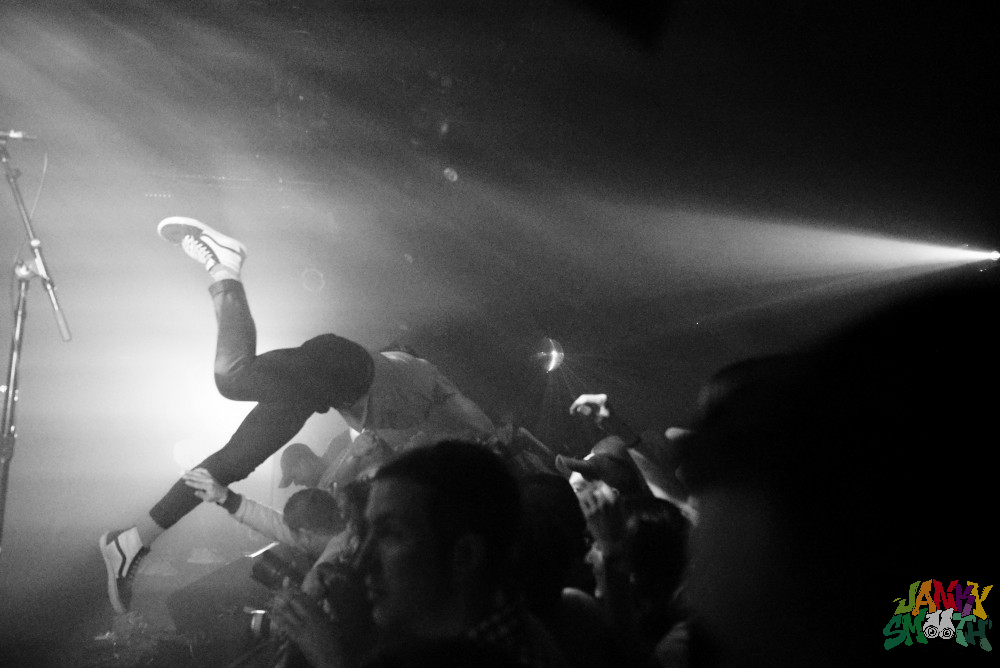 "If this were Philly that guitar would've been taken out and pawned off then that money would've been used for heroin and the guy would've OD'd already," Palermo joked.
With the main set finished, I pushed into the crowd while the fools made their way out. After a set like that, they're not going anywhere without an encore, not if we can help it. After the crowd came to a fever pitch, ready to riot, Nothing returned on stage to play two more songs, one of which was an amazing shoegaze cover of Radiohead's Creep that sent chills up everyone's spine.
By the time the lights turned back on and we were all shaken back to reality from this dream of blue, magenta, and hot white sounds and lights; I left with a humming in my ear that wouldn't stop. Like the wall of sound nestled densely between my ear socket and drum, taking Nothing with me into the Silverlake midnight.
Nothing sold out the Echoplex but more than that, they felt like one of those bands that would be embraced by Los Angeles so tightly that we would make this their second home. It's safe to say LA is built for shoegaze, tall buildings with plenty of space in between. Don't believe me? Put on Tired of Tomorrow in your car and just get lost.
Photos: Todd Anderson