New Album Review: Broncho- Double Vanity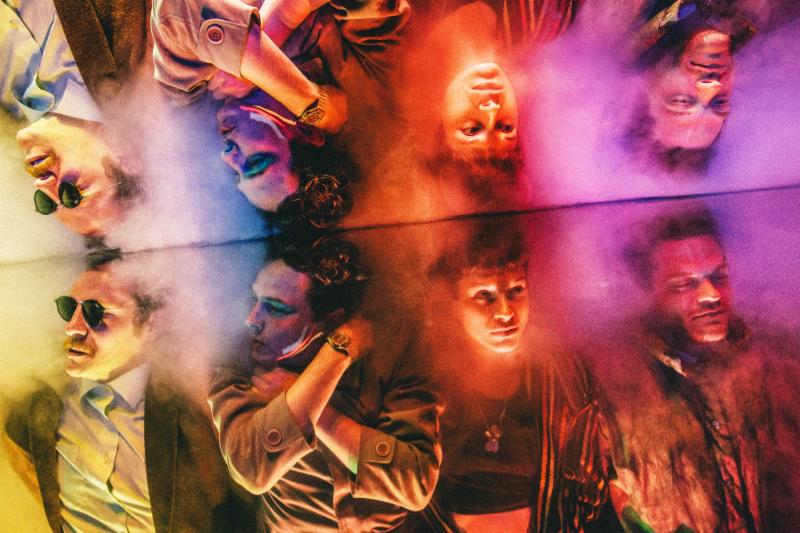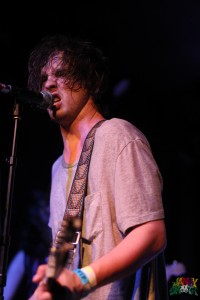 With a feeling of reckless security I can only associate with driving to buy a Plan B pill the morning after prom night, the third and latest Broncho album has me captivated like Stockholm Syndrome.  If John Hughes made a goth movie, Double Vanity released on June 10th via Dine Alone Records would be the soundtrack.
The hauntingly lackadaisical droning of Ryan Lindsey's vocals intertwined with heavy instrumentals and reverb have an almost acid-like effect on the listener's brain.  You may be left with an overwhelming urge to let yourself drop to the bottom of a kaleidoscopic ocean filled with cartoon fish; do you ever think Mr. Limpet was just on shrooms?
While the band is referred to as "garage rock" (which is a genre more accurately describing their previous albums), I can't help but be reminded of a similar resonance as The Black Angels; maybe because I prefer to listen to both bands naked, in a dark room, or maybe because I've taken enough psychedelics in my life that everything I enjoy feels like a "far out trip man".  If someone stuck a stick in the spokes of The Warlocks' circle jerk it'd probably sound like this album.  I was really stoned at a Brian Jonestown Massacre show once and it felt like this album.  Imagine a gentle come down after a slow, yet purposeful crowd surf, light groping is to be expected.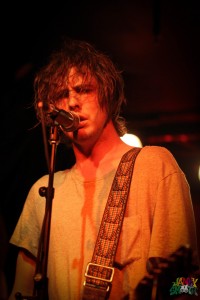 Broncho's new album has an underwater, dreamlike euphoria not unlike the feeling you get post orgasm, but without the guilt and shame of the tragic porn you jerked it to; a browsing history you'll thank me for, later.  Eleven tracks of a smooth, steady morphine drip laced with just the right amount electricity to find yourself feeling slightly dazed by the time the last note is played; like watching the sun come up at The Overpass, before the hangover kicks in.
Double Vanity appears to have matured away from the punkier, punchier, more upbeat vibes of its freshman and sophomore predecessors "Can't Get Past the Lips" (2012) and "Just Enough Hip to Be Woman" (2014).  I think this latest album may be a more accurate example of what we can expect to see from Broncho in the future, and what a bright future it is!
The first half of Double Vanity is a seamless foreplay.  Getting to second base in the backseat and rounding third with songs like "Fantasy Boys" (track 2) and "I Know You" (track 3).  Once "Señora Borealis" hits at track 6, you'll be entering the album's more energetic climax arch; heavier hitting and girthier.  By the time we reach the cigarette and light spooning phase that are the final two songs, "Two Step" and "Wanna", we'll be left craving another roll in the hay.
With Broncho's previous albums, there seemed to be more of a pick and grab of certain crowd favorites, of course I mean songs like "It's On", "Try Me Out Sometime", and "Class Historian". Double Vanity ain't no Frankenstein mix tape, it's a all encompassing, opium brain bath that should be listened to in its entirety.  Lay back, soak it in, and take pleasure drowning in this bukaki of sound waves.
TOUR DATES:
6/10: Chop Suey – Seattle, WA
6/11: Cobalt – Vancouver, BC
6/13: Kilby Court – Salt Lake City, UT
6/14: Walnut Room – Denver, CO
6/16: 7th Street Entry – Minneapolis, MN
6/17: Beat Kitchen – Chicago, IL
6/18: Wicker Park Green Music Festival – Chicago, IL
6/20: Horseshoe Tavern – Toronto, ON
6/21: Casa Del Popolo – Montreal, QC
6/22: Great Scott – Boston, MA
6/23: Johnny Brenda's – Philadelphia, PA
6/24: Bowery Ballroom – New York, NY
6/25: DC9 – Washington, DC
6/26: Strange Matter – Richmond, VA
6/29: Hi Watt – Nashville, TN
6/30: Outland – Springfield, MO
8/03: Riot Room – Kansas City, MO
8/04: Off Broadway – St. Louis, MO
8/05: Cosmic Charlie's – Lexington, KY
8/06: Hi Fi – Indianapolis, IN
8/07: Zanzabar – Louisville, KY
8/08: The Basement – Columbus, OH
8/09: Club Cafe – Pittsburgh, PA
8/10: Majestic Cafe – Detroit, MI
8/11: Mohawk – Buffalo, NY