Jesse Malin And All Star Rockers Raise Money For A Friend At The Roxy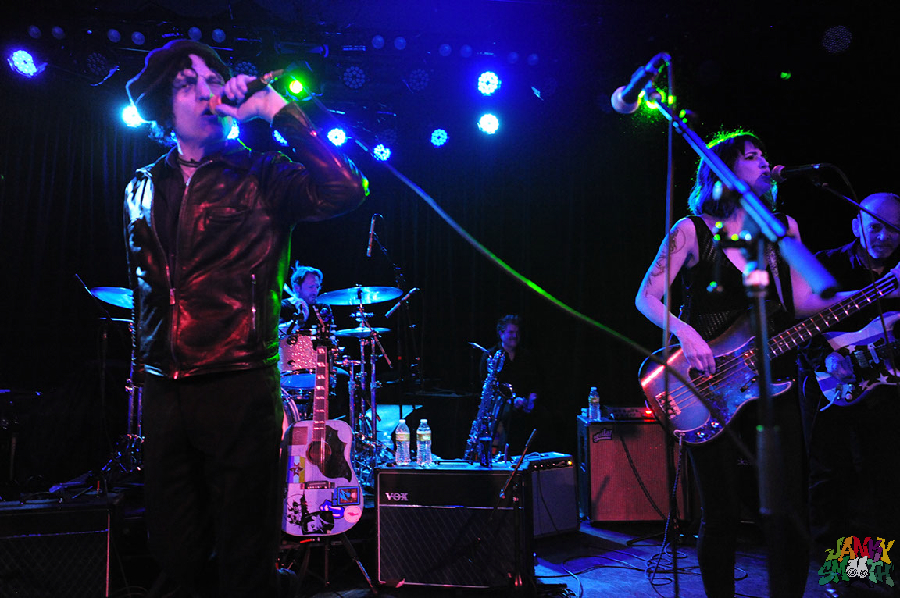 It was raw and windy outside the world-famous Roxy Theatre in Los Angeles...a perfect night to be fed a big ol' loving cup of Goats Head Soup from NYC rock n roller and D Generation lead singer, Jesse Malin and his seemingly endless array of optimally talented friends. Not only was this show serving as Jesse's 50th birthday party, but also as a benefit for dear friend and road crew member Natty B who was diagnosed with Leukemia in 2006 and has since become paralyzed. What better way to raise money for a new wheelchair than to put together an all-star lineup and play some Stones songs. Genius.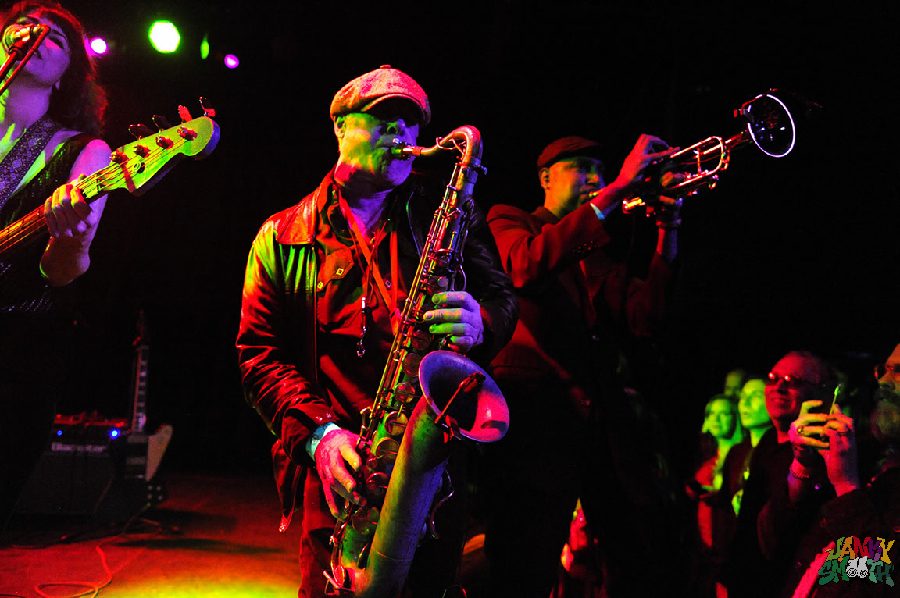 Due to a little shower snafu at home (we don't need to get into that), I arrived a little later than expected, sadly missing the opening sets from both David Bason/Joe Sib and D-Generation guitarist Richard Bacchus. Apologies boy. I did, however, catch the closing portion of 20- something Wisconsin born songwriter, Trapper Schoep's set, with a goodtime sing-a-long of Merle Haggard's classic "Mama Tried". Always a crowd pleaser.
The Roxy steadily began to fill up as it got closer to Malin's set time with fans of the singer's earlier bands, his solo recordings, Rolling Stones enthusiasts, and several familiar faces set to take the stage later in the evening. As a late to the game D-Generation fan, I wasn't too familiar with the singer's solo material but you gotta have faith in the person who has put on both a Johnny Thunders tribute AND a Rolling Stones cover show within months of each other. A musician and music fan after my own heart.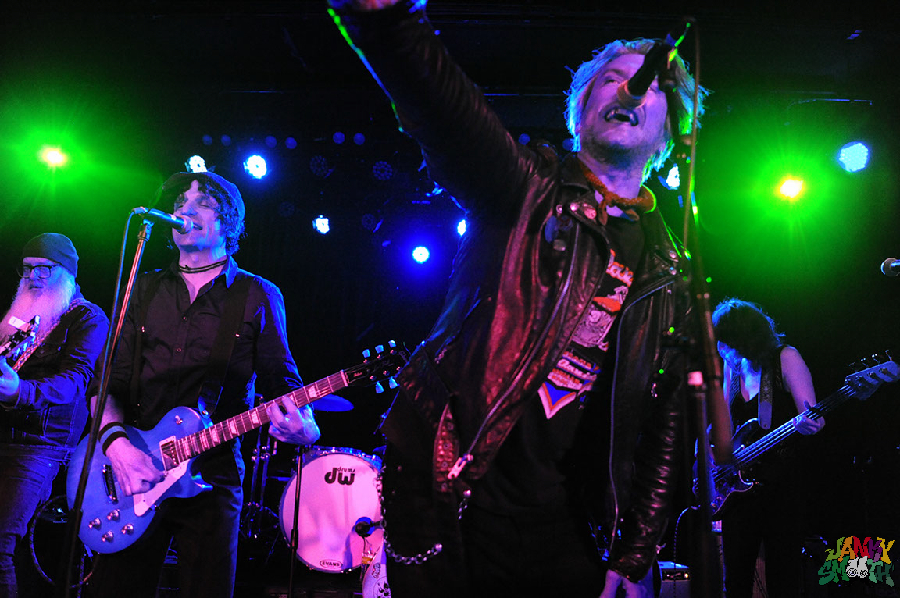 He took the stage just after 10pm, playing an hour-long, engaging set of biographical, bar- soaked originals…proving that life on the road and New York grit and glory is every bit as heartbreaking and dreamy as we've ever romanticized it to be. Vanished love was reminisced during "She Don't Love Me Now" off of 2015's album New York Before the War and we were regaled with a ridiculous story of beloved Shane Macgowan drinking out of a Pringles can before covering the Pogues "If I Should Fall from Grace with God". That was followed by a heartrendingly hypnotic performance of "She's So Dangerous"…for sure a favorite of the nite. What can I say…I'm into heartbreak. Thankfully, Jesse did what he could do to pull us out of the trance and broke directly into a cover of the Ramones "Do You Remember Rock n Roll Radio?". We got a few more originals and he closed the set with dancehall Clash favorite (ok ok they're all our favorites) "Rudie Can't Fail" while jumping into the crowd and finishing the song atop the back bar. You can take the man outta punk rock but there's no way to take the punk outta the man…as they say.
DJ Howie Pyro carried the energy over during his intermission set with spine ticklers from the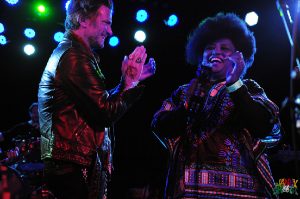 Cramps, Dead Boys, and of course the Rolling Stones, keeping us riled up for the main event. The band came back around 11:15pm, Richard Bacchus handling vocals on the first track off GHS, "Dancing with Mr. D" and the whole Roxy was dancin' dancin' dancin' so free. Jakob Dylan came out for a mesmerizing "100 Years Ago" and charmed us with his modest admittance that it was the first time he had played on the Roxy stage after seeing countless shows there growing up. Lisa Kekaula from the Bellrays came out next and hushed the room with a haunting version of "Coming Down Again", one of the soulful ballads off GHS that the Stones have never played live. The next song was especially dear to my heart as it was one of my entrance songs when I was performing with an all-girl masked wrestling troupe, the Lucha Locas. My character's name was La Heartbreaker so of course "Doo Doo Doo Doo (Heartbreaker)" had to be played as I came out spitting whiskey. Imagine my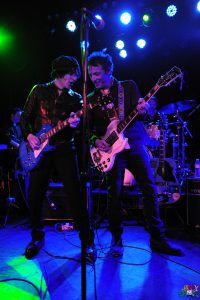 smile as Jesse brought out Wayne Kramer of the MC5 to join him in a defiant execution of one of my favorites. Pete Yorn took vocals on the title track "Angie" although the crowd might have been singing along even louder. The sweet poignancy of Angie was barely finished dripping off of our delicate ears when bad boy/good looks Butch Walker came out and assaulted the stage with an energy I can only compare to snorting a line of Pixie Stix…sweet as pie but made you feel HIGH. The entire room was vibrating as he tore through "Silver Train" and Lisa Kekaula came back out along with Dave Catching, to join him on "Hide Your Love". Jesse came back up front to sing what he called his "favorite Christmas song" and gave us a sweet and heartfelt rendition of "Winter" followed by Chris Stills doing "Can You Hear the Music". As the set was ending, we all knew there was one more song left…and that we were all gonna get to scream "star fucker star fucker star fucker star fucker STAR!". Who did we get to sing along with? Only our favorite grrrrls Donita Sparks and Suzi Gardner of L7. It was a full-fledged, flailing dance party at that point…everything a star- studded, Rolling Stones covering, birthday, benefit show should be.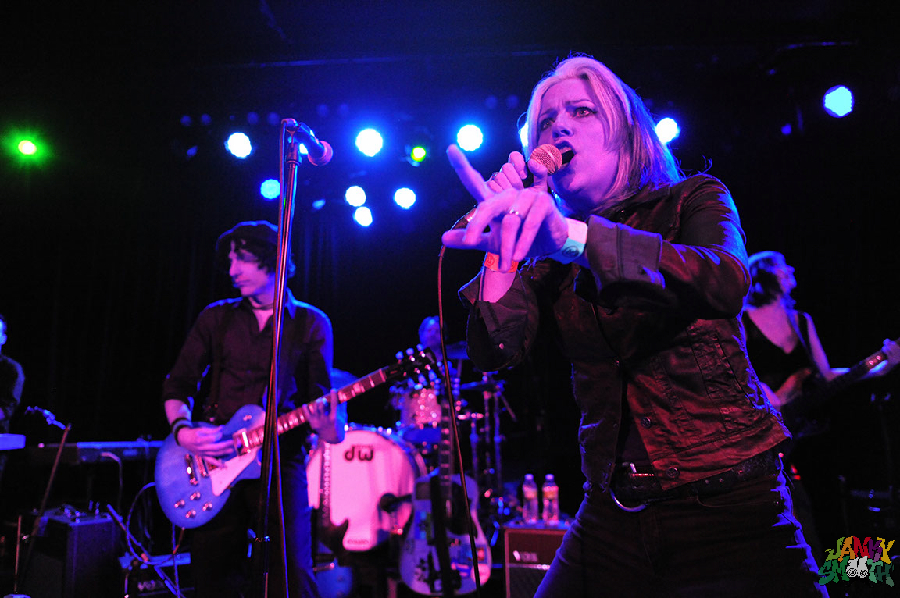 The nite closed out with Lou Reed's "Sally Can't Dance" and a brief Happy Birthday song and cake for Jesse…which he humbly accepted before tearing into Lords of the New Church "Russian Roulette". We hope the Positive Panther foundation raised a pretty penny because that was one heck of a party. You can catch Jesse on tour with Alejandro Escovedo for the next month or so and maybe, if we're lucky, he'll bring the LAMF tribute show to L.A. (pleeeaase?)
Setlists:
Jesse Malin
The Year That I Was Born Outsiders
Turn Up The Mains Queen Of The Underworld She Don't Love Me Now Mona Lisa
Almost Grown
If I Should Fall From Grace With God (Pogues cover) She's So Dangerous
Do You Remember Rock 'n' Roll Radio? (Ramones cover) Death Star
Bar Life
You Know It's Dark When Atheists Start To Pray
Rudy Can't Fail (Clash cover)
Goats Head Soup
Dancing With Mr. D (Richard Bacchus vocals)
100 Years Ago (Jakob Dylan vocals)
Coming Down Again (Lisa Kekaula vocals)
Doo Doo Doo Doo Doo (Heartbreaker) (Jesse vocals, Wayne Kramer guitar) Angie (Pete Yorn vocals)
Silver Train (Butch Walker vocals, Dave Catching guitar, Clem Burke drums) Hide Your Love (Butch Walker and Lisa Kekaula vocals, Dave Catching guitar) Winter (Jess vocals)
Can You Hear The Music (Chris Stills vocals)
Star Star (Donita Sparks vocals, Suzi Gardner guitar) Sally Can't Dance (Lou Reed cover)
Russian Roulette (The Lords Of The New Church cover)
Words: Vanessa Burgundy
Photos: Jeff Forney