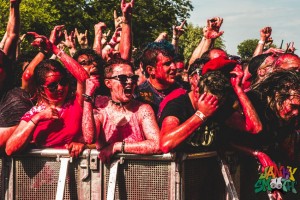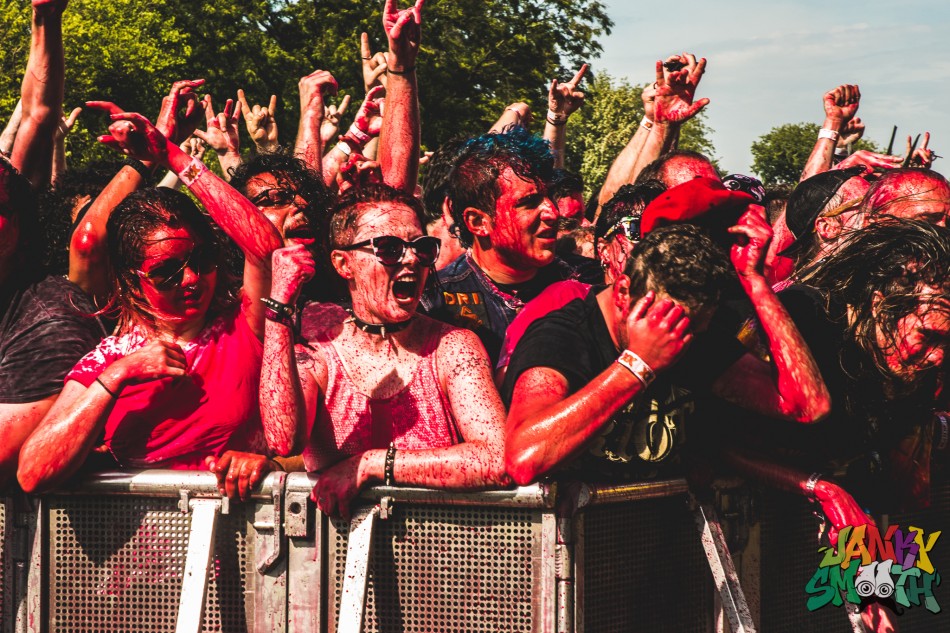 I've been to A LOT of music festivals this year and last. Truth is, I'm getting kind of burned on them. I almost always end up having a great time but the enthusiasm I used to feel the weeks building up to them is almost gone. I wasn't planning on attending Riot Fest again this year but once it was announced that The Misfits would be reuniting at the festival along with Dave Mother fucking Lombardo on drums, I knew I COULDN'T miss it. The Misfits are my favorite band of all time and if this festival set affects me anything like Doyle joining the Danzig Legacy Tour a few years back, then I was sure to find the perfect combination of tears of joy and the blood of strangers soaking my clothes. I died a little on the inside seeing some of the footy of The Misfits from the Denver stop of Riot Fest 2016. Not entirely because I missed their first show back but that was definitely a factor. I'm not sure if knowing what to expect from the stage props, the set list and the performance was a good or a bad thing.
This year's Riot Fest gave me the enthusiasm I had been missing when it was announced that The Misfits would reunite to play the festival. I had a decision to make- Denver or Chicago?  In retrospect, I'm unsure why I chose to go to Chicago for the second year in a row. At the time, my decision to choose Chicago had to do with a thinking that The Misfits would be tighter in their second performance than their first in over 30 years. I'm not interested in being first to see or possess something as much as I'm interested in seeing or possessing the best. And even though their performance in Chicago fell short for me, Riot Fest was still my favorite festival of the year, so far. Shout out to Desert Daze.
Music festivals are a heavily concentrated reflection of worldwide music and regional culture. That's why I love to travel to festivals outside the city of Los Angeles. The mix of an alien municipality and it's denizens are a great way to get a sense for people in a place that is somewhat unfamiliar. Now that I've attended Riot Fest in Chicago for a second consecutive year, I can confidently state that both the festival and Chi-Town are one of my favorite combinations of city and festival. It's also a peak into the national psyche of popular culture and no one in Chicago seems shy to speak their mind on matters of politics or entertainment as evidenced by all the Trumps burning in effigy.
So outside of the musical highlights of Riot Fest Chicago 2016, the human highlights that keep my mind occupied with the type of tangential internal musings on humanity were particularly pleasing this year in Chicago. Especially on Friday.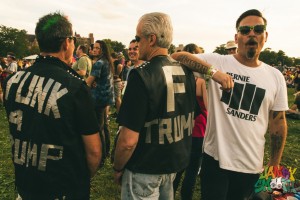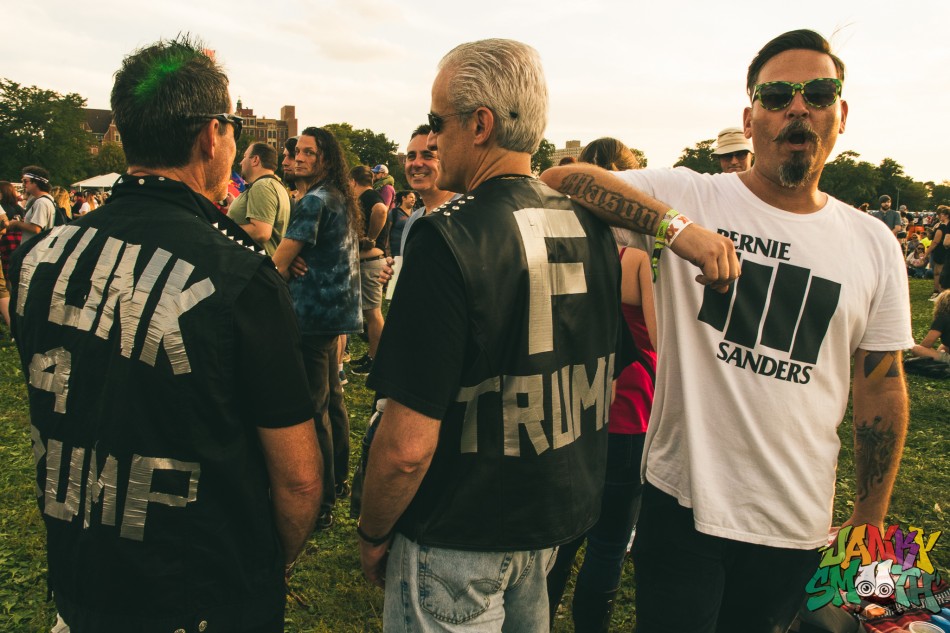 On Friday, I wore a shit that was a spoof on the Black Flag logo that replaced the band's name with "Bernie Sanders". Watching people's eyes as they scanned the shirt while passing me in the crowd revealed so much about the American psyche as we approach ever closer to election day. Without subjecting the readers too much to my tangential theories on the matter, it was fascinating to read peoples extreme reactions to the piece of lifeless apparel that hung from my shoulders. Everything from the complete joy of the people in connecting with the sentiment of such a historic yet now mostly forgotten campaign for those living inside the 24 hour news cycle bubble,  to the most extreme eyerolls and dismissive looks of "let it go loser" that I've ever seen. It was so easy to determine who each beholder was going to cast their vote for simply by their response to the t-shirt that was meant to represent Black Flag as much as the fleeting movement that was the hopeful and unifying counterpart to the angry authoritarian "strongman" that an alarmingly large part of the population feel is the answer to the unmistakable symbol of the status quo; Hillary Clinton. I was happy to see the multiple Trump's burning in effigy as The Misfits dealt with the sound issues that plagued their set but not the enthusiasm of the largest single dense gathering of music fans I've ever seen pack it in for one band's festival appearance. Read my thoughts on The Misfits performance at Riot Fest Chicago. And that's all I have to say about that.
Janky Smooth was able to gather so much fun content to capture the festival in images that all that is remaining to be said about the festival are my personal set highlights that allowed me to get over the disappointment of a sub par performance by my favorite band of all time. One thing I can say is that there were more schedule conflicts all throughout the weekend than I have experienced in a LONG time.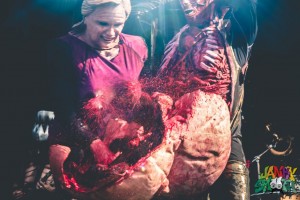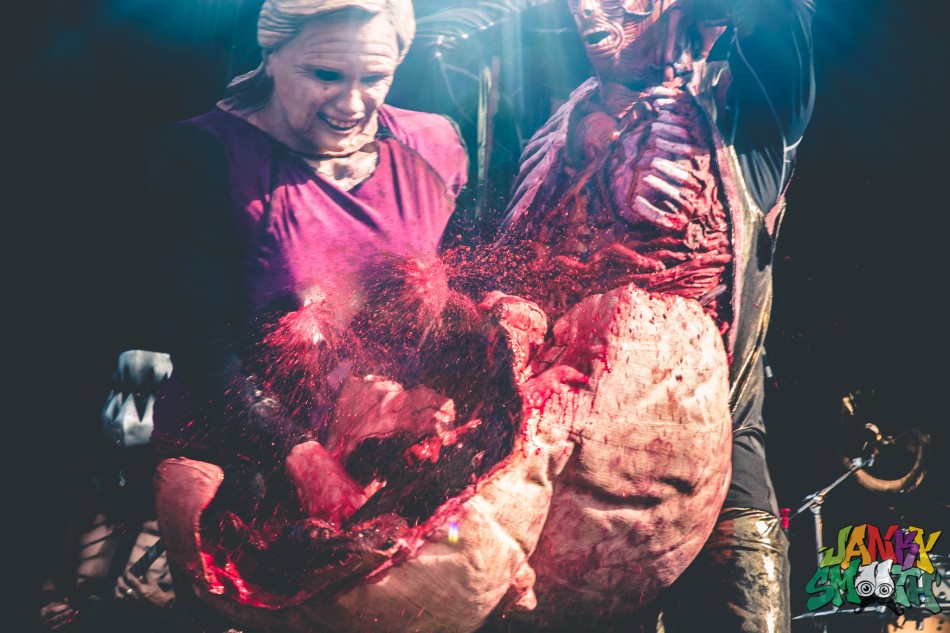 On Friday day, the power, fury and unflinching visual and lyrical commentary of Gwar and Dillinger Escape Plan were the most memorable moment of the early hours of Riot Fest 2016. Dillinger Escape Plan delivered an enthusiastic assault of percussive automatic fire and unforgiving riffs with charismatic and raging vocals. Gwar took the opportunity to capitalize on the country's twisted tabloid fascination with the horror of the presidential election to behead Barack Obama and have Clinton disembowel and peel the skin off the skull of Drumpf while leaving him drained of the plasma that was now splattered on the first 25 feet deep in all directions of fans that were enthusiastically familiar with the drill. Epic.
The Specials also delivered a good set that was borderline cover band with only a few of the original members remaining but nonetheless pleased the crowd by opening with "Ghost Town" and closing their set with "A Message to You Rudy".
On Friday Night, I chose Ween over Refused. I heard Refused put on a very memorable set but I had yet to see Ween and burning a few fatties with Ween fans felt much more comfortable at that moment. I didn't split Ween with any other conflicting set but did move over to NOFX after Wayne Coyne had the Flaming Lips stop the show in the middle of "Yoshimi.." because the audience wasn't enthusiastic and involved enough in the claps in the transition of that song. Honestly, Glenn Danzig is the only extreme rockstar ego I have ever excused for having high expectations and at times, contempt for the fan- not quite sure why Danzig gets a pass from me when Coyne and everyone else that stops a show to tell their fans how they are falling short.
On Saturday, we got to Douglas Park early to catch and support a local L.A. band, Plague Vendor for their 12:30pm set time at Riot Fest and they rewarded us with one of the best early day performances we've ever seen at a festival as well as an interview for our video recap along with Dillinger Escape Plan and Andrew W.K.
One of my favorite sets of the entire weekend was the masterful but unsurprising performance of another L.A. act- battle rap b-boys People Under The Stairs fucking crushed it. They followed the impressive set of Denzel Curry on the Rise stage that hosted most of the hip hop that included Nas, whom we chose over Morrissey as the headliner that night after he was over a half hour late for his set after threatened for weeks not to play the festival at all. Morrissey does not get a Danzig pass from me either. The Wu contingent held it down too. Meth and Red brought a bit more energy than GZA but both broke it off. The other Saturday evening standouts were Descendents, as per usual and Death Cab for Cutie REALLY put on a tight performance.
We opted to show up a bit later on Sunday since we were going to see The Bronx and Radkey later that night at The Double Door- who, by the way, were the perfect medicine for my post Misfits blues. Radkey absolutely showed out and displayed why they are one of the best, young pure punk acts in music right now. And the Bronx played one of the funnest sets I've seen since the last time I saw the Bronx at The Teragram Ballroom. Riot Fest does a great job of putting great bands at the front of the schedule everyday to get some people to the festival early but luckily, my rubbery legs got a couple extra hours to regenerate because of the Bronx sideshow later that night.
Sunday was spent in complete nervous anticipation and building expectation of The Misfits set at the end of the night. It also contained the most conflicts of any other day and I decided that I would dance all around Douglas Park and see as much as I could. Bad Religion, The Julie Ruin, Joey Bada$$, Deftones, Me First and the Gimmie Gimmies, Rob Zombie, Sleater-Kinney and Death Grips were all stacked on top of each other, one after another. It was a decision making nightmare. The most vicious split was Rob Zombie vs Death Grips. The good news was that I wasn't aware that Zombie was playing Astro Creep in it's entirety at Riot Fest and I was much more of a fan of the first half of that album so that I could creep over to Death Grips after the first half hour of Rob Zombie.
I got what I needed, wanted and loved from Zombie and walked over to The Rise stage to see Death Grips play one of the best sounding live sets I've ever heard them play- and I've heard Death Grips play many. The mix between the digital emissions of Flatlander and the acoustic drum kit of Zach Hill was perfect and booming. The dark stage silhouetted M.C. Ride spectacularly as an angry mob of noided youth let loose when the booming bass of "No Love" blasted on the speakers. It was also the first time I heard tracks off Bottomless Pit live.
I walked back to the main stages and cut off the last couple songs of Death Grips to position myself for The Misfits and was stoked to hear Rob Zombie playing White Zombie era cut, "Thunderkiss '65" as one of the encores. I bounced all around the adjoining stage to try and burrow my way through to the front for The Misfits. But fuck. It was clear I saw too much and was too ambitious in my schedule because the crowd was too thick and less easy to push around than any I have ever seen.  Then…I got to see The Misfits for the first ever.  For better or worse, Riot Fest gets major Coup-dos on their get of the (original) Misfits.
Words: Danny Baraz – Photos: Taylor Wong
[Not a valid template]