HEALTH/Author & Punisher at The Music Box: Let The Ceremony Begin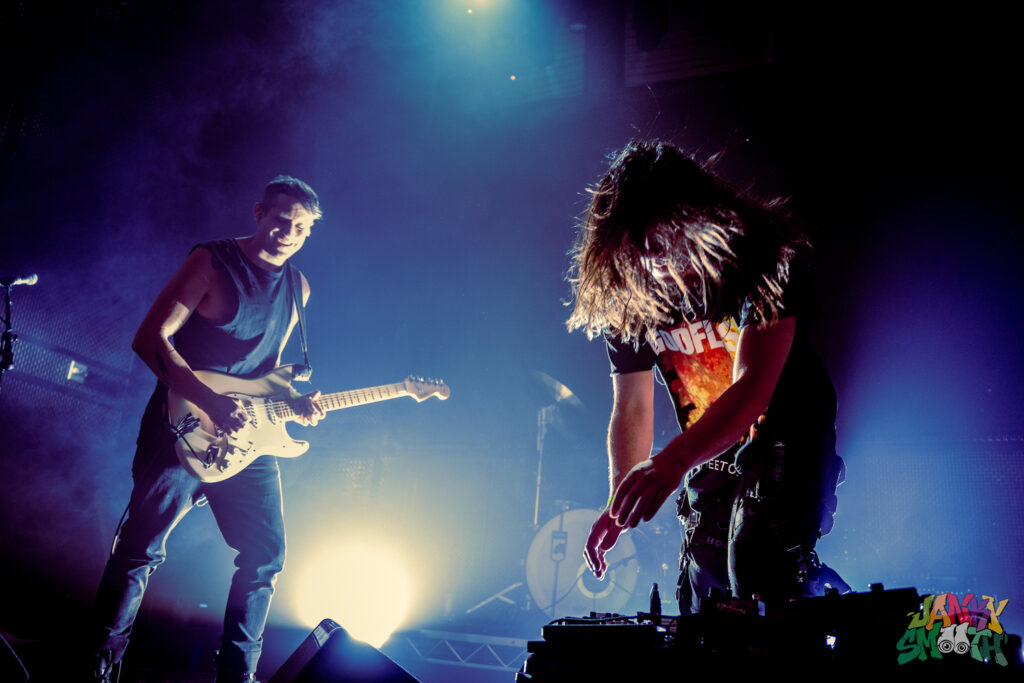 Last time I saw HEALTH in San Diego was opening for Crystal Castles in May 2011 at the now defunct Fluxx Nightclub. Last Saturday it was HEALTH who were headlining The Music Box in San Diego as the last stop on their Dark Territory tour, and the only thing that HASN'T changed in the nearly 12 years since that show is that HEALTH completely shredded the stage.
related: HEALTH at The Echo- First L.A. Show in 3 Years Delivers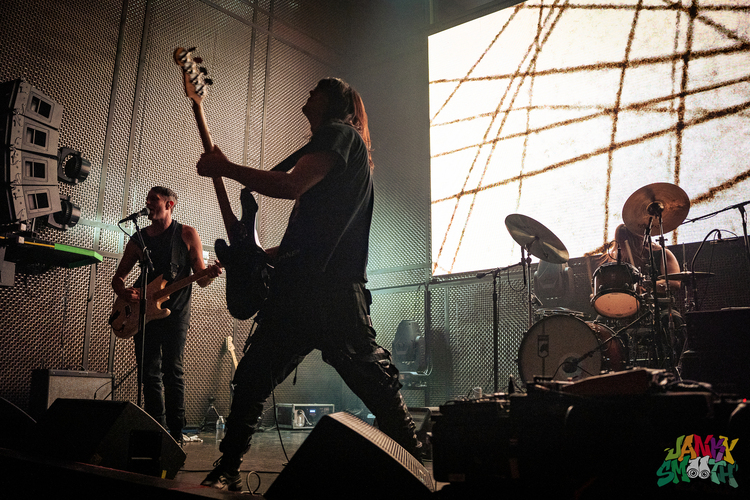 There were multiple story lines unraveling in through the evening and indeed, the complex and cryptic folds of the universe itself. Returning back from ceremony in Mexico on the day of the show, HEALTH was also the band me and my partner saw on our first date the night I touched her for the first time at 1720 a year ago. I love you Jules (fuck face).
All that along with promoter Modern.Wav calling out the San Diego goths to convene in their own ceremony and indulge their kinks with an epic lineup that also featured Author & Punisher and openers Matte Blvck and Straight Razor, whom I woefully missed. Luckily, photographer Becky DiGigglio did not.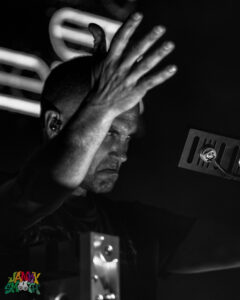 We walked in during the first song of Author and Punisher, "Drone Carrying Dread". The brutal assault of square, round and saw synths oscillating around crunchy guitars that could pound steel into oblivion completely saturated the air, as deeply as attendees saturated the floor level of the Music Box. There were cages that intermittently contained part time slaves on the dance floor, which was a vibe but took up quite a bit of space. Pushing our way up to the front was tougher than normal. Maybe I was mentally, physically and spiritually fatigued after my week in Mexico. Maybe it's the San Diego goths that are a different breed. But we got about half way through the floor section before I could read the writing scribed across San Diego native, Tristan Shone's rig "These Machines Kill Fascists"- a tongue in cheek and slightly altered phrase that was originally scribbled on Woody Guthrie's acoustic guitar, now a little more literal referring to the components that generate the sounds for Author and Punisher. The addition of Doug Sabolick of Ecstatic Vision on guitar for live shows was welcome, albeit a departure from the one man cyborg feel of the previous live show config. The Author and Punisher cover of Portishead's "Glory Box" is an inspired, brooding and murderous arrangement of a classic they made completely their own.
related: Perturbator/Author & Punisher Using Devices to Debase the Regent Theater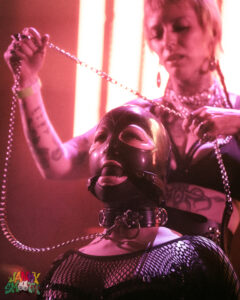 Given my late arrival, I was only able to see one changeover between bands. The DJ set the perfect soundtrack to the dance between master and servant, between pain and pleasure on stage with a commercial performance by the beautiful freaks in the transformed BDSM ballroom at the Music Box in San Diego.
Much like Author and Punisher belong to San Diego, HEALTH belong to L.A. Jake Duzsik and John Famiglietti, while still heavy handed in their assault, have become steady hands of the scene. They have built a dark yet comforting presence which continues to command us to love each other. Their set spanned the timeline of their music from early classics like "Die Slow" (I lost my shit) to Death Magic classics such as "Stonefist", multiple tracks off Slaves of Fear and newer blunt objects like "Identity". Fans carved out a tiny space on the dance floor to practice their kinetics. For what is a HEALTH show without a little dancing?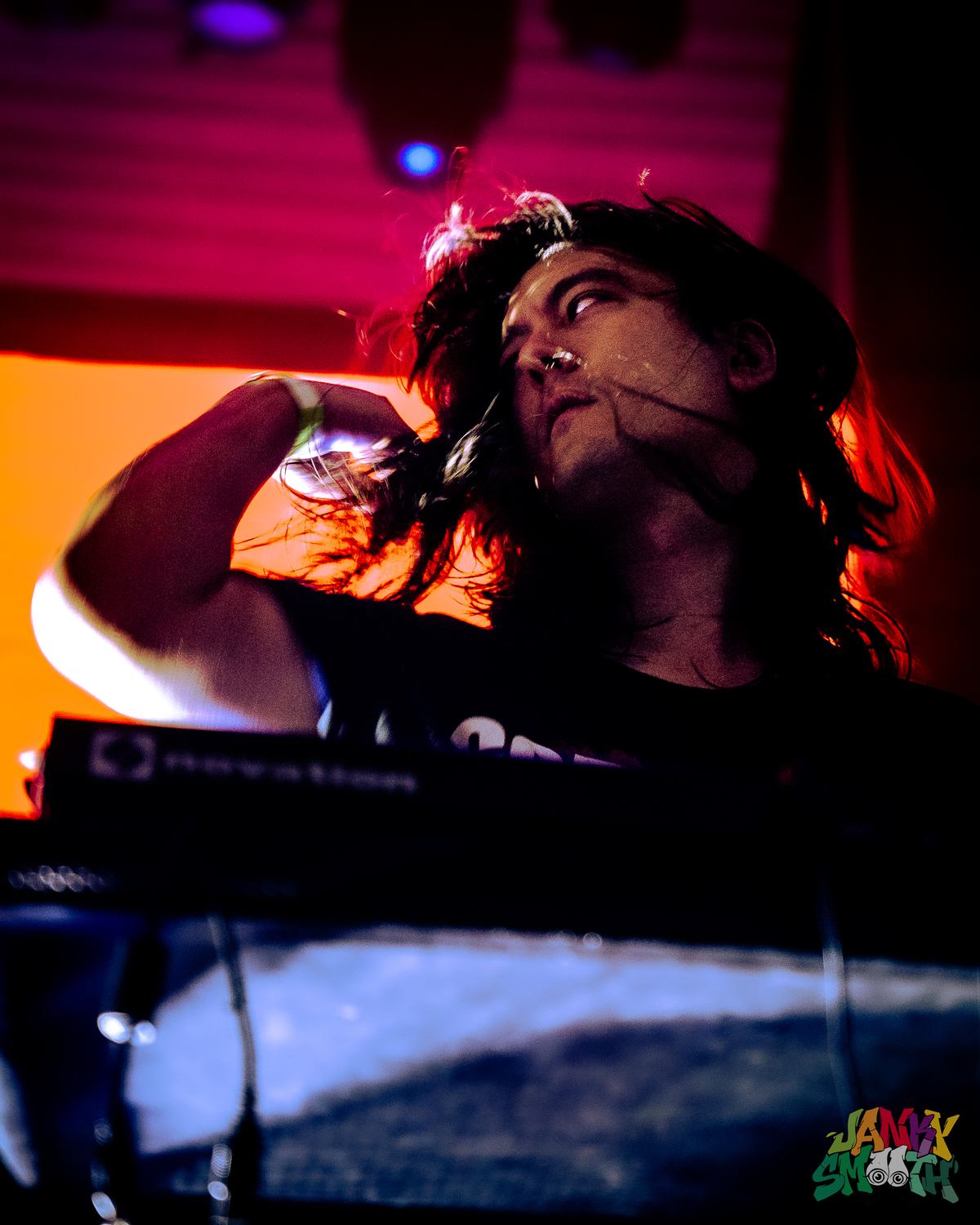 HEALTH have had so many interesting eras, none more than the one that launched them as one of the greatest Noise bands in the history of the genre. Watching their evolution has been one of the highlights of my music fandom. The meaning of their music and what I associate them with has been reappropriated more than a teepee at Coachella. Plus they are the only band I know that has butt plug merch so you can always have a little HEALTH inside you.
related: Hardcore Disco- HEALTH at 1720
The goth scene, as is in most major cities right now, seems strong in San Diego. Most people don't associate beach cities with people who are stereotypically mocked for being afraid of the sun but San Diego has always been a great city for music. Whether it's Brick by Brick, the Casbah, The Music Box, The Observatory North Park, House of Blues or the dozens of other venues I probably have no idea exist, San Diego has seen me through my early metal head years, my raver days, the punk scene, hip hop, indie and everything in between. I fucking heart San Diego as much as I heart HEALTH.
Words: Danny Baraz
Photos: Becky DiGiglio