DISTURBING THE PEACE Exhibit Jumpstarts Punk Rock Bowling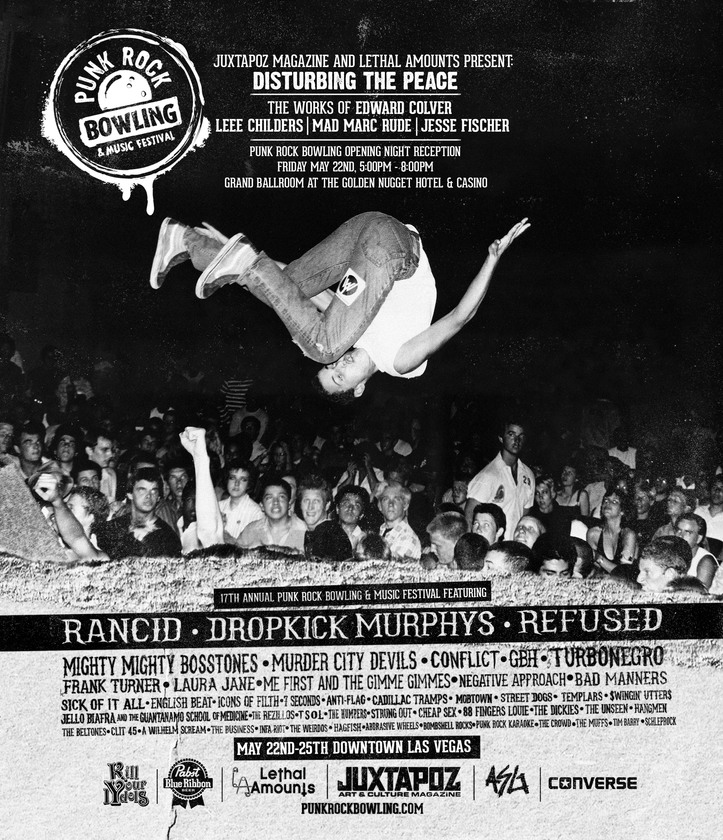 T-Minus two weeks until the Punk Rock Bowling music festival 'n other mischiefs goes down in Downtown Las Vegas from May 22-25.
Beyond all the pool party glean of the Strip, Punk Rock Bowling puts on its annual proto-punk spectacle, which includes: 3 days of outdoor festivals, 4 nights of club shows, a 2 day bowling tournament, hotel pool parties, a poker tournament and even some comedy shows.
What is stealing the show for me at the moment is the art exhibit Disturbing the Peace – Punk at its Core 1969-2002.
Presenters Juxtapoz, PRB, and L.A.'s own Lethal Amounts Gallery will showcase the art and photography of punk abettors Leee Black Childers, Edward Colver, Mad Marc Rude, and Jesse Fischer.
Disturbing the Peace provides a visual timeline for the chronicled ethos of the Punk aesthetic (before fashion whores shit all over it), which took shape in America and England beginning in the 1960s.
If none of those four names shake you, they should; they were key players in documenting each era of the punk evolution.
(1969-1977) Childers was Andy Warhol's assistant and personal photographer in the Factory. He was hired by David Bowie during his Ziggy Stardust salad days and later worked with The Stooges while managing Johnny Thunders and the Heartbreakers during the world's first Punk Rock tour 'Anarchy In the UK', and touring with then unknowns Sex Pistols and The Clash. His photos were known for capturing the infusion of art and rock via the rise-and-fall of 70s Glam, which was then reinvented by a new generation to create what is now known as the first wave of Punk.
(1978-1984) Colver is considered the most prolific Punk photographer of all time, and documented Punk's entire second wave in Los Angeles that spawned the movement that came to be known as Hardcore.
(1980-1990) Rude was a self-taught artist whose iconic illustrations graced Punk flyers, posters, and album sleeves across the country—the Misfits "Earth A.D." LP and Battalion Of Saints "Fighting Boys" EP are among his more well-known work.
(1990-2002) Fischer was a photographer who captured Punk's break into mainstream success through iconic bands like Rancid, NOFX, Pennywise, and Offspring and their association with the label Epitaph Records.
What you're getting is virtually the entire spectrum of Punk's fluid, ever-shifting, and cross-pollinating incarnations as it phased through the tumultuous decades of the late 20th century. The names change but the ghosts stay the same.
It will be held in the Grand Ballroom during Punk Rock Bowling's Opening Ceremony on Friday May 22 at the Golden Nugget Hotel & Casino from 5-8pm.
If you're still looking for tickets for Punk Rock Bowling, the pickings are slim. The 3-day and Saturday passes are sold out, but 1-day's for Sunday (featuring Refused and Jello Biafra & GSOM) and Monday (with headliners Dropkick Murphys) are still available. Most late night club shows sold out too, what's still up for grabs is Friday night at Beauty Bar with acts like L.A. veterans The Humpers and The Hangmen, Saturday night also at Beauty Bar featuring Mobtown and The Champions, and Sunday night at Backstage Bar where you can catch Icons of Filth and No Parents.
If nothing else, it'd be worth going just to see the Disturbing the Peace exhibit alone—which will no doubt serve as inspiring pretext for a wild and sleepless weekend. You and your degenerate friends can salvage parts of your soul and fucking learn something while basking in Old Vegas. Oh, and if anyone asks: PUNK IS DEAD!!!