Janky Smooth Sessions: Cosmonauts Interview By The Lake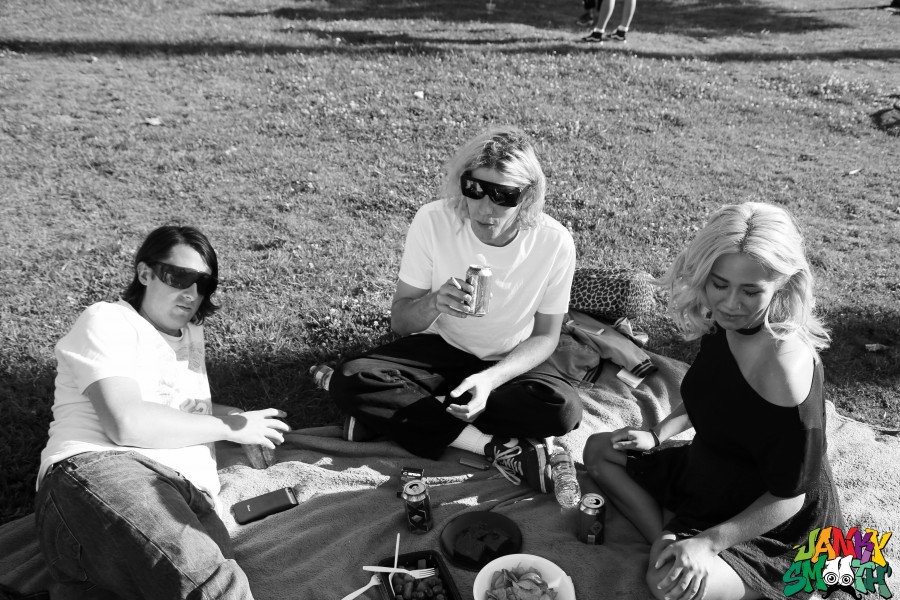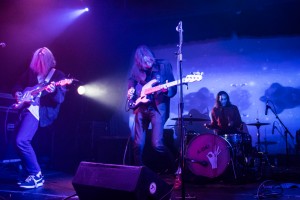 It's 4pm on a sunny Saturday afternoon and I'm running amuck at Echo Park Lake trying to track down Cosmonauts, Derek Cowart and Alex Ahmadi after all of our phones died at the exact same time. I saw the boys at a gig the night before so I figured if they were anywhere nearly as hung over as I was, I could probably find them lounging in the shadiest part of the park. Past zooming Pokémon goers on skateboards, beyond the tempting smell of corn on the grill, towards a playground full of screaming children, I spotted two dudes in space-age, senior citizen style sunglasses amongst a group of a dozen 20-something year olds enjoying a picnic. We eventually find a quiet spot of our own to sit down and enjoy a couple of beers and homemade brownies, (no, unfortunately they were not the "special" kind) and discuss weird fan experiences, their recent album release of A-OK! and why having accordions for legs is better than having a ten inch belly-button.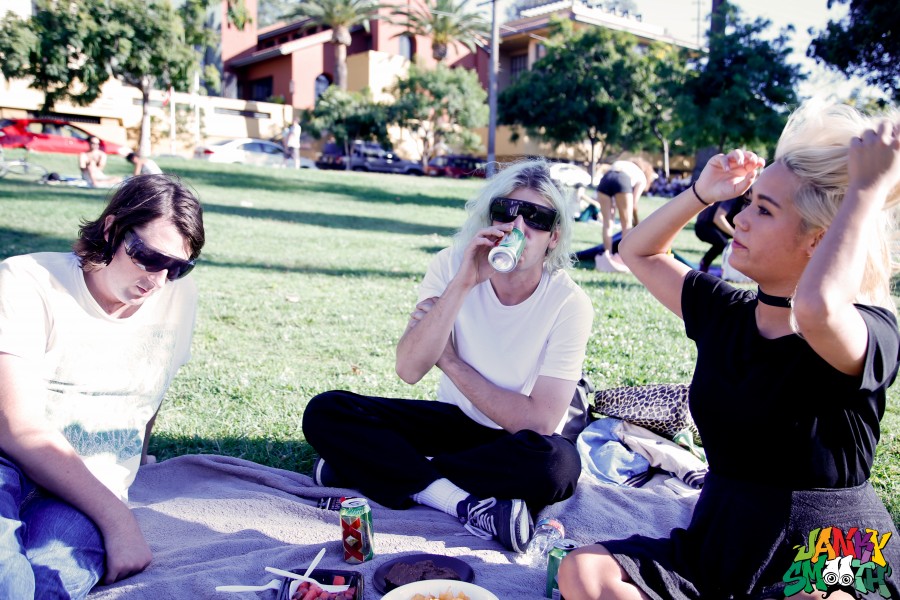 Their fourth full-length album A-OK! was released in August, via Burger Records, and it is everything the Cosmonauts have always promised their fans. Its shoe-gaze, its psychedelic, its garage rock, its all the goodness you can't wrap up into one single genre. Cowart's vocals in the opening track "A-ok" immediately took me back to lying on the grass at FYF 2015, indulging in all the feels The Jesus and Mary Chain were delivering. Speaking of FEELS, vocals from Shannon Lay appear on "Short Wave Communication" and it might just be the prettiest mesh of vocals you'll hear on a song all year. "Party at Sunday" is a warm, embracing hug after a night of drinking too much.  It's that friend you turn to when your life seems in tatters; which is ironic because the comforting guitar melody is paired with lyrics such as "I fell in love and I hated it" and "all my friends are assholes".   A-OK! effortlessly encapsulates your all-too-familiar restlessness into an album you could easily put on repeat. Catch them live and let their celestial sounds transport you into another universe on their month long tour that kicked off just a few days ago.

Remaining A-OK! Tour Dates
10/5 – El Paso, TX – Monarch w/ Ex Cult
10/15 – Brooklyn, NY – Baby's All Right
10/18 – Grand Rapids, MI – Pyramid Scheme
10/19 – Chicago, IL – East End
10/24 – Portland, OR – Baker Ballroom
10/25 – Vancouver, B.C. – The Cobalt
10/28 – San Francisco – Brick & Mortar Music Hall
Words: Paige Vreede
Videographer: Travis Moore
Video Edit: Johann Ramos