Monday night saw one hell of a mixed crowd at The Observatory for Action Bronson and his posse. The parking lot was riddled with tailgating thugs equipped with ski masks, 40's, prescription drugs as well as punk teenagers skating curbs and drinking beers they stole out of their dad's refrigerator. The latter were mostly there to catch together PANGEA and the unveiling of the Burgerama 4 lineup in the Constellation Room. However, upon entrance the crowd seemed to dissolve into each other and mingle between both shows.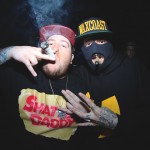 Bronson's bill hadn't posted any kind of opening acts so the crowd was ambiguous to what they'd be seeing. Turns out there were six opening acts before he even touched the stage. That's right…I said six. The crowd was pissed. Not entirely because the music sucked  but because they were just as excited and anxious to see Action Bronson as I was. The first few openers simply could not get the crowd moving. There were even a few cringeworthy moments where audience members began to drown out the music by chanting, "BRONSON, BRONSON, BRONSON" The entire show was plummeting downhill. I even saw a guy in the front row fall asleep on the photo pit fence. Brutal.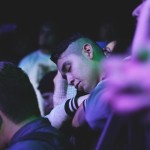 The impatient vibes became almost overwhelming and then Jersey rapper RetcHy P stepped on stage. His heavy beats and dark lyrics recaptured the audience and life seemed to reawaken in the pit. Though he isn't exactly huge here on the west coast, he had a good amount of audience members that knew every word to every song. His lyrics dug deep into social problems such as poverty and drug abuse and gave me chills on multiple occasions during the set. As he stood solo on stage with nothing but dim blue lighting, his flowing growl of a voice had us locked in and back at the event. He undoubtedly made some new fans.
Next came the Mellow Hype crew spawned from Odd Future with Left Brain, Hodgy Beats, and Domo Genesis. The crew brought the rowdiness back into the atmosphere and accompanied it with a shit load of weed smoke. Hodgy and Domo were the perfect lead up to the introduction of guest DJ/MC Alchemist.  The crowd nearly shit themselves when Al came out. Alchemist brought some groovy guitar licks, the same kind that Bronson has built his sound off of, and led to the introduction of Action Bronson, flawlessly.
Once Action Bronson stepped out the crowd noise was deafening. The amount of weed smoke in the building almost made it hard to see the gigantic viking of a man jumping around on stage. He gave plenty of love to the audience, making sure to high five every single fan who held their hand out. The guy is more of a rock star than a rapper on stage, throwing bottles, headbanging and overall just expending insane amounts of energy. The crowd moshed, danced, and screamed every line he spit. Action Bronson gave us a peek at an unnamed new song that was lyrically on point and an exciting peek into what he has coming in the future. He wasn't out there all that long but he got the job done and the crowd left happy. Next time I would much rather see just RetcHy P and Odd Future open and avoid the angry mob scene created by superfluous opening acts.
Words and Photos: David Evanko