A Calling for Club Shows: X at Marty's on Newport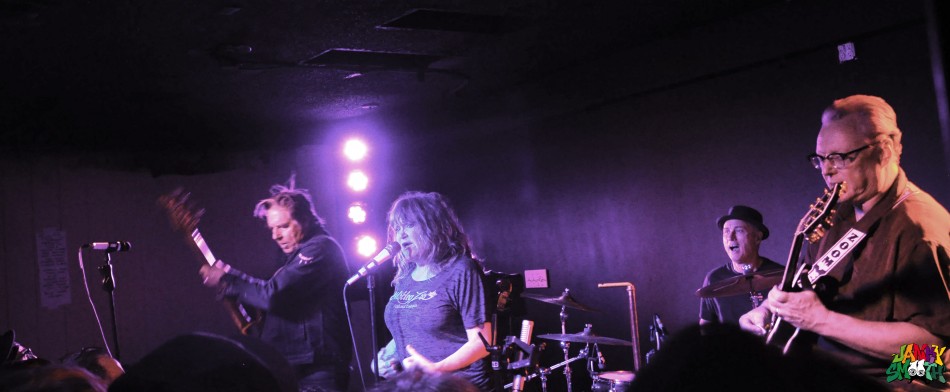 Word and Photos by: Maggie St. Thomas
It was standing room only for punk rock legends X, featuring an all star line up of all original members Exene Cervenka, John Doe, Billy Zoom and DJ Bonebreak, and with Craig Packham on drums for two songs, allowing Billy Zoom to serenade us with his saxophone with DJ Bonebreak's primal percussion and vibrating bars.
Celebrating their 40th anniversary and wrapping up a tour with The Psychedelic Furs, X packed Marty's Cocktails in Tustin to maximum capacity. Quite the change of scenery from when I last saw X at OC Fairgrounds. X seemed to be full of delight at being back in a packed small club. Their powerhouse performance, commanding power beats, and vocals blasted out of the amplifiers at an unapologetic volume while they belted out their hits like 'Must Not Think Bad Thoughts,' 'Los Angeles,' and 'New World.'
John and Exene shared the spotlight while their harmonizing vocals playfully complimented each other and intensified the energy just as well as any of their studio albums. Billy Zoom shredded the chords of his guitar with his signature ear to ear grin while poised on a barstool throughout the set. The atmosphere was electric with the crowd's affection evident as their excitement permeated right from the first pulsing drumbeat and primal percussion of DJ Bonebreak, proving once again that X's trademark sound remains ageless and full of raw intense energy.
While remaining forceful and authentic to their sound, X delivered the goods from their iconic albums Los Angeles (1980), Wild Gift (1981), Under The Big Black Sun (1982), and More Fun in the New World (1983), all produced by Doors keyboardist Ray Manzarek. Exene thanked us all for coming before closing out with 'Soul Kitchen.' We couldn't get enough of X, and they came back for an encore before calling it a night and leaving us all breathless.
I spoke with Exene a few days later, and wanted to know what the difference was, if any, between playing for a packed house of 200, after performing to thousands at the OC Fairgrounds.
"I have two answers to that, and the first is that there is absolutely zero difference, and the second is they are completely different. Here's the thing, it all comes from inside of you, and what you're projecting out. At Marty's the crowd is all right there right in front of us, the audience is so close to you, so you're connecting more personally with the crowd which makes it intimate, and with the fairgrounds the distance makes it more of a performance."
Exene informed me that the band is going back in the studio to record new music in November and will be playing a handful of shows in California in that time as well, so stay tuned, and long live X!